Sergi's Birthday Party – Surprise Parties Are Hard
My husband's birthday was last Friday and this year, I decided to throw him a surprise birthday party.
Let me tell you, it's so hard pulling off a surprise birthday party for someone who lives in the same house with you! He turned 32, so it wasn't some kind of cool number, like 30, or anything like that, but I figured that my sweetheart deserves to be celebrated all the time.
We usually just have a nice dinner at home with just the two of us. Sergi has a really large family, I'm talking 10 brothers, 1 sister plus in-laws and nieces and nephews. Anyway, his brothers and sister-in-laws, the awesome Message band, were leaving to go to Russian on a mission trip the following Tuesday (yesterday), so I knew it would be a while until we saw them again and would miss them terribly, and this was a perfect opportunity to spend some time together.
You guys would laugh to see me prepare for the party. All my bright ideas got ruined in one way or another. I devised a perfect plan where everything was supposed to work out, but was met with many mishaps.
First of all, I did a birthday party for Sergi on his actual birthday, Friday. I gave him his presents, made him some of his favorite food, we had cake and Nalistiniki and went out to see a movie that night. I hoped it would throw him off from the surprise party.
Sergi asked me to make Cheesy Baked  Salmon. This time, I added tomatoes and parsley to it too, since we love tomatoes and herbs with salmon. I also made Rice Pilaf (just the way I make regular rice, except I added some garlic, white wine and fresh parsley). Sergi also wanted me to make his favorite salad, the Tomato, Roasted Corn and Avocado Salad. For dessert we had Cheese Blintzes, Nalistniki, and also Tres Leches cake, which Sergi really likes, recipe from the Pioneer Woman.
(Just click on the pictures below to see them in a larger size.)
We rented the Clubhouse at my sister Milana and her husband, Andrey's place. I knew I wouldn't have too much time to cook, since I was also working and had to be very discreet so Sergi wouldn't suspect anything. Plus, it was for a lot of people with only myself and Milana cooking, so I tried to keep the menu very practical and simple.
Here's the menu.
(Click on any of the pictures below to see them in a larger size.)
The plan was to do part of the grocery shopping on Thursday, cook the Nalistniki, Salmon Gravlax and Cheesy Chicken Roulade. Milana was going to come help me and then take the food to her house to hide.
On Thursday morning, I got out of work and was welcomed by a downpour. The rain was coming down in sheets. I got soaked to the skin just by walking to my car. When I bent my head as I was getting into the driver's seat, a river of water ran down from my head into my lap. I knew that grocery shopping would be a disaster if I went out in this rain. My umbrella broke when I tried using it. It was so windy. I couldn't start cooking, since I didn't have the necessary ingredients, and it was pointless for Milana to come over.
Finally, around noon, I decided to just go. I had no choice. Thankfully, the rain subsided, but my plans were washed away too. I didn't know how to explain the massive amount of Nalistniki to Sergi when he came home, or the Chicken and Cheese Roulade. I mumbled something about getting carried away with all the Nalistniki and told him that I had wanted to try freezing them, which is actually true:), just not this time. Oh, well. There wasn't anywhere else to hide them. I don't have a spare refrigerator in my garage.
The next day, I was  going to finish the decor for the party and prep more of the food. I also had to prepare for his other party that night. Sergi surprised me by coming home at noon and I wasn't able to do ANY party planning, except his dinner for that night. I'm always thrilled when my husband comes home early, so we really enjoyed the rest of the day and had a great time celebrating his birthday. Relaxing atmosphere at home, with our favorite food. Yum.
On Saturday, I "encouraged" Sergi to go car shopping. We have been looking for a car all year, and more intensely the past month, so he probably would have gone even if I wasn't trying to earn some time for myself to prep for the party.
Instead of leaving in the morning, like I had hoped, he was still home at 1 pm. I was getting really anxious, since I still had to go grocery shopping for most of the stuff, grab a bunch of tools and supplies from our house, bring it all to Milana's house and cook all the food, finish making all the decor and return home without him suspecting anything. HA!
I finally decided to go grocery shopping, hoping he would be on his way by the time I was done. Then I came back home, grabbed a bunch of stuff and make my way to Milana's. I got to her place around 3:30. Needless to say, I wasn't home before Sergi. In fact, I came home after 1 am. We had so much fun cooking together with Milana, though. I have to say, she is the neatest cook I've ever worked with. She gives a new meaning to "clean as you go". I kitchen was clean throughout the whole endeavor. She was such a HUGE help.
My husband is a very smart guy and figured out that something was going on, although, of course, he didn't know the specifics. I mean, whatever happened to that huge stack of Nalistniki?
On Sunday morning, the guests were waiting for us at the Clubhouse and the "Surprise" party was a success. Not in the surprise department, but in a time well spent and enjoyed. No, he wasn't surprised, but he loved it, and I'm ok with that.
Baby showers, bridal showers, children's birthdays and parties for girls are easy. There are so many different ideas everywhere. Just go to Pinterest and you'll get lost. A birthday party for a guy can be a bit challenging. Most of the party ideas I came across had to do with sports, fishing, beer or mustaches. That wasn't really what I had in mind.
The theme I finally came up with was "The Art of Manliness". It described Sergi so well. I wanted it to be sophisticated and classy, and I think we were able to pull it off. We printed up a bunch of vintage posters with cool quotes and hung them up on the walls. They actually went along with the decor of the Clubhouse really well. (Click on any of the pictures below to see them in a larger size.)
We also used Mason jars as drinking glasses, taped a ribbon around them and also placed a sticker on each one so everyone could write their names on their glass with a marker and not be confused about which glass was theirs in a jumble of other same-looking glasses.
We made manly flower arrangements (is there such a thing?) and placed them in larger Mason jars and also taped some ribbon around them.
Overall, I was very pleased with how it all looked. (Click on any of the pictures below to see them in a larger size.)
The food turned out well too. I tried to make as much of it ahead of time as I could.
We marinated the kebabs the night before and
Prepped the potatoes the night before also and then just broiled them the day of the party.
The salads and drinks were the only things that had to be made the day of the party. (We roasted the corn and peppers the night before and stripped the corn from the cob, cooked the syrup and brewed the tea for the iced tea.)
Of course, the cakes were also baked the day before the party. I placed the berries on the cake right before serving them, since berries tend to get soft and slightly mushy if you place them on the cake a day or two in advance.
We also cut the roulade and made the salmon canapes while the kebabs were on the grill.
The birthday boy was the one who manned the grill, with the help of Mark, Ruvim and Andrey; he's the best at grilling and is such a great sport about helping out, even on his birthday. 
A tradition that we started doing in my family is for everyone to say something that they appreciate and love about the birthday person. Since half of my siblings were at the party too, it was an integration of families and we incorporated that tradition into this party as well.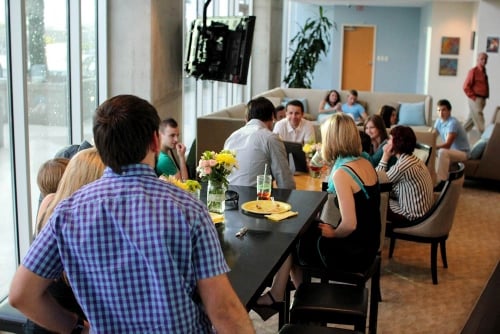 It was really sweet. It's really hard to say sappy things to your spouse in front of all your in-laws and family, so I just focused on Sergi and tried to speak from the heart. I'm a really private person, though. Ahh! Really nerve wracking but I did my best.
I hope you guys enjoyed a peek into our party and maybe you can use some of the ideas for your next celebration. We finished off the night by cleaning up and washing all the dishes with the girls:).
I couldn't have done it without a lot of help, especially from Milana, Andrey and Valentin. Mark, Marina and Vitaliya were also so supportive. Valik printed up all the posters and they all helped to decorate the Clubhouse before we got there. Thank you Marina for taking pictures too!
By the way, Sergi DID find a car. This is our first car that we bought since we got married, so we are very excited!