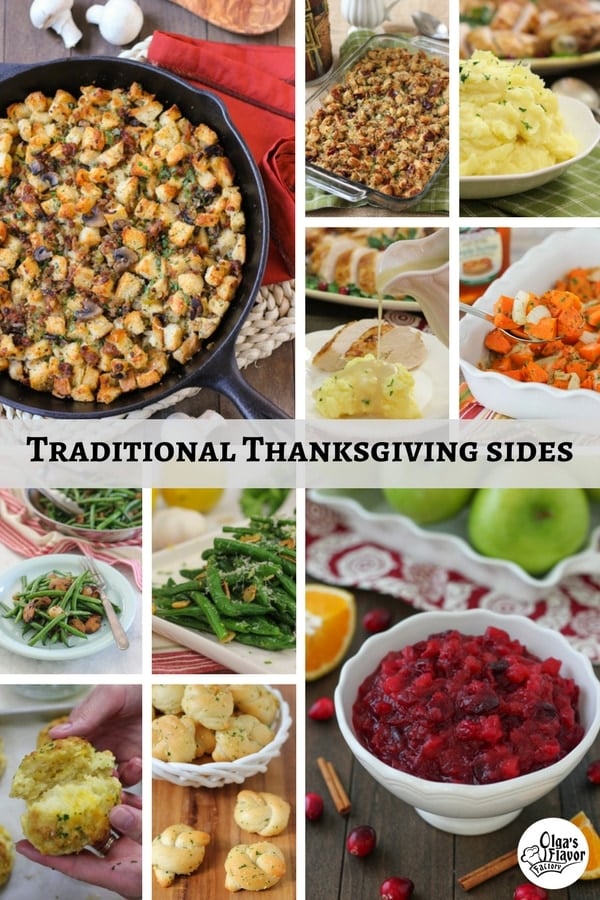 Side dishes may not take as much time to make as the turkey, but they are just as important, if not more so. I hope you can find many ideas for side dishes to pair together that will make your Thanksgiving feast perfect. You can pick your favorites and share the recipes with some of your guests to prepare. If you'll be celebrating Thanksgiving in someone else's home, this is the perfect post for you to find something that you can contribute to the meal as well. 

Traditional Side Dishes:
This is probably my favorite stuffing. You can use just about any bread for this and use any kind of sausage. You can even omit the sausage and keep this vegetarian with just the mushrooms and the vegetables.
A traditional stuffing with a few twists.  The addition of apple, dry cherries, and pecans give it a unique flavor, some texture but they complement one another really well.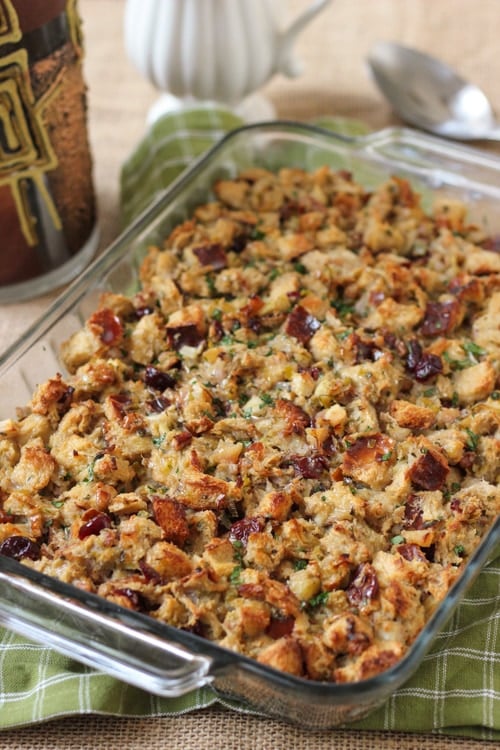 This post will give you lots of great tips about making your mashed potatoes even better.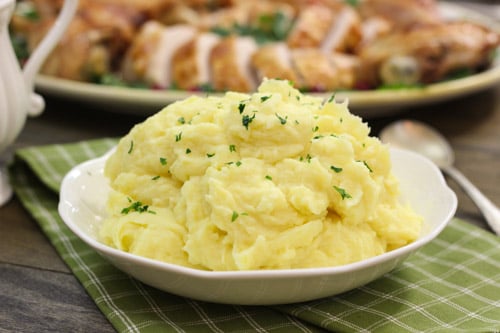 This turkey gravy is delicious enough to drink. It's very simple to prepare and packed with flavor. I promise you will be amazed by how yummy it is.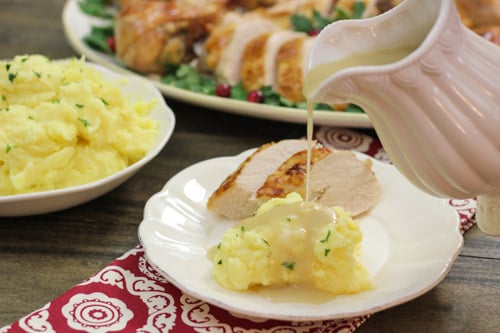 Gravy Video – if you've never made gravy before, you'll see just how easy it is in this video. Lump-free, delicious gravy coming right up.
Green beans are another traditional side dish for Thanksgiving. Toasted almonds, garlic, lemon and parmesan cheese are simple additions that pack a big punch.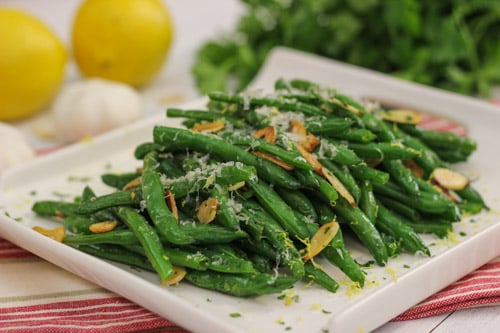 This side dish has a similar taste profile to the classic Green Bean Casserole. It's not too heavy but has heartiness. It's quick and easy to make.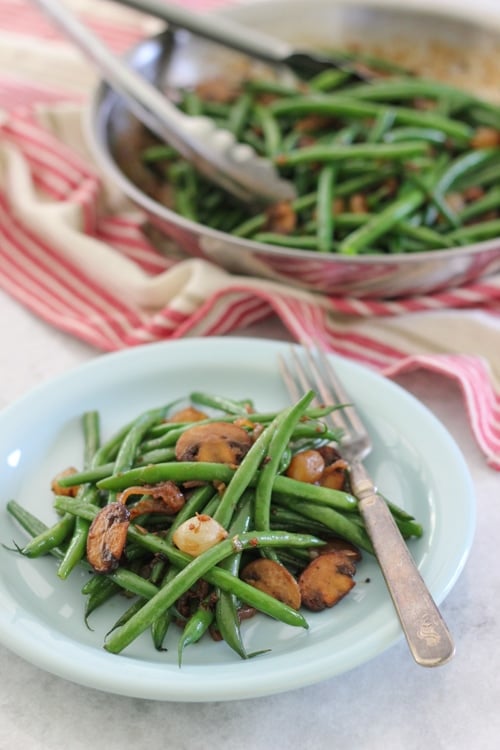 We love these sweet potatoes in our family. It has some sweetness but is made savory with the onions and garlic. It's a great alternative to regular potatoes.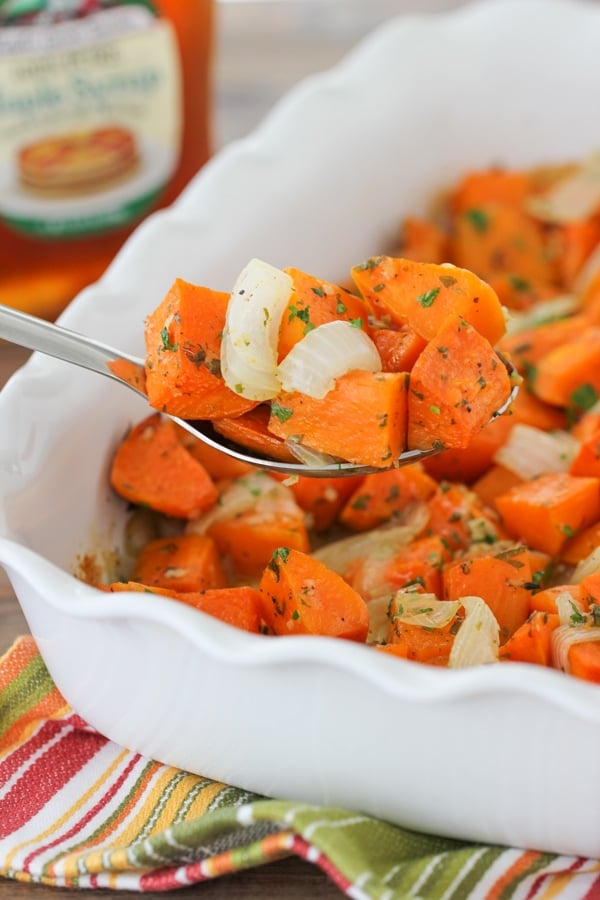 Cheddar biscuits are a wonderful alternative to rolls, especially since you don't need to wait for the yeast dough to rise.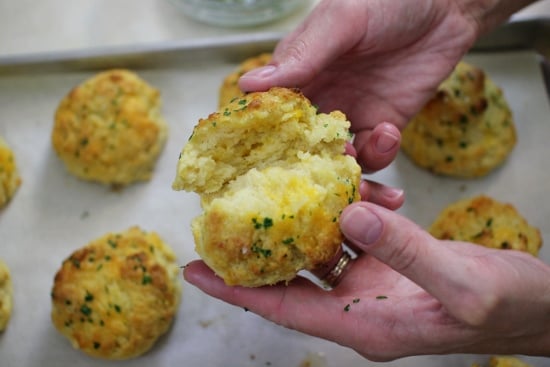 Golden, fluffy rolls with lots of butter, garlic, and parmesan cheese – they are SO good.
Such a vibrant rich red cranberry chutney will add some color to your table. The apple adds a bit of sweetness and mellows out the tartness of the cranberries. You can make this chutney in advance and then heat it up on Thanksgiving or serve it at room temperature.
Other Options:
If you have an extra oven, these Garlic and Herb Roasted Potatoes are always a big hit with guests.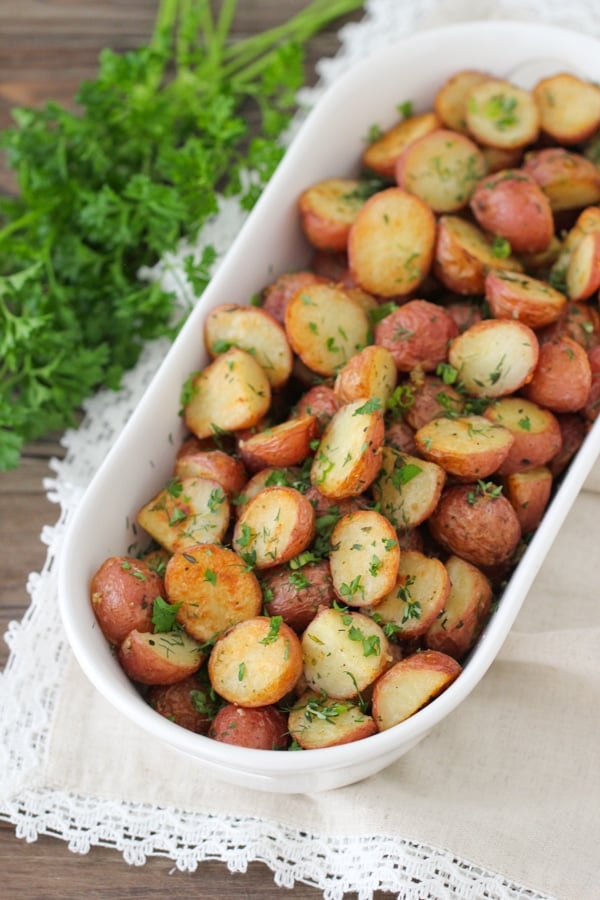 A healthy side dish, it's also colorful and can be made in advance.
This salad is very filling, but tastes really fresh and looks beautiful.
Another wonderful option for a colorful vegetable side dish. It will add some great fresh flavor to your plate.
A wonderful combination of autumn root vegetables, it's really tasty and pretty.
Carrots are a wonderful side dish this time of year, and the parsnips with the herbs and orange give it a surprising flavor boost.
What a bright and cheery salad this is. It's full of delicious root vegetables and is a staple for many holiday parties.
You will definitely not see this on a traditional American Thanksgiving table, but Slavic families love it. You should try it too!
Another Slavic party favorite. We love marinated things, especially mushrooms. This recipe uses canned mushrooms and it's so great to have some really simple dishes that don't take as much time to prepare as many of the other things that you'll be making.
So many vegetables and each spoonful has many textures, colors, and flavors. I make this often when we have company and it gets rave reviews every time.
Something tart and a bit sweets pairs so well with the Thanksgiving meal, like the turkey, mashed potatoes and stuffing.
You can't go wrong with some sort of lettuce/spinach salad. This one is a favorite in our family. The sweet, juicy strawberries and the toasted, crunchy almonds go perfectly with the creamy avocado.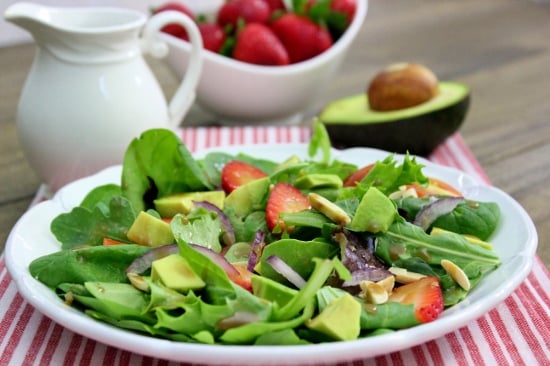 Another fresh vegetable salad that is always so well loved. People are sure to ask for seconds if they give it a try. Cabbage, fresh corn, cucumbers, and apple make up this delicious salad.