Applying Non-Stick Baking Spray Without Making a Mess
I love America's Test Kitchen. It's the only subscription I have and it's worth every penny I spend. I love watching their shows and reading their books.
They also have lots of great tips. Here's one I saw on their show a few years ago and have been using since.
Whenever you need to apply some baking spray to a baking dish, hold the baking dish pointed toward an empty dishwasher or a dishwasher full of dirty dishes and spray away.
You can coat your baking dish liberally without having to worry about getting baking spray on your counters or floors. You don't want to fall on a slippery floor!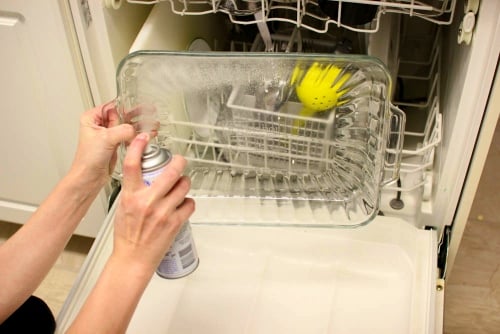 What a genius idea. It works great.
By the way, what kind of baking spray do you like? I usually use Baker's Joy. It has a mixture of oil and flour, and works really well. Plus it doesn't leave a sticky residue on the baking spray after baking. (This is my opinion completely. Baker's Joy doesn't even know who I am. Or America's Test Kitchen, come to think of it. Nobody paid me to write this.)