Cooking Without a Kitchen
As I promised in the previous post, today I am sharing my experience of cooking without a kitchen.
Our kitchen remodel got delayed and we were without a kitchen for more than a week. During the hot summer, Florida afternoons, it was quite a challenge, since the only area that was available to have a temporary kitchen setup was our sunroom, which does  not have air conditioning! It's hot enough there as it is, but standing next to a hot skillet was almost like being in a sauna.
The first day that I realized that the kitchen was nowhere near to completion and we still had the remaining week stretching before us, I dug through some boxes in the garage to find my trusty Slow Cooker Revolution Cookbook by America's Test Kitchen.
I soon realized after looking through those recipes and searching online that 95% of slow cooker recipes still require some prep work, such as searing meat or vegetables before putting it in the slow cooker. That didn't help me too much.  I decided to buy an electric skillet and that was a really great investment. For $39.99, I felt like my options were expanded by 80%. With that handy tool, I could cook just about anything.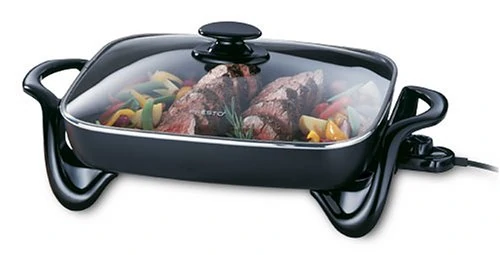 So, here's our exciting menu for that week.
Monday:
Chicken and Veggie Stir Fry, using the electric skillet
Tuesday and Wednesday:
Loaded Baked Potato Soup in the slow cooker
Rice Pilaf – in the electric skillet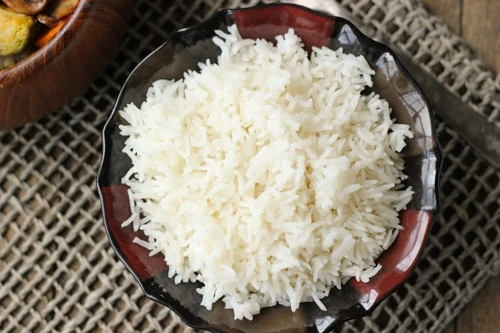 Cod With Creamy Dill Sauce – in the electric skillet as well, which means I made the rice first, then transferred it to a bowl with a lid that I covered with a towel to keep warm, washed out the skillet and made the fish.
Salad with Cauliflower Tomatoes, Cucumbers and Radish – this is always a huge hit at our house. This is a version of the Cauliflower Tomato Salad, which is always a favorite for us too. This time I added some cucumbers and radishes as well.
I made enough food on Tuesday, so that on Wednesday all I had to do was reheat everything from the day before.
That evening, I made Banana Walnut Oatmeal in the Slow Cooker, and we had it for breakfast the next two days.
Thursday:
I have an obsession with Potato Pancakes. They. Are. SO. Good. Yes, I am craving them again, just by writing about them. Maybe I'll make them again today:).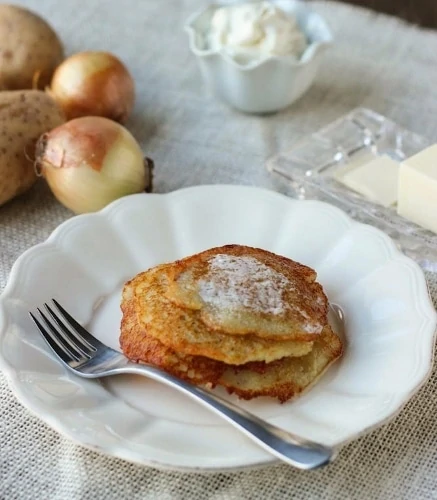 Friday:
On Friday, my oven was installed, so I was thrilled to get out of the hot sunroom AND test out my new toy.
Tomato Salad
Saturday:
Sauteed potatoes – Whenever I make Baked Potatoes, I try to make extra, because I love to brown the leftovers in a skillet the next day. I guess I'm a potato gal. The texture of the sautéed potatoes is absolutely perfect – crisp on the outside, soft and mealy on the inside. 
Leftover Steak
Chicken Kotleti Po-Kievski from my thoughtful sister-in-law, Vitaliya. 
Tomato, Cucumber and Radish Salad
Buttermilk Pancakes – To celebrate making lots of progress on the house and having an oven again, I made pancakes for dessert. I also got my counters that day, so I was very, very pleased.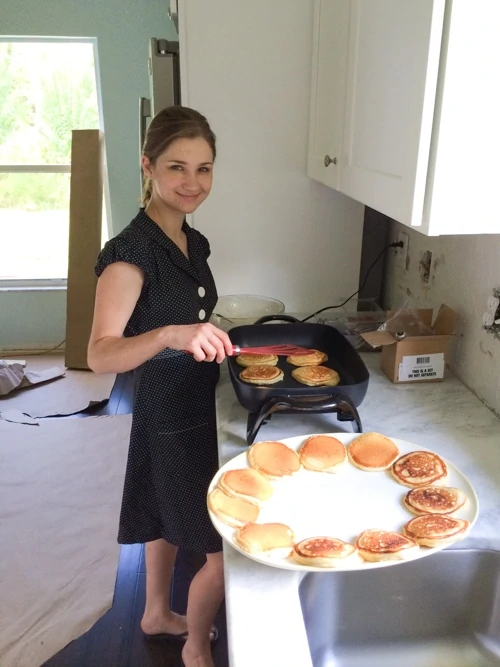 For breakfast that week, I made my favorite Thin and Delicate Omelets a few times, Scrambled Eggs another morning, and my sister, Milana, treated us to a delicious breakfast of bagels with cream cheese, smoked salmon and Canadian Bacon.
One of the most unexpected challenges for me was not having a kitchen sink. I got pretty handy with using only my electric kettle, the slow cooker and an electric skillet and could honestly continue cooking with them, but washing all the dishes in the garage wasn't fun. Think hot, dusty, and very uncomfortable, since it's so low that my back was really sore after each session, even though I'm really short as it is. However, I shouldn't even complain about that, since I am very glad that we have that larger sink in the garage, otherwise washing dishes in the tiny bathroom sinks would be quite the feat.
The second challenge was having to dig through boxes almost every time I needed something. It was like a scavenger hunt, except it wasn't exciting and thrilling, but frustrating and I lost my temper on many occasions. Ha ha. I'm not very proud of myself here.
I will never take a kitchen for granted again. I am so grateful to be back in a kitchen, even if it's not completed yet. I've been sharing behind the scene pictures on Facebook and Instagram, so you can check out those, if you're interested. I even started blogging again, so you can expect to see some new recipes very soon. It is such a joy to wash the dishes in the kitchen sink, to have a stove and oven to cook with and a relief to start putting all my things away into the cupboards and drawers.