I try to prepare fresh fish the same day that I buy it or the next day at the latest. I am so paranoid about the fish spoiling.
However, sometimes life happens and cooking it the same day is not possible or convenient. If you have to store fish overnight in the refrigerator, here's how to do it.
Place a layer of ice in a rimmed container. I usually use a glass baking dish. Place the fish in a sealed bag and place it on top of the ice.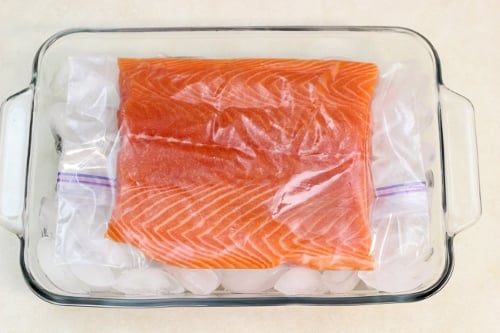 Why does this work so well?
The fish will stay really cold, without freezing, which helps to preserve its freshness longer.
Storing the fish in a sealed bag will prevent if from getting waterlogged as the ice will slowly melt.
The fish is tightly sealed, which means your refrigerator will not smell fishy. HUGE benefit.
It couldn't be easier.
I wouldn't recommend storing the fish this way longer than 1-2 days.