We are finally in our new home! Last weekend rushed by at breakneck speed and I am happy to announce that we survived.
Moving takes so much time and effort. My organized little mind does not like chaos, and the masses of boxes, stacked up possessions, disassembled furniture and just utter chaos at times have been driving me crazy. However, it also a huge motivation to get everything in order again and get settled in as soon as possible in our new home. I am so excited about getting my closets, drawers and every room organized again. My hands are just itching to get it all done right away.
In the meantime, food has been the last thing on my mind, but no matter how much I wanted to avoid it, we humans have this strange need to eat every day. It would be so much easier to just resume eating in a week, once everything is settled down again:). However, this is not the case. In fact, I think everyone was more hungry than usual, because we were all working so hard.
Maybe you'll be moving in the future, or have an extremely busy week ahead, so I will share what we've been eating for the past week.
Normally, I would have planned ahead and made some Freezer Meals, and cooked a lot of other food that could be made in advance and then simply reheated. However, I simply did not have time at all in the past month or so. As you know, we got a new family member and that has been quite an adjustment for our family, so I did not have any spare time to make Pelmeni or Lasagna.
The food I cooked was not part of a brilliant menu or anything. My main focus was to cook food that could be made in large batches ahead of time and then reheated well. I also wanted food that was easy to serve and could also be prepared with the least amount of cooking tools, since I had already packed part of my kitchen. Lastly, I focused on the ingredients that I had in my fridge and pantry, because grocery shopping was another extra task that I tried to avoid. Besides, the more food we used up, the less we would have to move to the new kitchen.
Day 1
Chicken Noodle Soup – I wasn't feeling very well that day, so the Chicken Noodle Soup was therapy for myself. It really hit the spot and was so soothing for my tummy. 
Cheesy Chicken Meatballs – I had ground chicken on hand, so I prepped the meatballs ahead of time and then simply baked them right before heading over to the other house to feed the hungry. I served the meatballs with mashed potatoes and a Tomato Salad.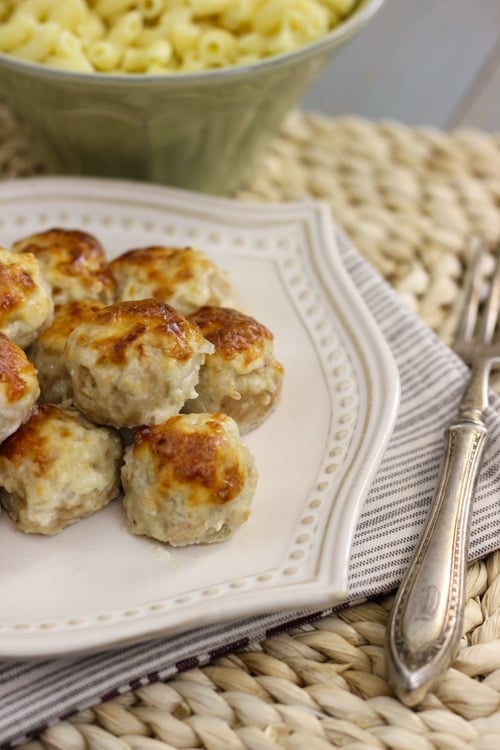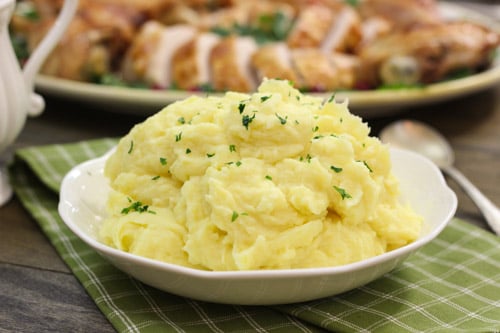 Day 2 and 3
Cold Beet Holodnik – This was brilliant. It is served cold, so you don't even need to reheat it. This soup is so refreshing during our hot summer days. Most importantly, it is so easy to make. I made such a huge pot of this soup, that we had a really hard time transporting it. From that day on, I decided not to make anymore soup until I was in my new kitchen again. 
I served the Holodnik with boiled potatoes, caramelized onions and bacon, with Chicken Cutlets one day and Mom's Braised Potatoes the next day. Both dishes were a huge hit.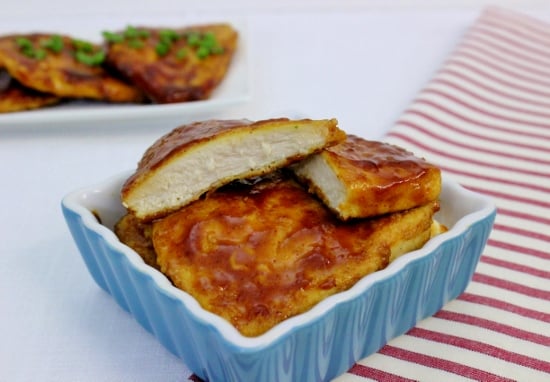 Day 4
Plov – Since I was working the night before, I had made the Plov the day before, when I was making the Braised Potatoes. It was a great idea, since both dishes use a lot of the same ingredients, so prep work was a cinch. It was really easy to just reheat the Plov. We simply served it with Polish pickles.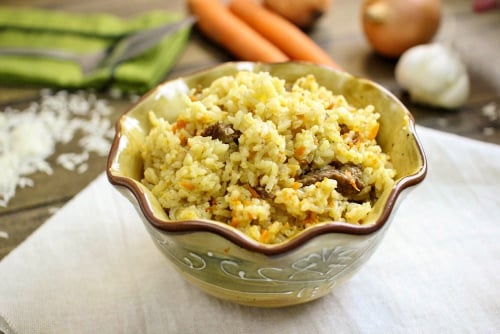 While I was getting some sleep, my Mom made Russian Olivie. What a great idea! We kept it in the fridge and anyone could serve themselves a portion at any time. It's hearty, filling and also served cold.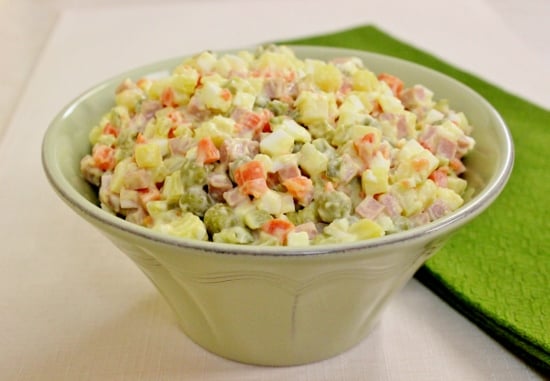 Day 5
Pasta Primavera – my parents were recently in Ohio, visiting my Aunt and Uncle. They have a huge, thriving garden and gave my Mom a whole bunch of Zucchini. She brought it with her to Florida, so we made Zucchini Pancakes a few days before for breakfast and also made this Pasta dish. I also happened to have asparagus in my fridge and peas in the freezer. This is a great option for busy days, since it's so quick to make. Plus, I love using the oven for busy days, since I don't have to stand at the stove too much.
Day 6
This was the BIG MOVING DAY, last Saturday. No time to cook and no available kitchen anyway. Time to order Pizza!
Breakfasts that week were really easy. As I already mentioned, we made Zucchini Pancakes one morning, bagel egg sandwiches a few other mornings and a few days just cut up some deli meat, cheese and bread with tea.
What a week! I am so thankful that it went so smoothly. We have wonderful family members who helped us out so much, with both the remodeling and the moving. We couldn't have done it without them.
This week was interesting too, since I didn't have a kitchen to cook in at all!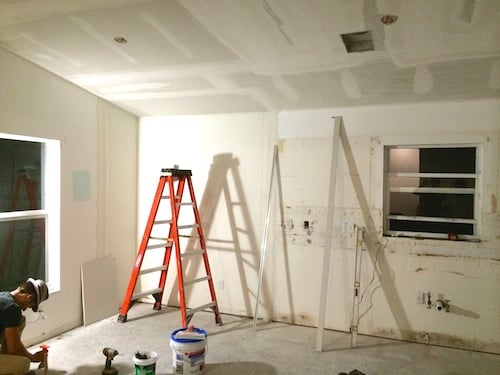 As you can see, I didn't have any appliances or cooking surfaces. I'm so glad I at least had a refrigerator to store food. I even had to wash the dishes in the garage sink. I will share that experience with you next week, so stay tuned to find out how I managed to cook without a kitchen.
Have any of you moved recently? Do you have any helpful tips to share about feeding your family during this hectic time?