What We Eat in a Day, Mama and Toddler Edition
Do you ever struggle coming up with different meal ideas? Maybe this post will give you a little inspiration. Here's a fun peak into what my toddler, Nathaniel, (who is currently 15 months) and I eat in a day – breakfast, lunch, dinner and snacks.
I know that I share a lot of recipes here at Olga's Flavor Factory, and I get asked all the time for ideas of what to pair with certain recipes to make it a full meal. Another frequently asked question is what I feed my baby, so here goes: the secret to what a food blogger eats and feeds her child – it's all revealed today:). Lol.
Of course, what we eat varies a lot, especially since I try out new recipes constantly, but we do have our family favorites that are staples for us, and we enjoy them over and over again. I'm hoping to share more of these types of posts with you, so if you enjoy this one and would like to see more, I'd love to know if that is something that you would be interested in.
For breakfast, Nathaniel and I had oatmeal with a bit of butter, maple syrup, cinnamon and fresh blueberries.
While I am cooking breakfast, Nathaniel is usually whining next to me, and wants to be picked up, so I have to be very quick. Sometimes though, there are those rare but beautiful mornings when he is happy to play with his toys or look through his books while I am in the kitchen. At least for 10 minutes. 
Nathaniel LOVES oatmeal and all kinds of porridges, so I make them several times a week. Often I'll make a large batch, and then just reheat it in the mornings. Easy, peasy.
Blueberries are an awesome snack too, so I'll wash them and pop them in my mouth all day off and on and it's a perfect snack for babies too, since he can feed himself and loves to pick up those little blue balls with his tiny fingers.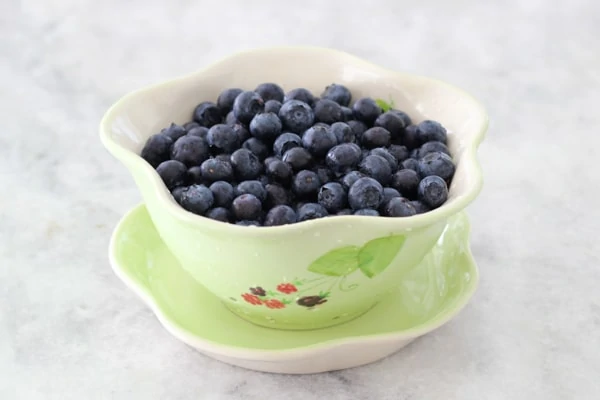 I don't usually have a large lunch. In fact, I'm usually not hungry for lunch, so I keep it extra simple. 9 times out of 10, I'll just reheat some leftovers from the day before, which is just what we had on this day – Creamy Zucchini Soup. This is also one of Nathaniel's all time favorites and he can gobble up a bigger bowl than me.
After Nathaniel's nap, we enjoyed some deliciously sweet and juicy plums. 

Nathaniel was really into his plum.
I just couldn't resist sharing all these pictures. He is so cute.
For dinner that day, Sergi came home at a decent hour and grilled these Lemon Garlic Shrimp and while he was at it, he grilled some zucchini too. (I usually prep dinner during Nathaniel's nap. Sometimes I get most of it done, other times, I have to wait prep with him playing in the kitchen with me, or wait to finish the last steps when Sergi gets home from work.)
I could eat a bowl of just the zucchini and I would be completely satisfied.
It's SO delicious on the grill. I just sliced the zucchini in half and then made some criss cross slashes with my knife on the zucchini surface. Then, I drizzled it with avocado oil, seasoned it with salt, ground black pepper, minced garlic and fresh minced parsley. Once the zucchini is grilled, I cut it into pieces. Zucchini is in season right now and we are taking advantage of it for sure. I made Rice Pilaf with parsley to go with our meal. 

As an after dinner snack, Nathaniel and I had some sliced tomatoes that I just sprinkled with salt and ground black pepper. (Sergi's doesn't get eating tomatoes like this, so he skipped this one. I was happy not to share.) This is a snack I enjoy all the time when tomatoes are in season. Nathaniel shares a love of tomatoes with his Mama, and will not leave my side if I have a plate of these beauties.
I was very happy to buy both the plums and the tomatoes at a farmer's market, and they were incredible – so juicy and fresh!
Sergi and I don't drink anything besides water and tea, so there's nothing of interest to share on that end. For Nathaniel, I do add a few squirts of a concentrated fruits and vegetables beverage mixture into his water. It has a lot of vitamins, antioxidants and phytonutrients. Plus, it tastes good too:). If I'm home, I drink water from a glass tumbler and if I'm running errands or on a walk or at the park with Nathaniel, I take my water bottle along. Nathaniel will drink a lot more if I let him use my tumbler or bottle, but in cases where I don't want to be standing over him making sure he doesn't drop it or spill it, we have this really convenient cup. I love that it comes completely apart and I can wash every little corner of it, with no extra valves or parts that can mold. Plus, it's designed to act just like a cup, so it teaches him how to drink but doesn't spill.
He can just carry it around with him, and even when he tips it over, it doesn't spill. Nope, this post is not sponsored. I just like sharing the things that we enjoy:).
As you can see, I try to keep meals and snacks really simple on most days. Nathaniel eats whatever we are eating most of the time.
What are some of your favorite meals and snacks that you cook for your family?