Vintage Storybook Adventure Baby Shower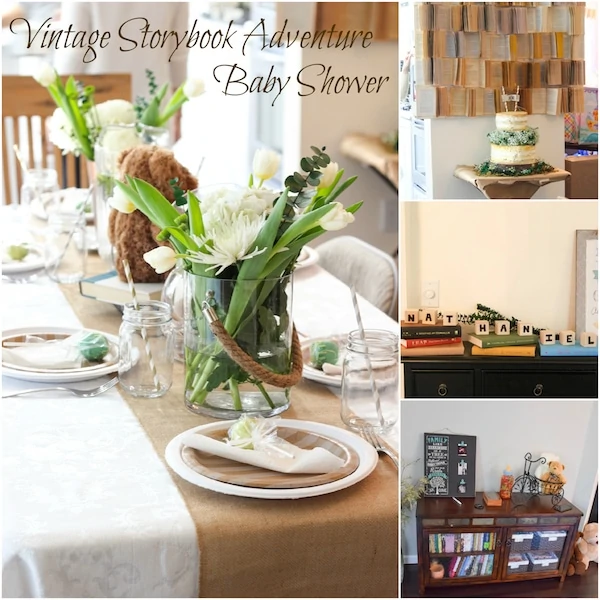 Our family surprised us with a lovely baby shower this Saturday. It turned out to be one of the most memorable occasions of my entire pregnancy. The highlight of the baby shower was spending time with both our families and friends. Since many of my family members live in other states, it was such a surprise to see them, even more than the baby shower itself.
That Saturday, Sergi and I went out to see a movie and then to run some errands. Since I usually feel better during the earlier part of the day, we try to go out during that time. Sergi was the secret agent for Mission: Baby Shower, so he made sure to leave the door open and was keeping everyone informed when we left the house, where to find different things that they needed, etc. While we were relaxing at the theatre and then browsing at the library, the busy bees were hard at work getting everything set up.
When we walked through the front door, I was shocked to see so many smiling faces.
For a moment I felt like I was dreaming, since I never expected to see my parents, my aunt, uncle, sisters, brother in law and nieces from New York and Ohio. Plus, it was so nice to see my brothers and sister with their families that live nearby, Sergi's family and some of our really good friends. I was really missing everyone. Even though they live in the area, we haven't really been spending any time with anyone recently, because I just don't feel good most of the time, especially in the evenings when others are free.
I'm still reliving the few days that we spent together and know that I will always cherish this time. I can't believe they drove and flew just to spend this time with us and to share our joy of the soon to be born Nathaniel.
The Decor:
The theme of the baby shower couldn't have been more perfect, a vintage storybook adventure theme. It was absolutely stunning, elegant and very tasteful.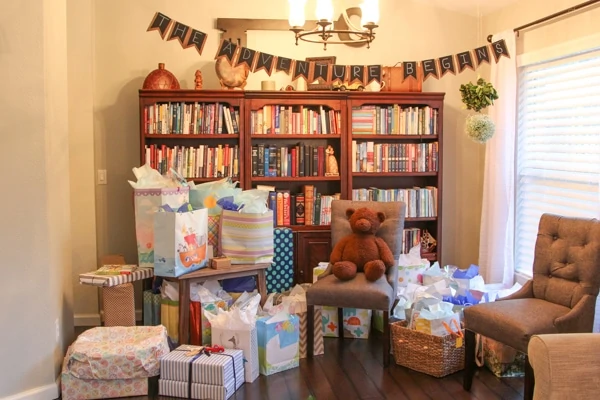 Every little detail was charming and sweet.
They even had all the guests bring a children's book to add to Nathaniel's library. I can already see myself cuddling with him and reading him all these wonderful stories.
To go with the vintage adventure theme, they also incorporated a lot of nature accents. Not only does it go with so many storybooks, but it's something so dear to me, since I grew up on a 100 acre property, and spent my childhood hiking through the woods, wading in the creek, picking wildflowers and berries.
The Cake:
My sister, Karina, made the simple and elegant cake. The cake was set against a book backdrop and decorated to emulate the nature theme. Not only did it look spectacular, but it tasted even better.
The top cake was a vanilla and white chocolate cake and the bottom cake was a sponge cake. All the cake layers were soaked with a raspberry simple syrup and alternated with fresh strawberries with shaved chocolate and raspberries with dark cocoa powder  in between layers. The frosting for the bottom cake was divine. It seriously was a masterpiece and a labor of love. Karina made a white chocolate pastry cream and then combined it with a cream cheese frosting and then lastly folded in some whipped cream. WOW! It was the bomb. We were very happy to have leftovers and enjoy the cake with some tea the rest of the weekend too.
The Menu:
We sure had a feast at the shower, thanks to both of our families pitching in and cooking so many delicious dishes. 
Grilled Barbecue Chicken Thighs
Grilled Vegetables
Garden Salad With Feta and my sister in law's homemade dressing
Russian Beet Salad "Vinaigrette"
For dessert, we had a nice variety of sweets with tea and coffee.
We were "showered" with gifts for our new arrival. Aren't baby items so much fun to look at? We are well prepared for the baby's arrival at this point, with everything that we will need and much more. I am really excited to get the closet organized and his nursery all set up.

The Latest Pregnancy Update:
My c-section was moved to February 23rd, which is less than 2 weeks away. The OB doctors are going to have a general surgeon who specializes in abdominal surgeries at the c-section just in case, since I am a pretty complicated case. I will be 37 1/2 weeks pregnant at that point, which is the time that they want the baby delivered. I've only gained about 5 pounds total throughout my entire pregnancy and nutrition has been quite a challenge. Since I've had so many abdominal surgeries in the past, have a complex history, and a vertical c-section in the past, there are too many risks, so the c-section has been carefully planned. We've been keeping a close eye on the baby this whole time and thank God Nathaniel is doing great. We will get to meet our little miracle very soon. I am eagerly waiting for the incredible moment when I will finally hold him in my arms and gaze into his precious face.
Thank you so much to everyone who came, helped decorate, cook and made this such a meaningful experience.  
I cherished every moment of the shower. It was surreal in so many ways. For years I didn't even dream that there would someday be a baby shower for me. What an unexpected blessing and gift from God. Even though this pregnancy has been very difficult, it was totally worth it. Nathaniel is already so loved. Just like the theme of our baby shower, may the adventure begin.