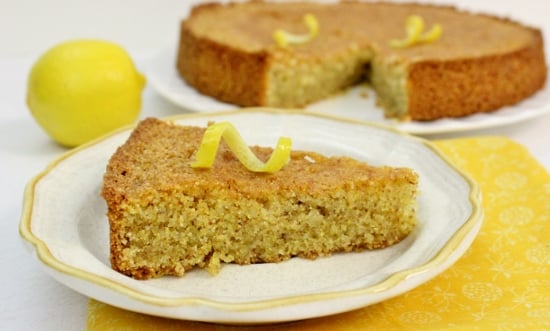 My husband recently bought me a new cookbook, Illustrated Step-by-Step Baking by Caroline Bretherton. Since I have so many cookbooks already, I don't often buy new ones anymore. I have several criteria of whether or not I will actually puuchase a cookbook. It has to be full of gorgeous pictures and I have to like at least 10 of the recipes. This one is wonderful. There are so many glorious, colorful pictures, step-by-step photographed instructions and I want to try almost every recipe in the book. I guess you'll be seeing a lot of new baked goods in the near future on this blog, because whenever I glance through it, I feel a burst of inspiration. The apron is on and the mixing bowls come out.
This recipe quickly caught my eye. It's simple to prepare, and has a rustic and homey appeal. I love the brightness that the lemon syrup gives this cake. I really like using citrus in cooking and baking. The cake has a crumbly texture from the cornmeal and almonds. The lemon zest perfumes the whole cake with a light and fresh taste of citrus. With a cup of tea and a plate full of sandwiches or Blini With Smoked Salmon, you can have a stress-free tea party or a family movie night.
Yields: 1 cake
Ingredients:
12 Tablespoons of butter (1 1/2 sticks), softened
1 cup of sugar
3 eggs
1/2 cup cornmeal
1 1/3 cup (6 oz) ground almonds
1 teaspoon baking powder
1 teaspoon lemon zest
Lemon syrup:
juice of 2 lemons
1 tablespoon of sugar
Preheat the oven to 32 5 degrees. Spray a 9 inch springform pan with baking sprayand line the bottom with parchment paper. Using a standing mixer with a paddle attachment or a hand miser, cream the butter and sugar until light and fluffy. 
On low speed, add the eggs.
Process the almonds in a food processor until they are almost like a powder. You should have about 1 1/3 cups of ground almonds. 
Using a rubber spatula, fold in the ground almonds and cornmeal into the butter and egg mixture.
Add the lemon zest and baking powder.
Scoop out the batter and evenly distribute in the prepared pan.
Bake for about 45-55 minutes, until golden brown. You can check for doneness with a toothpick.
While the cake is baking, put the lemon juice and sugar in a small saucepan and heat through until the sugar dissolves. (Oops! I forgot to take a picture). Poke a bunch of holes in the baked cake with  a toothpick. 
Pour the lemon syrup over the warm cake. I used a spoon to drizzle it on. 
I made this cake, took a picture and went to take a shower, leaving the cake and the slice on the counter. This is what I found when I came back:).
You can sprinkle some powdered sugar on top if you'd like. This cake would be great with a glass of milk too.