Print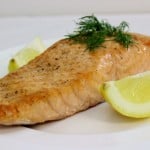 Prep Time:

3 mins

Cook Time:

13 mins

Total Time:

16 mins
4

salmon portions, skin on

1 Tablespoon

olive oil
salt, pepper
Preheat the oven to broil.
Line a deep baking dish with aluminum foil.
Place the fish on top of the foil, skin side down.
Rub olive oil over the surface of the fish.
Season with salt and pepper. Salmon is a thick fish, so season well – don't be shy with the salt.
Broil until golden brown, 10-15 minutes.
You can check the fish for doneness with a fork. If it flakes easily, the fish is ready.
Slide a thin metal spatula between the fish and the skin. It will come off in one piece.