Roasted Brined Turkey Video Recipe
Thanksgiving is right around the corner. How many of you are hosting this wonderful holiday in your home?
This year, I decided to do a Thanksgiving series of videos and the first one is the most important – turkey. My wonderful, talented husband was patient enough to help me film a really great collection of Thanksgiving recipes and tips for you, so I'll be posting the rest of them soon, in plenty of time to get ready for the big day.
Roasted Brined Turkey Video Recipe
Author:
Olga's Flavor Factory
Ingredients
1 turkey (12-20 lbs)
ground black pepper
Brine:
1 gallon vegetable broth
1 cup kosher salt
½ cup brown sugar
1 Tablespoon peppercorns
2 dry bay leaves
1 gallon heavily iced water
a handful of raw garlic cloves (crushed or cut in half)
To stuff the cavity of the turkey:
1 head of garlic, cut in half
1 small onion, cut into quarters
fresh herbs (thyme, sage, parsley)
½ of an orange, cut into quarters
1 lemon, cut into quarters
For the roasting pan:
3 onions, roughly chopped
3 carrots, roughly chopped
3 celery sticks roughly chopped
a handful of garlic cloves
1 lemon, cut into quarters
fresh herbs (thyme, parsley)
1½ cups chicken broth
Instructions
Make the brine first. Heat up the vegetable broth, adding the salt, sugar, peppercorns and bay leaves, cooking until the salt and sugar dissolve. Cool.
Pour the cool brine into a large container and add the ice water. If you don't have a large container, you can use a cooler. Submerge the turkey completely in the brine.
Fill a large ziplock bag with ice and place it on top of the submerged turkey. Whenever the ice in the bag melts, replace it with fresh ice, making sure that the brine is always cold. Brine the turkey for at least 8 hours and up to 16 hours. I usually do it overnight.
Preheat the oven to 350 degrees Fahrenheit.
Take the turkey out of the brine, and pat it dry completely. Stuff the cavity of the turkey with the onion, garlic, herbs, orange and lemon. You can keep it simple and just use garlic, lemon and parsley.
Place the chopped onions, carrots, celery, garlic, herbs and lemon into the bottom of a large roasting pan. Pour in the chicken broth.
Place the turkey in the roasting pan on top of a rack.
Roast the turkey at 350 degrees Fahrenheit until it reaches 165 degrees Fahrenheit in the breast and 175 degrees in the thigh on an instant read thermometer. My turkey was 15 lbs and it finished cooking in about 2 hours.
Let the turkey rest for about 30 minutes before carving.
Other Recipes Mentioned in the video:
Traditional Challah Dressing With Cherries, Apples and Pecans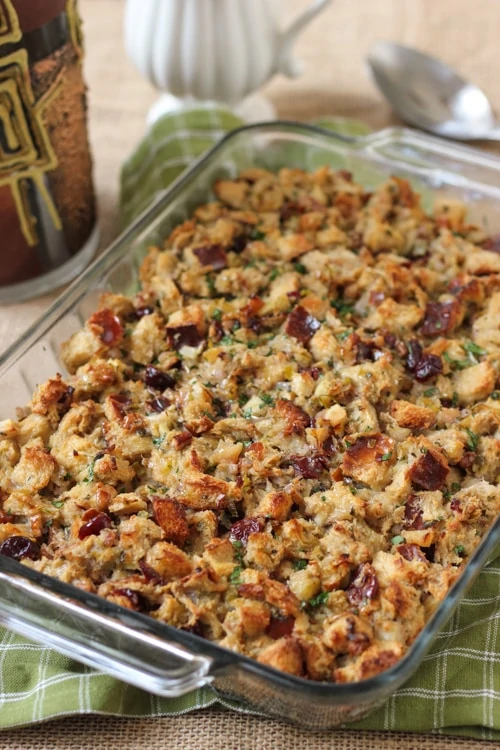 Sausage, Fennel and Mushroom Sourdough Dressing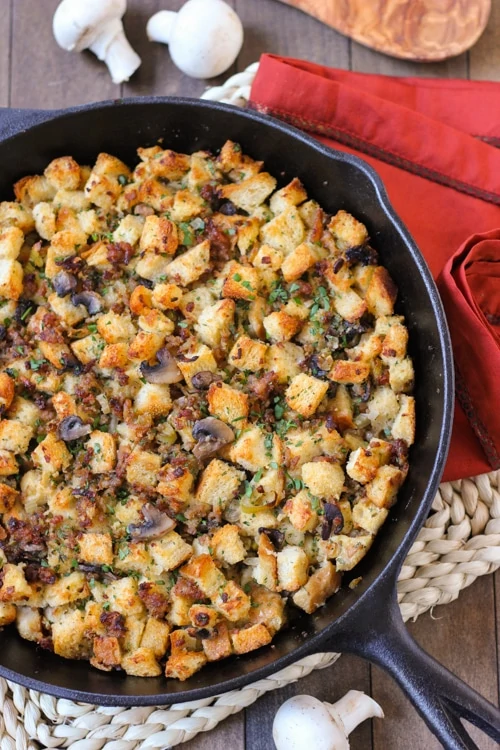 Other Turkey Recipes: