Slow Cooker Beef Stroganoff
Now that autumn has arrived, hearty meals that stick to your ribs are on my mind. Not that it has gotten colder here. We are still having temperatures in the 80's right now. However, I can use my imagination and my Mom's updates of NY weather.
I'm in the process of finding awesome slow cooker recipes that aren't muddled, bland and watery. In my experience, that has been the sad case most of the time. I would love to use my slow cooker more often, especially on the days that I'm working. (And probably even more so when we finally become parents to two toddlers!) It would be awesome to come home from work, throw the ingredients into the pot, and have magic fairies working on my dinner while I sleep. I then wake up to an incredible, homey aroma that is wafting through the house, and when Sergi comes home all I have left to do is set the table.
I have an AMAZING Beef Stroganoff recipe already, and we really love the flavors of that dish. Scrumptious beef and mushrooms in a creamy, tasteful sauce is a favorite in our house and I make it very often for guests too. I loved the idea of making this recipe in the slow cooker. I had recently bought one of  America's Test Kitchen's cookbooks, Slow Cooker Revolution and adapted their recipe a bit. 
Trim the mushrooms and cut them in half if they are small or quarter them if they are large.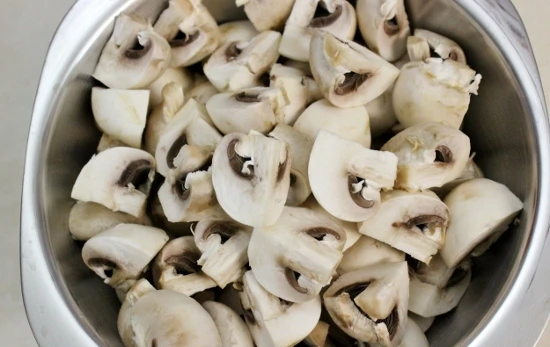 Heat 1 Tablespoon of oil in a large skillet. I used my dutch oven since I was using my large skillet for something else:). Add the mushrooms, season with salt and pepper. Cook for about 10 minutes, until the mushrooms are browned and all the liquid is cooked off.
Place them in the slow cooker.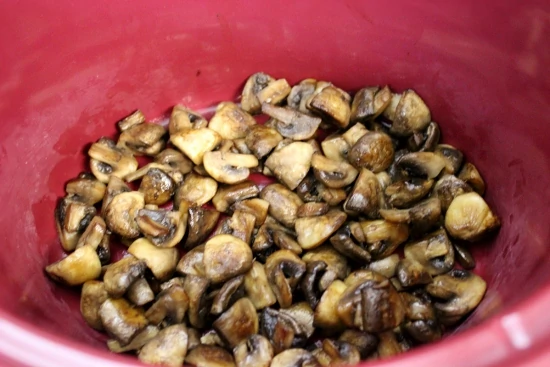 In the same skillet, add 1 1/2 -2 Tablespoons of oil, heat until shimmering, add the onions, tomato paste, garlic, porcini mushrooms and thyme. (I didn't use thyme. I usually do, but I didn't have any on hand that day.
Cook until the onions are softened, about 8 minutes.
You may be wondering why I'm taking the time to brown the mushrooms and cook the aromatics. You thought the point of using the slow cooker was to throw stuff in the pot the way it is and walk away? Almost. You can almost never get away with it without adding at least a little bit of those sweet, roasted flavors that come from browning the meat, mushrooms or aromatics. If you add the onions and garlic without cooking them first, the flavors will be muddled and bland. Since the food cooks so long in the slow cooker, it needs a bit of a boost in flavor. That's why we're using more onions and garlic and adding tomato paste, porcini mushrooms and soy sauce. It's very concentrated and really tasty. They all contribute to a great sauce and we can skip browning the meat.
Add the flour and mix until it's well incorporated.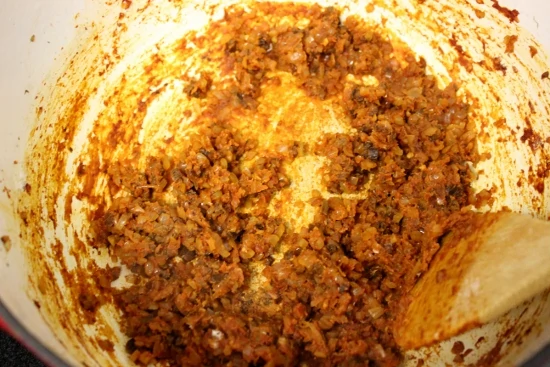 Slowly pour in the broth, making sure to get rid of all the lumps and scraping up all the yummy browned bits. They will add a lot of flavor to the broth.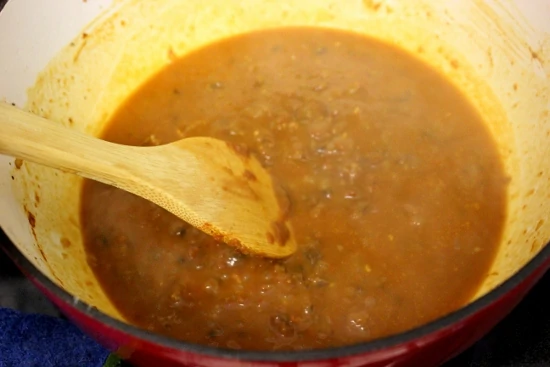 Add the white wine, soy sauce and bay leaves. Pour it all into the slow cooker.
Season the beef liberally with salt and pepper.
For soups and stews, chuck is a great option. In my regular version, I use sirloin, which tastes wonderful but needs to be cooked very quickly. Chuck comes from the shoulder and it's a really tough piece of meat. When it's cooked slowly, the strands of fat that are in the meat will break down and melt, making the meat really tender. It's a relatively inexpensive cut of meat and has a great flavor, so that's good news for us.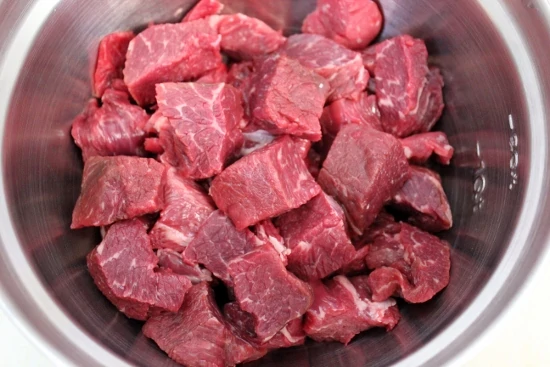 Nestle the beef in the liquid.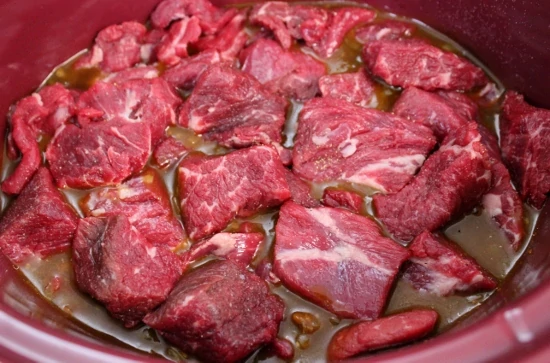 Cover and cook on low 9-11 hours or 5-7 hours on high.
The meat should be tender and when you poke it with a fork, it will easily pull apart.
Using a large spoon, remove any fat from the surface of the beef stew. Discard the bay leaves and the thyme stems. Add the sour cream and mustard. Season with salt and pepper, if it needs any. Add more broth if you want it to be thinner. You can also add a splash of cream for a richer, creamier tastes to to make the Beef Stroganoff a little more mellow, since there are many acidic elements in it.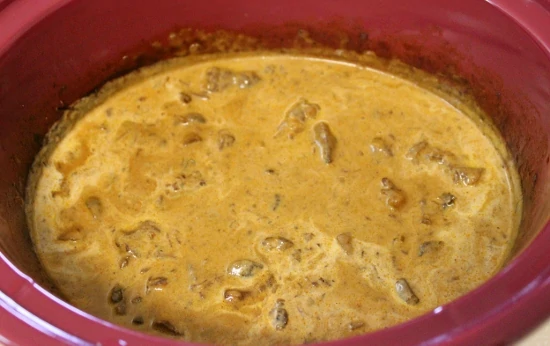 Garnish with fresh minced parsley. (You can also add dill and scallions if you like.)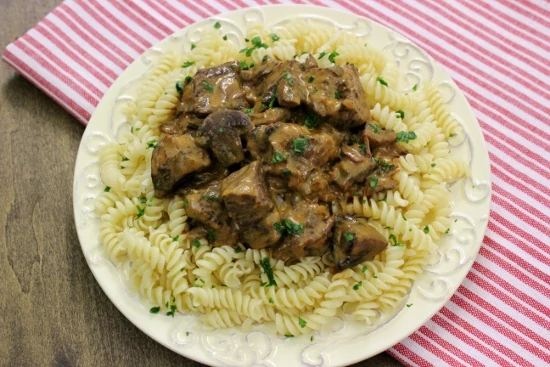 What kind of recipes do you prepare in the slow cooker? I'm curious to see what other ideas you guys have. I'm on a mission to have at least a few recipes in my repertoire before we bring the children home from Russia.
Slow Cooker Beef Stroganoff
Ingredients
3 Tablespoons oil
1½ lbs white mushrooms
3 onions, minced
2-3 Tablespoons tomato paste
6 garlic cloves, minced
½ oz dried porcini mushrooms, rehydrated, rinsed and minced
thyme 1 teaspoon dry or 1 Tablespoon fresh
⅓ cup flour
1¾ cups chicken broth or beef broth
¼ cup white wine
¼ cup soy sauce
2 bay leaves
4 lbs beef chuck, cut into 1½ inch chunks
⅓ cup sour cream
2 teaspoons Dijon mustard
salt, pepper, to taste
fresh parsley, minced, for garnishing
Instructions
Trim the mushrooms and cut them in half if they are small or quarter them if they are large.
Heat 1 Tablespoon of oil in a large skillet. Add the mushrooms, season with salt and pepper.
Cook for about 10 minutes, until the mushrooms are browned and all the liquid is cooked off. Place them in the slow cooker.
In the same skillet, add 1½ -2 Tablespoons of oil, heat until shimmering, add the onions, tomato paste, garlic, porcini mushrooms and thyme.
Season with salt and pepper. Cook until the onions are softened, about 8 minutes.
Add the flour and mix until it's well incorporated.
Slowly whisk in the broth, making sure to get rid of all the lumps and scraping up all the yummy browned bits.
Add the white wine, soy sauce and bay leaves.
Pour it all into the slow cooker.
Season the beef liberally with salt and pepper. Nestle the beef in the liquid.
Cover and cook on low 9-11 hours or 5-7 hours on high. The meat should be tender and when you poke it with a fork, it will easily pull apart.
Using a large spoon, remove any fat from the surface of the beef stew. Discard the bay leaves and the thyme stems.
Add the sour cream and mustard. Season with salt and pepper, if it needs any.
Add more broth if you want it to be thinner. You can also add a splash of cream for a richer, creamier tastes to to make the Beef Stroganoff a little more mellow, since there are many acidic elements in it. Garnish with fresh minced parsley. (You can also add dill and scallions if you like.)