A Few Of My Favorite Things GIVEAWAY
THIS GIVEAWAY IS CLOSED. Congratulations to Julia, the winner:). She was contacted immediately after the giveaway closed, and has already received her package. Thank you all for participating. 
I am running a fun giveaway this week for all my Instagram followers! Instagram is definitely my favorite social media platform. I love sharing all kinds of things there – sharing cooking tips, meal prepping, what I'm cooking, behind the scenes of blogging, my cute family and lots more.
This giveaway includes a assortment of some of my favorite things. These are all items that I use and love and would love to share with you. Think of this as my way of creating a care package with a personal touch and note for one of you. 
What's Included In the Giveaway:
My favorite recipes all come from America's Test Kitchen. They are so reliable and always taste great. I love America's Test Kitchen videos (as well as the Cook's Country videos – produced by the same people). I own many of their cookbooks and this one is great. 
I have read at least 15 intentional living books last year, and this one was one of my favorites. It's full of common sense wisdom and gets you in the right mindset to simplify every area of your life so that you have more time for the things that are truly important to you. As a plus, the book is absolutely beautiful too.

If you don't follow Emily Ley on Instagram yet, you totally should. She is so down to earth, genuine and inspirational. (She is also the creator m=of my favorite planner.)
This small kitchen tool is so useful. It's perfect to grate so many things: Parmesan cheese, nutmeg, cinnamon, citrus zest, ginger, chocolate, etc.
I use citrus all the time in many recipes, both sweet and savory. a citrus juicer is a wonderful tool to have. It squeezes out a lot more juice that if you were just doing it by hand. I've actually owned several over the years and this one is by far the best quality.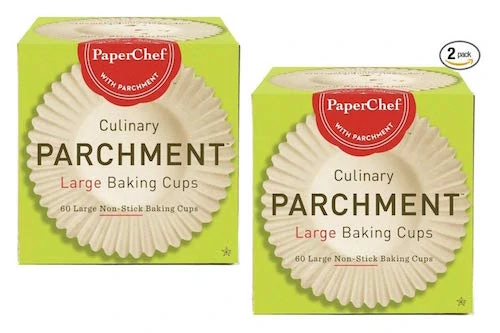 These are the only cupcake/muffin liners that I use. They don't stick to whatever you are baking, they easily peel off, have a classic look. Not only do I use them for cupcakes and muffins, but also egg muffins, hash brown muffins, etc. ( 1 box is included in the giveaway, not 2.)
Recipes "en papillote" are so good. Here's a recipe video I shared using these cooking bags. It makes this method of cooking so much easier because you don't have to crimp the parchment to create a package, you can just put your food in them. I also use these cooking bags to roast vegetables, such as beets.
Since I spend so much time in my kitchen cooking, testing out new recipes and meal prepping, it also meals that I spend a lot of time cleaning too. This is one of my favorite multipurpose cleaners. I use it to clean my counters, table, glass and mirror surfaces, and it even works miracles on stains. It's a concentrated formula, so you need to dilute it quite a bit. (I add 2 Tablespoons of cleaner to one gallon of water).
I use the concentrate to remove stain – on fabric chairs, couches and the multiple stains my children constantly get on their clothes and my own. It has even works on really hard stains like permanent marker, tomato and beets stains. I just rub in the concentrate on the stain with an old toothbrush, let it sit for about 3o minutes or overnight and then just throw in the laundry.
These will get out your tough messes, like your burned on oven messes, burned on casseroles (you don't even need to soak you lasagna pan, it cleanly gets everything off immediately), stainless steel cookware and are great to scrub vegetables, like potatoes, carrots, beets, etc. They are made from high-grade stainless steel, so they won't rust or fall apart, gentle on hands and even dishwasher safe. They also won't scratch your glass baking pans, your oven, etc.
Instead of using paper towels, I prefer to use microfiber cloths for cleaning, dusting and polishing. I think they really buff your stainless steel appliances, kitchen cabinets and granite countertops like nothing else. They don't leave steaks or fuzz behind either, are gentle on your surfaces while achieving the best results. Professional cleaners will also agree that they are some of the best things to clean with – they have a nice grips to be able to really get in the messes and clean really well, don't leave streaks or lint behind. (I am giving away the mini size, my favorites, of course.)
Weekly Menu Planner
I love all things related to organizations, planning and stationary, so I had to include some in this collection. I thought this was such a cute weekly menu planner pad. It's simple, pretty and has your weekly menu plan for each day of the week as well as a grocery list.
Notepad
I always have a similar notepad in my kitchen in a drawer next to my refrigerator. While I am cooking, I often find things we are out of and it's so convenient to jot things down on the list right in the moment that I run out of something or see that we are running low on something. It's also useful for jotting down your to-do list, gift ideas, snack ideas, errand list and much more.
Raspberry Tea
Tea and I are best friends. I drink many cups of tea throughout the day and while I do like black or green tea every once in a while, some of my favorite teas are simple berry teas, like this raspberry one. My all time favorite tea is hibiscus and apple (no cinnamon, licorice, mint, lemongrass please), but I haven't been able to find it in many months, so this one has had to be the one I drink.
How to Enter the Giveaway:
Follow me on Instagram and Like the Giveaway post
Write a Comment in the Instagram Post telling me which of my recipes is one of your favorites, or why you enjoy following my account.
If you think some of your friends would enjoy following my account, tag them and tell them why you think they would enjoy it – don't just randomly tag a bunch of people. (I personally don't like being tagged in giveaways by people I don't even know for things that don't relate to me at all.)
Share My Instagram Account or one of my recipes on your Instagram Feed/Instagram Story
The GIVEAWAY will run for one week, June 4th – June 11th at midnight. I will draw a random winner and contact the winner on Instagram on June 12th. The winner will have 24 hours to answer, if I don't hear back from the winner in 24 hours, I will redraw another winner. 
Per Instagram rules, this promotion is in no way sponsored, administered, or associated with Instagram, Inc. By entering, entrants confirm that they are 13+ years of age, release Instagram of responsibility, and agree to Instagram's terms of use.
This is also NOT a sponsored post in any means. There are affiliates links to the products, but I am not working with any company on this giveaway. I bought all the products with my own money, just because I wanted to share some of my favorite things as a way to show my appreciation to my readers and followers:).