What Did You Cook For Thanksgiving Giveaway
After a lot of prep, cooking, cleaning, setting up your home for guests or being a guest at someone else's home, the big day – Thanksgiving, is over. Today, most of us are either relaxing, cleaning or shopping. I chose to ignore all the sales and save money by not spending any, ha ha. I'm home with my teething, cranky but still so adorable and sweet little boy while my husband is doing yard work.
We had a wonderful time celebrating Thanksgiving with our family yesterday and indulged in SO much good food. I shared some pictures of our day last night on Facebook and Instagram. I loved seeing so many pictures that you shared of what YOU had at your Thanksgiving meal. Because I loved it so much, I am going to be hosting an impromptu giveaway. One of you will win a set of these beautiful soup bowls and baking dishes.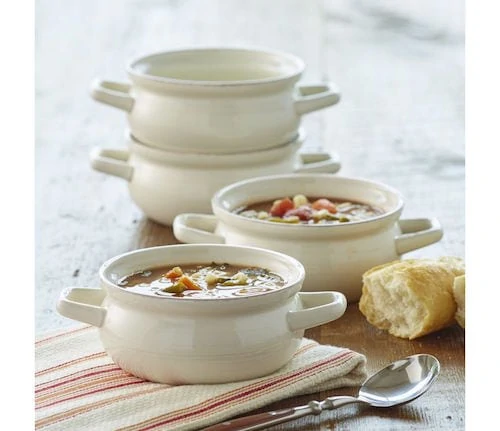 Set of 4 Double Handle Soup Bowls
Not only are these bowls really cute, they are made out of stoneware, they are microwave and oven safe. Perfect for serving soups, stews, oatmeal, etc. These are just the thing to have this time of your to indulge in your favorite comfort foods.
Baking Dishes:
Roasts, casseroles, lasagna, brownies, cookie bars, posted vegetables, this set of baking dishes will do the job right. They are pretty enough to serve at your table and will match your soup bowls too.
Giveaway Details:
Here's the fun part: to enter, all you have to do is upload a picture of your Thanksgiving meal, your Thanksgiving table, or your plate of food on Facebook and Instagram with the hashtag #mythanksgivingfood. It doesn't have to be a recipe from Olga's Flavor Factory, but you know I would love to see it if it is:). After that, leave a comment on this blog post with a link to your picture on Facebook, Instagram or both. One of you will be chosen at random to win the prizes. The giveaway will only last during this weekend and will close at 12 am, November 29th. I will directly email the winner. You have 48 hours to respond, otherwise I will choose another winner. (This has happened in the past, so watch your email.)
I'm looking forward to seeing all the pictures of your food!
This is NOT a sponsored post. There will be ONE winner selected at random via Rafflecopter. The giveaway is open to US residents only. The winner has 48 hours to reply to me with their full name & mailing addresses or I will pick someone else. All entrants under the age of 18 must have parental permission in order to participate.