Thermometer Giveaway Announcement
Congratulations to Katy, Renee and Natalie! You were the 3 winners of the instant read thermometer. You'll be receiving an e-mail from me with all the details.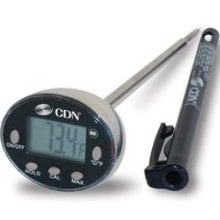 Katy wrote:
I would love to learn how to bake a ham like the ones in the honey baked ham store. They are so juicy and never dry!
Renee wrote:
Oven roasted veggies: I use a little olive oil and season salt tossed with whatever veggies happen to be in the fridge – brussell sprouts, broccoli, cauliflower, etc.
Natalie wrote:
One of my favorite meat dishes to make is baked steelhead trout in a creamy mushroom sauce. Its so fast & easy to prepare yet so delicious and flavorful! Was a big hit at our dinner party:)
I loved reading about the meals that you all make and getting to know you all a little better, by finding out what you like to cook. What a delicious page:). Thank you all for participating.