Thermometers in the Kitchen and a Giveaway
This Giveaway is Closed. Winners Announced in this post. 
If you've followed my blog in the past, you may have noticed that I use my instant read thermometer on a regular basis. Why do I insist on this seemingly extra step? Because I think it's important to make my food as delicious as possible and that includes the texture of the meat that I'm cooking. I am not a big fan of chewy, dry and rubbery meat:). I prefer to eat chicken, roasts and steaks when they are tender, moist and juicy.
Since I think that a thermometer is such an important tool in the kitchen, I will be having a giveaway of 3 CDN instant-read thermometers. This is the same thermometer that I use in my kitchen, and I love it.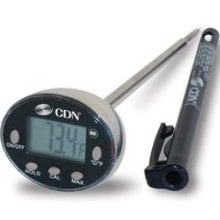 It's small – so it doesn't take too much space.
It's quick – in a matter of seconds you will have know the temperature.
The probe is a modest size – you won't end up with a huge gaping hole in your food.
It's accurate – that would be the most important selling point, of course. 
To enter the giveaway, just write a comment answering this question:
What is your signature dish to prepare with meat/poultry/fish? What is the dish that everyone raves about and begs for recipes when you serve it?
If you're still learning to cook, what is the dish that you'd love to learn how to cook and would love to impress the people you love with?
You can also be entered into the giveaway by sharing a link to my blog or a recipe that you like on Facebook, Twitter, or Pinterest. Write a comment here, explaining how you shared it.
You can be entered up to 3 times in the giveaway.
The deadline for the giveway is Monday, February 18th at midnight. The winner will be announced the next day, on Tuesday, February 19th.
This contest is open to all continental US residents.