This delicate dessert is called "firewood under snow" in Russian – Дрова Под Снегом. It's unconventional and unique but is so appealing in simplicity. The  juicy and aromatic cherries are rolled in layers of thin, dainty crepes. That would be delicious enough as it is, but when it's assembled as a cake and saturated with smooth and refreshing frosting that is silky in texture, it looks phenomental and is surprisingly tender and delectable.


Crepe batter:
2 cups milk
4 eggs
6 Tablespoons cornstarch
8 Tablespoons flour
4 Tablespoons oil
1/4 teaspoon salt
2 Tablespoons sugar
Cherry Filling:
2 packages (12-16 oz each) frozen cherries
1/4 cup sugar
3 Tablespoons cornstarch
1/2 cup water
1/4 cup wine
1/4 teaspoon cinnamon
Frosting:
1 package (16 oz) sour cream
1/2 cup heavy cream
1/2 cup powdered sugar
1 teaspoon vanilla
white chocolate shavings for garnishing
Whisk all the ingredients for the crepe batter in a bowl.
Melt 1/2 tablespoon of butter in a nonstick skillet on medium high heat. Pour in a little less than 1/4 cup batter, tilting the skillet to distribute the batter over the surface of the skillet.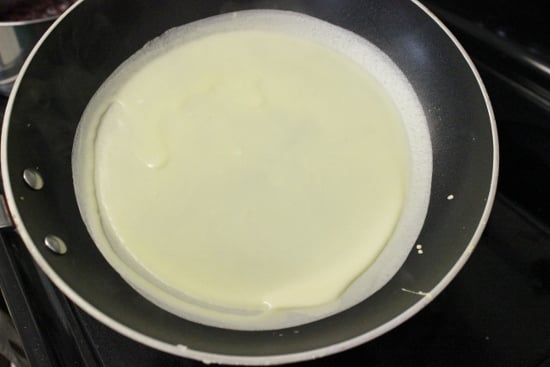 Heat until lightly golden, 1-2 minutes, flip and cook for about 30 seconds. Cook all the crepes and set aside. Meanwhile, combine all the ingredients for the cherries in a small saucepan.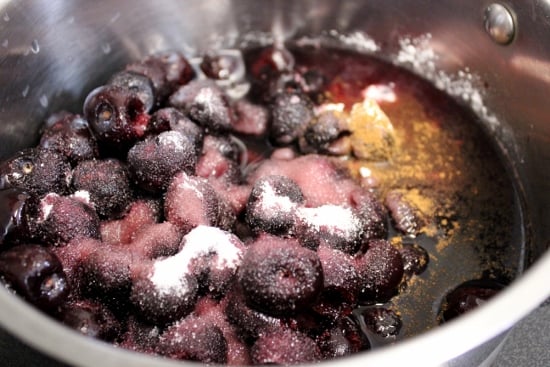 Bring to a boil, reduce heat and cook for 5-10 minutes. Drain all the syrup. (Save it and pour over ice cream, pancakes or french toast. Absolutely delicious!) Set aside to cool. To make the frosting, whisk the sour cream, sugar and vanilla until well combined in a chilled bowl and whisk attachment. Pour in the heavy cream and whisk until batter thickens, 3-5 minutes.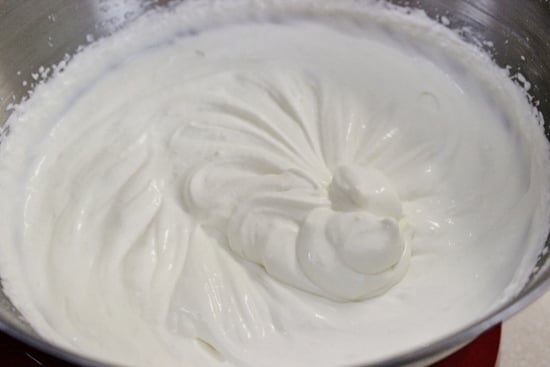 To assemble, spread a thin layer of frosting over the surface of the crepe. 
Place cherries in a line in the center of the crepe. 
Wrap the crepe around the cherries. 
Trim off the edges of the crepes to make them a little neater. 
Place 5 filled crepes side by side.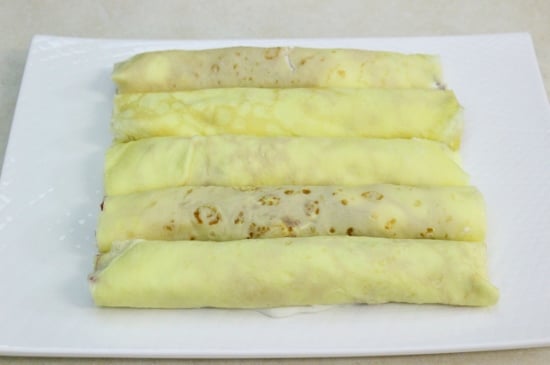 Top with frosting. Place 4 more crepes on top with more frosting.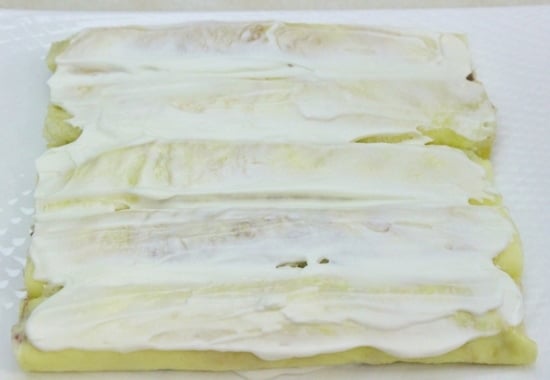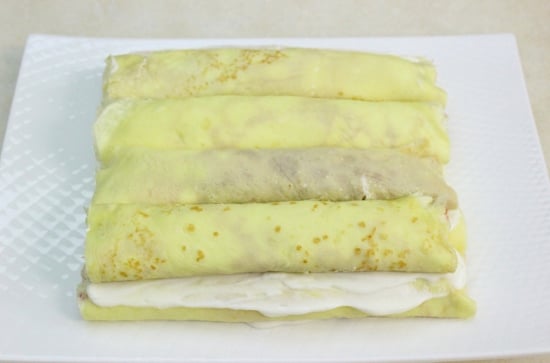 Continue assembling cake each time with one less crepe until you are left with one crepe at the top, forming a triangle. Grate some white chocolate over the cake. You are now looking at snow-covered firewood:). I had some left over crepes, so you can make the cake a little bigger. For a simpler presentation, you can place the cherry-filled crepes in a caserrole dish and top with frosting.
Related posts: