I don't think any culture respects and adores appetizers as much as Russians do. No feast is complete without a generous assortment of many different kinds of zakuski, which is from the word zakusit', which means "to take a small bite". There is usually such an excessive variety of appetizers, that by the time you take a small portion of each, you are too full to enjoy the main meal!
For Russians, the most popular form of entertaining is to invite your guests over for tea. Laid back and fun, this gathering requires minimal effort. It's the best atmosphere to relax, talk, laugh and enjoy morsels of food with lots of tea (or coffee). There are no requirements and you can make it as simple or as fancy as you like. You can serve only cookies or sandwiches or have a whole array of appetizers.
These tiny, savory blini (pancakes) are topped with a dallop of sour cream, smoked salmon and fresh herbs. The blini have a hearty taste, but are also very dainty and light. With the addition of refreshing sour cream and thin slivers of smoky, rich salmon, these blini are SO satisfying. For an even more traditional approach to this dish, top the blini with caviar instead of the salmon.
 They are simple to prepare, which qualifies for a simple gathering but its elegant look and taste is perfect to be served in the czar's palace.
Yields: about 24
Ingredients:
1 stick of butter (1/2 cup)
1/3 cup buckwheat or whole wheat flour
2/3 cup all purpose flour
1/2 teaspoon baking powder
1/2 teaspoon salt
1 egg
3/4 cup plus 2 Tablespoons milk
1/2 lb smoked salmon, thinly sliced
about 1/4 cup sour cream or creme fraiche
dill, chives, for garnishing
In a small saucepan over low heat, melt the butter.
Skim off the white foam with a spoon and discard. This is called clarifying the butter, which means you are removing the milk solids in the butter.
Allow the butter to stand  for a few minutes to settle and then pour out the butter into another bowl, leaving the rest of the milk solids on the bottom of the saucepan. Set aside the clarified butter.
Whenever using butter to saute or cook something in a skillet, it burns very easily. Clarified butter has a much higher smoke point (it starts to burn/smoke at a higher temperature) than regular butter, which is why we are doing this extra step. This way, the blini will be nice and golden, not black and half raw.
You will have more clarified butter than you need for this recipe. Store, covered, in the refrigerator and use for other dishes.
Whisk the flours, baking powder and salt in a bowl.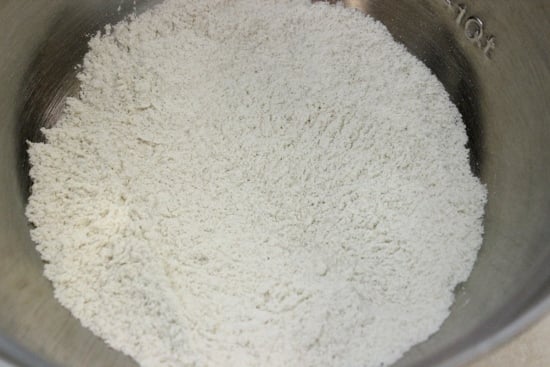 Combine the milk, egg and 1 Tablespoon clarified butter in a liquid measuring cup and add to the dry ingredients, whisking to combine. The batter will be kind of thin.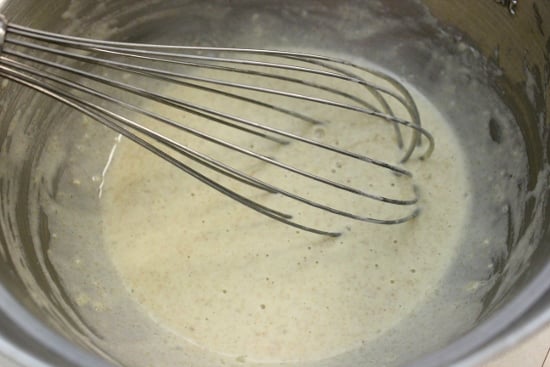 Heat some clarified butter on medium heat on a griddle or a nonstick skillet. Using a spoon, pour a small amount of batter (about 1 Tablespoon) on the griddle and cook until golden on both sides.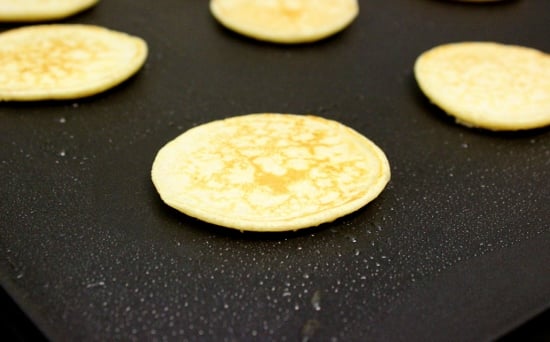 You'll know when to flip the blini over when the top of the pancake has tiny bubbles across its surface.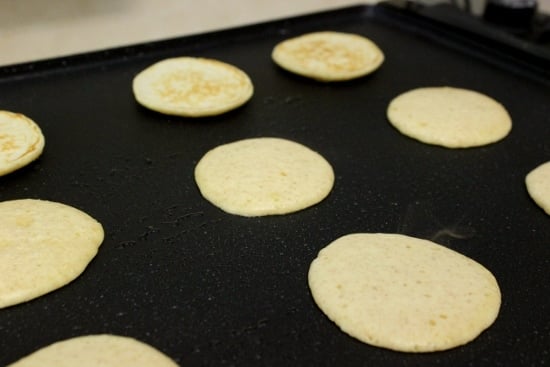 Top with a small dallop of sour cream, a piece of smoked salmon and fresh herbs.
Since they are so small, they cook so quickly. You can make a huge batch for any party in no time at all. To keep the finished pancakes warm, place them on a baking sheet in a 200 degree oven. These are best served warm, but I didn't mind eating up the cold ones one bit:).