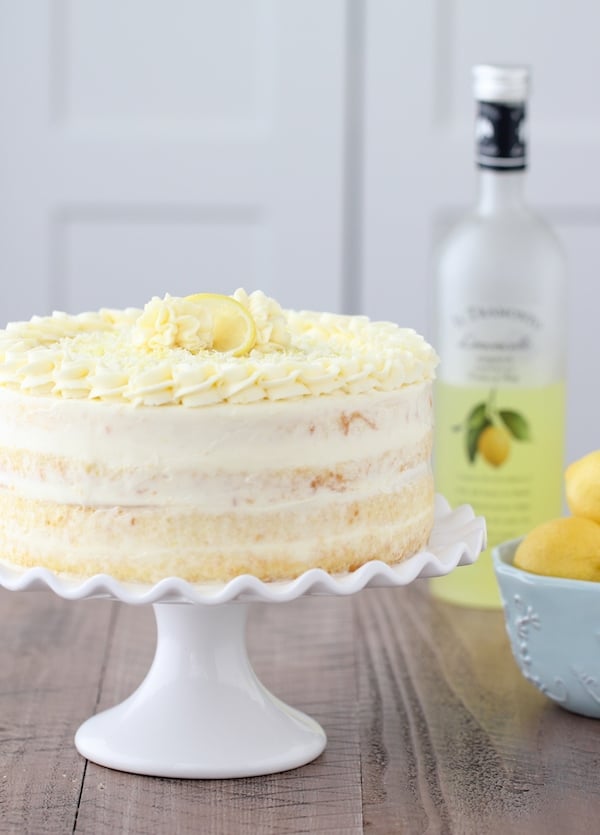 Lemon lovers, have I got a cake for you!
This Limoncello Cake has the bright and refreshing flavor of lemon infused in every delicious bite. The light and fluffy sponge cake layers have lemon zest gently perfuming the cake layers, which are also soaked with a limoncello syrup. Limoncello has such a delicate lemon flavor. It's mild and has some floral notes and isn't overly tart. It gives the lemon flavored cake a really great balanced flavor.
The billowy cream cheese and mascarpone frosting also has both lemon zest and limoncello for flavor. The creamy and fluffy frosting works so well with the rest of the cake to make it luscious but not too rich. In the center of the cake, I added refreshing and creamy lemon curd, just enough to really bring up the lemon flavor up a notch but not overpower the cake. All in all, I tried to keep the cake tender and luscious but not overly sweet or tart.
When I made this cake for my family, it was a big hit. The first thing my husband said when he took a bite was that I didn't "oversell" it:). So I hope you give it a try and are just as happy with the results. If you love the flavor of lemons, this cake is for you. Continue reading…