Tweet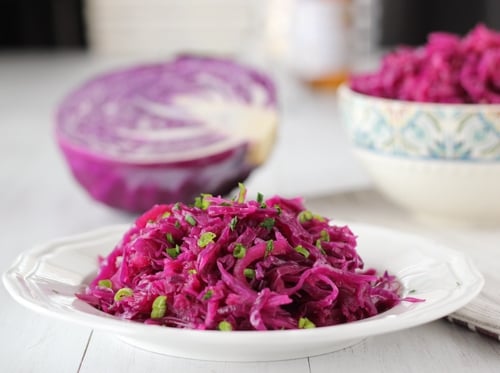 One of my favorite Russian food show hosts is Julia Vysotskaya. I love watching her cook and her recipes are awesome too. If you speak Russian, I definitely recommend that you check her out.
I was recently watching one of her Edim Doma shows and she was making this braised cabbage. My husband and I were both thrilled with the results. Sergi isn't a big fan of Braised Cabbage (I love it on the other hand), but when he tried this one, he actually liked it and said that it was much better than he was expecting:). I'm telling you, over the years that we've been married, Sergi has sure tried so many things that he thinks he doesn't like. Some of the ingredients that he didn't like at all, like avocado, shrimp, Asian flavors, etc. are now some of his favorites and he requests them all the time. I am so thankful that he is willing to try new things and isn't too picky. It would be simply awful is my husband was a picky eater! I am praying and hoping that my kids won't be picky as well:). We'll see how that turns out.
You can enjoy the cabbage both warm and cold. It would be a perfect side dish for roasted poultry or pork. I even enjoyed a bowl just by itself. It's slightly acidic and has some sweetness too, and I especially love that it still has some crunch to it, and isn't mushy….
Tweet
For many recipes, tomatoes need to be seeded – which means getting rid of all the seeds. Why is that important? Tomato seeds and the gel that surrounds them have a lot of liquid. I love juicy tomatoes when I am enjoying them in a salad, or simply with some salt and pepper. However, if…