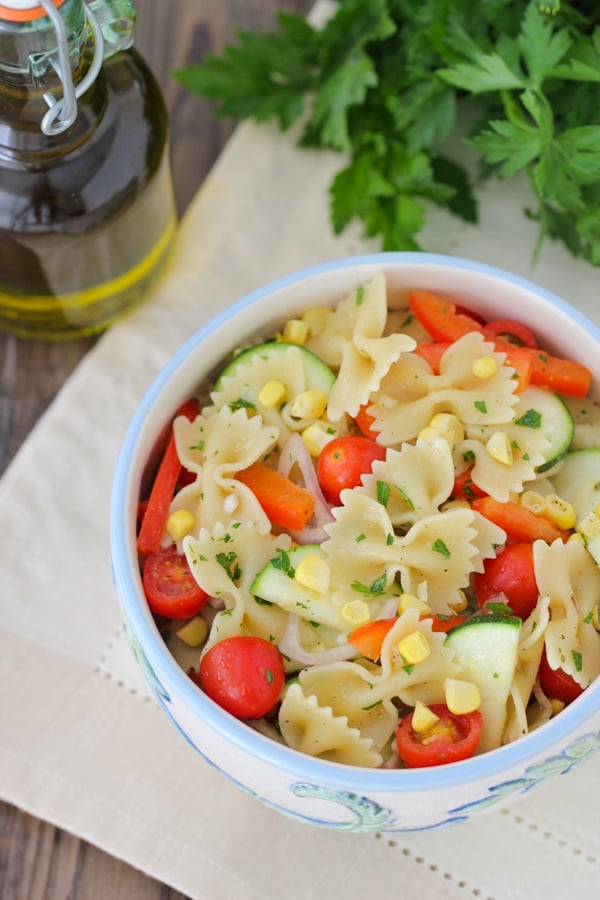 Lunches can be quite a predicament. Hardly anyone has the time to actually prepare a lunch unless it's a sandwich or something as equally boring and predictable. There's nothing wrong with a "good ol' sammich", but it's nice to have a bit more interesting options too. Pasta salads are perfect and this one in particular is something I'm so happy to share with you all.
First of all, how great is it to make something in advance and not have to worry about it at lunchtime? It will last up to a week in the refrigerator and taste just as fresh as the day you made it. I couldn't believe it myself until I had a bowl a week after I made it. It's surprising how fresh it tastes.
It doesn't take long to make this salad either. In the amount of time that it takes to cook the pasta, you can have all your veggies prepped, mix it all together and VOILA – Приятного апетита (Russian: Bon Apetit)!
I chose to use vegetables that pair really well together as well as stay fresh for a long time. The cute bow tie pasta is so charming, I bet your kids would love it in their lunch boxes too.  [Read More…]