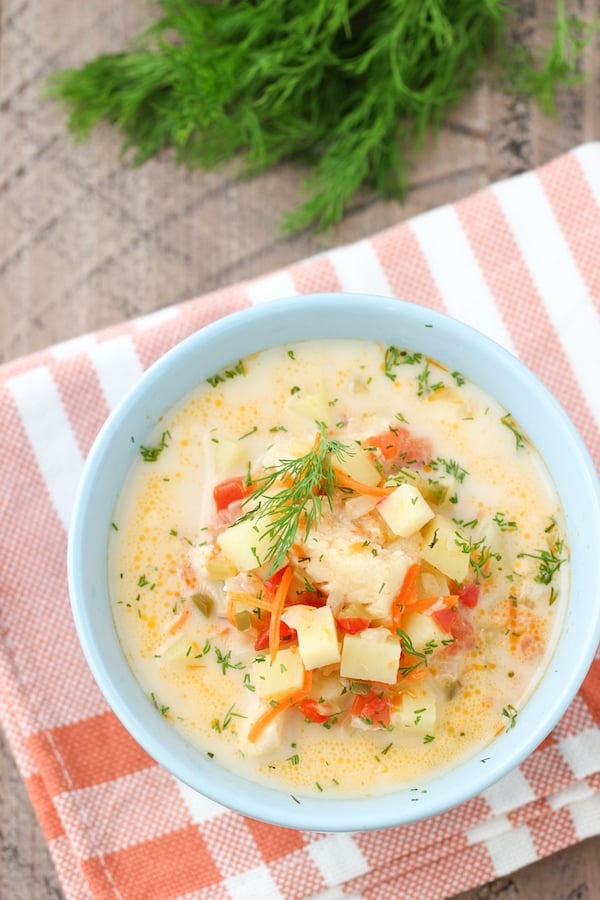 Potato and Cod Soup – this recipe has three of my favorite combinations: simplicity, really quick process and amazing flavor combinations. You know what's really awesome about this recipe? It's perfect for those nights that you don't have anything planned because you can use FROZEN fish and adjust the recipe to use whatever vegetables you have on hand.
Sharing what you're having for dinner is a way to connect. Why? Because we all eat dinner, whether we go out to eat, make something from scratch or order take out. It's a basic human need combined with one of the pleasures of life – savoring and indulging in tasty food. The gift of taste is such a treasure. This is why so many social media posts are related to food.
This is also why when I was talking to my Mom a few weeks ago, it was so natural to throw in the question of "what are you cooking?". She mentioned making a simple soup with fish and vegetables and immediately my mouth started salivating and I knew I had to recreate it for my own family sometime very soon.
When I made this on a whim and shared a few Instagram stories about this soup, I got so many requests for the recipe. I STILL get requests several weeks later. I'm finally sharing all the details, measurements and step by step photos.
Potatoes and fish are always a complementary combination, the addition of onion, carrot, celery, and garlic permeate the whole soup with their aromatic flavors. The jalapeno pepper adds a hint of heat and the tomato and tomato paste adds sweetness and a touch of acidity. A splash of cream gives some nice richness and creaminess to the soup but still keeps it light, since it's a very brothy and fresh soup overall.  Continue reading…