Freezer meal prep can be a game changer, especially during really busy seasons. Stock up your freezer with meals that are either partially prepared or cooked all the way to enjoy later on. The time you can save is amazing.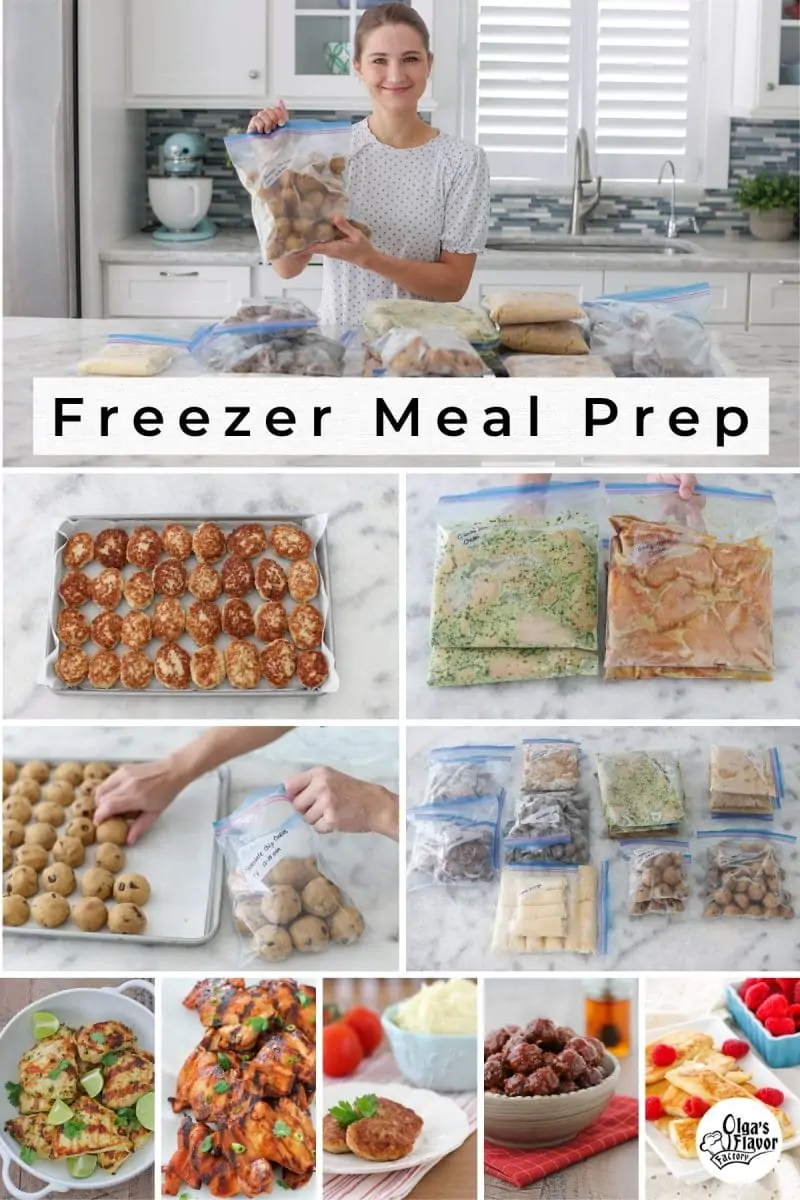 Freezer meal prep has been so helpful for me ever since we started school again in the fall. It saves so much time and we get to enjoy delicious homemade meals with a lot of the prep done ahead of time. I am such a big fan of meal prep in general, and freezer meal prep is even better, since it lasts much longer than prepping fresh ingredients for weekly meal prep.
When you have a really busy day, you can take out some marinated chicken and at dinner time, all you have to do is put it on the grill or in the oven and make some easy sides to go along with it. Or cook some meals that are already cooked, you just need to reheat them, like Beef Meatballs or Chicken Kotleti.
Freezer meal prep is incredible for postpartum. I stocked up my freezer with meals before I had both my babies and it was so helpful. If you're having a baby or know any expectant mamas, I highly recommend making some freezer meals to enjoy later.
Freezer Meal Prep Video (Lots of Recipes and Tips)
What is Freezer Meal Prep?
Meal prep that can be frozen to be enjoyed later. It's so convenient and very helpful. Instead of buying convenience frozen foods from the grocery store that is full of ingredients that you may not want to eat, you can make some yourself.
The best thing about freezer meal prep is that, usually, I do this with meals that can be time consuming to make. I take some time 1-2 days a month and it gives me so many easy meals to have on hand all month long (or even longer.)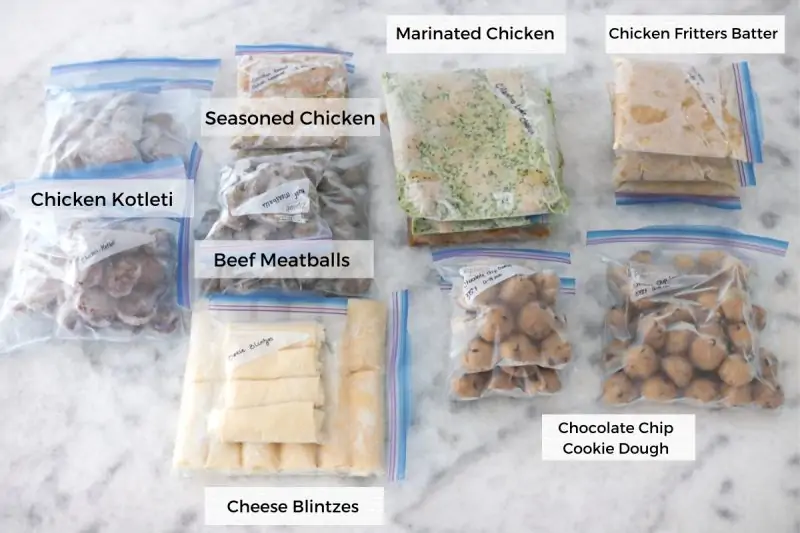 Freezer Meal Prep Recipes (Prepped/Uncooked)
Click on the blue titles for the printable recipes
Freezing and Serving Instructions (marinated meat, cut up and seasoned meat, chicken fritters batter)
To Freeze: Place the marinated and/or seasoned meat in a freezer ziploc bag/reusable storage bag or an airtight container. (If using a bag, place it flat into the freezer so it freezes flat.) Freeze for 6 months or up to 1 year.
To Serve: Defrost the meat. Grill, bake or pan fry as usual.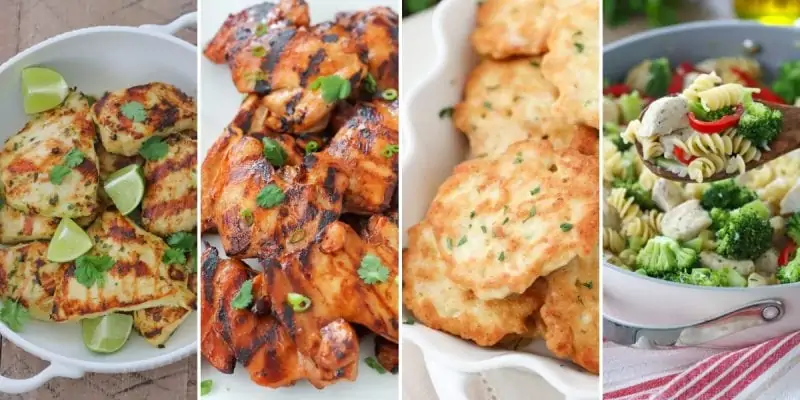 Freezer Meal Prep Recipes (Prepped & Cooked)
Freezing and Serving Instructions (Meatballs, Kotleti)
To freeze: Bake the meatballs or kotleti, then cool. Place the meatballs/kotleti on a baking sheet/cutting board in a single layer and freeze for about an hour. When frozen, transfer them to a freezer ziploc bag or a reusable bag. Freeze for up to 3 months.
To serve: Defrost the meatballs/kotleti or simply place the them into a skillet or pot, add a little bit of water, cover and cook on low heat until are warmed through.
If you are using a sauce, cook the sauce separately first, then add the meatballs, such as this honey garlic sauce. Or, if the sauce is premade, pour it with the meatballs when they are halfway defrosted and finish cooking together.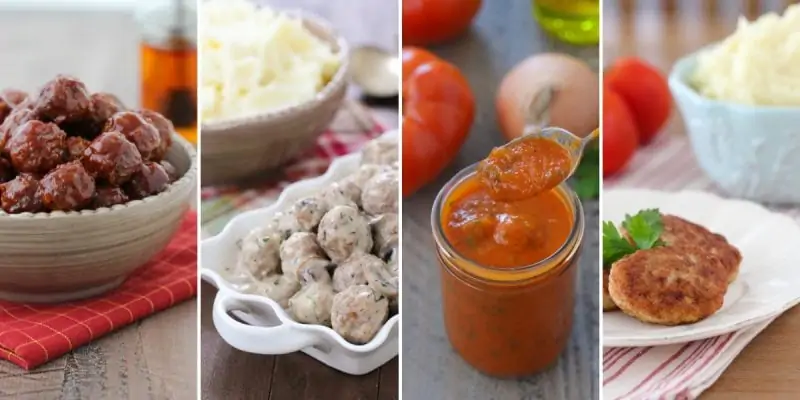 How To Freeze Meal Prep
When freezing in storage bags, make sure to use freezer ziploc bags or thick, resealable bags. They are thicker and will protect the food better from getting freezer burn, absorbing and releasing any odors and staying as fresh as possible.
For the best storage, while the meal is still not frozen, place it on something flat so it will freeze flat and even. It will be much easier to store and will defrost more easily and faster too.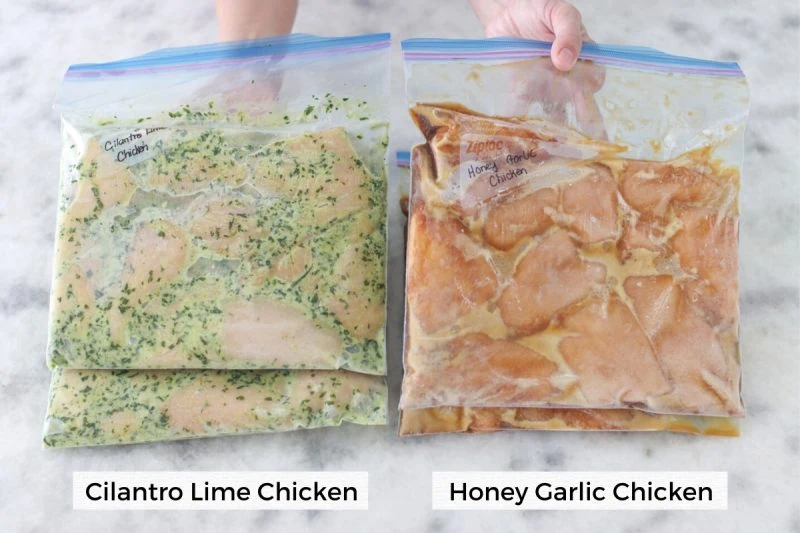 Many things should be frozen individually first, so that it doesn't freeze in one big bunch: meatballs, kotleti, pelmeni, ravioli, mini meatloaves, cookie dough balls.
Place them on a plate, cutting board or baking sheet in a single layer, freeze until solid, about an hour or longer if it's something larger. Then, transfer to a freezer ziploc bag or an airtight container. This will make it easy to take out just as much as you need, will prevent the food from sticking together and will keep it from breaking or getting misshapen.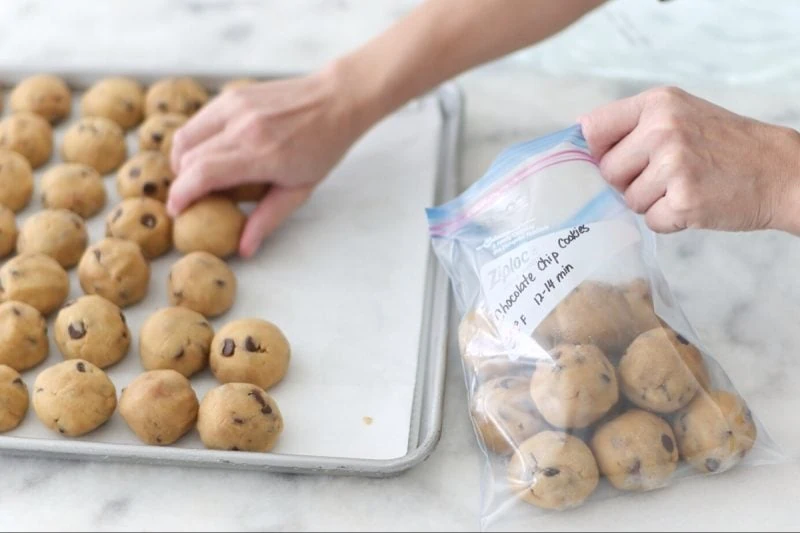 What to serve with freezer meals:
Freezer meals are usually the ones I reserve for the nights when I am really busy or don't want to cook. That's why the side dishes are usually very simple as well, such as mashed potatoes, rice, couscous or pasta. I like to include some fresh vegetables too. We have the Tomato Cucumber Salad at least once a week.
Tomato Cucumber Salad – this one is so simple and satisfying. Cut up some tomatoes, cucumbers and fresh herbs, drizzle in a bit of olive oil and season with salt and pepper.
Simple salad with a Lemon Vinaigrette. (Use any kind of lettuce mix, top it with tomatoes, cucumbers and this zesty lemon vinaigrette.
Helpful Tips and Frequently Asked Questions
Freeze the meals and ingredients that won't change in texture and quality.
Some things freeze wonderfully and you won't even know that it was a freezer meal. Other things will change in texture and flavor. For example, cooked rice freezes really well, while cooked pasta will get really soft and blown out. Raw meat that is marinated or prepped freezes really well. That is the best case scenario. If you cook the meat first, things like meatballs, meatloaf, cabbage rolls, stuffed peppers, etc, freeze great.
What the best way to thaw and serve the frozen meals?
Defrost the meal, then reheat or cook.
In some cases, like cooked meatballs, you don't even have to defrost it. Reheat it on low heat, with a bit of water to create steam and then add sauce, if using, until completely cooked through.
For the best results, don't freeze meat more than once.
For freezer meals, I buy the meat fresh, prepare it, then freeze it. It is best not to thaw frozen meat and then freeze it again after you marinate it, cook it, etc.
Serve something fresh with your freezer meals.
Even though you are taking a meal out of the freezer doesn't mean it can't taste fresh and delicious. The best way to do that is to add a fresh salad on the side, sprinkle in some fresh herbs, add a squeeze of lemon juice, etc.
How long should meal prep be frozen?
If a meal is partially or completely cooked before being frozen, store it in the refrigerator for up to 3 months. If you vacuum seal meal prep and the food isn't cooked, it can be stored for 6 months or up to a year.
*Some of the links in this post are affiliate links.