Menu Ideas For A Dinner Party (Beef Kabobs, Baked Potatoes, Hazelnut Cake Roll)
In this video, come along with me as I share some menu ideas for a dinner party, as well as some practical tips for cooking for company.
Do you need some menu ideas for a dinner party you're hosting? Today I am sharing a menu that is great for company. So many of the recipes can be make ahead of time, so you're not frazzled at the last minute trying to get everything to be cooked, hot and ready to enjoy at the same time.
Watch the Video: Menu Ideas For Dinner Party
Menu Ideas For Dinner Party and Recipes:
Chicken Salad on Crackers The chicken salad can be made completely in advance. All you have to do is place the chicken salad on top of the crackers and top it with a slice of cucumber. It's wonderful for guests to munch on while all the rest of the meal is coming together.
Beef and Vegetable Kabobs The recipe I use for these Beef and Vegetable Kabobs are from my Steak Kabobs With Potatoes and Mushrooms, also a wonderful recipe you can use. The marinade for the beef is the same, I just used red onion and bell pepper instead of the potatoes and mushrooms.
Loaded Baked Potatoes Baked potatoes are wonderful to serve for a company dinner because they are so customizable. You can prepare as many toppings as you like and have guests assemble them with their own favorites. In this video, the toppings I made were bacon, sauteed mushrooms, grated cheese, sour cream, green onions. In the recipe, I made it even more hearty and filling by making Taco Baked Potatoes – so good!
Hazelnut Cake Roll (recipe coming soon!) Cake rolls are one of my favorite desserts to make for company. They are so easy to make, look stunning and are so delicious.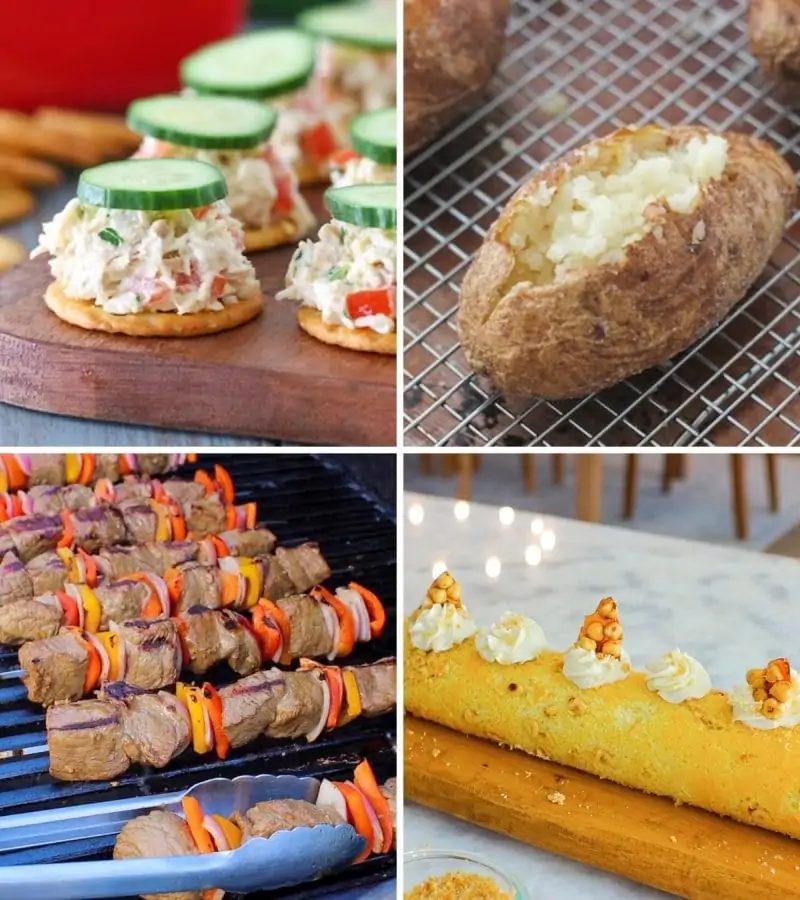 Helpful Tips:
Prep as much as you can ahead of time
This is the #1 tip that will give you peace of mind and help to distribute the work so you're not too overwhelmed on the day that your guests are coming. Try prepping as much as you can the day before.
Don't cook all your recipes using one appliances
If you're new to hosting, this many be something you forget to think about. When you have to cook several recipes, it really helps when you can cook them at the same time on different cooking surfaces – the stove, oven, Instant Pot, slow cooker, grill, etc.
If you are cooking everything on the grill, for example, it will take much longer because you have to do it in multiple batches. The things that you cooked first will be getting cold, while the last recipes aren't even cooked. Unless you have a small group of people, have something cooking on the stove and the oven as well. It will be faster, more efficient and your food will all be hot and ready at the same time.
Plan Your Serving Plates and Utensils
There are always last minute details and you'll need to put the finishing touches on the food. Don't forget to plan what you're going to serve your food in, so you don't have to run around at the last minute trying to find something.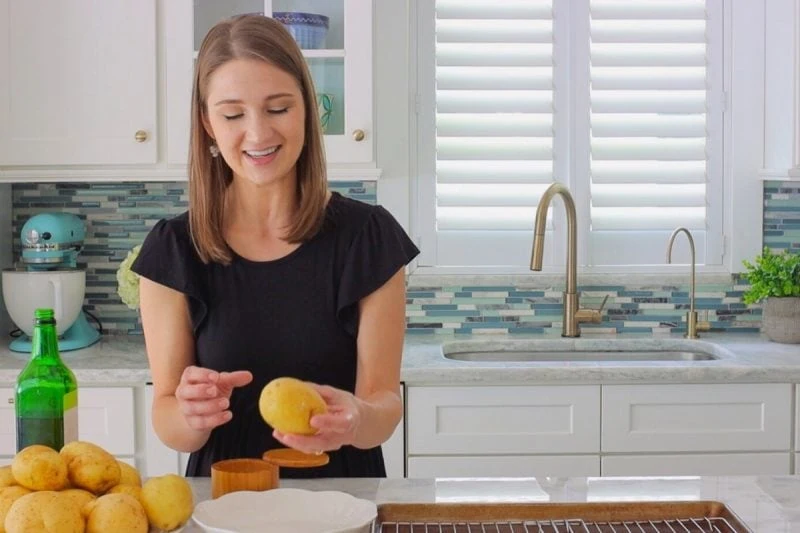 Want more menu ideas for dinner parties as well as tons of helpful tips?
Check out my ebook, 5 Menu Plan Options For Your Next Party. In this ebook, I share my own favorite menus that I have made countless times in our home for guests. This will not only take out the guess work of what recipes go well together, but it will cut down on your stress, save you time so you can enjoy the party and your guests too, instead of being stuck in the kitchen all night.