Easy Lunch Ideas – How To Pack Cold and Hot Lunches
Are you looking for some easy lunch ideas to pack for your family? Here you will find both cold and hot lunch options for both kids and adults, as well as how to pack them so they stay fresh.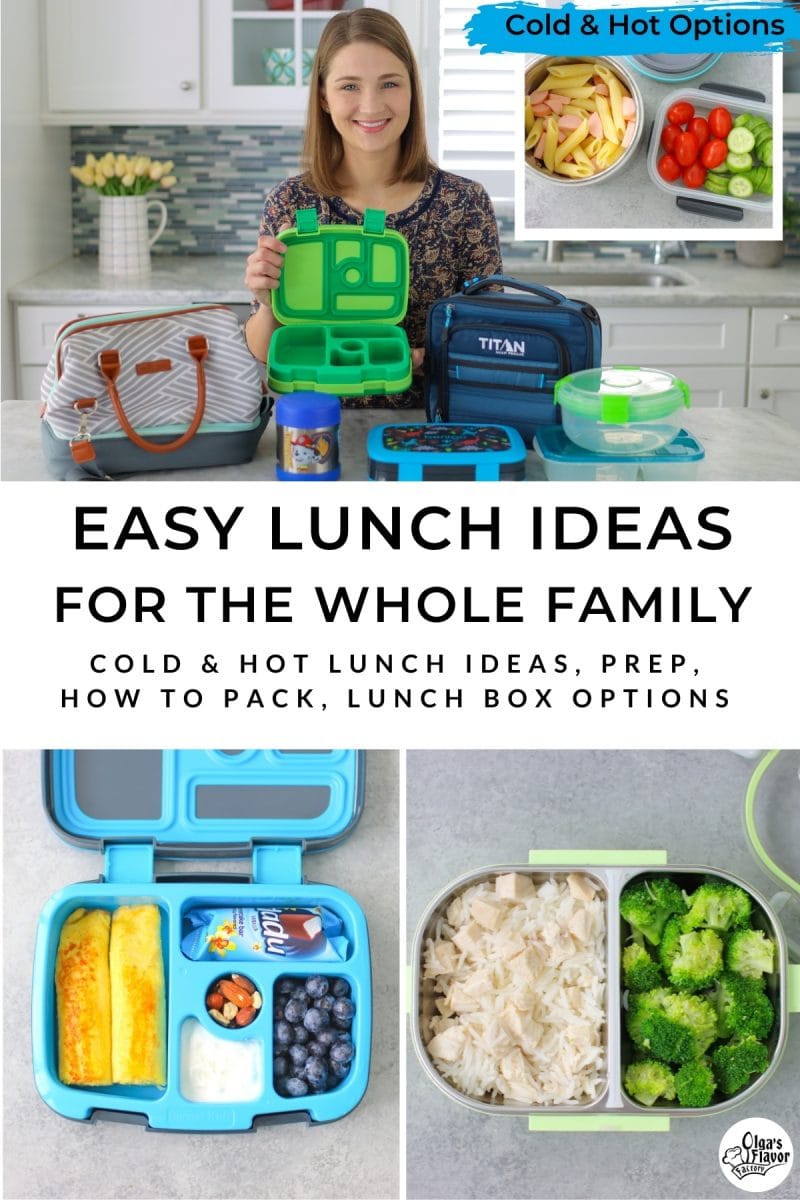 Easy lunch ideas may feel like a paradox. Lunches can be one of the most overlooked meals that we prepare, especially when it has to be packed for school or work. We have our breakfasts and dinners that we plan for or make our family favorites, but lunches are often a shot in the dark. Most of the time, we start out with great intentions but our motivation quickly fizzles out.
It's challenging to come up with something to eat Every. Single. Day, especially if you have to think on the fly early in the morning when your brain is still a bit foggy or you're running late. Plus, we have to make it hours in advance and figure out how to keep it hot or cold too.
In this post and video, I hope to give you some fresh inspiration and lots of ideas, whether you're looking for some creative options or want to learn how to prep lunches in advance to make it easier on yourself. I'll also show you the best way to pack food so it stays fresh and delicious, cold or hot, so your effort doesn't go to waste. Wondering about lunch containers? We cover those too. Bento style, glass containers, plastic containers, thermoses, and more, I'll show you many different ones, so you can decide which may work well for your family.
Watch the Easy Lunch Ideas Video (packed with helpful tips & ideas)
Cold Lunch Ideas
Cold lunches are the most popular, since we don't have to worry about keeping food warm and can prep the lunch in advance. Of course, sandwiches, wraps and salads are great and give you lots of different options.
Sandwiches and Salads
Chicken Salad – Serve it on bread as a sandwich on bread or a croissant, or pack the salad separately along with some crackers and or vegetables, like tomatoes, peppers, celery, carrots, cucumbers. We love chicken salad wraps too. (If you're going to pack it hours in advance, pack the avocado separately.)
Tuna Salad – Just like chicken salad, you can make sandwiches, wraps or serve it along with crackers and vegetables. Instead of canned tuna, try using canned salmon, or even leftover salmon to make salmon salad too.

My favorite tuna salad "recipe" – canned tuna (we love yellowfin tuna packed in oil, it is so much more tender and juicy), hard boiled egg, optional, minced celery, green onion, parsley/dill, dijon mustard, mayo, lemon juice, salt, pepper. Mix it all to combine.
Garden Salads: This has endless options. Use any type of lettuce or greens, romaine, iceberg lettuces, arugula, spinach, cabbage and kale. Top with other veggies – tomatoes, cucumbers, grated carrots, onions, roasted butternut squash, roasted zucchini, broccoli, cauliflower, radishes, etc. If you want to take the time, you can make a batch of salad dressing and store it in your refrigerator for a week.
Cold Make Ahead Salads
Peanut Butter and Jam or Honey Sandwiches – this is loved by generations of kids for a reason – it's so satisfying and delicious. If you use healthy and nutritious bread, peanut butter that isn't packed with sugar, and honey, it's a great easy option. Try to use jam that doesn't have too much added sugar, or even make your own. Use english muffins instead of bread for another peanut butter and jelly variety.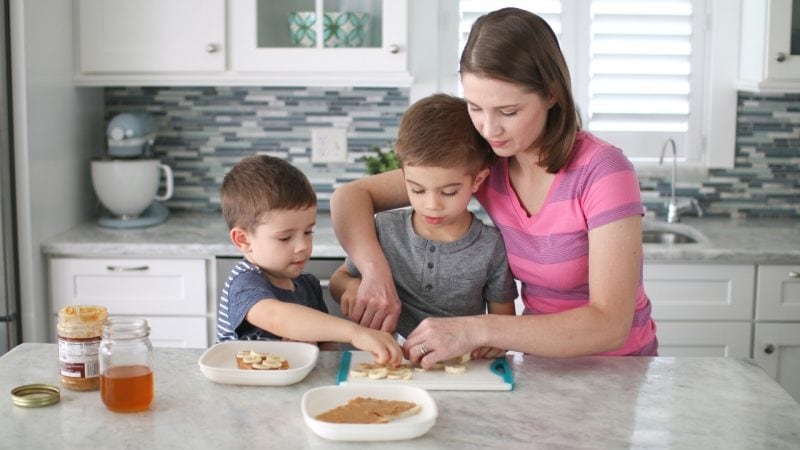 Other Cold Lunch Options
Bagels – serve the bagel with cream cheese and honey/jam or make it into a sandwich, with butter or mayo, deli, cheese.
Turkey Pinwheels – this is a lovely creative option to wraps or serve the roasted veggie spread as a dip with fresh veggies.
Graham crackers with peanut butter and apple slices
Hard Boiled Eggs – perfect for lunches. Cook a bunch of eggs and add to your lunch to be enjoyed with salt and pepper, or make an egg salad or add to chicken, tuna and other salad.
If you or or children don't mind cold leftovers, you can add those to your lunches too, such as leftover pizza, quesadillas, crepes, and more.
Cold Additions To Lunches: pretzels, chips (so many healthier options available now), nuts, berries, raisins, dry fruit, fresh fruit, vegetables, cheese sticks/slices, cottage cheese, applesauce, muffins.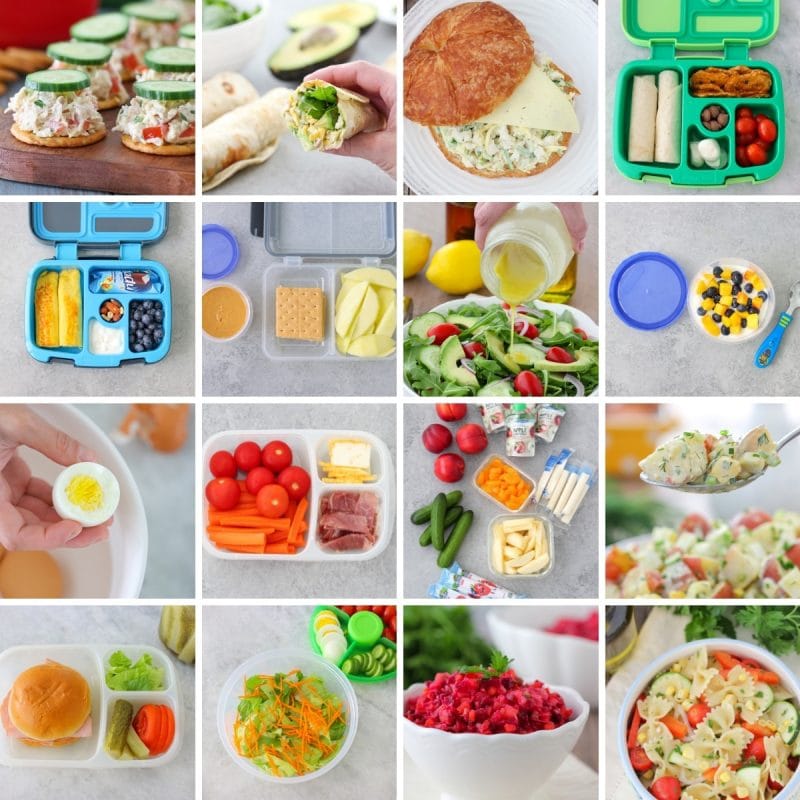 How to Keep Cold Lunches Cold For Hours
Start with cold ingredients. Store prepped meals in the refrigerator.
Add ice packs to keep your food cold.
Use a cooler or a freezable lunch bag that has freezer packs in the lining, so you can store it in your freezer. No need for additional ice packs.
Hot Lunch Ideas
Hot lunches are awesome, especially if you use leftovers or things you can prep in advance. It's a great way to save time and put your leftovers to good use. You can reheat the food in a microwave if you have the opportunity, or pack the hot food in thermoses. Your food will stay hot for hours if you pack it correctly and you can have hot food anywhere.
Pasta, rice, potatoes, couscous, quinoa, beans, etc.
Chicken, meatballs, sausage, steak, roast, hot dogs, kielbasa, pelmeni, ravioli, chicken nuggets, burgers, etc.
Roasted, steamed or boiled vegetables, such as: zucchini, broccoli, cauliflower, carrots, parsnips, brussels sprouts, butternut squash, beets, bell peppers, onions, and much more.
Soup
Leftover entrees that reheat well will also be great for lunch, such as Beef Plov, Braised Potatoes, Cheeseburger Pasta, Chicken Pot Pie Pasta, Burritos, Stuffed Peppers, Beef Goulash, Macaroni po Flotski, Chicken Fried Rice, Chicken and Rice Pilaf, Chicken Crepes, etc.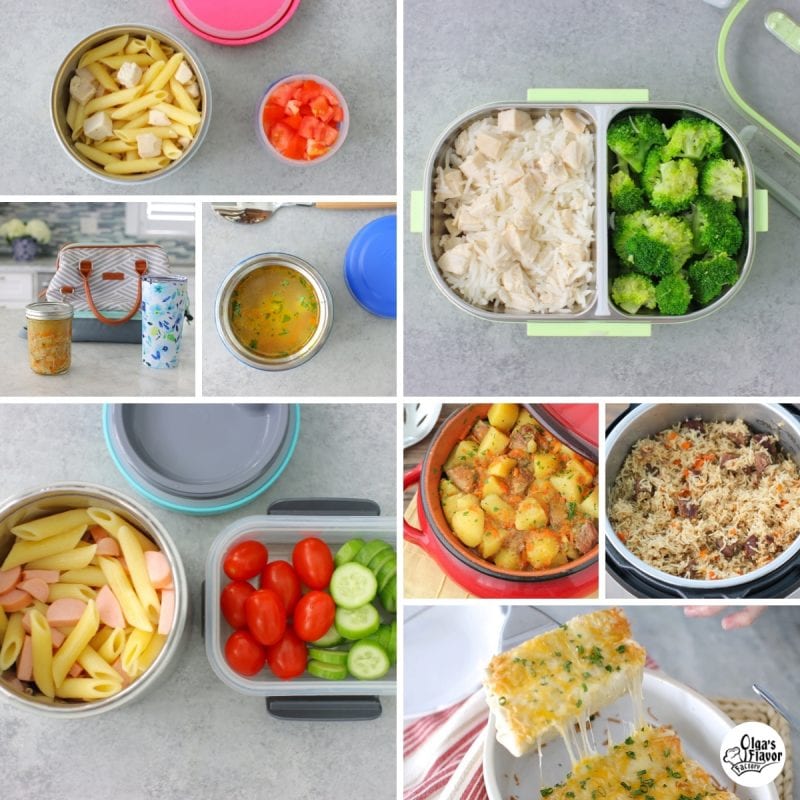 How To Keep Hot Lunches Hot For Hours
Fill the thermos with boiling water while you reheat the food. Pour the boiling water out and fill the thermos with hot food. When you heat up the thermos and add hot food, you'll be amazed how long you can keep your food really hot.
Wrap the thermos, container or mason jar with your hot food in a small towel. This will also keep the heat in and help to keep the food hot longer.
Meal Prep Ideas For Lunches
Lunch Containers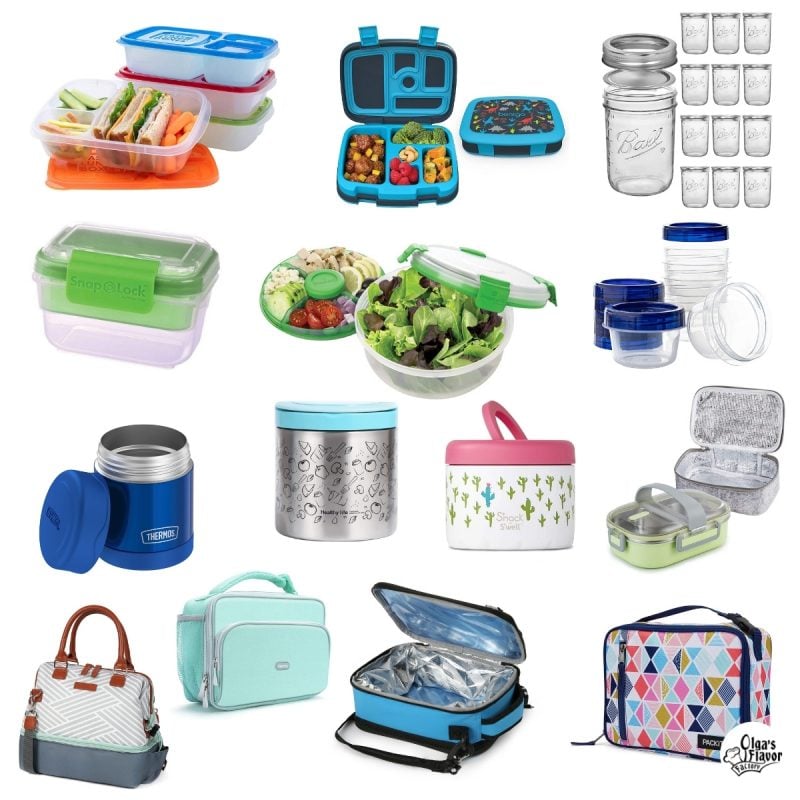 Links below are Amazon affiliate links
Easy Lunchboxes – just as the name says, it's a very easy, simple and inexpensive lunch box option. Since they are inexpensive, you can buy a bunch of these lunchboxes and prep a week's worth of lunches at once, if you'd like. Great for storing several items all in one container.
Bentgo Leak-Proof, 5-Compartment Bento-Style Kids Lunch Box – another bento style lunch box. They are very well made, leak proof and cute. They are more expensive than the Easy Lunchboxes, but more durable and much less expensive than many other bento style options
Mason Jars – I used these all the time to pack lunches for myself. I already had mason jars for many different things in the kitchen. Perfect to use for packing soup, yogurt, or even salad. Inexpensive and has many other uses besides packing a lunch.
Snap Lock Containers these containers are my favorite for packing lunches for little kids. They are easy to open, inexpensive and give you lots of options of how to store different lunch items.
5. SnapLock Salad Container such an awesome salad container. You can store the main salad in the bottom and all you toppings separately on top, as well as a small container for dressing.
6. Twist Lock Containers, 2 cup, 1 cup, 1/2 cup These are wonderful for so many things. The top twists on, so the contents don't leak out. Great for yogurt, applesauce, berries, cut up tomatoes, raisins, nuts, little pretzels and much more. I also use the bigger 2 and 4 cup containers to freeze broth and sauces too.
7. THERMOS 10 Ounce Stainless Steel Vacuum Insulated Food Jar – my favorite thermos. It will keep things hot or cold, depending on what you need. It's a great size for soup and other hot items. Especially great for kids, I would pack my son pasta and chicken in this all the time and store tomatoes in a small twist lock container to go along with it. (My boys love all their fun designs too, especially Paw Patrol.)
8. Vacuum Insulated Thermos Food Jar Lunch Thermos with Handles, 22 oz I really like these for hot entrees for adults, although they will work to keep cold food cold as well. Since they are bigger and have a wider opening, it's more convenient to eat from.
9. Stainless Steel Food Container – 24oz discontinued
10. Lille Home 22oz Stainless Steel Leakproof 2-Compartment Lunch Box A lunch container that is like a thermos. It will keep your food hot and there are two compartments so you can store two different things in it. Very nice for hot entrees. Won't keep your food hot as long as a typical thermos. (link to similar containers, the exact one I have is no longer available.)
11. Arctic Zone Dual Compartment Insulated Lunch Tote This is my lunch box. I really like the size and that it has a top compartment as well as a bottom. You can store hot items in one and cold in another.
12. Amersun Kids Lunch Box, Durable Insulated School Lunch Bag – simple option, I love this for kids. It has a padded liner that will keep food warm or cold for a long time.
13. Arctic Zone Titan High Performance Insulated Expandable Lunch Pack – Store this lunch pack in your freezer and you won't need additional ice packs. (Look for this at Costco, Walmart, similar option linked, but the one I have is a bit different.)
14. PackIt Freezable Classic Lunch Box Another freezable lunch box. This one folds up really conveniently so it won't take up too much room in your freezer.