Need some recipe ideas for the summer? I am sharing so many recipes ideas, easy meal prep, kitchen tips and even what store bought items you can get to make cooking easier.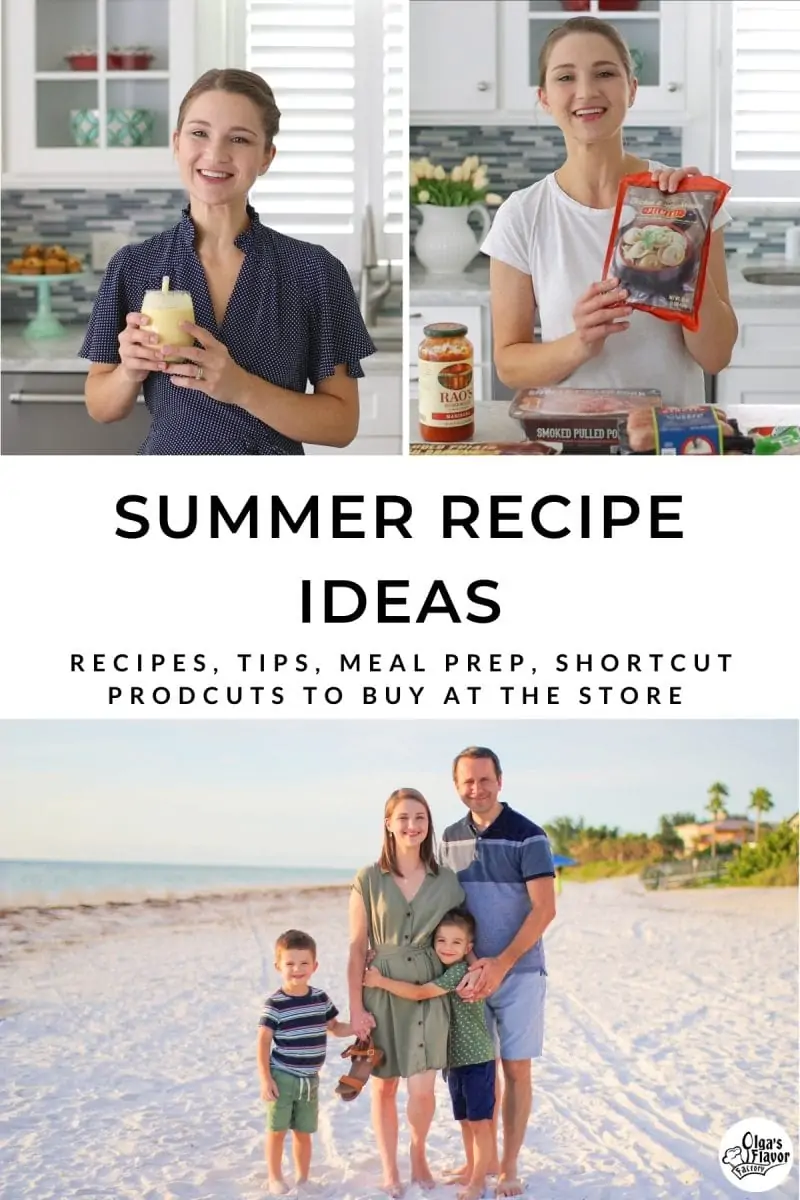 Cooking in the summer can be extra overwhelming because it's when your children are out of school, you still need to get things done and there are so many extra outings, travel and family adventures thrown into the mix. Summer is a whirlwind of fun and is so fast paced, and I'm here to help you provide balanced meals for your family and still have time to join in the fun.
With these tips, you'll have a thought out approach that will help you make cooking work around your life, not the other way around.
Summer Recipe Ideas Video
Summer Breakfast Ideas

Summer Lunch Ideas

Summer Dinner Ideas

Summer Snack Ideas
The way that we do snacks in our family, is to eat the boys only get snacks AFTER they ate a full meal. I know that if they fill up on snacks first, they will not be hungry for the main meal that is more nutritious. That is why we don't have too many snacks, because they only eat a few simple things per day.
Cut up fruit and vegetables
Pretzels
Crackers
cheese sticks, cheese slices
Cottage cheese or farmer's cheese
Peanut butter and banana sandwiches

Summer Cooking Tips:
Keep Things Simple
Just because the kids are home doesn't mean that you have to make a feast for breakfast every morning. I kind of go by this rule – I cook one meal a day that requires more effort from me. If I'm making a delicious hot dinner, breakfast and lunch are easy peasy.
That's why I make oatmeal or cream of wheat (mannaya kasha) for my boys so often. I'm glad that they love it so much. It's so easy to make and it fills them up pretty well too. 
Lunches are often leftovers or also very simple meals. I make soup several times every week and that is our lunch most of the time. Even though it's hot, I still make it all year long because it's so easy to reheat and will give my children something nutritious to eat with minimal effort from me.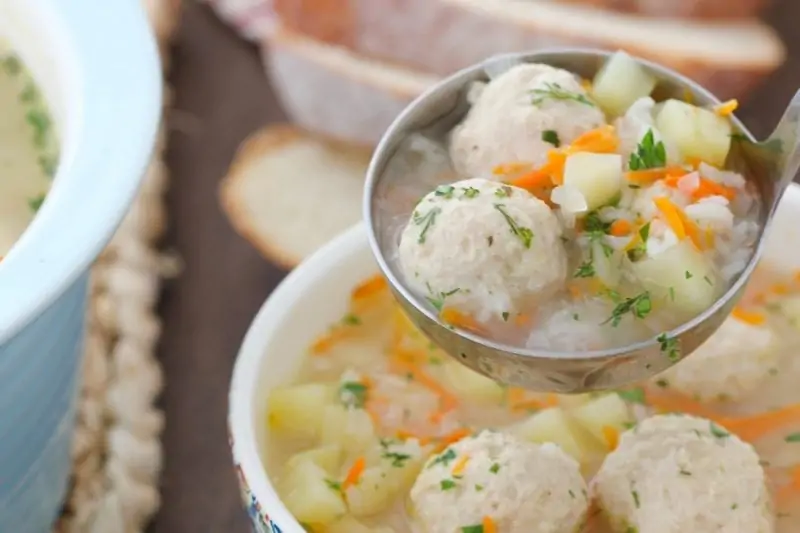 Make Meals That Take Minimal Prep and Babysitting
Choose meals that are easy to prep and you don't have to spend too much time at the stove.
This is another reason I like making oatmeal so much. It takes me less than 5 minutes to put all the ingredients in the Instant Pot, I turn it on and leave the kitchen. That's it. My work is done. Then I usually go get myself ready for the day, make my bed, throw in a load of laundry, unload the dishwasher, whatever. When the Instant Pot beeps, I already got so much done and breakfast is ready.
This also applies to dinner recipes. I try not to use my oven too much in the summer because it gets so hot, but it's totally worth it for those easy meals that take a few minutes of prep and the oven does the rest with no babysitting from me.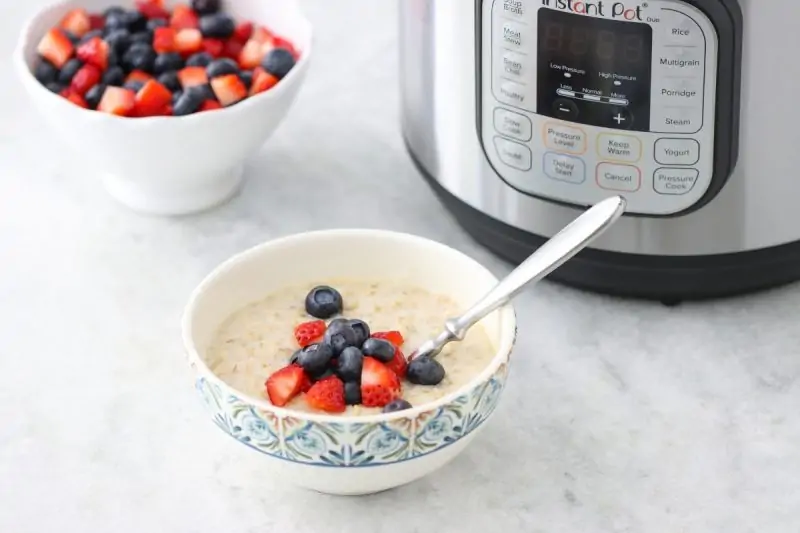 Use Your Appliances To Make Easy Meals and Keep Your House Cooler
Try using your slow cooker, Instant Pot, Air fryer and grill as much as possible. This is crucial in the summers because it helps to keep your house cooler, but usually those meals are easier to make too. Add your ingredients to the slow cooker in the morning and you won't have to think about dinner all day. The Instant Pot and Air Fryer give you tons of options of meals that cook so quickly and are delicious and satisfying too.
The grill is essential in the summer months to keep our kitchen cool, plus grilled recipes are amazing, especially in the summer.
Slow Cooker Recipes:
Instant Pot Recipes:
Favorite Grill Recipes: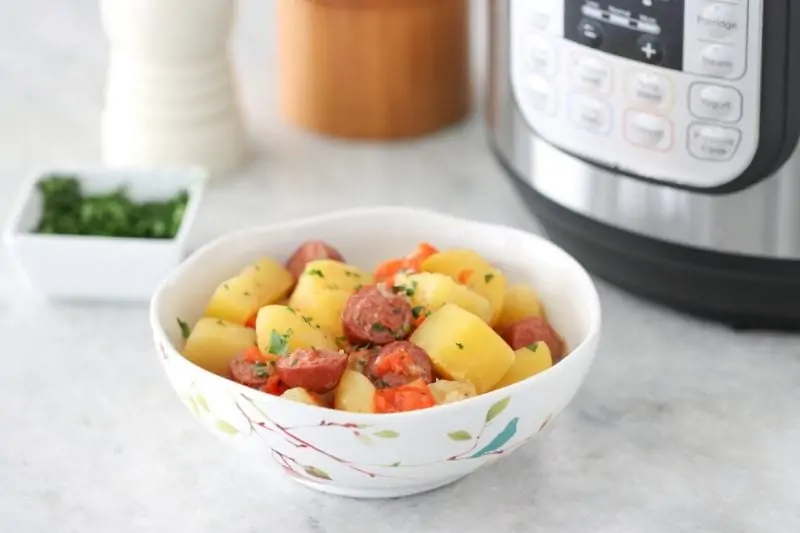 Plan and Prep in Advance
If you don't take some time to plan, you'll all be frustrated and more worn out. Kids can graze and just eat whatever they can find but that's not good for them and you'll be spending so much more money on groceries because those conveniently packaged snacks are not cheap. 
Write down a few ideas of what you and your kids can snack on and what you'll be eating. You'll be so glad you did. Taking 15 minutes to plan once a week will save you so much brain space the rest of the week.
Prepping in advance makes the biggest difference. It's such a game changer and usually doesn't take too much time either.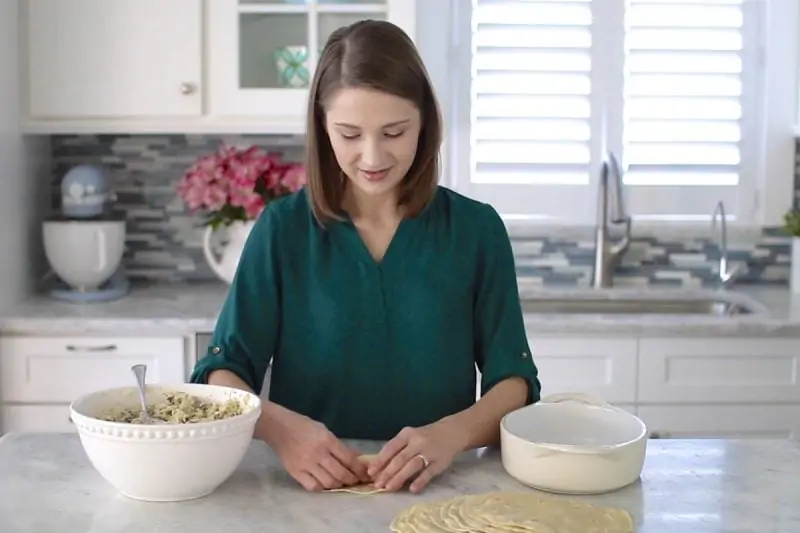 Make More When Cooking To Eat More Than Once
Most of the time I don't prep for hours. I simply make more when I know it's something that will reheat well later. When I make pancakes or waffles on the weekend, I make a double portion and then I can simply pop them in the toaster the following week and my boys can enjoy them and I only put in the effort to make them once. 
Recipes To Make In Bulk:
Snacks – Limit Buying What You Don't Want Your Kids Eating, Stock Up on Healthy Snacks
This is kind of obvious, but if you don't have it in the house, they won't eat it. Or buy a small amount, give it to them to enjoy and once they're done, you don't have a stash of chips that is big enough for a barbecue party or a huge package of cookies tempting them from the pantry. Buy the things that you know they'll enjoy but you don't mind them snacking on. 
Stock Up On Store Bought Convenience Items
You don't have to make every single meal from scratch either. If there are store bought things that your family enjoys, now is the time to stock up on them. Watch the video to see some of the things we always keep on hand and ask your family and friends what they buy to get even more ideas.
Give Yourself Grace and Have Fun
It's ok if you eat out more or don't eat as healthy as you put the pressure on yourself to do in the beginning of the summer. Summers with your kids are limited and go by way too fast. The priority is always to build memories and focus on relationships. I wish you all the very best and hope these tips will do just that – help you create more time with your loved ones, more brain space to laugh at your kids jokes and watch them play and be able to join in, not just watch from the kitchen. With a little bit of planning, you can still provide healthy meals, get some of your work done and have time to go on outings, camp outs, enjoy the outdoors and wear out your swimming suit.