Storage Containers For Food
Storage containers for food are great to help keep your food organized but they also keep food fresh longer. I use a variety of different storage containers in my kitchen – in my pantry, freezer, refrigerator, meal prep and also when packing lunches.
I thought it would be helpful to have this post as a reference for you, everything gathered in one spot and my review, of sorts. This is not a sponsored post, however some links may be affiliate links, meaning I may earn a small commission if you buy using the link, but the price is always the same for you.
All these products are things that I've bought with my own money and use for our family on a regular basis.
Pantry Storage Containers
OXO Pop Containers I use these for so many things – flours, sugar, rice, pasta, grains, etc. They are easy to use and the containers are sturdy. (I personally didn't buy the set, I bought specific sizes that I knew exactly what I would use them for.)
Better Home and Gardens Storage Containers I also use these for all of the above, although I prefer the OXO containers, so I have more of them. I bought these containers at Walmart.
Progressive Prokeeper Flour Storage Container This is such a user friendly container. It's nice and wide at the top and it has a leveling bar at the top for easy and mess free measuring.
Glass Mason Jars I prefer using plastic for pantry and freezer storage, simply because glass ones can get heavy and don't usually have a large enough capacity. Plus, there is less chance of anything breaking. However, I do use some glass jars for storing chocolate chips, dry mushrooms, poppy seeds, barley, etc.
Cereal Containers I've tried several, and I liked these the most. They hold a generous amount of cereal, even the bigger boxes will fit, the pour spout is really great, it's air tight, which is really important to keep cereal fresh as long as possible. I have definitely noticed a significant difference in how long our cereal lasts with these containers.
Baskets and Bins
I use several baskets and bins in my pantry and freezer to help keep things more organized. For example, I like to place small items, like baking supplies, into a bin to keep it all together in one place and from falling over all the time. It's great.
I also keep "like" items together in our freezer, which is really helpful. I have all our poultry in one basket, all the red meat in another, prepared foods (burritos, crepes, muffins, etc.) in another. I bought those bins at the dollar store, Home Goods and TJMaxx.
I also keep our potatoes and onions in soft plastic baskets that I also bought at the dollar store.
Freezer Storage Containers
Ziploc Twist N Loc Containers, 4 cups These are my favorite to use for storing broth, soup or sauce in the freezer. The lid stays on tightly, if the container falls over before the broth is frozen, it won't spill.
Ziploc Twist N Loc Containers, 2 cups I also like using the smaller containers for things like freezer jam, applesauce, tomato sauce, tomato ragu, etc. This way, I can store smaller amounts that we will use right away.
I also use some of the Better Home and Gardens and OXO air tight seal containers for things like flour, nuts, etc.
Meal Prep Containers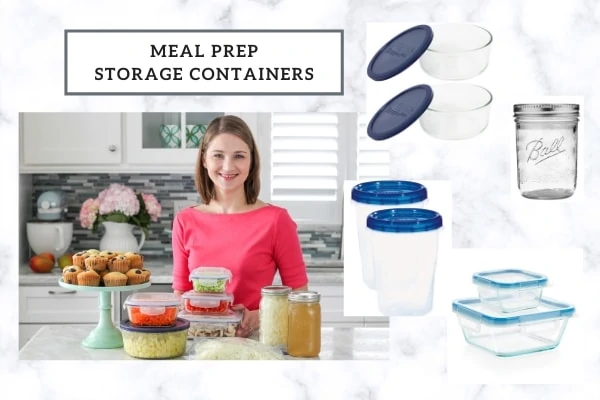 I do a lot of meal prepping, so I use many different types of storage containers. In this case I do prefer glass containers.
Glass Mason Jars These are great to store broth, sauces, homemade salad dressings, kompot (Russian drink) and also to store things like prepped onions, peeled garlic, jam, sauerkraut. The glass jars don't absorb odors and the lid fits tightly, which keeps strong odors in the container, not wafting all throughout your refrigerator. I have several sizes that I use, 64 oz, 32 oz, 16 oz and even small pint size jars.
Simple Glass Storage Containers, Not Air Tight
Most of mine are either Pyrex or Anchor brands. The nice thing about these is that they are not as expensive, they are glass, user friendly and there are many different sizes and shapes available. However, they are not air tight, so don't store anything in them that have a strong odor or use plastic wrap to keep the odors contained. They are also not spill proof. I use these to storage prepped carrots, fruit, potatoes, mushrooms, etc. The lids can easily be replaced too, so that's nice when they get lots of wear and tear over the years.
Glass Storage Containers With Air Tight Seal Lids
I have several different brands and varieties and these are wonderful for meal prepping. My favorite ones are the Snapware Airtight and Leakproof containers. The lids are by far the most user friendly. There are also many sizes available.
I also have the OXO glass prep containers and another brand that I bought years ago that is no longer sold, but they look exactly like these. I think they are both terrific, but not as nice as the Snapware. The lids are much harder to close and are always a little bit of a nuisance to line up and close shut.
I use the Ziploc Twist and Loc containers for freezing and the glass mason jars for the refrigerator.
Lunch Box Containers
Packing lunches also requires containers of some sort. When I only packed lunches for myself and my husband, I just used my regular glass storage containers that I use for meal prepping, but I quickly found out that we needed to find some plastic storage containers when our son started preschool. The glass containers were too heavy (besides the fact that I didn't want any chances of them breaking) and they were too hard for him to open and close on their own.
My lunch box that I use for work.
There are so many lunch containers and systems out there, if you start looking at all the options, it can make your head spin. I like things as simple as possible, so here's what I've come up with.
This particular brand is great. It's a good size and it keeps food hot for hours. If you want it to stay hot even longer, fill the thermos with boiling water, cover and let it stand for 5 minutes, pour out the water and then fill with your hot food. I pack soup and all kinds of leftovers in the thermos. I will often give my son pasta, rice, chicken, etc. in the thermos. He can easily open it himself, it's just the right amount of food.
I have the regular boring blue one for myself, but I got Nathaniel the Paw Patrol thermos in the same brand and he was thrilled.
The Easy Lunch Boxes have three compartments, so you can pack several different things in there at the same time. These are very convenient, not too hard for little ones to open and relatively inexpensive. I find myself using them for road trips or packing us things to take to the beach or park, not so much school or work lunches, although they will work for those too.
I found that I much prefer to pack things in individual small containers, because it gives me more options and it's just easy.
I use the Mini 4 oz Ziploc Twist N Loc containers for things like berries and other cut up fruit, cut up tomatoes, raisins, etc. They are small but surprisingly fit a lot into them. They are easy enough for my son to open on his own, but don't leak, which is awesome. (I couldn't find them sold separately on Amazon, but I found a link from Target.)
2 cup (8 oz) storage containers with locked lid
I have several of these as well, that are nice for sandwiches (I prefer to use these instead of bags), crackers and cheese, etc. Of course, you can use them for so many other things too.
Please keep in mind that it has taken me YEARS, more than 10, to get this many storage containers. It would be really pricey to get all of them at the same time. I also recommend checking out Costco, Home Goods, TJMaxx and Marshalls, where they often have all sorts of these containers for a discounted price.
I've also been disappointed with many containers that I've tried over the years and have had to throw out many because they would break, weren't good quality, etc. I'm hoping that by sharing my experience, this will cut down on how many items you will need to test out.