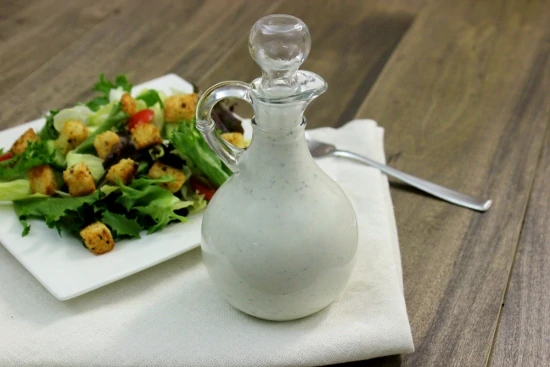 Most homes have a bottle of Ranch dressing stashed in the door of their refrigerator. This is such a popular condiment, some people eat it with everything, pour it on anything, and will use it as a dip a spread or add it to all kinds of dishes.
Did you notice how long the shelf life on it is? That stuff NEVER spoils. That's because it has a phosphoric acid, xanthan gum, modified food starch, MSG, artificial flavors, disodium phosphate, sorbic acid, calcium disodium EDTA, disodium inosinate and disodium guanylate.
I don't know about you, but I'd rather put real food into my body. especially since homemade Ranch takes about 5-10 minutes to make. I'm not kidding. The taste doesn't even compare. It's creamy, fresh, with a bit of a tang and a whole lot of flavor. This is a recipe from Cook's Illustrated.
Here's an interesting article from Bon Appetit that I read about a tastes test between store-bought Ranch and Homemade Ranch. Is Homemade Ranch Dressing Better Than Store-Bought?
Whisk all the ingredients together.
Store in the refrigerator for a few weeks to a month. Of course, you can't store this for years in your refrigerator, but it won't last very long. Besides, taking a few minutes to whisk up another batch is no trouble at all.
Everyone has their own personal preferences of using Ranch. I like to eat it as a dip with veggies, spread it on sandwiches instead of mayo, add it to tuna, or Ranch Potato Salad.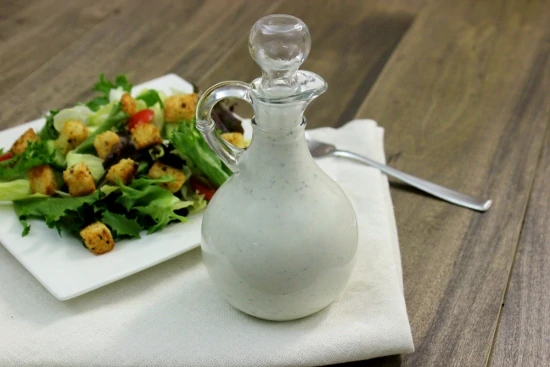 Homemade Ranch Dressing
Recipe type:
Miscellaneous
Ingredients
½ cup buttermilk
½ cup mayonnaise
6 Tablespoons sour cream
2 Tablespoons lemon juice
1 small shallot, minced
1 garlic clove, minced
½ Tablespoon dill, parsley, chives, each, minced
salt and pepper, to taste
Instructions
Whisk all the ingredients together. Store in the refrigerator for up to a month.