How To Use a Food Processor
A food processor is such a versatile kitchen appliance and can be used in so many ways. If you cook from scratch, it is so helpful and saves a lot of effort and time. In this post, you will find lots of ideas how to use a food processor in many creative ways.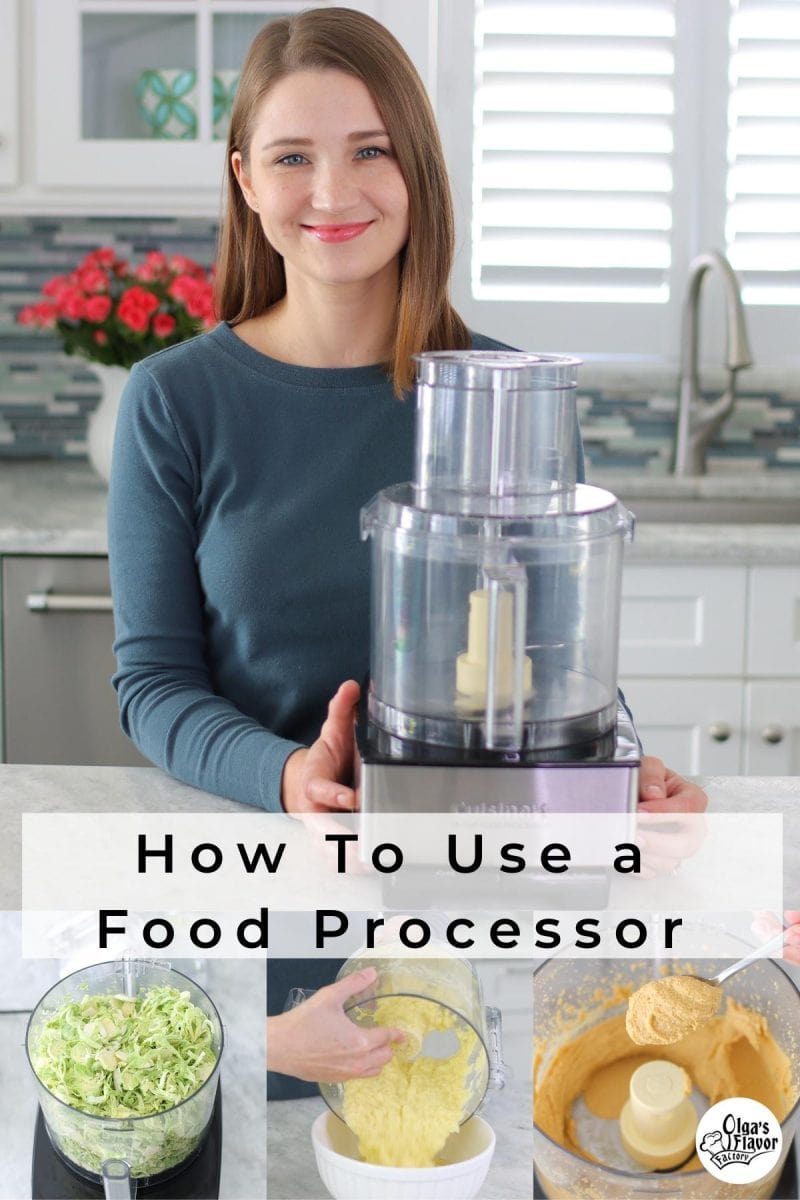 The food processor is an essential tool in my kitchen, and there are so many things that it excels in. It is such a powerful and versatile machine. There are some things that can only be achieved in the food processor, while others, like grating something, just make the job much easier and faster.
I love how it simplifies meal prep and saves me so much time. It can blend, chop, dice, slice and grate, allowing for faster meal preparation. In this post and video, learn how to use a food processor in ways that you may already know and find out some creative ways to put it to good use too. I've shared about the food processor in My Most Used Kitchen Appliances post and video and today will feature the food processor itself and all the ways that it shines.
This is not a sponsored post or video. I purchased the food processor myself and am not affiliated with Cuisinart. The links in the post may be affiliate links, marked with an *. I earn a small commission if you purchase it through that link, but your price does not change. All opinions are my own.
Watch the Video How To Use a Food Processor
Cuisinart 14 Cup Food Processor
I have had this 14 cup CuIsinart food processor* for years, so I am really familiar with it by now. It is really powerful and does a very efficient job with countless tasks. The main function of the food processor is done by a knife blade that is inserted into the center of the work bowl. I use this function the most. The work bowl has a capacity of 14 cups, which is great, especially for big jobs and when cooking for a lot of people.
It also comes with several attachments: a plastic spatula to help you scrape down the sides of the bowl and 2 stainless steel discs, one slicing disc and one shredding disc.
It's an investment for sure, but it's well worth it, especially with how many things you can do with it. If you cook a lot, this would be a wonderful tool to have.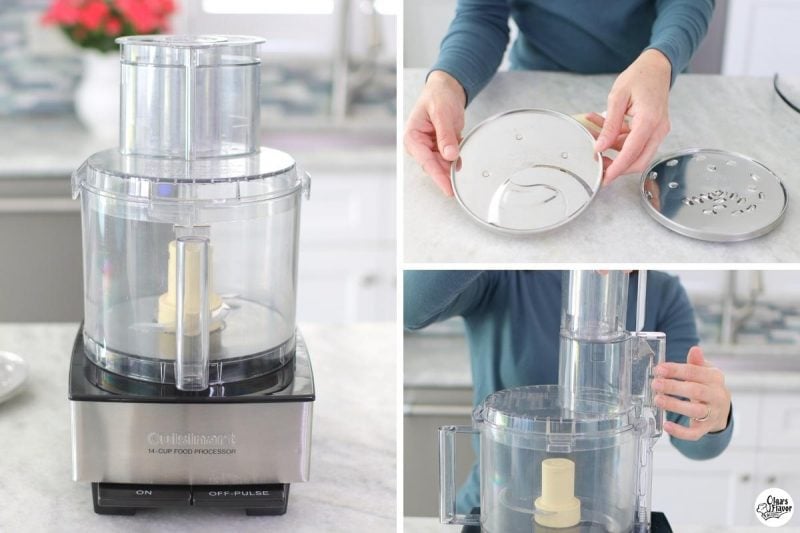 Helpful Tips
Make sure the knife blade is inserted into the work bowl, before adding the food. I use the knife blades most often.
The lid needs to be closed before the food processor can be turned on. The Cuisinart food processor has a safety feature where the lid has a large feed tube and the pusher that goes into is has a metal probe that needs to be inserted into the top before the food processor will even turn on. This way, you can't possibly stick your hand inside and turn it on.
On the lid, there is a large feed tube and a small one, so you can pour oil or water through the small tube while the machine is running.
Cut larger food into smaller pieces first, before putting it into the food processor. For example, don't put a whole onion into the work bowl; cut it in half or in quarters first, so that the food processor will give you more uniform pieces when you pulse the food in.
Use the pulse button to start and stop the food processor. This will help you control how the food is broken up, the size that you want the food to be.
The On button will turn the machine and keep it working continuously.
What is a Food Processor Used For?
The list of things this workhorse can do is literally endless. Starting with chopping, slicing and grating for meal prep, you can make a variety of things, starting with sauces, dressings and purees, to making "ground meat" or "ground seafood and even all kinds of doughs – pie dough, pizza dough, pasta dough. From appetizers, entrees and desserts, the food processor can do so many things efficiently and effectively.
Things You Can Do:
Chopping up ingredients, such as onions, carrots, celery for soups, sauces and more. You can even make cauliflower rice by simply pulsing it up in this machine.
Breadcrumbs and cookies crumbs, such as graham crackers for cheesecake.
Chop up nuts. Use the chopped up nuts in the most common ways, but you can also make it to make homemade almond flour. Process blanched almond in the food processor until they are a very fine "floury" consistency.
Peanut butter. All you need to make peanut butter are peanuts. Pulse them in the food processor until they are finely chopped and keep processing them until they start to look like wet sand and, eventually, you will have peanut butter.
Sauces, marinades, salad dressings, salsas, pesto, hummus, etc.
Puree fruit to make mousse, to pour over crepes or pancakes, or to make jam and syrup.
Ground meat. Although a meat grinder does a better job of grinding meat, the food processor is great for small jobs and if you don't own a meat grinder.
Breaking up seafood for Salmon Patties, Salmon Burger, Fish Patties, Shrimp Burgers, etc.
Doughs. Yes, the food processor can even mix dough! I use mine for pie dough all the time. It's also great for pasta dough and pizza dough.
Banana ice cream. Put frozen sliced bananas into a food processor and you'll have a healthy treat that has a wonderful creamy consistency like ice cream. You can also add a little bit of frozen mango, pineapple or strawberry to make different flavors, but keep the banana ratio higher.
Shredding food. Grate carrots, cheese, zucchini, potatoes, beets and much more.
Slicing. Thinly slice brussels sprouts, cabbage, potatoes, cucumbers, etc.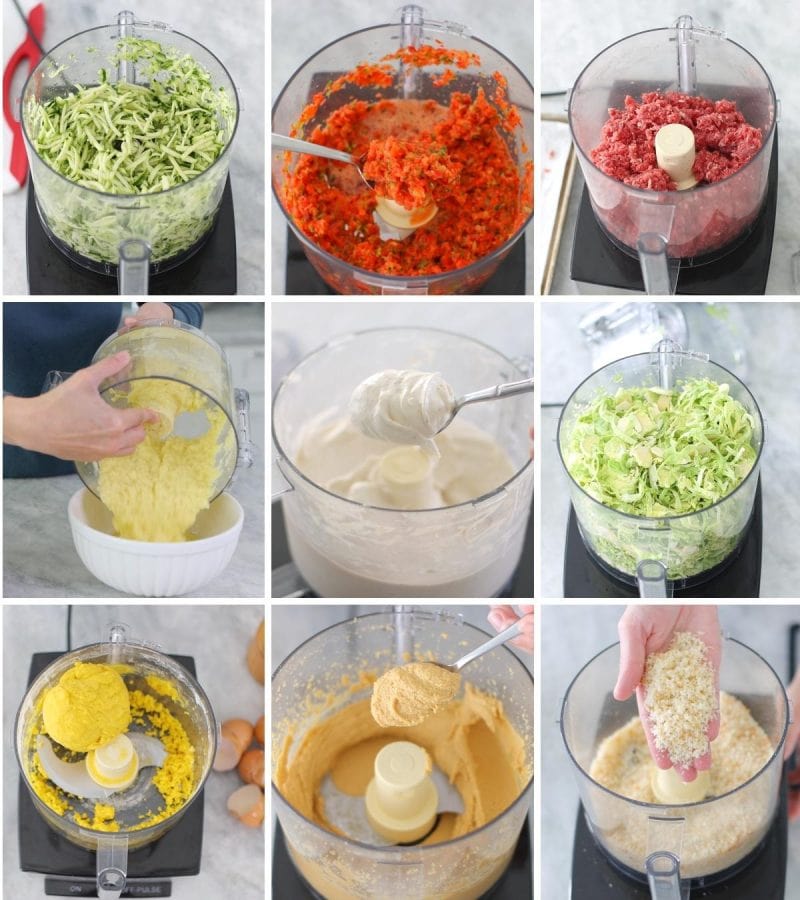 Food Processor vs Blender
Both of these appliances break up, chop and puree food fast really well. They can do a lot of the same things, but they are each best for certain tasks. A blender is best used for purees and liquids, such as soups, smoothies and sauces. A food processor excels in more intense jobs, like mixing dough and chopping tough ingredients.  You will get much more uniform pieces in the food processor, but the blender will give you really smooth results, like you would want for smoothies.
While a blender is also very powerful, it needs a lot of liquid to keep the food moving towards the blades. If there isn't enough liquid, the blender will stall and not work.
Food Processor Recipes
Sauces, Condiments
Entrees
Desserts
Doughs
Pizza Dough (the recipe can be made using a food processor or a mixer)