My Favorite and Most Useful Small Kitchen Appliances
With so many small kitchen appliances on the market, it can be overwhelming to decide which ones are the most useful and will make your life in the kitchen easier, better and more enjoyable, not just take up space in your kitchen.
In this post and video, I share the ones that are my most favorite and that I find most useful in my kitchen.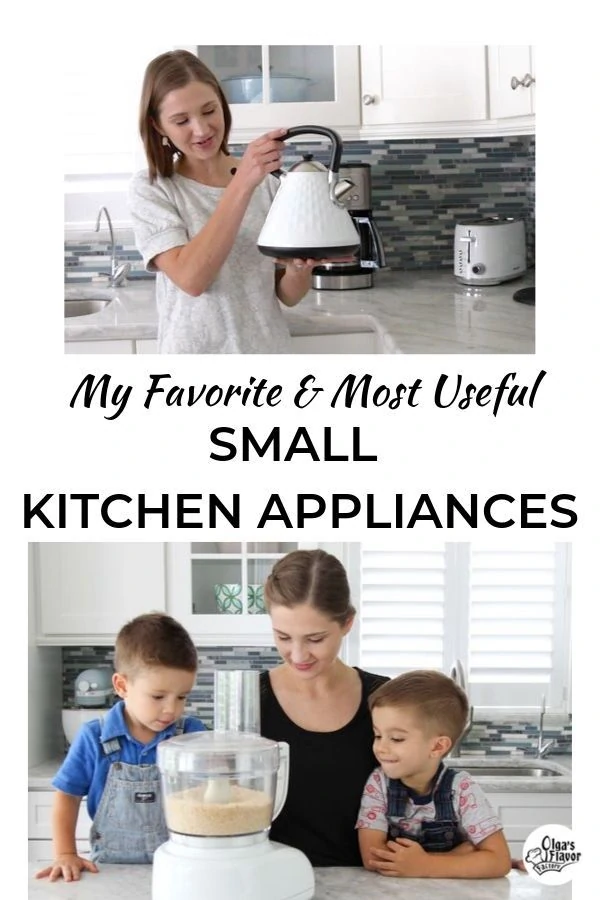 In the modern kitchen, small kitchen appliances play a big role. There are so many options available – mixers, juicers, blenders, slow cookers, multi cookers, pressure cookers, rice cookers, and so much more.
For most of my life, I have had very limited storage space in my kitchen, so it was really important for me to invest in the ones that I could get the most use of. If an appliance only did one or just a few things, it had to be something we used all the time, like the coffee maker.
Even with a kitchen that has much more storage today, I still like to keep things as simple as possible and invest in good quality tools that will make my time in the kitchen more productive.
All of these appliances are my very favorite ones that I think are worth the investment. I also think it's important to do some research before you buy an appliance. I've had my food processor for more than 10 years and it's still going strong.
Watch the Video
Stand Mixer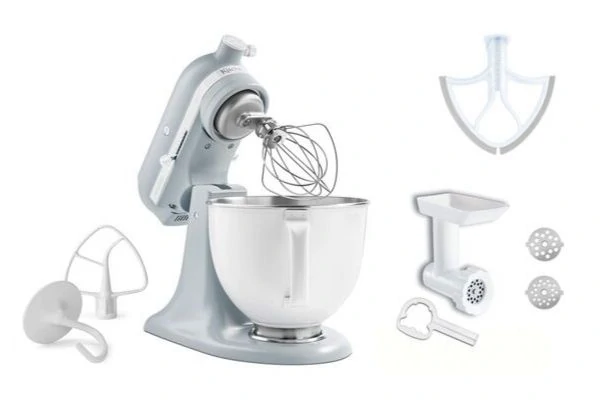 The Model That I Own: Kitchen Aid 5 Quart Stand Mixer, Misty Blue Color
Favorite Ways to Use a Stand Mixer: Stand mixers are wonderful to have if you do a lot of baking. Every mixer came with three standard attachments: a whisk, a paddle, and a dough hook for whipping, creaming, and kneading.
I love that you can multitask while the mixer is mixing dough, either cleaning up the kitchen, measuring the next ingredients or putting them way.
Stand mixer are much more powerful than hand mixers, so they mix batters and doughs faster and better.
I also purchased an additional paddle attachment with rubber blades that is really convenient because it is able to scrape the sides of the bowl and incorporate the batter better.
Additional Ways To Use a Stand Mixer:
I think it is genius that there are also 12 optional attachments that can be attached to the stand mixer and perform other jobs. They are powered by the motor of the stand mixer, so those other attachments take up much less room in your kitchen.
I have the food grinder – it does a great job grinding meat and other foods and doesn't take up too much space in my cupboards.
Coffeemaker, Toaster and Electric Kettle
These simple appliances don't have a lot of different uses, but each are important enough that we keep them all on the counter. We use them all daily.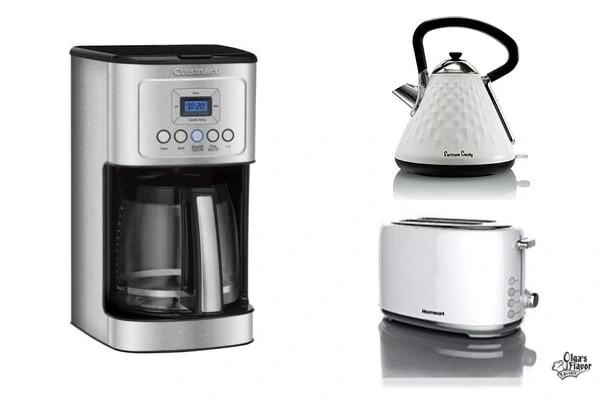 The Models That I Own:
Coffeemaker: Cuisinart 14 cup coffeemaker
Toaster: Artisan 2-Slice Toaster by Homeart
Electric Water Kettle: Fortune Candy Water Kettle
Instant Pot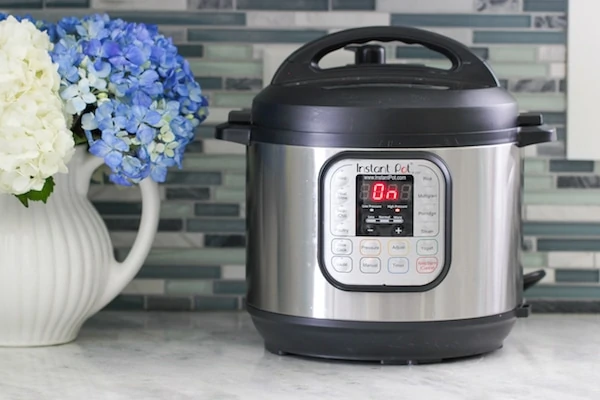 What is the Instant Pot?
The Instant Pot is mainly an electric pressure cooker and but it also has several other functions; it is also a yogurt maker, slow cooker, rice cooker and steamer.
One of my all time favorite features of the Instant Pot is that it has a Sauté function, which heats up the bottom of the inner chamber and you can sauce and sear food in the Instant Pot. This gives the food you are cooking much more flavor, reduces the liquid and you also end up with less dishes to wash.
The Model That I Own: Instant Pot DUO60 6 Qt 7-in-1 Multi-Use Programmable Pressure Cooker, Slow Cooker, Rice Cooker, Steamer, Sauté, Yogurt Maker and Warmer.
I bought mine in 2013, so the models that are sold today look different than the one I own and have updated options.
Favorite Ways to Use the Instant Pot: I love that you can cook things much faster in the Instant Pot that if you would cook it on the stove or in the oven.
It is essentially a multi-cooker, which is also great at saving space in your kitchen and saves money.
Some things that I make in the Instant Pot: homemade yogurt, homemade farmer's cheese or ricotta cheese, rice, broth, soups, stews, braises, baked potatoes, hard boiled eggs, steamed vegetables, oatmeal (specifically using steel cup oats) and much more.
Read more about why the Instant Pot is one of my favorite appliances and how I use it in this blog post. (The recipes for Corn on the Cob, Chicken Broth and Steel Cut Oatmeal are in this post.)
I also have a comprehensive video all about the Instant Pot. It's an excellent resource for beginners and those who want to learn how to use it and how find out how it works.
Instant Pot Recipes:
Instant Pot Ricotta Cheese/Farmer's Cheese
Instant Pot Beef and Rice Pilaf (Plov)
Instant Pot Chuck Roast With Potatoes and Carrots
Food Processor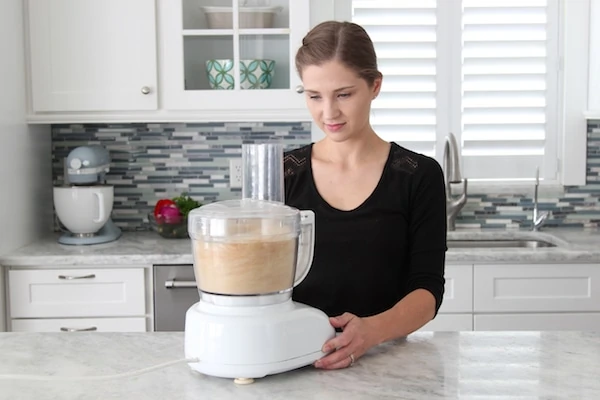 The food processor is my personal favorite appliance. I think it is the one that makes cooking from scratch so much easier and there are so many varieties or prep work that it can do so well and so fast.
The Model That I Own: Kitchen Aid 9 cup Food Processor.
I bought this model more than 10 years ago, so it discontinued. There are more updated versions of this model.
Favorite Ways to Use The Food Processor: chopping, slicing and shredding different varieties of fruit, vegetables and proteins, making pie dough, pizza dough, making breadcrumbs, making potato batter for Potato Pancakes, Banana Ice Cream, sauces, pestos, processing fish, shrimp and meat for patties and burgers.
Blender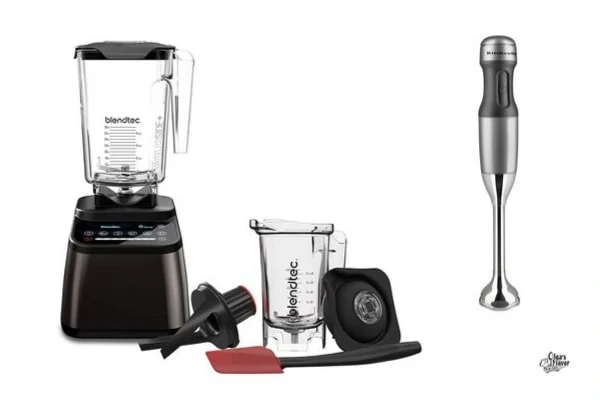 The blender is another wonderful machine that is really powerful and a huge plus in the kitchen if you cook from scratch a lot. It also has so many uses, just like the food processor.
Food Processor vs. Blender
Even though these two appliances can do similar jobs – breaking down ingredients into smaller pieces, they each have different purposes. The food processor is meant for more intense jobs, like mixing dough and chopping tough ingredients, while a blender is meant to blend and puree. You will get much more uniform pieces in the food processor, but the blender will give you really smooth results, like you would want for smoothies.
The Model That I Own: Blendtec Designer Series Blender
Favorite Ways to Use the Blender: Smoothies, cream soups (Butternut Squash Soup, Tomato Soup, Creamy Zucchini Soup, Creamy Potato, Leek and Celery Soup, Broccoli Cheddar Soup), purees, sauces, dressings, peanut butter, almond butter, mayonnaise, hollandaise sauce, almond milk, crepe batter.
If you don't make smoothies very often and only need a blender for simple jobs once in a while, like pureeing soup, tomato sauce, etc, an immersion blender may be a better idea. It takes up much less space and is so much more affordable.
It's also really convenient, because you can submerge it right into the pot and puree the soup, sauce or jam right in there.
The Immersion Blender That I Own: KitchenAid KHB2351CU 3-Speed Hand Blender
This is NOT a sponsored post. I bought all the appliances with my own money except for the blender, which was gifted to me in 2014 by Blendtec. The links to the products may be affiliate links. This simply means when I recommend a product or service and if you choose to purchase that product or service from my recommendation, I will get a small referral commission. Of course, this is at no extra cost to you. I really appreciate your support. Thank you!