The Best Cookware: My Favorite Pots and Pans
If you're looking for the best cookware, I have some recommendations to share. My favorite pots and pans are very durable and perform really well too. I've had most of them for close to a decade so I'm confident in promoting them.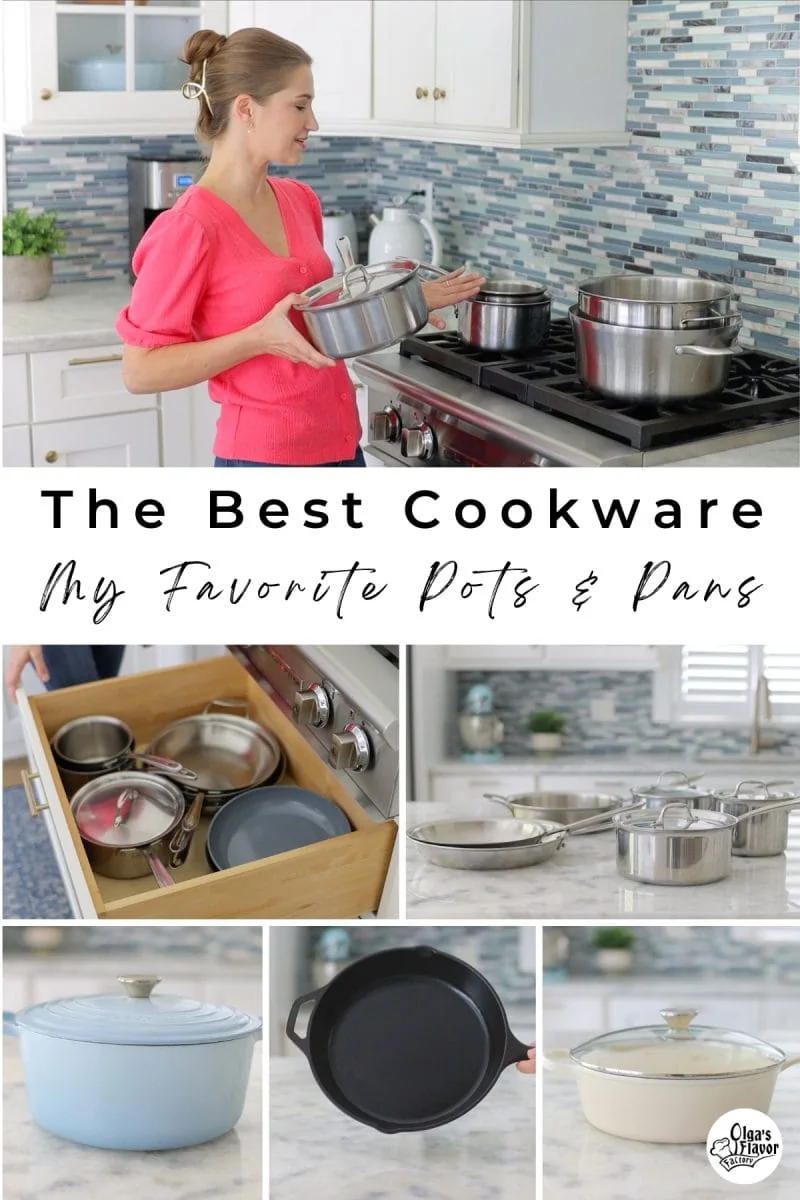 Using the best cookware makes a big difference in how your food turns out and your experience of cooking too. When I got married almost 17 years ago, I went through a lot of trial and error finding cookware that would work well. I had no idea what to look for and went through a lot of different pots and pans until I figured out which ones were good.
I'm happy to share my favorites with you. When I was starting out as a new homemaker, we didn't have as many extensive reviews available. I wish I could have read more information or watched some videos before making these purchases, but I'm glad that's not the case today.
In this blog post, you can find all my favorite pots and pans that I have owned for many years, most for close to a decade. I'll share what to look for when looking for good quality cookware too.
*Although this post is NOT sponsored and I am not affiliated with any of the brands that I will be mentioning, some of the links may be affiliate links.
Video of the Best Pots and Pans
What is the best pot and pan set?
I know it sounds like a great idea to buy a cookware set, since it seems like you'd save the most money and get everything you need all at once. However, I would recommend NOT buying a set. Most of the time, you'll end up having pieces that come with the set that you don't use. You'll most likely buy additional pieces anyway.
By buying exactly the pots and pans that you need and will use, you'll not have extra cookware taking up space in your kitchen. That's my suggestion, but if you want to buy a set, I would recommend a cookware set from All Clad. (This one has many of the pieces that I own.*) The majority of my cookware is from All Clad, so I would look for one that has the pieces that you would want to own.
Stainless Steel Cookware
Stainless steel is so durable, nontoxic and very versatile too. I have a video and blog post all about stainless steel cookware, how to use it, clean it and maintain it so check that out for more information. I use my stainless steel pots and pans the most.
When looking for good quality stainless steel, find something that is fully clad, which means that different metals are bonded together to give you the most even heating and durability. You want either, 3 ply or 5 ply, meaning 3 or 5 metals, copper or aluminum sandwiched in between stainless steel, which are all really great conductors of heat. Don't buy stainless steel that feel light and flimsy, you want it to be thick and heavy.
Must Have Basics For Every Home Cook: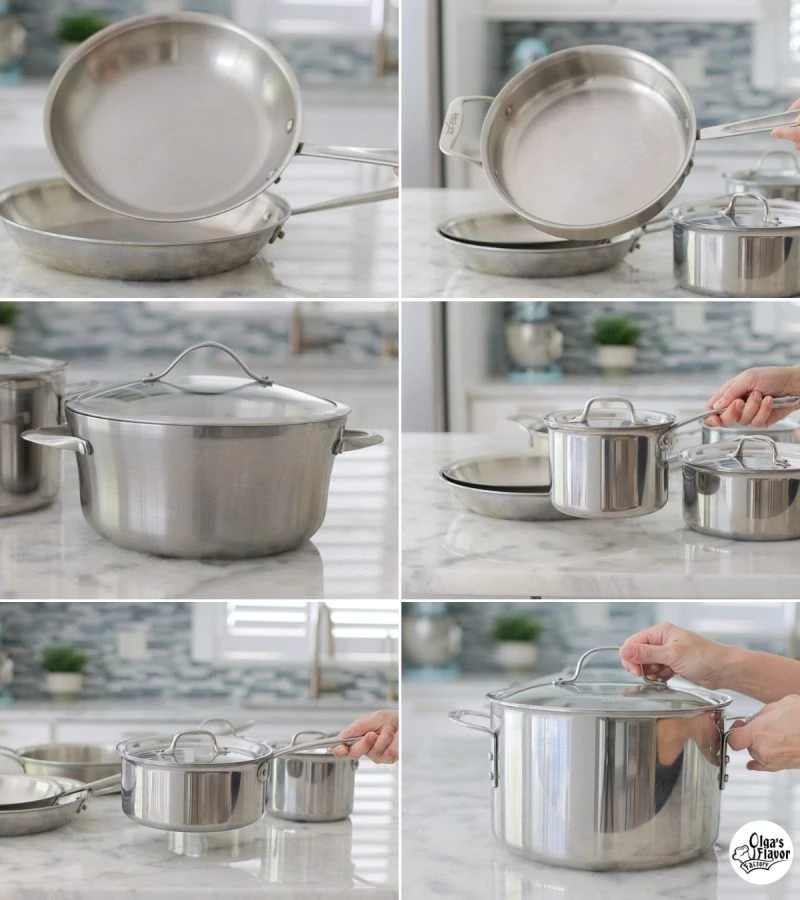 Additional Stainless Steel Pots and Pans: (Nice to have, but not necessary)
Cast Iron Skillets
Not only is cast iron really durable, it's very budget friendly too. It should last you a lifetime and gets better the more that you use it. For more details on how I use, season and clean cast iron, check out my video and blog post.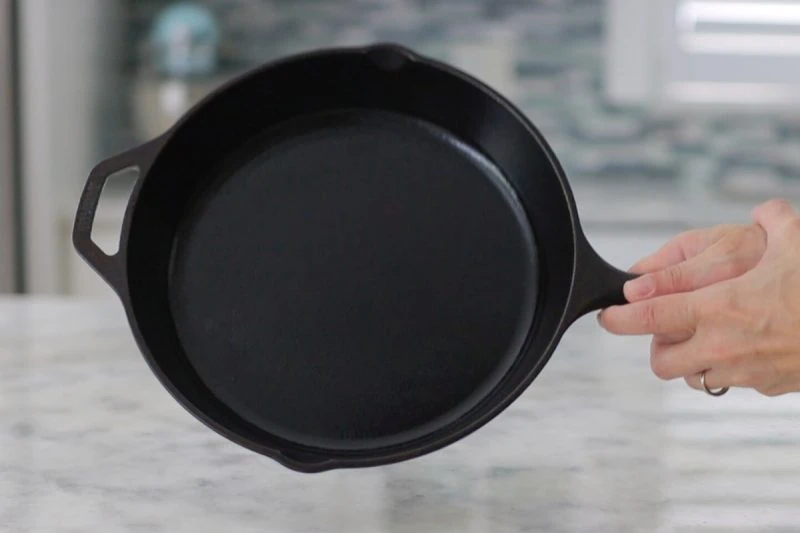 Enameled Cast Iron
These dutch ovens are beautiful and a statement piece in any kitchen. They are also very durable and versatile and hold and conduct heat amazingly.
However, you have to be a bit more careful with them then stainless steel. You can't use anything abrasive to stir the pot or to clean it. They perform very well for many tasks though. They are also wonderful to bake crusty loaves of bread.
If you're on a budget or just want a more minimalistic cookware collection, I would recommend just having a stainless steel dutch oven and only buying a cheaper dutch oven, like the one I got from Aldi, if you want to use it to bake bread.
I certainly really enjoy my Le Creuset and would highly recommend it if it's in your budget and you want something that is both beautiful, stylish and works really well too.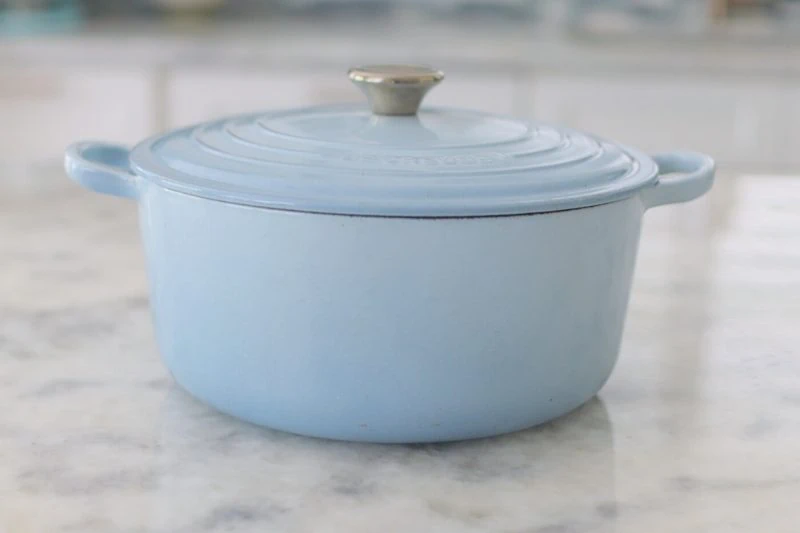 Enameled Cast Iron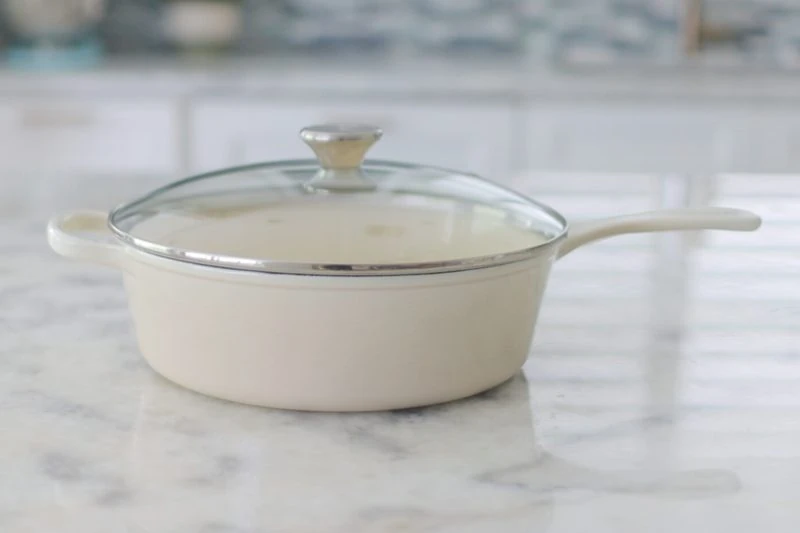 Ceramic ("Nonstick") Skillet
If you're looking for a healthier alternative to a nonstick skillet, this ceramic one is great. I have been testing several ceramic and other nontoxic "nonstick" skillets for a year and this one was my favorite. (More detailed video and blog post coming soon.)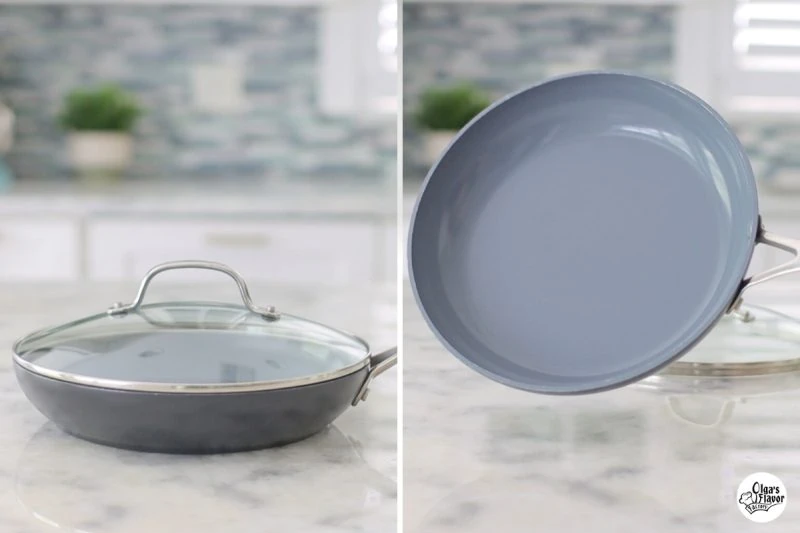 Where To Buy Cookware
It has taken me years to collect all these pots and pans. They are definitely an investment, but if you get good quality pieces, they will last you a lifetime. I have also been able to find a lot of good deals over the years too. For example, we bought the Le Creuset enameled dutch oven from a Le Creuset outlet store for a fraction of the price.
I also bought several of my All Clad skillets and pots for a reduced price at Home Goods. They don't sell them all the time, but you can find them sometimes, especially around the holidays. I have also bought several of the Calphalon pots and pans for less than half the original price in those stores as well.
The way I look at it though, is that if you want cookware that performs well and will LAST for years, quality does matter. Unlike a pair of shoes or a purse, that will wear out and you will need to buy new ones, cookware can be passed down to your children.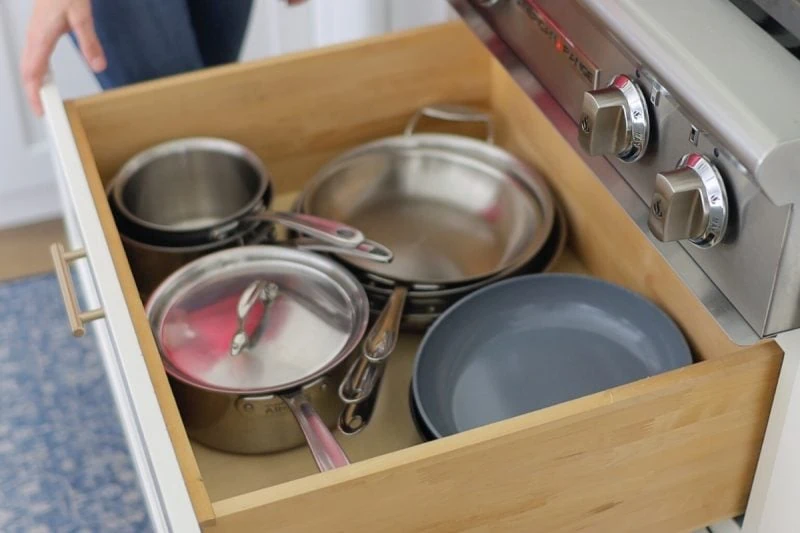 We store most of our cookware in these deep pull out drawer right underneath our stovetop. It's so convenient!