How To Clean the Instant Pot
Find out how easy it is to clean the Instant Pot, starting with the lid, sealing ring and the pot itself.
I'll even show you how to clean a burnt Instant Pot and get it sparkling clean again.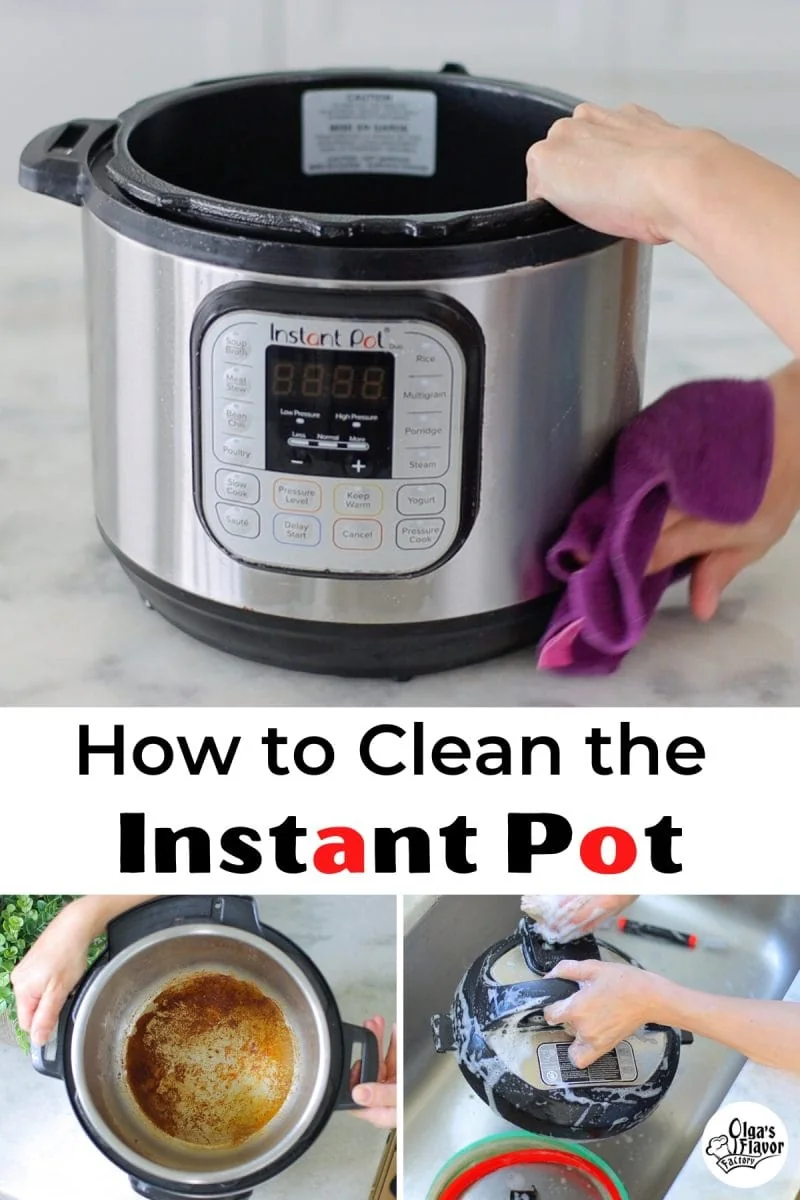 Have you ever wondered how to clean the Instant Pot? Ever since I got my Instant Pot years ago, I have been using it regularly ever since. You can imagine that it gets quite a workout since it's so heavily used.
In this post and video, I'll show you how to clean it from top to bottom, get into all the nook and crannies, and we'll get to the sealing rings, valves and more. We'll even clean it when it gets really scorched after using the "Saute" function for multiple batches of searing. Whether you want to clean it on a regular basis or want to find out how to clean a burnt Instant Pot, we'll get is sparkling clean again.
Video of How To Clean the Instant Pot
How to Clean the Instant Pot Lid
The Instant Pot lid has the most little parts that you can remove. You can also place it in the dishwasher.
How To Clean the Outside of the Instant Pot
This part is the simplest, just simply wipe it down after using with a microfiber cloth, towel or sponge.
What Products To Use?
For most things, I just use a little bit of dishwasher soap, warm water and a microfiber cloth. You can also use a multi purpose cleaner. The soap has degreaser in there, which is really great for this job.
I also bought a dedicated brush from the Instant Pot brand, this is really helpful to clean in the area where the lid and the sealing ring go in, as well as other narrow areas and crevices. A damp paper towel or a cloth can also be used instead.
Abrasive microfiber cloth and a multi purpose cloth are what I use most often for cleaning.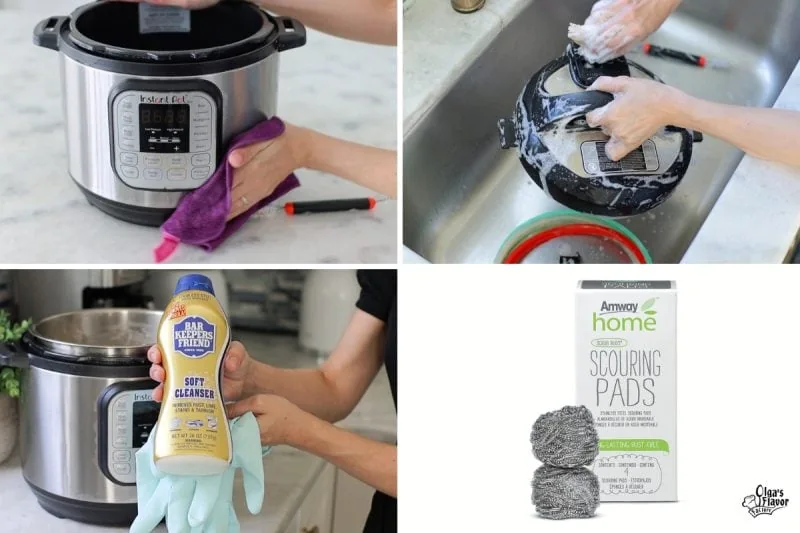 How To Clean the Stainless Steel Inner Liner of the Instant Pot
The cooking vessel/inner chamber of the Instant Pot, is removable and is what you use to cook everything. You clean it just like any stainless steel cookware. In most cases, everything should be really easy to clean.
I like to remove the food that I'm cooking as soon as possible, then scrape down the sides with a rubber spatula. It will be really easy to wash it right away, since the food hasn't dried out and hardened yet. A simple kitchen sponge, washcloth, scrub brush with hot water and dish soap will get the job done.
How to Clean a Burnt Instant Pot
If you have any food stuck on while you use the Saute function or if you cooked something in a sauce, here are some ways to clean it.
Remove the food, then add some water to the pot, as though you are "deglazing" the pot. The water will remove all things that are stuck to the pot. You can use a wooden spoon or a whisk, to scrape down anything from the bottom and sides of the pot.
You can also turn on the "Saute" function to get everything to come off better. You can add some baking soda to help get everything off even easier.
If you don't want to use water and the "Saute" function, or if you have some major burning on your pot, use a scouring pad/sos pad and some Bar Keeper's Friend, the Soft Cleanser work really well.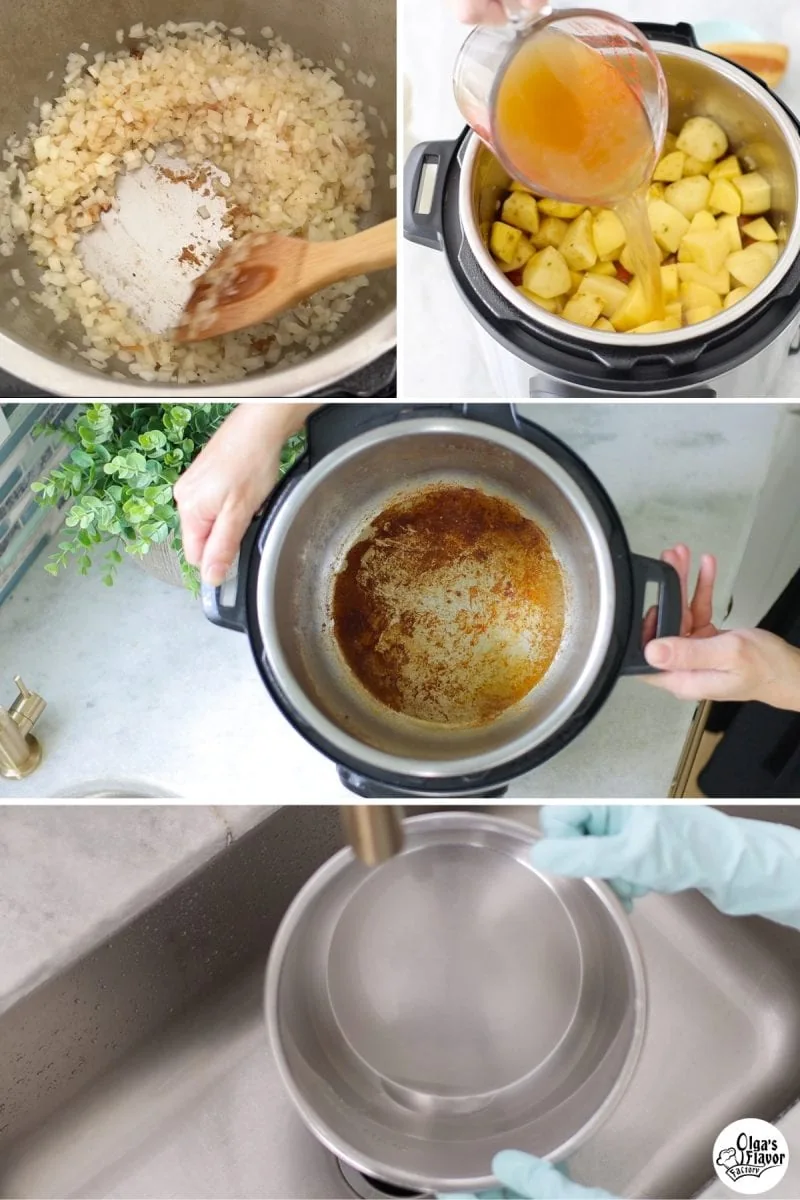 Want to find out more about how to use the Instant Pot?
I have the 6 quart Instant Pot and have been using it for years. If you're new to this appliance, I have a comprehensive video and blog post for beginners.
6 quart Instant Pot* (affiliate link)