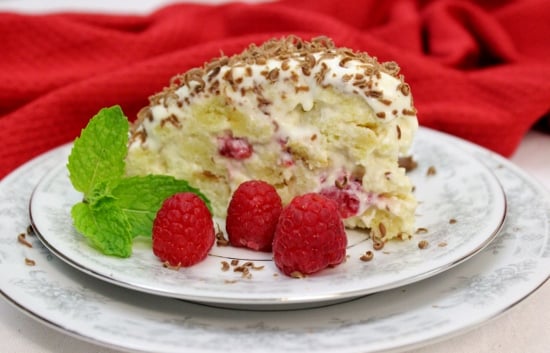 Every cook should have a cake recipe that is so simple to make they don't have to depend on a boxed mix to come to their rescue when having guests coming over unexpectedly or simply lack the time. This cake should also taste so phenomenal that  guests will beg for the recipe and  family members will repeatedly request it. Too much to ask, you say? Not with this cake.
In all the years that we've been making it, it is so popular with friends and family that we make it for many occassions because it is so loved. This is also the recipe that I give out the most. The people have spoken, not just the cook, who is thrilled not to stand in the kitchen for hours toiling over multiple layers, intricate details and elaborate techniques.
The cake is moist and light, but sturdy enough for the frosting. I use my standard frosting recipe that I use for most of my cakes – light, fluffy and creamy. The addition of fresh raspberries gives the cake such a refreshing taste and since I absolutely adore raspberries, I think it gives it the perfect sweet and tart note of spring. The cake is very versatile, so you can adjust it to your taste and add any berries, fruit, nuts, chocolate or candy. Since it's so easy to make and is made up of pieces of cake, this is literally a "Piece of Cake".
Ingredients:
Cake:
6 eggs
1 cup sugar
1 1/2 cups sour cream
1 1/2 teaspoons baking soda dissolved in 1 teaspoon of vinegar
1 1/2 cups flour
Frosting:
1 (8 oz) package cream cheese
1 can of condensed milk
1 (16 oz) package sour cream
2 teaspoons vanilla
1 cup heavy cream, very cold
1 pint fresh raspberries
Preheat the oven to 350 degrees. Line a 13×9 inch deep baking pan with aluminum foil.
With a whisk attachment on a standing mixer or using a hand mixer and a large bowl, mix the eggs and sugar until light and fluffy, about 5 minutes. 
Add the sour cream. Dissolve the baking soda in vinegar and also add to the cake batter. Mix to combine.
Add the flour and mix until incorporated. The batter will still be on the thinner side. 
Pour into prepared baking dish.
Bake for about 30 minutes until cake springs back to the touch and a toothpick comes out clean.
Cool slightly, just until you can handle it. Tear the cake into pieces. This is the fun part. I always feel like I'm one of the elders in a Russian church breaking bread for communion.  The cake should be almost cool when you're done tearing it apart, but if it isn't, just set aside until it's completely cool.
Meanwhile, make the frosting. With a paddle attachment on a standing mixer or using a hand mixer, mix the cream cheese until creamy and it has an even consistency.
Add the condensed milk. Mix to combine. Add the sour cream and vanilla and also mix to combine.
In another chilled bowl with a chilled whisk attachment, whip the very cold heavy cream until stiff but still somewhat soft peaks form. 
Gently fold the whipped cream into the rest of the frosting with a rubber spatula. When the cake is cool, pour in part of the frosting and mix.
Keep adding more frosting until all the the cake is completely covered in frosting, but don't add too much or the cake will be mushy. Set aside the remaining frosting to spread over the assembled cake. Add the raspberries to the cake and VERY GENTLY mix to combine.
You can form the cake into any shape that you like - circle, square, etc. You can also use the sides of a springform pan to help you shape it, by placing the rim on top of the serving plate, putting the cake inside the springform and then taking the springform off. You can even form it into a heart for a romantic date or Valentine's Day. I simply plopped all the cake onto my serving platter and made a rounded shape.
Cover with the remaining frosting and decorate with chocolate shaving, chocolate glaze, berries, nuts or whatever else you like.