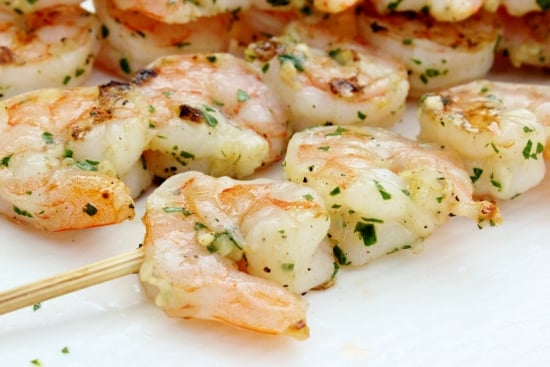 Happy Fourth of July everyone!
I hope you're enjoying a wonderful summer day, celebrating independance and being thankful for our wonderful country. I am definitely proud to be an American.
The beaches, parks and backyards will be full of folks lounging in the sun and firing up the grill. My favorites are shishkebabs, burgers or grilled chicken.
There are times when I am in a seafood mood and especially want to indulge in something that feels tropical. I don't know why, but there is nothing that feels more tropical to me than grilled shrimp. On hot, summer days,  it's nice to have the option of cooking up something so glamorous an tasty that only takes about 5 minutes of prep and 5 minutes to cook. That's hard to beat.
If you cook them properly, the shrimp are juicy and plump and full of great flavor. Lemon, garlic and parsley are classic combinations, but they bring such depth and freshness to anything that they're added to.
Yields: about 8 skewers
Ingredients:
1 lb large shrimp, peeled and deveined
3 garlic cloves, minced
2 Tablespoons lemon juice
1/2 teaspoon lemon zest
1/2 teaspoon salt
1/2 teaspoon sugar
1/2 teasppon ground black pepper
1-2 Tablespoons fresh parsley, minced
1 Tablespoon of oil, plus more for brushing on shrimp right before grilling
Prep the ingredients. 
Combine all the ingredients in a bowl. Set aside to marinate for about half an hour. (If you don't have a lot of time, you can grill it right away.)
Place the shrimp on skewers and brush them with some more oil on both sides. If you're using bamboo skewers, soak them for about 10 minutes in water first, that way they won't burn when you're grilling.
Preheat the grill for about 15 minutes to high, dip a rolled up paper towel in oil and brush the grate with several layers of oil. Place the shrimp on the grill.
Grill the shrimp until slightly charred and just starting to turn pink, about 2 minutes. Flip and grill for another 2 minutes. Be very careful not to overcook the shrimp. They will still continue to cook after you take them off the heat. My perfect pairing for grilled shrimp is Rice Pilaf with onions, garlic, white wine and fresh parsley and Tomato and Roasted Corn Salad.