Hospitality can be very stressful and intimidating, but it doesn't have to be. In this video and blog post, I am sharing practical tips that help me feel prepared and organized when hosting a meal in our home, so both my family and our guests can have a good time. I walk you through the menu and walk you through preparing in advance, putting it all together when our guests arrive, serving the meal and even washing the dishes at the end. I hope these tips help you feel more confident in having people in your home.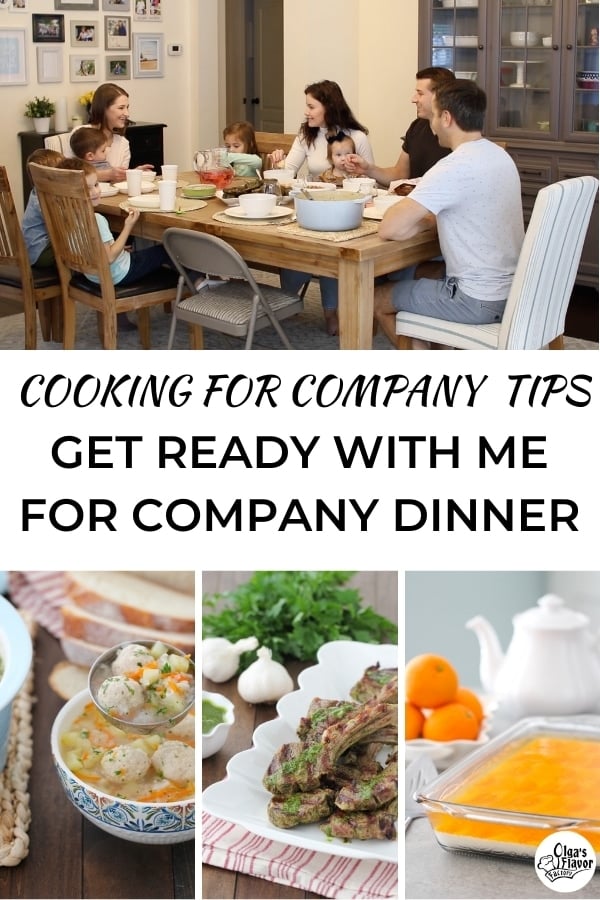 Inviting people into our home is one of the most intimate ways to connect and get to know each other better. My husband and I love having people in our home, but I'll be the first to admit that even though I've been doing it for years and feel pretty comfortable with it, it still comes with its stresses and challenges.
This is a video that I originally filmed for my course, Real Life Meal Planning and I'm excited to share it with you today. Come along with me as I get ready for company! My brother and his family came over for dinner one Saturday and while I'm preparing all the food and our home, I share some tips that help me be more organized and help everything flow more smoothly. I hope that with the tips shared in this video, it will help you feel more confident and make cooking for company less daunting and approachable.
Watch the Video:
Recipes shown in the video:
Russian Meatball Soup: https://www.olgasflavorfactory.com/recipes/soups/russian-meatball-soup/ Chimichurri Grilled Lamb Chops: https://www.olgasflavorfactory.com/recipes/grilled-lamb-chops-with-chimichurri-sauce/
The salad and Mandarin Jello dessert recipes are in my ebook, 5 Menu Plan Options For Your Next Party as well as a detailed written out meal prep and grocery list for this entire meal. There are 4 other menus with meal prep list and grocery list in the ebook.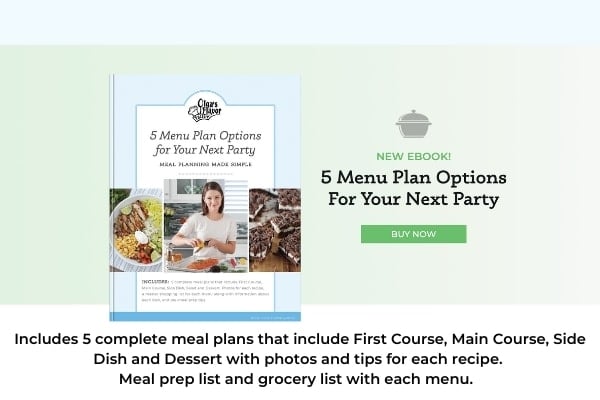 Cooking For Company Tips: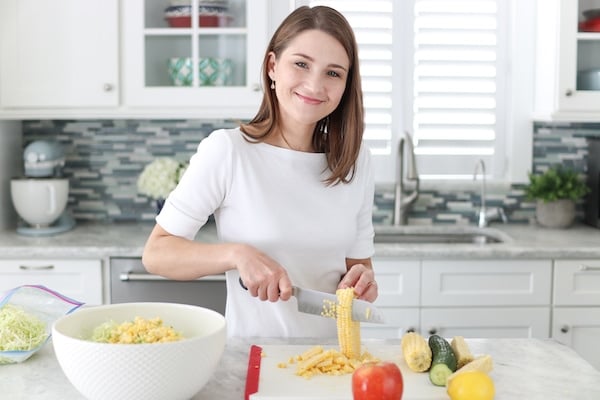 Prep as much as you can in advance. Meal prep , cook some things in advance, dessert can almost always be made completely in advance. Clean the house, maybe even set the table.
Your house and the food aren't the main focus. Most people won't notice any imperfections. Forget Pinterest and social media and leave perfection outside your door.
When planning the menu for people you don't know well, choose safe and neutral recipes such as chicken. Don't be afraid to ask about allergies or things they don't eat. Vegetarian, vegan? Pork and seafood are the most common things to avoid.
Even if you don't set the table in advance, have a plan where everyone will sit, so you have enough seating and plates.
Choose recipes that don't need to be served immediately and will be ok served 30 min later, reheated. There's always a chance that you will start a bit later, so it's best to have recipes that don't have to be served immediately.
Plan a menu where most courses don't need to be cooked in the same appliance. Stovetop, oven, slow cooker, grill, etc. Distribute your different recipes among several cooking options, that way you're not waiting anxiously for something to finish baking because you have other things that need to go in the oven and by the time the second dish is done cooking, the first one is already cold. This also goes for the grill. If you have a large grill that can fit everything, that's great. Otherwise, plan to start early and keep things warm in the oven or else cook some of the recipes in the oven, stove, slow cooker/Instant Pot.
Don't try new recipes when cooking for people you don't know very well. Cook things that you can cook confidently and know they will turn out and you already know you love. Testing new recipes is for your family and really close friends. Don't add extra stress to yourself by cooking something new that may or may not work out.
Focus on Quantity vs. Variety of Food Options. Make enough so everyone can have at least one serving, plus a few extra servings. It's better to have leftovers than run out and better to produce fewer varieties of food, but do it well and have plenty of it.
Don't apologize or go into too many details. Nothing makes your guests feel more uncomfortable than when you start apologizing about your house or can't accept a compliment. I can't tell you how often I have seen this: Guest compliments something in the house – "Oh, this old thing? It's a hand me down. I got it on super cheap." And when people compliment the food, just say thank you. You don't have to explain that it's store bought or that it's not that great – you made it from a mix, or on the other hand how you made it from scratch. In fact, unless people ask, just smile and accept their compliments gracefully. Honestly, usually nobody cares, they're just trying to be polite. Only offer details about your furniture or share the recipe if they ask.
When having potlucks, know what people are bringing or give them ideas, so you have a good balance of food on the menu. Potlucks are awesome, but if you have 6 salads, no side dishes and one dessert that will only feed half your guests, that is really bad planning.
Consider other options besides dinner, such as brunch, appetizers, desserts, etc. A 5 course dinner isn't the only option for hospitality. There are so many other things that you can do that will be much easier, more budget friendly and so fun too. Invite some friends over for takeout, game night or movie night with appetizers, coffee and tea with dessert, hanging out in the backyard with watermelon or ice cream.
You don't have to cook everything from scratch. You can order in the whole meal, buy dessert from a bakery, or add a few store bought items to your menu. It doesn't have to be all or nothing and you can change things up each time.
Even if you don't set the table in advance, have a plan where everyone will sit, so you have enough seating and plates.
Set aside serving dishes and utensils ahead of time so you're not looking for them at the last minute. If you're having a potluck, have some serving plates ready in case your guests need it for whatever they are bringing.
Try to make your guests feel cared for and welcome instead of trying to impress them. If your focus is how to have a warm and welcoming atmosphere instead of making sure everyone sees what a great cook/host/homemaker you are, it's so much easier on you and your guests too. People can read the atmosphere and your attitude without words.
Don't wait for the perfect timing, for your home and your food to be perfect before you invite people over. The only way to get more comfortable with it is to do it. Forming close connections is worth the time, money and effort that it takes.