Cheese Stuffed Mashed Potato Cakes Video Recipe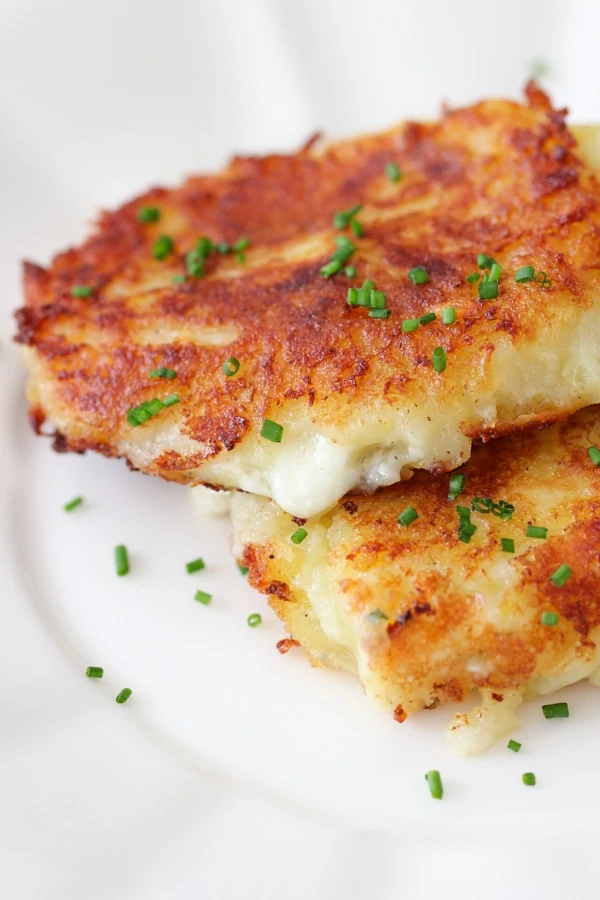 Who doesn't have leftover mashed potatoes at one point or another? Here's a great idea of how you can use those leftovers to make these cheese stuffed mashed potato cakes. I shared this recipe back in 2012 and it's one of my most popular recipes, so I decided to make a video of the process.
I love the addition of grated raw potatoes that is added to the mashed potato mixture. It sort of helps the mashed potato cakes hold their shape and gives them great texture, while the mashed potatoes are soft. The creamy, cheesy filling is flavored with fresh herbs and garlic powder and as you bite into the warm potato cake, you get a bite of that melted cheese and the crisp and golden outer mashed potato layer.
We love this simple dish in our family. Since I cook these potato cakes in two batches, we usually all devour the first batch by the time the second batch is finishing its time in the skillet; we just can't resist.
Cheese Stuffed Mashed Potato Cakes
Author:
Olga's Flavor Factory
Ingredients
2½ cups mashed potatoes
1½ lbs of potatoes, about 4 medium-sized (preferably Yukon Gold)
salt, pepper
½ cup farmer's cheese or ricotta
4 oz Mozzarella cheese, grated (you can use any cheese that you like)
fresh parsley and chives, minced
2-4 Tablespoons heavy cream
oil, for pan frying
Instructions
Peel the raw potatoes and grate on the large holes of a box grater.
Squeeze out all the moisture by placing the potatoes in a cheesecloth or kitchen towel and squeeze out all excess moisture.
Combine the grated potatoes with the mashed potatoes. Season with 1 teaspoon of salt and ½ teaspoon of pepper. Set aside.
In another bowl, combine the rest of the ingredients, the farmer's cheese, Mozzarella cheese, fresh herbs and heavy cream for the cheese filling. Season with salt and pepper. Mix to combine. You can substitute ricotta or cottage cheese for the farmer's cheese. Depending on how dry the cheese mixture will be, add more or less heavy cream, just enough for it to all come together smoothly.
Take about a ¼ cup of potato mixture and form into a patty. Place about a tablespoon of the cheese filling and place into the center of the patty. Fold the potato mixture over the cheese filling, shaping it into an oval shape. Make sure to have a good solid layer of the potato mixture around the cheese filling, otherwise the cheese filling will ooze out as the mashed potato cakes are cooking in the skillet.
In a nonstick skillet, heat about 2 Tablespoons of oil and add the potato cakes. Cook the potato cakes on medium heat, about 5-7 minutes per side, until golden brown.
Drain the potato cakes on paper towels and serve warm.
For the step by step recipe with pictures, click HERE.