Belarussian Potato Babka – Белорусская Картофельная Бабка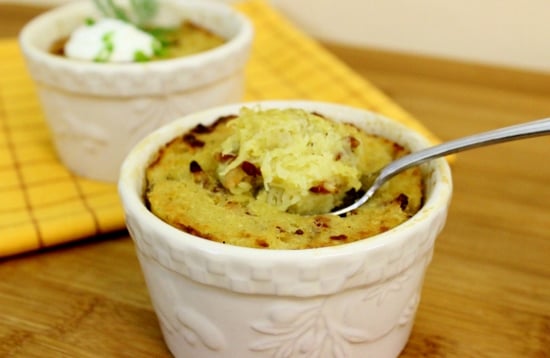 I love recipes that feature my Belarussian roots. I can still remember watching my grandmothers make potato babka and climbing up on the chair behind the kitchen table to enjoy this potato goodness. I have come to find out that my husband, also with strong Belarussian roots, grew up eating this too. My uncle Leonid reminded me of this great recipe and I decided to make it. It turned out even better than I remembered and I wondered why I hadn't made it sooner. It's very similar in taste to Potato Pancakes, but cooked in a different way. The potatoes are creamy on the inside and crunchy on the outside. Using raw grated potatoes makes the texture so unique. Enjoy with a bit of sour cream and some fresh minced herbs.
Yields: 4 servings
Ingredients: 
2 lbs yukon gold potatoes
1 egg
1/2 tsp salt, 1/4 tsp pepper
2 Tbsp sour cream
2-4 strips of bacon, cut into lardons (small pieces)
1 onion, minced
Preheat the oven to 350 degrees.
Cook the bacon on medium heat until crispy and golden. Drain on a paper towel.
 Drain most of the bacon grease off, leaving about 1 1/2 Tablespoons and cook the onion, seasoned with salt, until tender and slightly golden.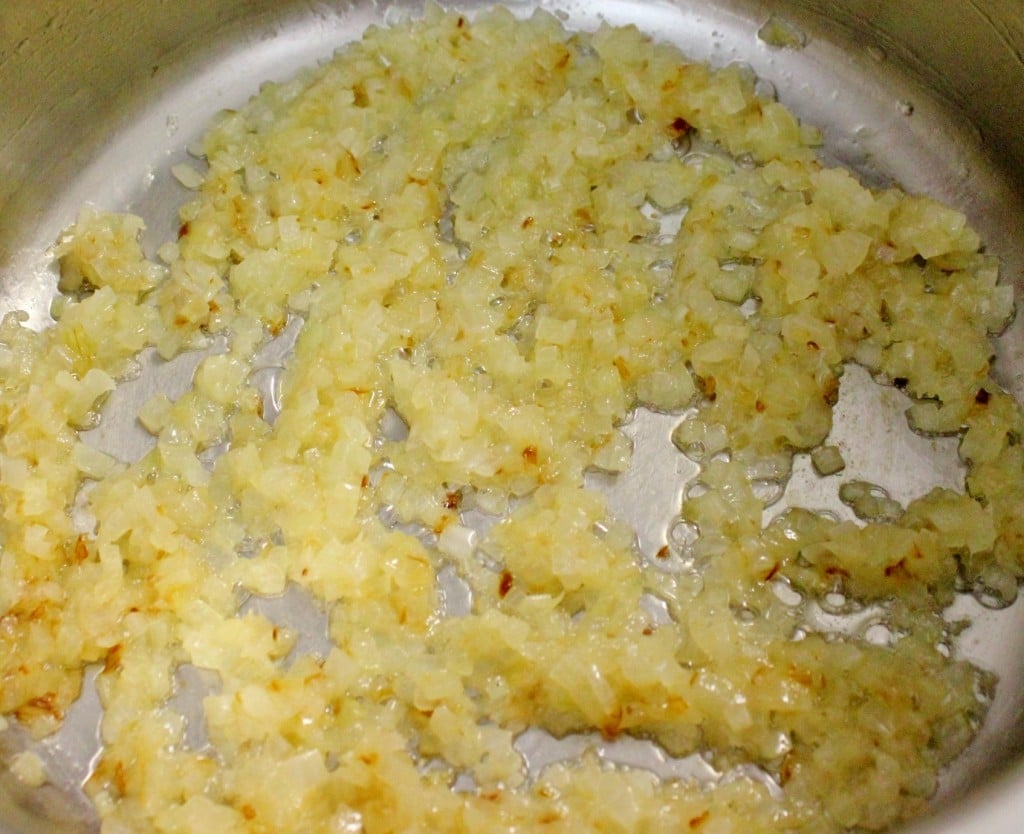 Meanwhile, peel and grate the potatoes on the finest grating surface of a box grater, or use a food processor. 
If you're using a food processor, be careful not to over process the potatoes, it should still have some texture to it, and not be slushy. Drain most of the liquid from the potatoes by setting it in a strainer. You don't have to press all the juices out of it, just lightly drain. 
Add egg, sour cream, salt, pepper and the onions and bacon. Butter 4 (4 oz) ramekins and fill each with the potato mixture. 
You can also use a 1 quart baking dish. 
Bake for 20-30 minutes. If the potatoes are cooked through but not golden on top, you can lightly butter the top of the potatoes and broil for 2-4 minutes. Serve with sour cream and freshly minced herbs, such as green onions and dill.
Other variations: You can grate a small onion on the finest surface of a box grater instead of sauteeing/caramelizing it. You can also brown some minced pork meat, or even beef or chicken(don't use breast though). Layer half of the potato mixture, without the bacon and using grated onion, into the baking dish, spread the browned meat and top with the remaining potato mixture. Bake. You can also use browned sausage meat or goulash as the filling. If using this as the main course, not as a side dish, double the recipe.