Fish and Vegetables En Papillote (Baked in Parchment Paper) Video Recipe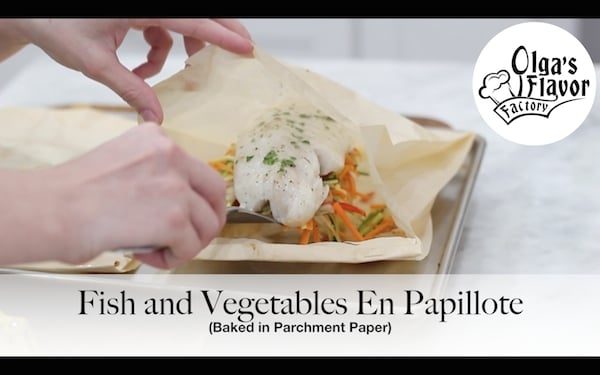 Fish with vegetables in one of my favorite options for a quick, healthy and really delicious dinner. I definitely wanted to film this recipe, because I love it so much. The fish is infused with the flavor of the vegetables in every bite, the vegetables are the perfect texture, and everything is so juicy and packed with deliciousness. It's also a really healthy dinner, which will give you the perfect full feeling but still with a spring in your step.
I really hope you enjoy this video. I have more recipes coming up soon, so be sure to subscribe to my YouTube channel so you don't miss them. 
For the step by step photo recipe, with detailed instructions on how to use regular parchment paper, click HERE.
These are the parchment cooking bags that I used in this video.
Fish and Vegetables En Papillote (Baked in Parchment Paper) Video Recipe
Author:
Olga's Flavor Factory
Ingredients
2 thick fish fillets (cod, salmon, tilapia, snapper, halibut, etc.)
1 small zucchini, or half of a medium zucchini, cut into thin matchsticks
1 small carrot, cut into thin matchsticks
½ - 1 celery stalk, cut into thin slices
1 large shallot (or half of an onion), cut into thin slices
½ red bell pepper, cut into thin matchsticks
1-2 garlic cloves, minced
4 Tablespoons, olive oil, divided
1 lemon, juice and zest
salt, ground black pepper
1 Tablespoon chopped fresh parsley, plus more for garnishing
Instructions
Preheat the oven to 400 degrees Fahrenheit.
Prepare all the vegetables by cutting them into thin matchsticks.
Mix all the vegetables together in a large bowl and season them with salt and pepper. Add the lemon zest, the juice of half the lemon, 3 Tablespoons of olive oil and half of the parsley.
Season all of the fish fillets with salt and pepper on both sides. Sprinkle the fish with parsley, the other half of lemon juice, and drizzle with the remaining Tablespoon of olive oil.
Place ½ of the vegetables in each parchment bag.
Place the fish fillets on top of the vegetables.
Seal the cooking bags. You can staple them as an extra precaution.
Place the packets on a large rimmed baking sheet and bake for 15-18 minutes in the preheated oven, 10 minutes if the fish is on the smaller side.
To serve, cut open the packets and take out the fish and vegetables with a spatula, or have each person open the packet themselves at the table.
Notes
It's very important to cut the vegetables very thinly. You can use a mandoline to slice all the vegetables and then a knife to cut the slices into matchsticks. You can use a knife if you don't have a mandoline. If the vegetables are too large, they will not get a chance to cook through in the short amount of time that it takes the fish to cook. If you'd rather cut the vegetables larger, you will need to sauté them in a skillet first, to give the vegetables a head start in cooking, before placing the vegetables in the packets.
You can use any firm, thick fish fillets for this recipe. Salmon, cod, swai, tilapia, haddock, etc., it will all work here, as long as each fillet is about 6 oz. Don't use fish that is thin, since it will overcook very quickly.
Disclosure: This is not a sponsored post. No one is paying us for sharing the parchment bags with you. However, There are affiliate links in this post. This simply means sometimes I recommend a product or service and if you choose to purchase that product or service from my recommendation, I will get a small referral commission. Of course, this is at no extra cost to you but it does help to pay a tiny bit for the work I put in to creating recipes and sharing tips with you. I really appreciate your support. Thank you. The main intent of this post is to simply share my experience with you, so if you happen to find a great deal on a product I recommend at a garage sale, anywhere else online, or at a store, by all means, take advantage of it:). I won't be mad, I promise.