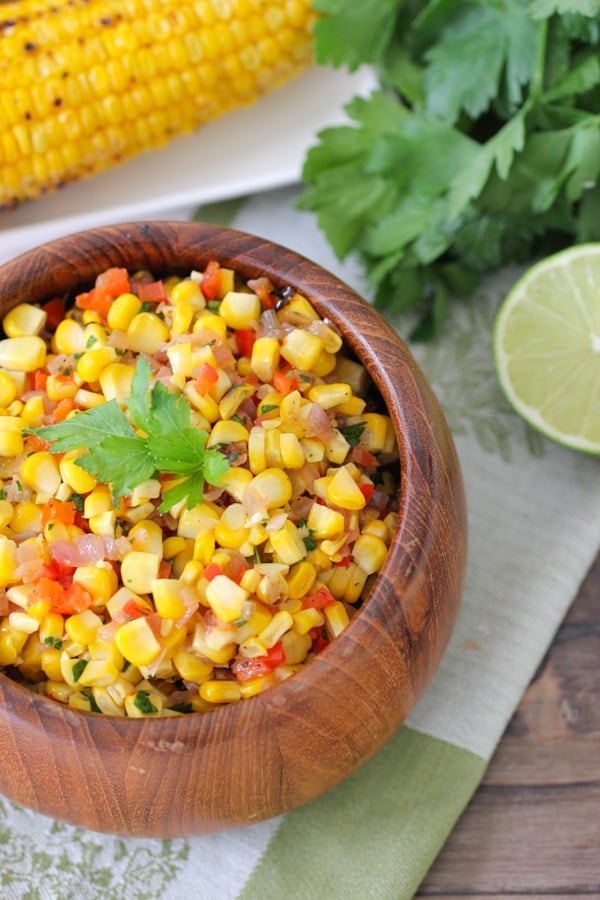 Almost 1 year ago, our family generously gifted us with an awesome grill during our housewarming party (which turned out to have a VERY SPECIAL announcement). During this year, our grill has been dutifully christened and used many, many times. We love it! I will be sharing some of our favorite recipes that we make for just the two of us as well as huge parties.
Today, I will start by sharing this gorgeous Fire Roasted Corn Salad. This salad isn't finicky at all; you can serve it both warm, room temperature and even cold. Fresh corn off the cob can't even begin to compare to canned or frozen corn, so take advantage of the abundant summer corn crop, and make corn as much as possible. As long as you like corn:). Fresh corn is so crisp, crunchy, juicy and sweet. Grilling the corn gives it slight charring and that amazing grilled flavor. I seasoned the salad with more garden flavors – bell pepper, red onion, garlic and fresh herbs. A jalapeño pepper gives it just a little bit of heat and flavor. The whole salad is simply dressed with olive oil and fresh lime juice. I don't think you will be disappointed with this salad. We certainly love it in our family.
Ingredients:
4 ears of corn, shucked and silk removed
1 red bell pepper, chooped
1 jalapeño, minced
1 red onion, chopped
1 garlic clove, minced
juice of 1 persian lime
1 Tablespoon chopped parsley
salt, pepper, to taste
1/4 cup olive oil
Instructions:
Preheat your grill to high for at least 15 minutes. Brush the grill grates with oil.
Brush the ears of corn with oil on all sides, and season with salt and pepper. Set aside.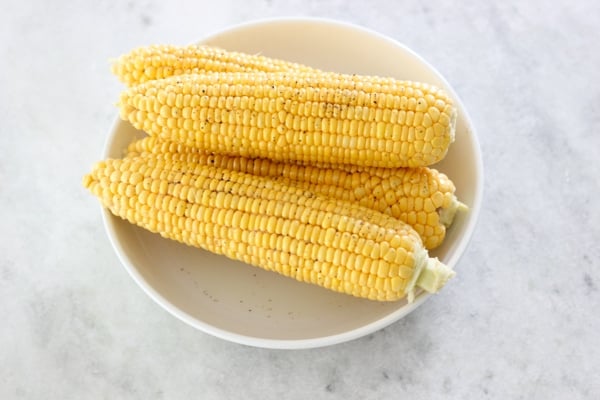 While you are waiting for the grill to preheat, heat up 1/2 a Tablespoon of oil in a skillet on medium heat. Add the red onion, season with salt. Cook for about 3 minutes, until the onion is softened. Add the red bell pepper, jalapeño and garlic. Season with salt and ground black pepper. Cook for 3-5 minutes, until the vegetables are tender. Cover and turn off the heat.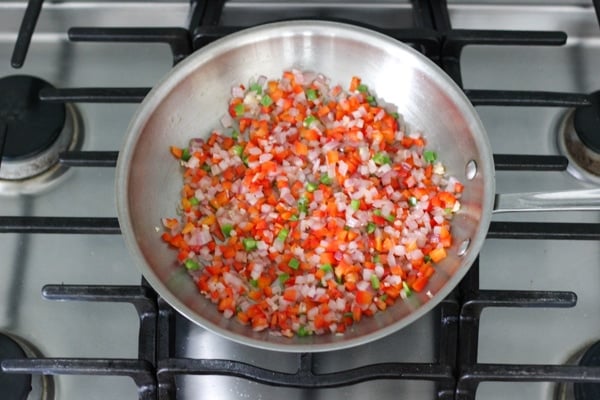 When you grill has preheated, place the corn on the grill and cook for about 2 minutes per side.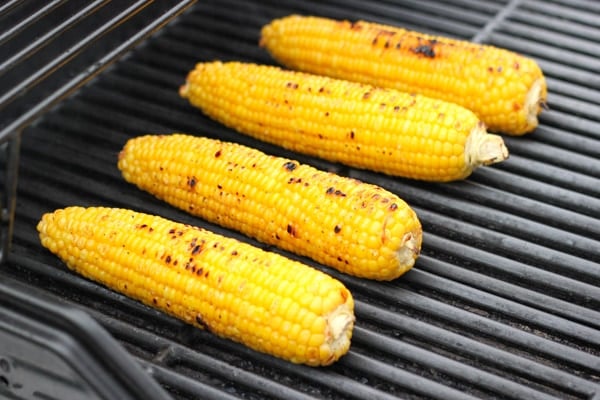 Take the corn off the grill and cut the corn kernels off the cob. Since the corn is really hot at this point, I usually use a pair of tongs to hold the corn in place while I cut the kernels off.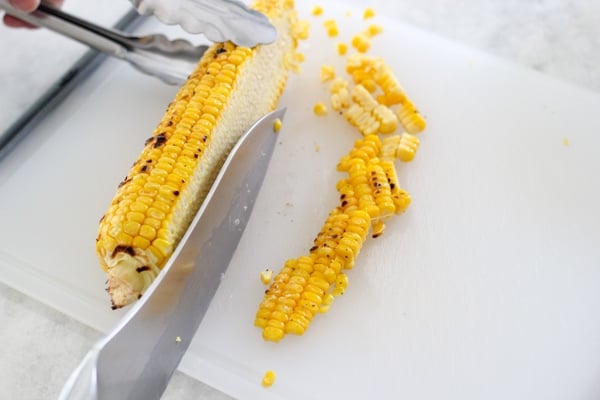 Combine the corn with the other vegetables. Add the remaining olive oil, lime juice and parsley. Season with salt and pepper, if needed.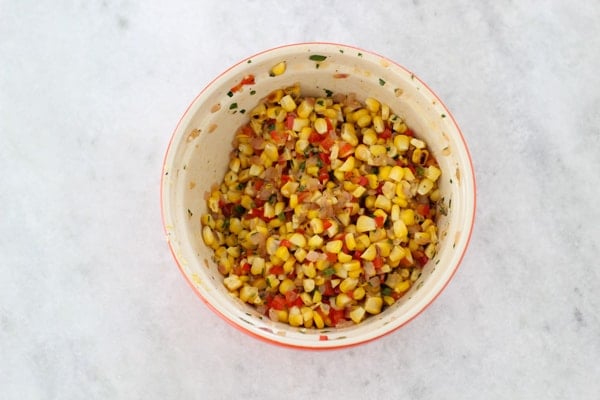 Whenever I mix up any kind of salad, I like to do it in a much bigger bowl, since it makes it much easier to mix. Then I simply transfer the mixed salad to a clean serving plate and don't have to worry about cleaning up the sides of the bowl. Serve warm or cold.
This salad can be made up to 1 day in advance. Keep refrigerated. (You can reheat it later in a skillet on medium heat, or serve it cold.)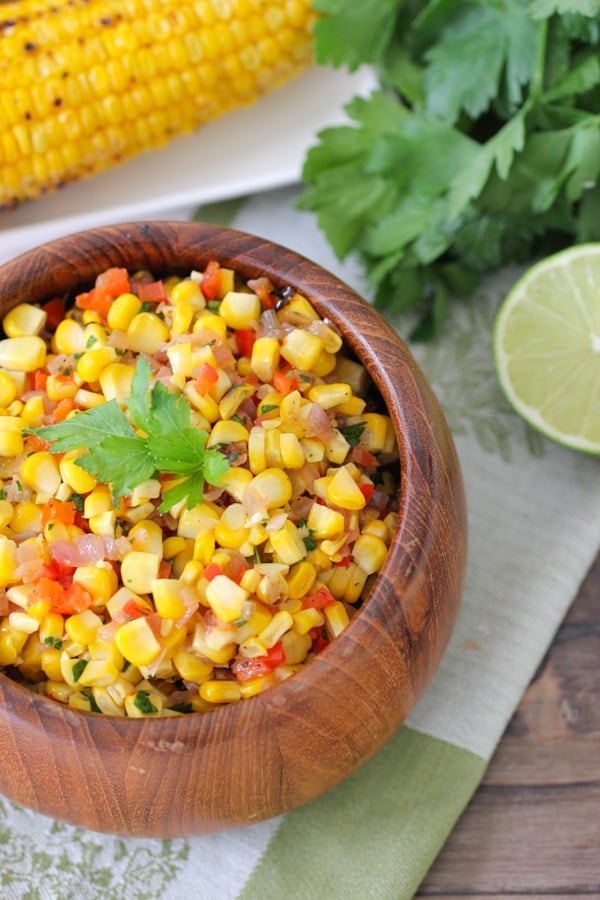 Fire Roasted Corn Salad
Author:
Olga's Flavor Factory
Ingredients
4 ears of corn, shucked and silk removed
1 red bell pepper, chooped
1 jalapeño, minced
1 red onion, chopped
1 garlic clove, minced
juice of 1 persian lime
1 Tablespoon chopped parsley
salt, pepper, to taste
¼ cup olive oil
Instructions
Preheat your grill to high for at least 15 minutes. Brush the grill grates with oil.
Brush the ears of corn with oil on all sides, and season with salt and pepper. Set aside.
While you are waiting for the grill to preheat, heat up ½ a Tablespoon of oil in a skillet on medium heat. Add the red onion, season with salt. Cook for about 3 minutes, until the onion is softened. Add the red bell pepper, jalapeño and garlic. Season with salt and ground black pepper. Cook for 3-5 minutes, until the vegetables are tender. Cover and turn off the heat.
When you grill has preheated, place the corn on the grill and cook for about 2 minutes per side.
Take the corn off the grill and cut the corn kernels off the cob. Since the corn is really hot at this point, I usually use a pair of tongs to hold the corn in place while I cut the kernels off.
Combine the corn with the other vegetables. Add the remaining olive oil, lime juice and parsley. Season with salt and pepper, if needed.
Whenever I mix up any kind of salad, I like to do it in a much bigger bowl, since it makes it much easier to mix. Then I simply transfer the mixed salad to a clean serving plate and don't have to worry about cleaning up the sides of the bowl. Serve warm or cold.
This salad can be made up to 1 day in advance. Keep refrigerated. (You can reheat it later in a skillet on medium heat, or serve it cold.)