Bacon, Onion and Chive Mashed Potatoes
Creamy, fluffy mashed potatoes get a serious flavor upgrade with the additions of crunchy bacon, caramelized onions and fresh minced chives. These are the ultimate mashed potato side dish that will go with so many main courses and make the meal a special occasion.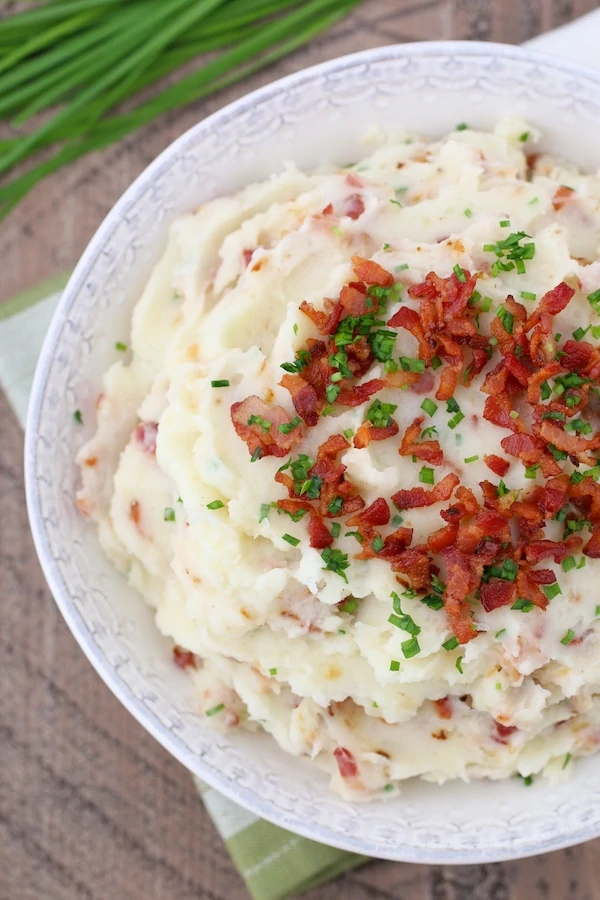 Mashed potatoes are one of the best side dishes and we serve them with so many different meals. This version makes them extra flavorful and indulgent.
When we still lived in Belarus many years ago, we sometimes served this as the main meal with a simple salad on the side. My favorite memories associated with this dish is eating this after a long afternoon foraging for mushrooms or picking berries in the forrest with my parents, aunts, uncles, cousins and grandparents.
The adults would cook a large pot of mashed potatoes, sauté some bacon (or salo – salt pork) with onions and then add it in to the potatoes with some fresh herbs and make a quick salad to go on the side. If we had been foraging for mushrooms, they would brown some fresh mushrooms too:). It was so delicious, especially after spending hours in the fresh air.
What Potatoes Are Best For Mashed Potatoes?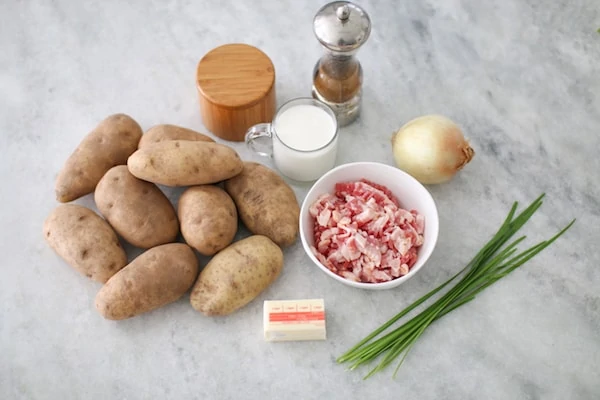 Baking potatoes, sometimes called russet potatoes and gold potatoes are my favorite variety to use for mashed potatoes.
Baking/Russet potatoes have a lot of starch and a low level of water in them, which makes them really fluffy when mashed. Gold potatoes have a medium starch and water level in them. I love their flavor so much too – they taste almost "buttery" to me.
If you use white or red potatoes, they have a much lower starch level, which makes them waxy, so they will have more lumps and be more prone to becoming "gluey" when mashed. If you want a more rustic texture, you can use those as well, but if you want really fluffy, tender mashed potatoes, gold or baking potatoes are the best choice.
Tips For Better Mashed Potatoes: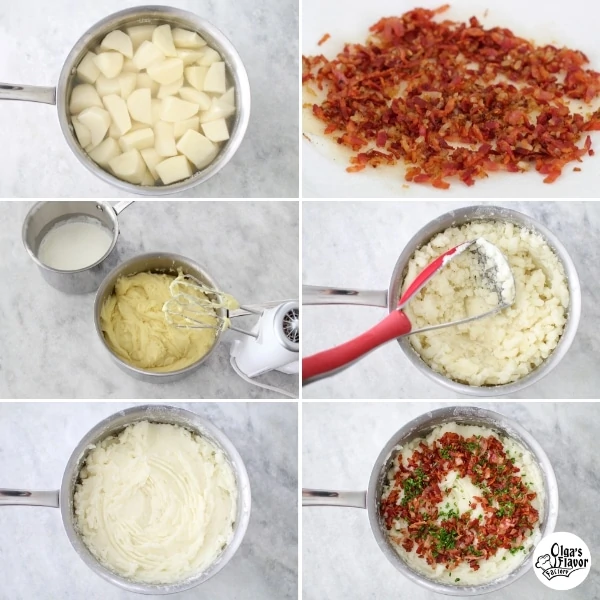 Cut the potatoes into uniform pieces so that they will cook through at the same time.
Start with COLD water and pour in just enough water to barely cover the potatoes. Potatoes cook much better when there isn't too much water, or else they will become waterlogged. They will cook faster in less water. If you start the potatoes in warm water, it will come to a boil very quickly and start cooking the outside of the potatoes and part of the potato will be overcooked and falling apart before the center is cooked through.
Salt the water generously. If you don't add enough salt, the potatoes will be bland. Adding salt to the cooking water also helps the potatoes could faster and break apart better, resulting in fluffier and creamier mashed potatoes.
Cook the potatoes until they are fork tender. If the potatoes are undercooked, you will have lumps in your mashed potatoes. If they are overcooked, they will soak in too much water. Bring the water to a boil initially, then reduce the heat to a simmer, coking the potatoes gently and evenly.
"Dry" the potatoes before mashing them. After draining the potatoes, return them to the stove and cook off all the excess water, while shaking the pot. The potatoes will be much drier, which will help a lot in producing fluffy mashed potatoes. If the cooked potatoes are too waterlogged, they can become "soupy" when mashed, so this helps prevent that.
Don't overmix the potatoes when mashing them. If potatoes are overworked, they will become gluey. A potato masher or a hand held mixer are the best tools to use when mashing potatoes. A standing mixer can be used as well, but since it's more powerful, you have to be extra careful. Do NOT use a food processor or a blender to make mashed potatoes.
Warm up the milk and butter before adding it to the mashed potatoes. Not only will the mashed potatoes stay warm longer if you add in warm milk, but they will absorb into the potatoes better and have a better texture when you add them in warm. Also, add the milk in gradually. Different types of potatoes have different starch and water levels, so they may require more or less milk. Adding it in gradually will help you watch the process and create the perfect texture.
Serving, Storing and Reheating Mashed Potatoes: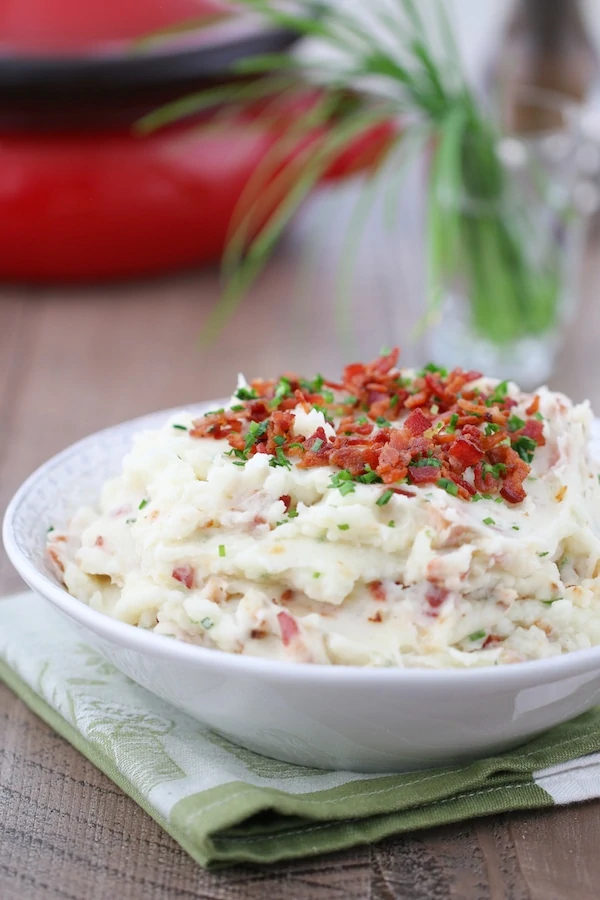 Mashed potatoes will stay hot for quite a while if you put them back into the same pot that you used to cook them, since it will still be warm. Cover the mashed potatoes and if you want them to stay warm even longer, wrap the entire pot in a large towel or blanket. If you have a heated electric blanket, you can wrap the pot of mashed potatoes in the blanket, keep it on low heat and it will stay hot for a long time. This is perfect for holiday meals, like Thanksgiving or Christmas.
Serve the mashed potatoes garnished with some extra bacon and fresh herbs, if you'd like.
Store leftover mashed potatoes in the refrigerator in an airtight container for about 5 days.
To reheat, you can use a microwave or reheat then on the stovetop, heated up in a nonstick skillet. Melt a bit of butter in the skillet, add the mashed potatoes, cover and reheat on medium low heat, mixing it up, until the potatoes are heated through evenly. You can also add a bit more warm milk to loosed up the mashed potatoes and make them creamier and fluffy again, if they need it.
Print
Bacon, Onion and Chive Mashed Potatoes
Creamy, fluffy mashed potatoes get a serious flavor upgrade with the additions of crunchy bacon, caramelized onions and fresh minced chives. These are the ultimate mashed potato side dish that will go with so many main courses and make the meal a special occasion.
Author:
Prep Time:

15 min

Cook Time:

30 min

Total Time:

45 minutes

Yield:

8

1

x
4 lbs potatoes, gold or russet
salt and ground black pepper, to taste
1 cup whole milk (you can use any milk that you prefer or even use half n half or heavy cream)
4 oz (or 8 Tablespoons) butter
1/2 lb bacon, cut into small pieces
1 onion, chopped
1 Tablespoon minced chives (you can also use other herbs, like rosemary, thyme, parsley, green onions or dill)
Instructions
Peel and cut the potatoes into uniform pieces. Place them in a pot and pour in just enough cold water to barely cover the potatoes. Salt to taste. Cover the pot, bring to a boil, reduce the heat to a simmer, and keep the pot covered, but slightly open. Cook until the potatoes are fork tender, 15-20 minutes. The timing will depend on the type of potatoes that you use and the size that you cut them.  
Meanwhile, cook the bacon on medium heat until it's golden brown and crisp. Drain the bacon and set aside on a paper towel lined plate. Save about 1 – 1 1/2 Tablespoons on bacon grease in the skillet to cook the onions and discard the rest.
Cook the onions also on medium heat in the bacon grease (if you don't have enough bacon drippings, add some butter or oil) until they are tender and slightly golden. Season lightly with salt and ground black pepper, keeping in mind that the bacon grease has some salt in it too. 
In a small saucepan, heat up the milk and butter until the milk is barely simmering and the butter melts. 
Drain the potatoes and then return them to the same pot and place them on the stovetop, on low heat covered for just about a minute, to "dry" the potatoes and cook off any excess moisture. 
Mash the potatoes with a potato masher or a mixer, being careful not to overmix them. Gradually add the warm milk and butter. Add the bacon, onions and fresh chives. Mix to combine. Garnish with extra bacon and fresh herbs, if you'd like. 
Keywords: mashed potatoes, bacon, onion and chive mashed potatoes