Peppers With Potato Stuffing (Фаршированный Перец с Картошкой)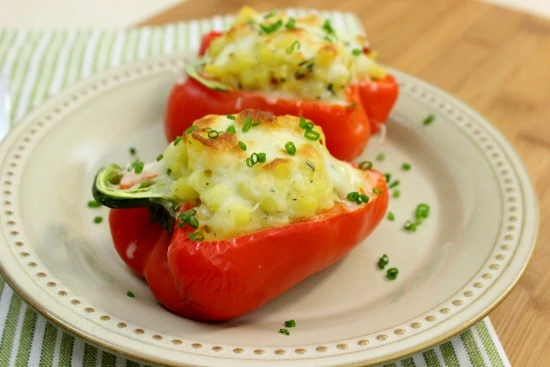 Peppers are colorful and pretty and are the perfect vessel to hold other food. It becomes a tasty plate for this food. I love all kinds of vegetables and its such a gift to enjoy the great abundance of them when they are in season. These stuffed peppers are a combination of gargen bounty. How gorgeous are these?
I think it's a shame to bury all this healthy goodness and make it heavy and calorie-laden when it's not necessary. I was determined to make these peppers full of flavor, feel luscious and creamy but at the same time keep as much nutritious value as possible. I definitely didn't want limp peppers, watery potatoes with an overall bland taste. So, with a few magic touches and pulling a few tricks from up my sleeve, I think I reached that balance. 
To prevent the peppers and potatoes from becoming watery and soggy, I precooked them, so they are still crisp and bright, but mostly cooked through, before I finished baking them in the oven. Since both peppers and potatoes exude a lot of liquid while they are cooking, that got rid of this problem.  Parboiling the peppers took out their crunch but kept their beautiful color with just the perfect texture. When I precooked the potatoes, instead of using cream, globs of cheese and butter, I used only enough butter to cook the onions and garlic and simmered the potatoes in part chicken broth and part milk. This also gave so much flavor to the potatoes. Using Yukon Gold potatoes helped to keep a crisper testure, since russetts have too much starch and would fall apart much quicker.  I got just enough starch from the cooking potatoes to create a luscious, creamy texture. To boost the flavor of the potato stuffing, I then added fresh chives, parsley, sun dried tomatoes and just a touch or Parmesan cheese, which has so much flavor, but much less calories when compared to most other cheeses. I again restrained myself from pouring on tons of cheese on top of all this goodness, sprinkling a modest amount. I was able to get away with using only 1/2 a cup of cheese for 8 servings!  I think it tastes better this way anyway.
Healthy food should taste so good, you feel great eating it but it tastes so delicious, you don't even realize it's healthy:). Yep, with some moderation, a few little  smart substitutions, and a little kitchen know-how, you've got a healthy meal that isn't disappointing, but absolutely satisfying.
Yields: 8 servings
Ingredients:
4 medium bell peppers
1 large onion, finely chopped
1 garlic clove, minced
1 Tablespoon butter or olive oil
8 medium potatoes (6 1/2 – 7 cups when chopped)
2-4 thyme springs
1/2 cup chicken broth
3/4 cup whole milk
2 Tablespoons sun dried tomatoes packed in oil, minced
1-2 Tablespoons chives and parsley, minced, each
1/4 cup parmesan cheese
1/4 cup mozzarella
salt, pepper, Montreal chicken seasoning
Preheat the oven to 375 degrees. Place a large pot of water to boil. While you're waiting for the water, prep the ingredients. Cut the peppers in half.
Take out the seeds and the ribs. You can use a small paring knife or even a spoon to scoop everything out.
Season the water generously with salt and when it boils, add the peppers and cook for 3-5 minutes, just until the peppers start to soften.
Take out of the water and place on a towel to drain.
Peel the potatoes and finely chop into about 1/4 inch pieces. If your peppers are on the larger size, you'll need about 7 cups of potatoes, it the peppers are medium, 6-6 1/2 cups will be enough.
In a large nonstick skillet, melt the butter over medium high heat, add the onion, and cook for about 5 minutes, until the onions are tender and beginning to golden. You can use oil instead of butter, but I like the taste of butter better.
Add the garlic, and cook for about 30 seconds.
Add the potatoes, thyme, season with salt, pepper and Montreal chicken seasoning.
Add the chicken broth and milk. The liquid should barely cover the potatoes. You only need enough to simmer the potatoes.
If, while you're cooking the potatoes, you think there isn't enough liquid, as in, the potatoes are burning:), you can always add a little bit more milk or broth.
Cover the potatoes and simmer for 15-20 minutes. The potatoes should be softened, but still firm, you don't want them to become mashed potatoes.
Dry the tomatoes on a paper towel and mince. For this recipe, you only want the clean taste of tomatoes, not the oil and herbs that they were packed in.
Mince the herbs and grate the parmesan cheese. Mix it all with the potatoes.
Place the peppers in a 13 x 9 inch baking dish. Fill the peppers with the potato stuffing.
Top with the mozarella cheese.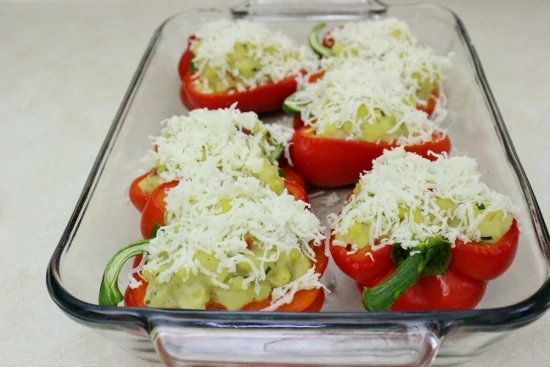 You can use any cheese that you like, Monterey jack, Swiss, Cheddar, Provolone, etc. Bake in the preheated oven for 25-35 minutes.