Most cultures make different versions of beef stew, and I can understand why it's such a favorite. There's something so comforting about taking a bite of succulent, tender chunks of beef. There's nothing more Russian than adding onions and carrots to everything, and the addition of garlic and tomato paste brings a depth of amazing flavor. The delicate sauce is perfect to pour over mashed potatoes or pasta. While the goulash is simmering merrily on the stove filling your home with it's enticing aroma, you'll have plenty of time to make a side dish and salad, or even dessert. Or just put your feet up and relax with a good book. 
Yields: 6 servings
Ingredients:
2 lbs beef, chuck
1 large onion, finely chopped
2-3 carrots, peeled and shredded
1 garlic clove
1 Tablespoon of tomato paste
2 Tablespoons flour
3 cups broth, chicken or beef or water
1 dry bay leaf
1 1/2 teaspoons paprika
1 teaspoon chili powder, optional
oil, salt, pepper
Cut the meat into 1/2 inch cubes.
Heat up 1 1/2 Tablespoons of oil in a skillet over high heat. When the skillet is very hot,  add the beef in a single layer. You will need to do this in batches. Brown all over. This will give tremendous flavor to the goulash.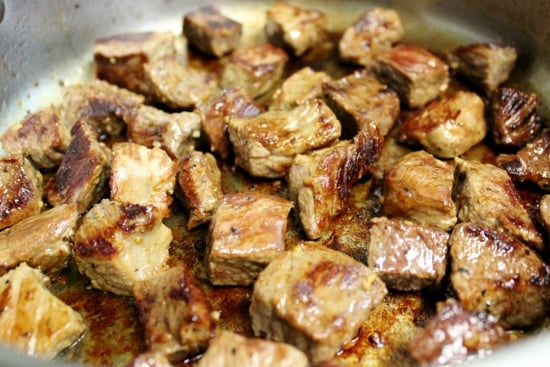 Tips for browning meat:

Pat the meat dry with paper towels before searing it

Don't crowd the meat in the skillet, or it won't brown but will steam

Turn the meat only when it releases from the pan; don't worry – it won't burn
Add onions to the meat, season with salt, cover and cook on medium heat until softened.
Add carrots, season with salt, pepper, paprika and chili powder cover and cook on medium heat until softened.
Add tomato paste and garlic.
Cook for about a minute and then add the flour. Stir until completely incorporated into the meat and vegetables.
Add water or broth a little bit at a time, scraping the botom of the skillet and stirring so that there are no lumps.
Add the rest of the liquid and bay leaf.
Cover and cook on low heat for about 1 1/2 hours, until meat is fork-tender. Season with salt and pepper, if needed.