Creative Hostess Gift Ideas
Hostess gifts are such a nice gesture when you've been invited to someone's home or event. In the Slavic community, it is part of our culture to never show up empty handed.
The best hostess gifts are the ones that feel personalized and unique and here you will find a list of creative and thoughtful hostess gift ideas that will make your family or friends feel so appreciated.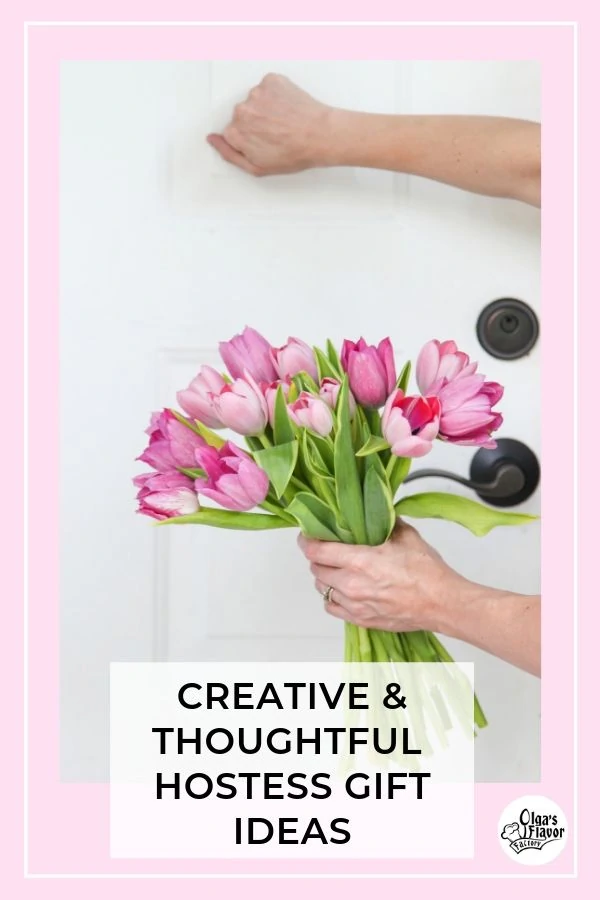 There is absolutely nothing wrong with bringing something typical, like chocolate, and it's especially appropriate when you don't know someone very well. However, here you will find so many creative and out of the box gift ideas that will set you apart as the most thoughtful guest.
A little while ago, I asked those of you who follow me on my Instagram what you typically bring as a hostess gift and what was your favorite gift to receive and I got so many wonderful ideas and insights from many of you, so this is a collaborative project from all of us together.
Food Gift Ideas:
Food is almost always a great choice for a hostess gift. It's consumable, so you don't have to worry about whether the hosts will be able to use it, and often, it can be enjoyed by the whole group, as long as the hosts decided to serve it. (They can, of course, set it aside to enjoy later.)
Themed Assortments
I think you can come up with so many creative food collections arranged in a cute basket. Instead of a basket, you can use a pretty bowl, soup kettle, pitcher, cake stand, etc. that become part of the gift. It is a good idea NOT to use your own serving containers and expect to get them back. Make sure to tell your friends that it is part of the gift, so they don't worry about returning it.
Pasta and Sauce Basket – include a jar of your homemade tomato sauce or your favorite store bought sauce, along with a bottle of olive oil, a wedge of Parmesan cheese, dry herbs/spices, a wooden spoon and microplane rasp grater. 
Charcuterie board – use a wooden cutting board, marble board or another serving plate to arrange an assortments of cheeses, salami, nuts, olives, pickles, crackers, dry fruit and other things appropriate for a charcuterie board.
Fresh Fruit or Vegetable Platter 
A Jar Of Your Home Canning 1. Strawberry Jam 2. Tomato Mushroom Ragu 3. Dill Pickle Spears 4.Tomato Vegetable Juice 5. Marinated Tomato and Cucumber Salad
Homemade Dessert – this is full of endless possibilities. Here are a few of my favorites:
1. Pistachio Glazed Pound Cake 2. Cinnamon and Pecan Sticky Buns 3. Almond Toffee 4. Trubochki 5. Chocolate Salami 6. Hazelnut Cream Puffs 7. Cranberry Orange Muffins 8. Swirled Cinnamon Raisin Bread 9. Blueberry Scones 9. Poppy Seed Rugelach
Homemade Bread – wrap it in a new kitchen towel to be part of the gift. You can also add some butter and a jar of jam, if you'd like. 
French or Italian bread, olive oil, dry herbs to make a dip for the bread, just the way they serve at restaurants.
Tea/Coffee/Hot Cocoa – most people have a love for one of these beverages. Find out which they prefer and gift them with a package for them to enjoy. You can even make your own hot cocoa mix and put in in a jar, tie a ribbon around the top and include cooking instructions. For an extra special touch include homemade or just fancy store bought marshmallows.
A Jar of Honey
Bagel Assortment – this is a wonderful idea if you're going to be overnight guests. Items that you may wish to include – cream cheese spread, butter spread, jam, smoked salmon, capers, avocado, etc. 
Your Local City/State Specialty Food Item – if you have something special where you live and you are visiting someone in another town or state, this would be really appropriate and fun. My cousin who lives in Minnesota brought me wild rice that is grown there and I was so happy to try it and made the most delicious Creamy Chicken and Wild Rice Soup. My sisters who live in TN have the most amazing local sausage that they buy in Nashville.
Fruit/Vegetables From Your Own Garden – if you have a garden, garden produce is a wonderful gift to share with others. My parents always brings me their homegrown tomatoes, cucumbers, beets, onions, herbs, apples, black currants, blueberries, blackberries and lots more when their garden is in season and there is nothing I appreciate and relish more.
Kitchen/Home Items
Kitchen Items:
Cake Stand, Baking dish, Bowl, Pitcher, Mugs, Serving platter, Cutting board, Kitchen Towels, Apron, Small Kitchen Tools, such as – garlic press, wooden spoon, rubber spatula, microplane grater.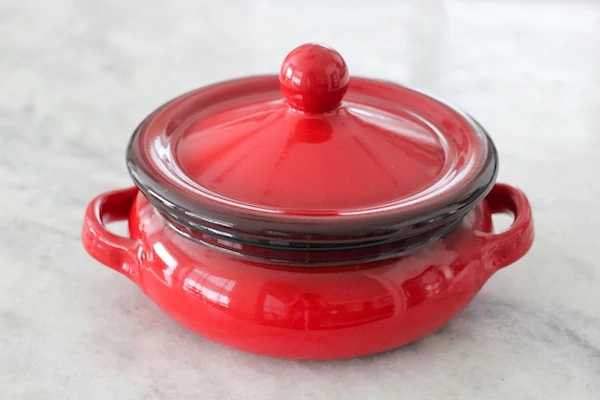 Home Items:
Custom tumbler, possibly personalized with their name
Blanket, Slippers.
Flowers, plant. A bouquet of flowers is always a nice touch. You can also get a houseplant, but if you don't know the people too well, an herb plant may be an even better idea. Even if they don't have a green thumb, they can simply eat the herbs and the potted herb plant looks so cute.
Candle, Soaps.
Spa basket (facial, mask, lotion, bath salts, bath bombs, chapstick, etc.) 
Stationary (cute notebooks, pens, notepads)
Framed photo, photo book or album (especially for parents/grandparents)(I have a detailed post all about creating photo books)
Gifts For Children
If there are children in the home, it's a great idea to include something fun for them. If you have children close in age, you might get something that your own children enjoy. However, try to get something that isn't too obnoxiously huge, loud or has thousands of tiny pieces, unless you know it's something that they want. In most cases today, children have way too many toys to begin with and just getting them something useful might be a better idea.
Here are some of my favorite ideas:
Play Dough (You can even make it yourself – this is the recipe that I use.)
Coloring book/notepad with crayons*, colored pencils.
Magnatiles – I have not met a child/family that did not love these! *
Stuffed Animals 
Gift card to a local zoo, children's museum, amusement park, etc. 
Cookie cutters, rolling pin along with you favorite cookie recipe. 
Board Games, Puzzles. 
Gifts For Book Lovers
A thoughtful gift would be to gift your hosts with a book about a subject that they are interested in. For example, our neighbors are big travelers and have visited many and plan on visiting all the national parks, so a thoughtful gift for them would be a beautiful book with pictures of the national parks. If someone you know is a fan of Fixer Upper, you may want to give them The Magnolia cookbook or Magnolia Home book.
For someone who loves to cook, you could brings a cookbook.
Someone who is an avid reader would probably enjoy a new book to read, especially if it's one that you read and loved.
For My Book Recommendations, you can see my favorite Fiction and Nonfiction Books on my Amazon page. *
Next time you would like to bring a gift but are drawing a blank, pull up this list so it can get your creative juices flowing. Of course, some of these ideas take a lot more thought and effort, some require you do prepare in advance, but some can be done at the spur of a moment too.  No matter what you are looking for,  you've got a lot of options to choose from. If you have any creative ideas of your own, please share in the comments.