How To Make Homemade Mashed Potatoes
Learn how to make the best homemade mashed potatoes. Creamy, fluffy and incredibly delicious, you'll be making this recipe over and over again.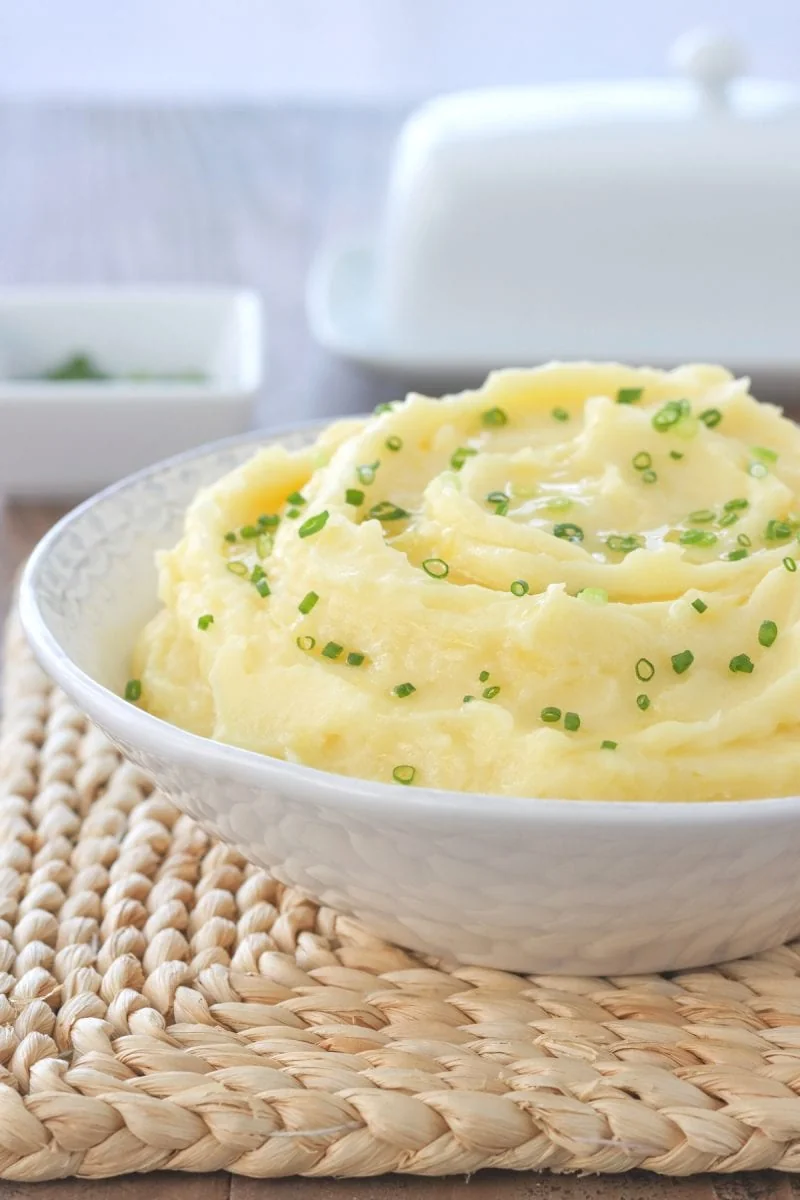 A cloud of fluffy, light and creamy mashed potatoes may be the simplest dish served at a table full of extraordinary dishes, but it is a staple must-have at most holidays as well as weeknight dinners.
Mashed potatoes are one of the best side dishes that pair so well with so many different recipes. They are the ultimate comfort food. In this post, I'm sharing all my best tips to the best homemade mashed potatoes. They are also a foundation to so many other variations you can try, like my Bacon, Onion and Chive Mashed Potatoes.
Ingredients:
potatoes (baking potatoes (Idaho potatoes) or gold potatoes are best
salt
butter

(vegan butter can be used also)

milk, half and half or heavy cream

You can also use any other dairy free milk options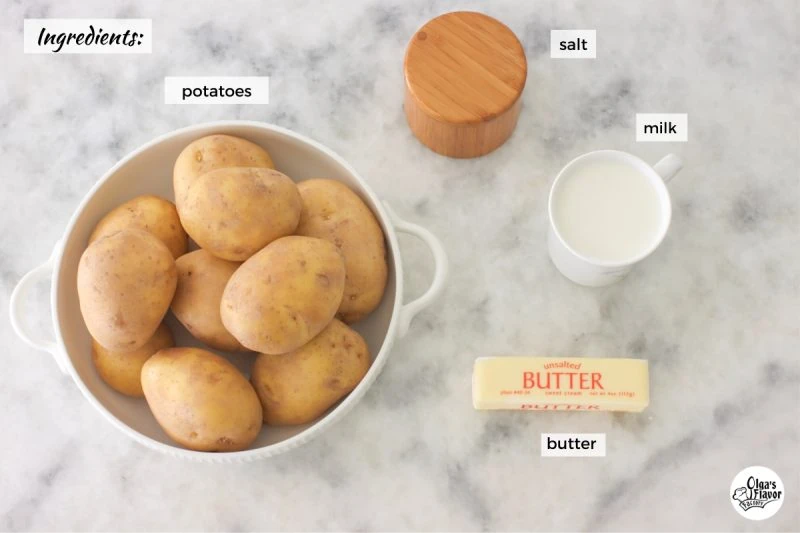 What potatoes are the best for mashed potatoes?
Baking potatoes, sometimes called russet potatoes and gold potatoes are my favorite variety to use for mashed potatoes.
Baking/Russet potatoes have a lot of starch and a low level of water in them, which makes them really fluffy when mashed. Gold potatoes have a medium starch and water level in them. I love their flavor so much too – they taste almost "buttery" to me.
If you use white or red potatoes, they have a much lower starch level, which makes them waxy, so they will have more lumps and be more prone to becoming "gluey" when mashed. If you want a more rustic texture, you can use those as well, but if you want really fluffy, tender mashed potatoes, gold or baking potatoes are the best choice.
How To Make Homemade Mashed Potatoes
Peel and cut the potatoes into uniform pieces. Pour enough water to cover the potatoes, add salt, cover and bring to a boil.
Reduce the heat to a simmer and continue cooking until the potatoes are tender and you can easily pierce them through with a paring knife or a fork.
Meanwhile, when the potatoes are almost cooked through, heat up the milk in a separate small saucepan.
Drain the potatoes.
Add the butter, cut into pieces, to the potatoes.

Return the potatoes to the stove and turn on the heat for just a minute. (This step is optional, but it "dries" the potatoes.)
Start mashing the potatoes until they are 3/4 of the way mashed and all the butter is incorporated.

Pour in the hot milk and continue mashing until the potatoes are fluffy and creamy.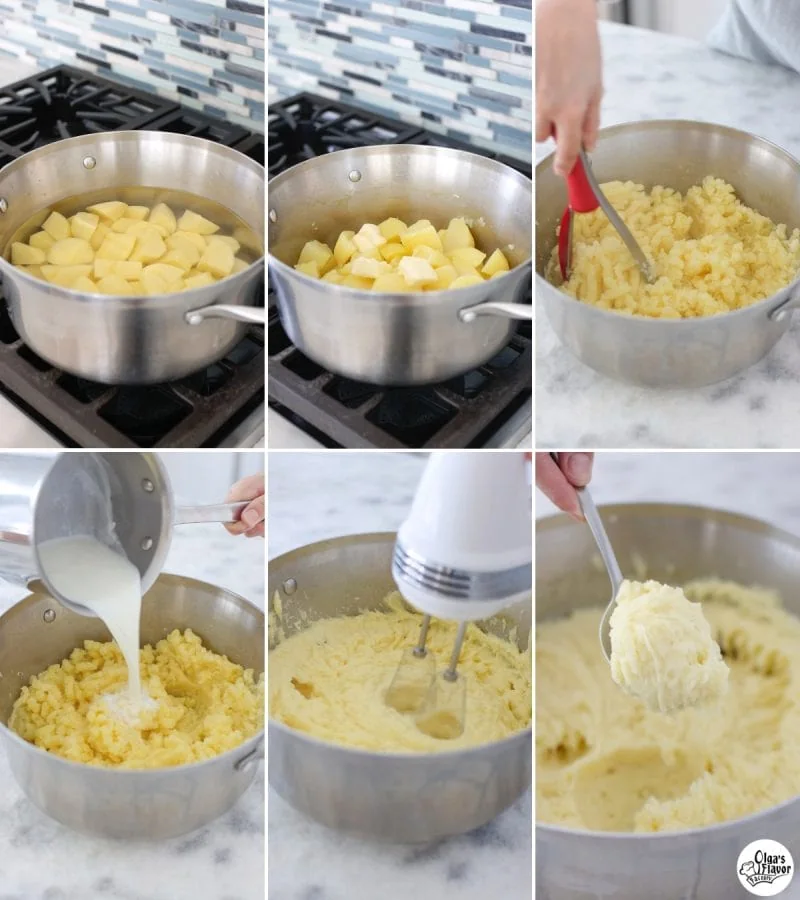 Helpful Tips For the Best Mashed Potatoes
Cut the potatoes into uniform pieces.

This will ensure that all the potatoes cook at the same time. You can choose to peel the potatoes or leave the skin on for a more rustic feel. Since potatoes are typically not the same size, I cut them into uniform pieces.

Cover with just enough water to barely cover the potatoes and start with COLD water.

Potatoes cook much better when there isn't too much water, or else they will become waterlogged. Believe it or not, but they will actually cook faster in less water. If you start the potatoes in warm water, it will come to a boil very quickly and start cooking the outside of the potatoes and the inside will still be raw.

Russets and Yukon Gold potatoes are the best for mashed potatoes.

Russet (baking, Idaho) potatoes have a high starch level and low level of water and Yukon Gold potatoes have a medium starch level and medium water level. This means that these potatoes will be fluffy when mashed. Waxy potatoes are more dense and don't break down as much when they cook, which means it will be hard to achieve fluffy and creamy mashed potatoes. If you don't mind lumps and a rustic texture, then using waxy potatoes, such as red potatoes, is just fine.

Salt the water generously.

Potatoes love salt. Don't be shy with the salt. If you don't add enough salt, the potatoes will be bland. It's surprising that such a simple ingredient would make a big difference, but it will. Adding salt to the cooking water also helps the potatoes could faster and break apart better, resulting in fluffier and creamier mashed potatoes.

Cook the potatoes just until fork tender.

If the potatoes are undercooked, you will have lumps in your mashed potatoes.

"Dry" the potatoes before mashing them.

After draining the potatoes, return them to the stove and cook off all the excess water, while shaking the pot. The potatoes will be much drier, which will help a lot in producing fluffy mashed potatoes.

Most importantly, don't OVER MIX the mashed potatoes, or they will become gluey.

One of the best tips to keep in mind is to mash the potatoes alone first, before adding the butter, dairy and other ingredients. Mash the potatoes to get all the lumps out and only then add the hot dairy and butter.

Adding warm milk to the potatoes will keep them hot much longer and will give you a better texture.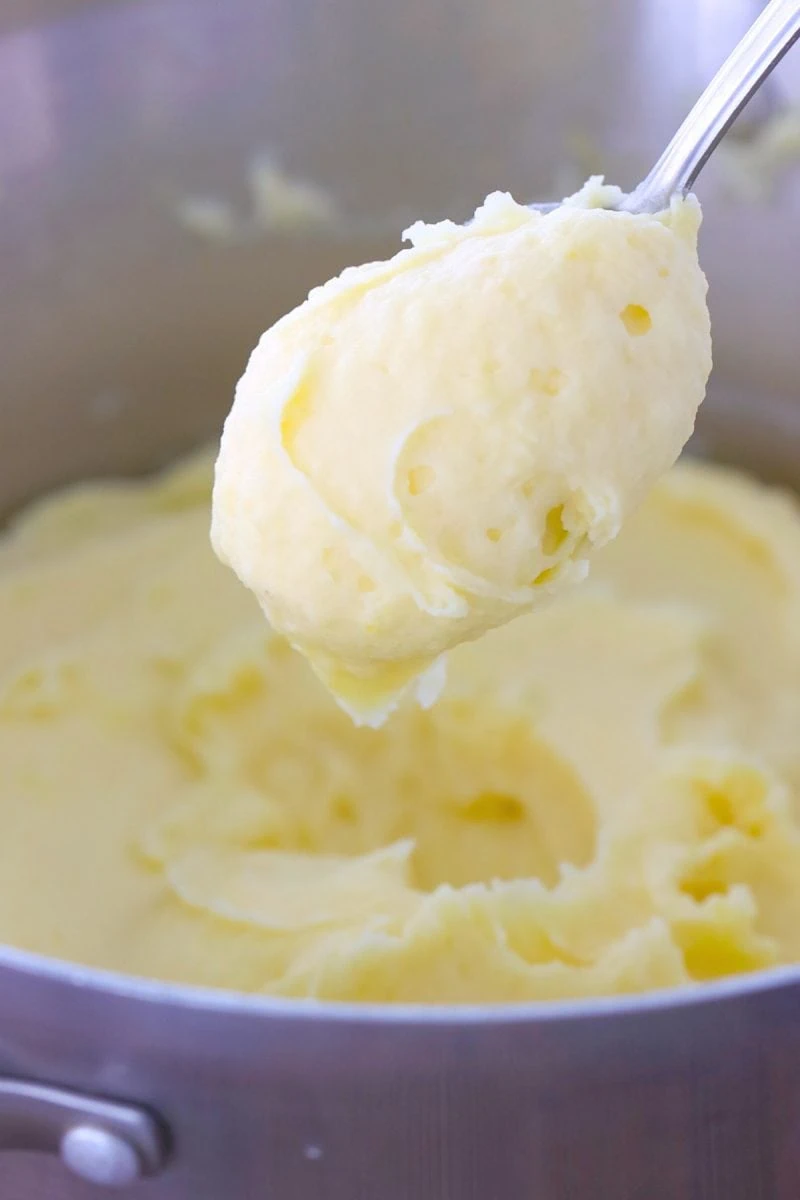 More Flavor Options
in a mild way by adding some aromatics to the cooking water, such as bay leaves, thyme, rosemary, garlic, onion, etc. This will give the potatoes a very mild flavor, and they flavor the cooking water as the potatoes simmer. Discard the aromatics before mashing the potatoes.
in a more assertive way, by adding aromatics to the butter that you will be adding to the potatoes when mashing them. I love to make Garlic Mashed Potatoes by adding some minced garlic to the butter and cooking it until it turns lightly golden brown and then add it to the potatoes when I'm mashing them. Since the garlic will be roasted, it will give a nice garlicky addition to the mashed potatoes, without knocking you over with a harsh garlic taste. You can also add shallots, onions and herbs to the butter.
by the choice of dairy that you use. Most of the time, I simply use milk, but you can also use heavy cream for really decadent and luscious mashed potatoes, buttermilk to add a slight tang and creaminess to mashed potatoes, as well as cream cheese or sour cream. It's very important to heat the dairy.
Try serving the mashed potatoes drizzled with brown butter. It is SO delicious. Melt the butter, then continue cooking, until the butter turns a golden brown color. The brown butter adds an amazing "nutty" flavor, that is so rich and decadent.
for the last punch, try adding bacon bits, scallions, chives, parsley, rosemary, grated cheese or Flavored Butter to the mashed potatoes.
The Best Tools To Make Mashed Potatoes
A simple, standard potato masher
A hand mixer or standing mixer. Be very careful if using this method, since it's very easy to over mix the potatoes this way, so act fast, mix, add dairy, step away. If you're using a standing mixer, it's best to use the whisk attachment.
A potato ricer – this will give you creamy and lump-free mashed potatoes. However, this is the most tedious option, plus, you need to work quickly to rice the potatoes while they are still hot. This is not very convenient when making a big batch of mashed potatoes. I prefer the first two much better.
A food processor or a blender are a big NO-N0. Seriously. Food processor/blender +potatoes= GLUEY potatoes that you can't fix.
How To Keep Potatoes Warm:
You can keep them stored in the hot pot, wrapped in a thick towel or blanket. This method will keep the potatoes warm for quite a long time. Of course, they won't stay warm forever.
Even better, wrap the hot pot of mashed potatoes in a heated blanket and they will stay warm even longer.
Another great option is to keep them warm in a slow cooker, on the "warm" setting.
To reheat the potatoes, I really like heating them up with a bit of butter over medium heat in a skillet.
If you made the mashed potatoes the day before, you may wish to add a bit more warm dairy to loosen the potatoes, since they will become harder as the longer they stand.
Mashed potatoes are such a comforting and delicious side dish. I hope these tips help you to have the best possible potatoes. After all, the best food is great ingredients cooked correctly, with a dash of creativity. Elevate the humble spud to a place of honor.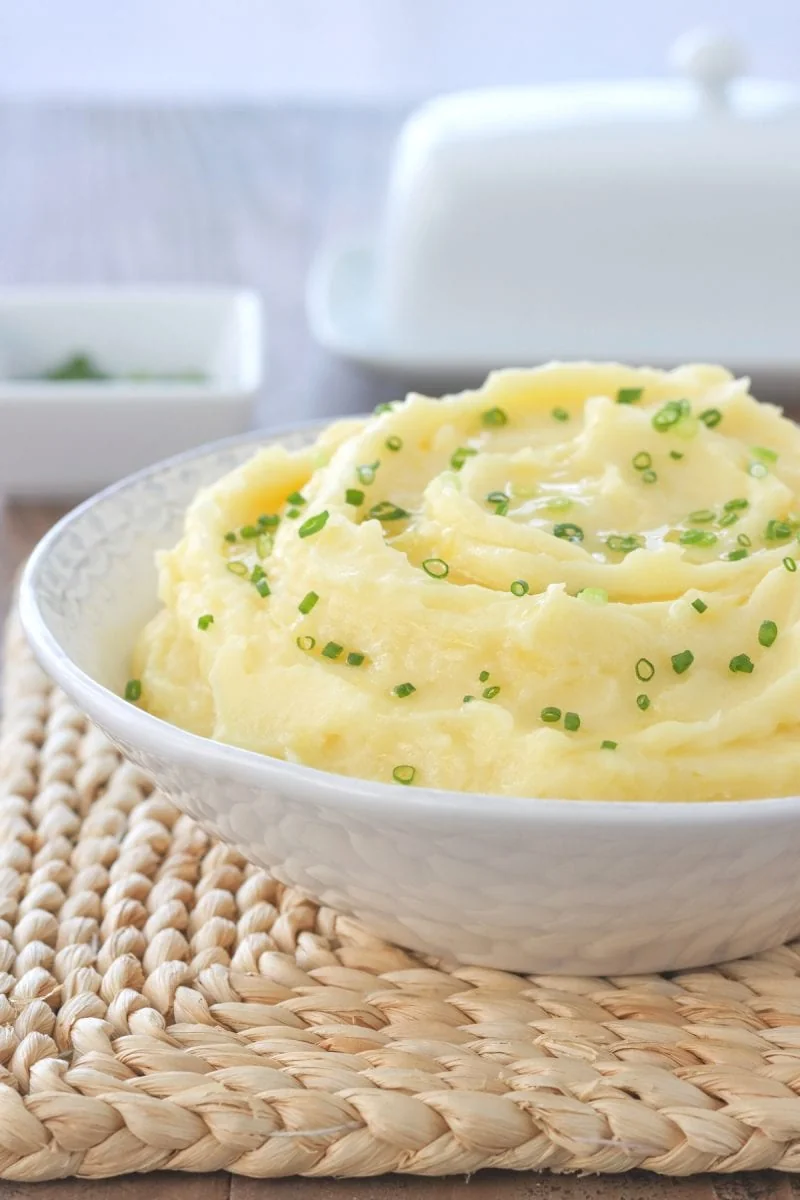 Print
How To Make Homemade Mashed Potatoes
Author:
Prep Time:

15 minutes

Cook Time:

25 minutes

Total Time:

40 minutes

Yield:

8

servings

1

x
4

lbs potatoes, russet or gold

1 cup

whole milk

4

–

6

oz butter
salt, to taste
Instructions
Peel the potatoes and cut them into uniform pieces. Cover the potatoes with cold water, just enough to barely cover the potatoes. Salt the water generously. 
Cover the pot with a lid, bring the potatoes to a boil, then reduce the heat to a simmer and cook, on medium low heat, until the potatoes are fork tender, about 15-20 minutes. The time will depend on the size of the potatoes and the type of potatoes you are using. 
Meanwhile, heat up the milk in a small saucepan until it's barely simmering. 
Drain the potatoes. Return the potatoes to the stove and "dry" them just for a minute on the heat, the turn off. Add the butter, cut into small pieces, right after draining the potatoes and before "drying" them on the stove for a minute. This will melt the butter. (You can also melt the butter with the milk.)
Start mashing the potatoes with a potato masher or a hand held mixer, being careful not to over mix. Pour in the hot milk, mixing until smooth. Season with salt and ground black pepper, if needed.  
Notes
For additional flavor, add some fresh herbs, such as chives, parsley, thyme or rosemary to the mashed potatoes after mashing them. 
You can also add some buttermilk, cream cheese or sour cream for a bit of a tangy, creamy flavor. 
Another great addition to mashed potatoes is to use flavored butter. 
Bacon bits, sauteed onions, or even grated cheese are excellent additions to mashed potatoes.