How To Make A Double Boiler
Why spend money on a double boiler when you can easily make one at home?
When would you need to use a double boiler? Is it even necessary?
Double boilers are used when you need to cook something over a gentle heat. It is a great way to cook food that has a tendency to burn, curdle or separate.
If you cook it right on the stove top, you could ruin the consistency of whatever it is that you're making.
Melting chocolate is what I use a double boiler for most often. Other uses for a double boiler – custards, lemon curd, sauces such as Hollandaise, beurre blanc.
All you need is a saucepan or pot and a heatproof bowl, preferably glass or metal. Pour in about an inch of water into the saucepan. Place the bowl with the ingredients in it on top of the saucepan. Bring the water to a boil and cook your ingredients with the water simmering.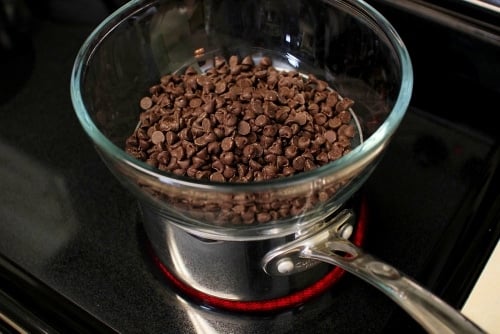 A few other things to keep in  mind:
Make sure that the boiling water doesn't touch the bottom of the bowl and also make sure the water doesn't boil out. If the water level is really low, just add more water.
The bowl will become really hot. Don't touch! Keep a small kitchen towel nearby and use it to steady the bowl while you're whisking, mixing, or lifting the bowl.
If you're melting chocolate, make sure the steam that will come up from underneath the bowl and form small beads of condensation, doesn't actually run into the bowl, or your chocolate will seize. Keep the water at a simmer, turn down the heat if there's too much steam, or take the saucepan off the heat for a minute or two while the temperature decreases.
For the above reason, don't use a lid to cover the bowl, or the condensation from the lid will drip down into the bowl and make your chocolate seize up also.