Find out the best way to store fresh herbs so they stay fresh as long as possible. Whether you grow herbs in your garden or buy them from the grocery store, this will keep them from turning yellow and slimy much longer so you can enjoy green and vibrant herbs in your food.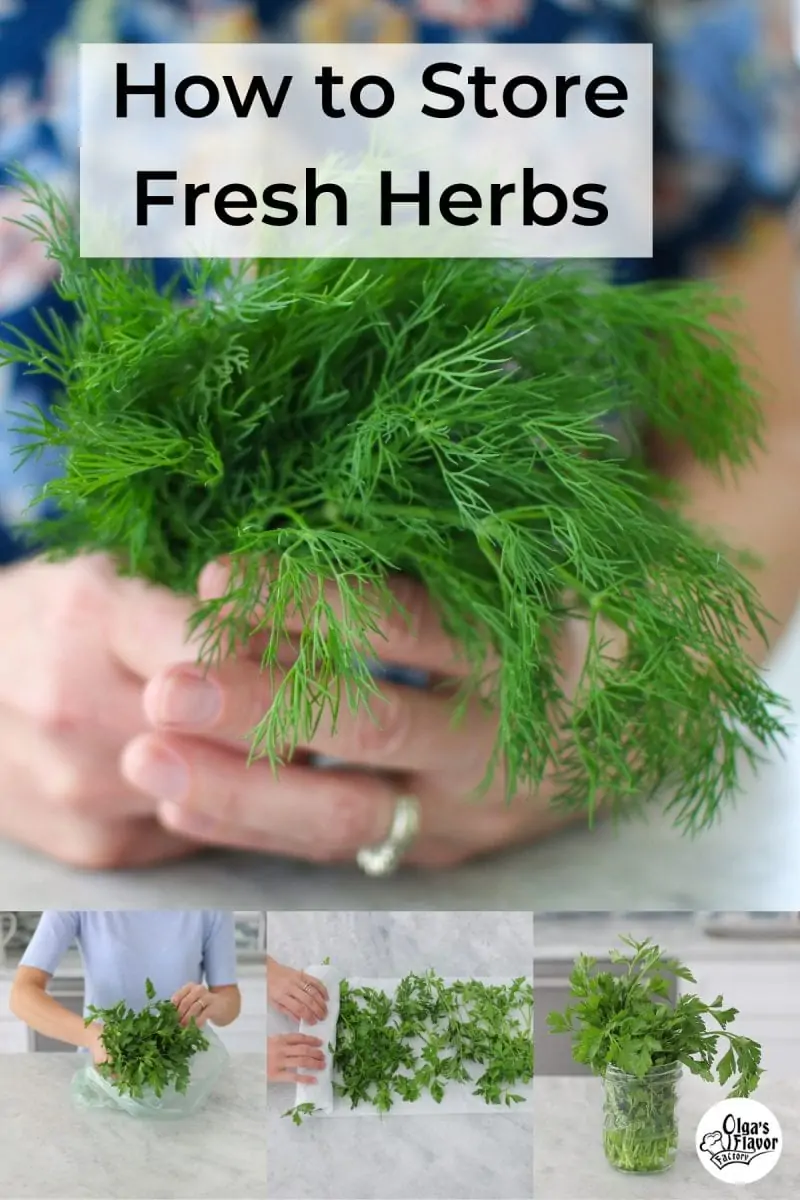 Fresh herbs wake up your palate with every mouthful. They add fresh flavors to any recipe, plus they make your everyday meals look extra fancy and beautiful. Chicken noodle soup with fresh herbs is absolutely more delicious with fresh herbs. I love sprinkling parsley and cilantro on my omelets, casseroles, pasta dishes and almost everything else.
The only downside to fresh herbs is that they wilt and spoil so quickly. There are so many different methods that people suggest to make fresh herbs last longer. I tested several of the most popular ones to find the one that works the best.
Not only will this method make your herbs last much longer, but they will be washed and ready to use, so you'll use them more often because it makes it easy and convenient. I store fresh herbs like this every time I meal prep for the week.
Watch the Video of How To Store Fresh Herbs:
(you can see 3 methods of storing herbs to compare which one works the best)
How To Store Fresh Herbs
Get rid of the rubber band or twist tie that's holding the herbs together.

When the herbs are held together tightly, they will start to spoil much faster right at that point. Sorting through the herbs will give you a chance to get rid of leaves that are starting to wilt, turn yellow or slimy. (They will make the rest of the herbs go bad faster too.)

Next, wash them really well and dry them until they are just slightly damp. They should not be completely dry. A salad spinner works great for this.

Extra moisture will make the herbs wilt and spoil much quicker, but if they are completely dry, they will wilt faster too.

Place the herbs on a paper towel and roll up the paper towel loosely. A clean, thin kitchen towel will work too.
Place the herbs inside a ziptop bag but leave it partly open.The paper towel will wick away any extra moisture and keep the herbs fresh.
The other great thing about storing herbs this way is that you always have clean, dry herbs available. I hate to admit it, but sometimes I don't add herbs to food just because I'm too lazy to wash it:). It's also much easier to chop herbs when they're not wet.
Can You Freeze Fresh Herbs?
Yes! If you have a huge abundance of herbs that you know you won't be able to use in 2 weeks, chop up the herbs and freeze them. They taste really fresh and stay bright green as well.
I learned this from my Mom when I was a little girl. Since we always had a garden, we would have tons of herbs. Mom would chop up dill, parsley and green onion, place them in separate storage containers or even freezer ziploc bags and freeze.
Use a spoon to scoop out however much fresh herbs you need for a recipe and add it in.
Want More Tips For Storing Produce So It Lasts As Long As Possible?
Check out my ebook, The Home Cook's Handbook. I tested so many methods of storing fruits and vegetables to find the ones that work the best. Not only will you get those tips, but also so many more helpful kitchen resources, like meal prepping, meal planning, how to freeze food, pantry staples and so much more.