Bacon and Chive Deviled Eggs
Bacon and chive deviled eggs are such a satisfying appetizer, with a creamy and flavorful egg yolk filling and crunchy bacon with fresh chives. Perfect for any party, picnic or lunchbox.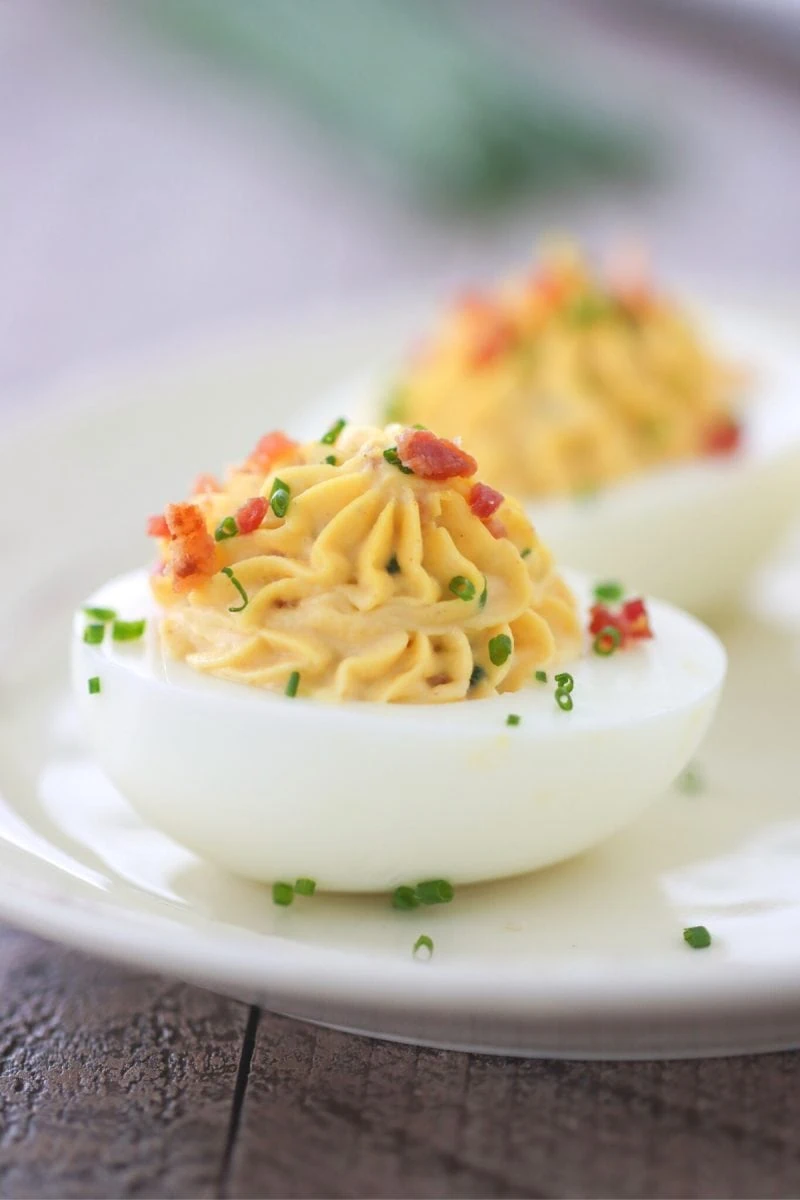 Bacon deviled eggs are one of my favorites to make for a party, potluck or get together. Bacon and eggs is a winning combination, of course, and the addition of the fresh chives makes them just right. The egg yolk filling is so smooth, creamy and really flavorful. The crunchy bacon adds some great texture to each bite.
They are also really convenient, because you can make them in advance and just store them in your refrigerator until you're ready to serve. Make some extra, because if you have any left over, they are such a treat to pack in a lunch box too. If you want to try some other deviled egg variations, try my Tuna Deviled Eggs – they are so good too.
Ingredients
hard boiled eggs
bacon

My favorite way to cook bacon is in the oven, but you can also cut up the bacon and cook it in a skillet until golden and crisp.

mayonnaise

If you prefer not to use mayonnaise, try using Greek yogurt instead. It's creamy and also gives a lovely tang to the eggs.

dijon mustard
garlic powder

You can also use any other dry herbs and spices, such as paprika, onion powder, dry chives, parsley, etc.

salt, ground black pepper

I don't usually add any additional salt, but freshly ground black pepper is so great in here.

chives

Other fresh herbs will be great here too, such as green onions, parsley, dill, etc.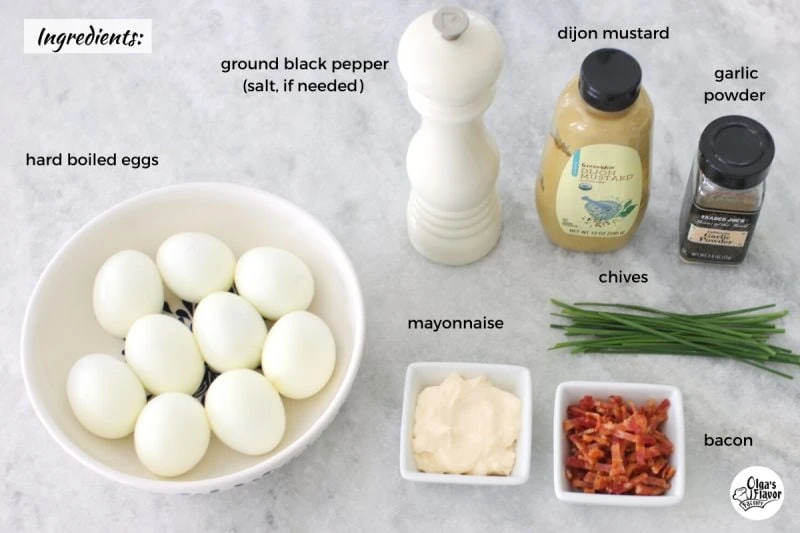 How To Make the Best Bacon and Chive Deviled Eggs
Prep all the ingredients. Hard boil the eggs, cook the bacon, mince the chives.
Cut the eggs in half lengthwise, placing the yolks in a separate bowl.
Mash up the yolks. Use a fork or press them through a fine mesh sieve if you want to have a perfectly smooth yolk filling with no lumps.
Mix up the egg yolk filling. Add the mayonnaise, mustard, pepper, garlic powder, part of the bacon and chive.
Fill the egg white centers with the egg yolk filling. You can use a spoon or place the egg yolk filling in a pastry bag or ziploc bag and pipe out the filling.
Garnish by sprinkling some bacon and chives on top of the deviled eggs.
Store the eggs for 5-7 days in the refrigerator, covered.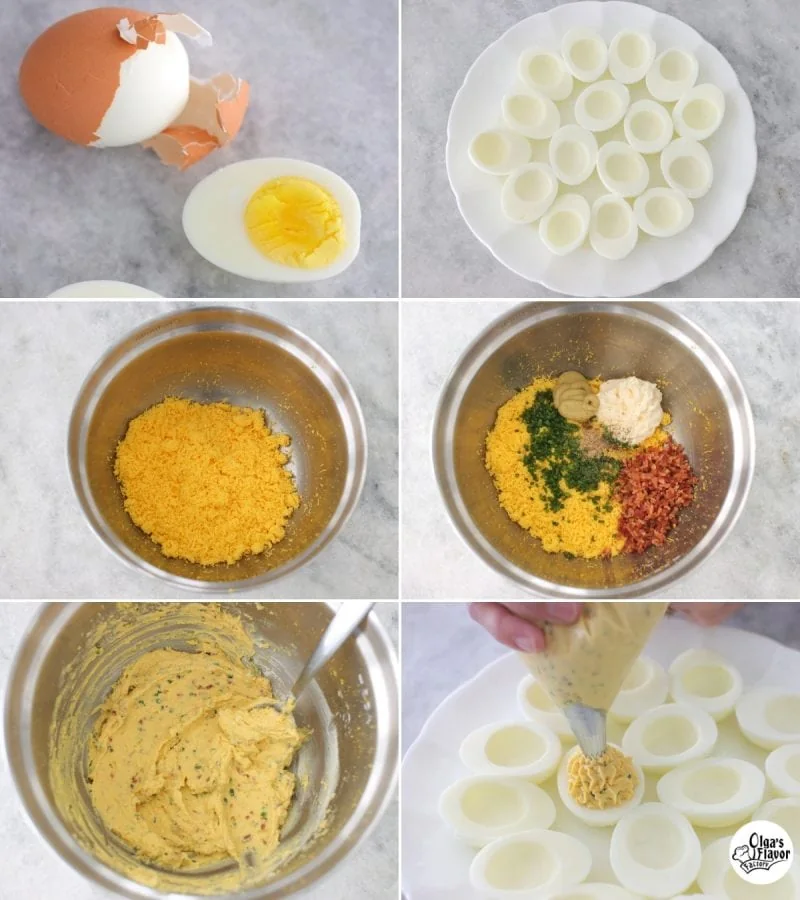 Helpful Tips and Frequently Asked Questions
How do you hard boil eggs so they peel easily?
Of course we want eggs that peel easily so the eggs look smooth for the best presentation. Nothing is more frustrating than trying to peel the eggs and having them look scraggly and biten up when the eggshells don't come off easily.
Use these recipes to give you the best results and easy to peel eggs.
Instant Pot Hard Boiled Eggs
Stovetop Hard Boiled Eggs that are easy to peel.
More helpful tips for easy to peel eggs:
1. Buy your eggs ahead of time. Fresh eggs are wonderful, but they are notoriously hard to peel. The older your eggs (still safe and fresh, of course) the easier they will peel.
2. After cooking the eggs, place them in a bowl of ice water. Peel the eggs as soon as they are cool enough to handle. Don't hard boil the eggs and put them in your fridge to peel later. They are much easier to peel right away.
3. Peel the eggs under running water or submerged in a bowl of water.
What can I use instead of mayonnaise in the filling?
Greek yogurt or sour cream are great substitutes for mayonnaise and give the eggs a nice tang too.
More flavor variations:
Instead of the bacon, you can use sauteed mushrooms, finely chopped, cooked sausage, smoked salmon or chopped ham. I also like to play around with different fresh herbs. Green onions, dill, parsley are all delicious.
What's the best way to store deviled eggs?
Store the eggs, covered, either in an airtight container with a lid or a plate covered with plastic wrap for 5-7 days. You can also store the egg whites and the yolk filling separately and just fill the egg whites before serving.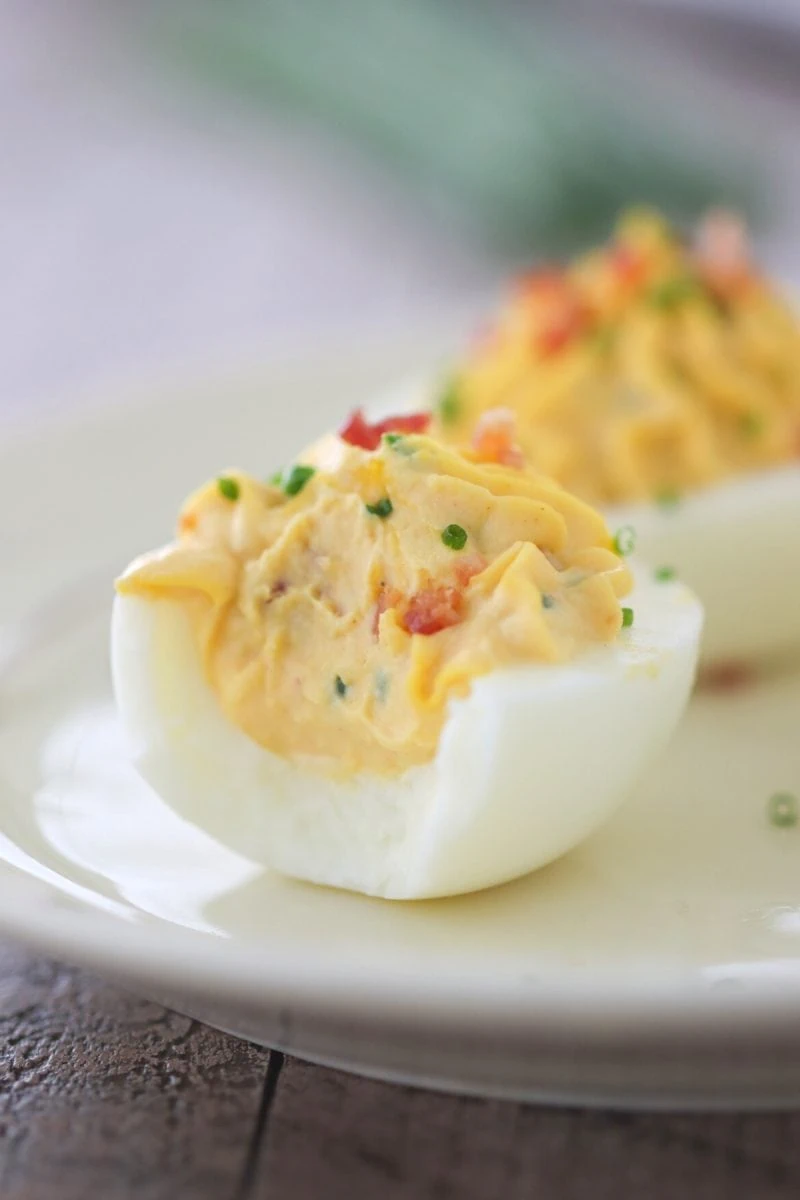 Just look at how creamy these eggs are!
More Appetizer Ideas
Tomato Caprese With Burrata and Pesto
Print
Bacon and Chive Deviled Eggs
Bacon and chive deviled eggs are a wonderful appetizer. They are so satisfying, look so cute and are delicious. They are perfect for a party or your lunchbox, since they can be made in advance.
8 hard boiled eggs (Instant Pot Hard Boiled Eggs) (Stovetop Hard Boiled Eggs)
1/3 cup crumbled/finely chopped cooked bacon
5 Tablespoons mayonnaise
1 Tablespoon dijon mustard
1/2 teaspoon garlic powder
1/4 – 1/2 tsp ground black pepper
salt, to taste, if needed (I never add any additional salt)
2 Tablespoons chives, minced
Instructions
Cut the hard boiled eggs lengthwise in half and remove the yolks into a separate medium size bowl.
Mash up the egg yolks with a fork or press them through a fine mesh sieve to get the most smooth results without any lumps.
Add the mayonnaise, mustard, garlic powder, ground black pepper, bacon and chives to the mashed yolks. (Make sure to set aside some of the bacon and chives to use as a garnish later.) Mix it all together until smooth.
Fill the egg white centers with the yolk filling, by using a spoon or pipe out the filling using a ziploc bag with a corner cut off or a pastry bag with a piping tip to make it extra fancy.
Garnish the deviled eggs with bacon and chives.
Serve immediately or store in the refrigerator for about 5 days, covered.