Marinated Shrimp Appetizer
One of the best appetizers for a party are these Marinated Shrimp. With a refreshing and zesty marinade, the lemon, garlic, shallots and fresh herbs give the shrimp so much incredible flavor.
The shrimp are are so well seasoned that they are perfect served on their own, but you can also prepare a Creamy Avocado Dipping Sauce to go along with it.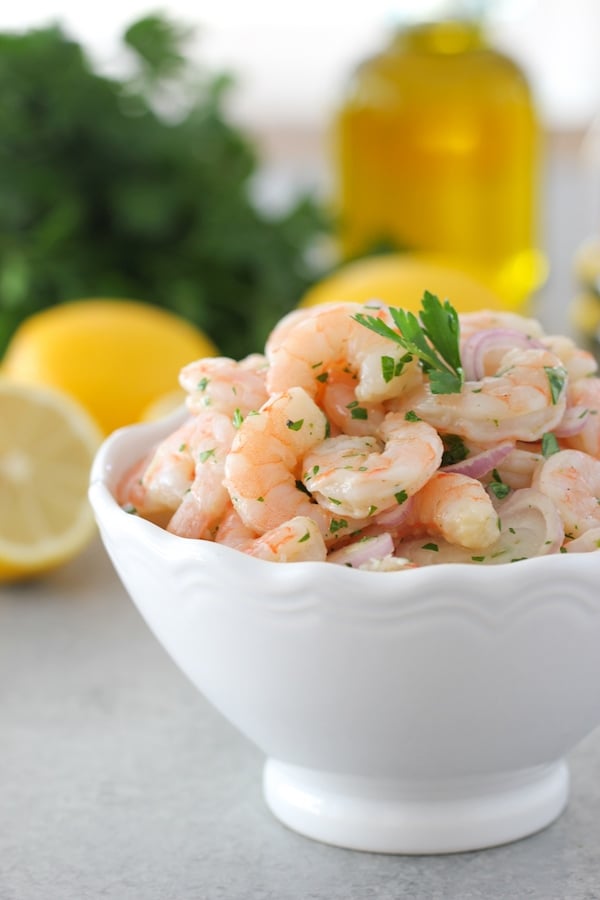 A cold and refreshing appetizer is a great way to start a meal. It's especially convenient when you can do all the work in advance, even the night before, like this recipe.
Not only is the shrimp cooked in a flavorful liquid, it's also marinated with really bold ingredients that are refreshing, bright and very impactful. Lemon, red wine vinegar, shallots, garlic and fresh parsley and basil permeate the juicy shrimp all the way through.
Each shrimp is a burst of flavor in your mouth. Whenever I serve this for guests, it is one of the first things to disappear to the happy exclamations of my friends and family.
Video of How to Prepare Marinated Shrimp
What Shrimp Should You Use?
Raw frozen shrimp is the one I use most often. The shrimp will be fresh and really juicy. I do not recommend using cooked shrimp for this recipe. You can use any size that you like, from really small to jumbo size.
The Best Way To Cook Shrimp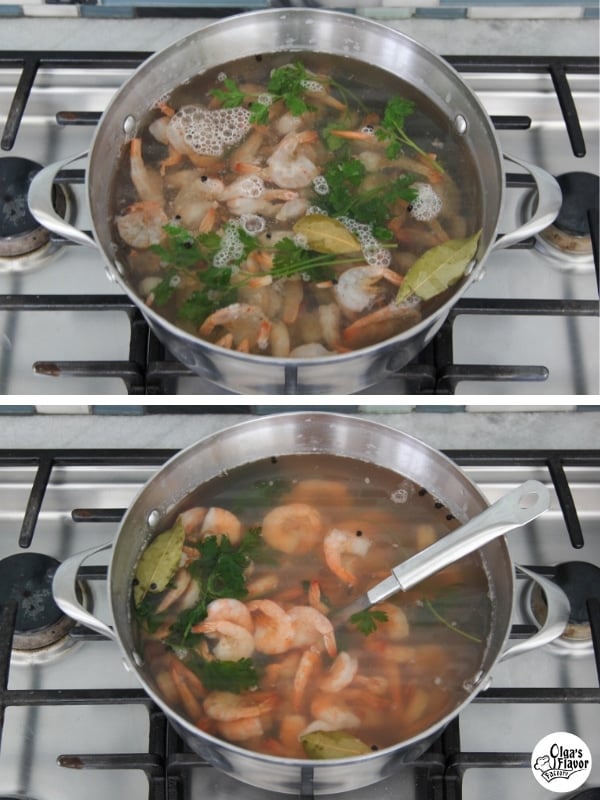 To infuse the most flavor, I add bay leaves, parsley, black peppercorns and white wine to the water when cooking the shrimp. Garlic is also a really delicious addition. By cooking the shrimp in this fragrant broth, the shrimp is infused with flavor at every level.
Be careful not to over cook the shrimp so that they stay as juicy and plump as possible. It only takes a few minutes for the shrimp to cook through. There is also no need to thaw the shrimp before adding it to the boiling water.
Marinated Shrimp Appetizer Recipe: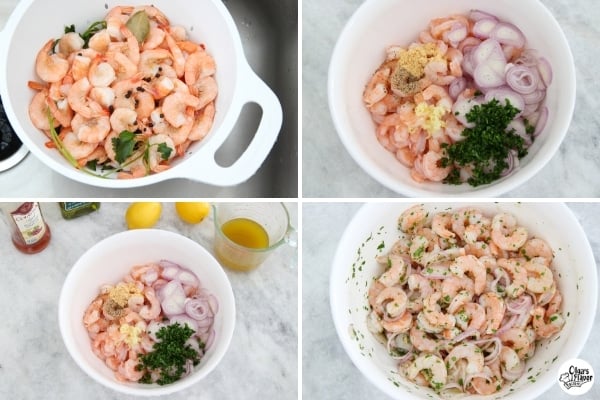 Cook the shrimp in the flavorful liquid, drain and cool. Peel the shrimp when cool enough to handle.
Mix the cooked and peeled shrimp in a large bowl with all the rest of the ingredients.
Instead of shallots, you can use red or yellow onion. I think shallots are more mild in flavor and suit this recipe better, but you can use the onions too.
You can also use dry mustard powder or prepared dijon mustard – it's your choice.
Instead of red wine vinegar, you can use white wine vinegar, champagne vinegar, or sherry vinegar.
Add more or less of the vinegar, lemon juice and herbs, to adjust the flavor of the shrimp to your taste preference.
To add a more prominent lemon flavor, you can thinly slice some fresh lemon and add it to the shrimp.
Preparing the Marinated Shrimp in Advance and How To Store It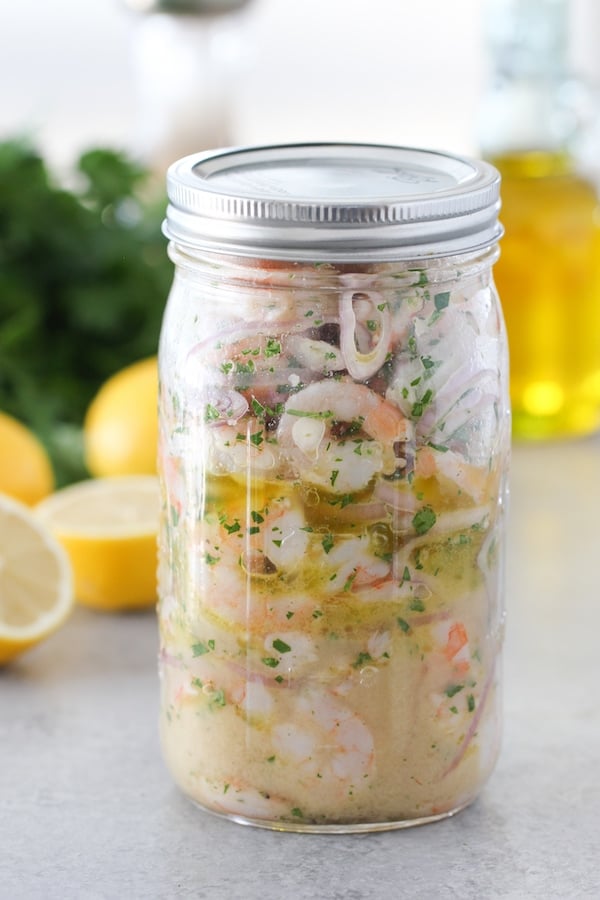 The shrimp can be prepared a few hours or even a few days in advance. Store the shrimp with the marinade in the refrigerator until ready to serve. I really like putting the shrimp into a glass jar. It doesn't take too much space in the refrigerator and will contain the aroma in the jar, since the lid creates an airtight seal.
Store the marinated shrimp in the refrigerator for up to 3 days.
Before serving, mix the shrimp to evenly distribute all the ingredients. I like adding more fresh herbs and a bit more fresh lemon juice to the shrimp right before serving.
If you'd like, serve the shrimp with a Creamy Avocado Dipping Sauce, cocktail sauce or other sauce of your choice.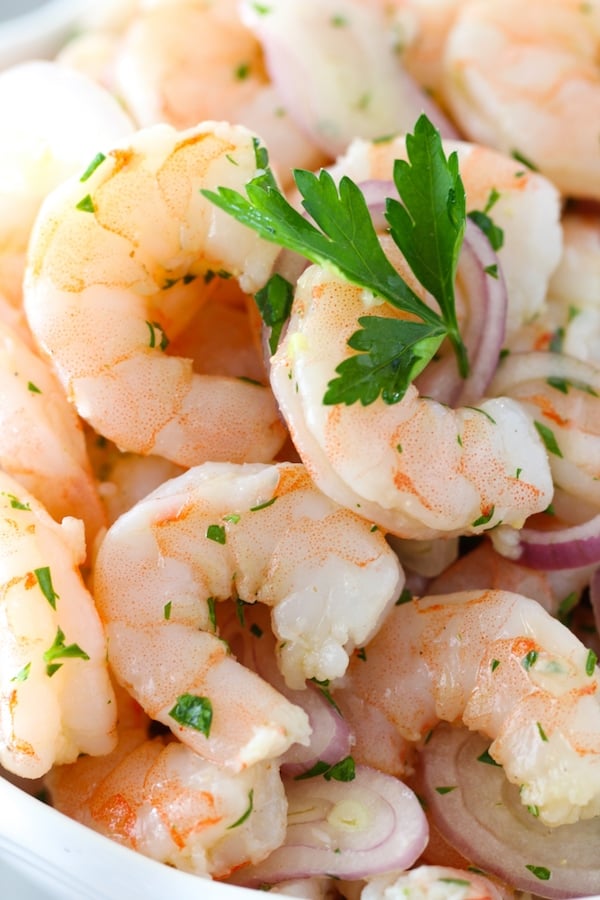 Print
Marinated Shrimp Appetizer
Marinated Shrimp Appetizers are the most delicious appetizer. The shrimp is bursting with the flavor of the zesty marinade with lemon, garlic, shallots and herbs punctuating each bite.
Author:
Prep Time:

35 minutes

Cook Time:

10 minutes

Total Time:

45 minutes

Yield:

12

servings

1

x
Category:

appetizers
To Cook the Shrimp:
12 cups water
1 cup white wine, optional
2 dry bay leaves
1/2 bunch fresh parsley
1/2 Tablespoon black peppercorns 
handful of fresh garlic cloves, optional
salt (3/4 – 1 Tablespoon) 
4 lbs raw shrimp
Marinade:
3 medium shallots, sliced
2–4 garlic cloves, minced
1/2 Tablespoon dry mustard powder (or 1 Tablespoon dijon mustard)
1/2 cup olive oil
2 Tablespoons red wine vinegar
2–3 Tablespoons freshly squeezed lemon juice 
1–2 Tablespoons minced parsley
1/2 Tablespoon basil,chopped
salt, ground black pepper, to taste
Instructions
In a large stockpot, pour in the water, white wine and add the bay leaves, parsley, peppercorns and salt. Bring it to a boil. 
Add the shrimp and bring it to a boil. Cook for another 3-5 minutes, until the shrimp is cooked through and pink. If you are using smaller shrimp, they will only take 1-2 minutes to cook through. Larger shrimp will take 3-5 minutes to cook through.
Drain the shrimp. Cool and peel. 
Place the cooked and peeled shrimp into a large bowl and add all the marinade ingredients – shallots, garlic, mustard, olive oil, red wine vinegar, lemon juice and season to taste with salt and ground black pepper. Mix to combine. 
You can serve the shrimp right away, but for the best results, marinate it in the refrigerator for a few hours or overnight. 
Keywords: marinated shrimp, cold shrimp appetizer, pickled shrimp, lemon garlic shrimp, shallot and herb shrimp