Homemade chicken broth is so rich, flavorful and very simple to make. It's very nourishing, comforting and delicious. You only need a few simple ingredients, there's endless ways to use broth in varieties of recipes and it's so budget friendly too.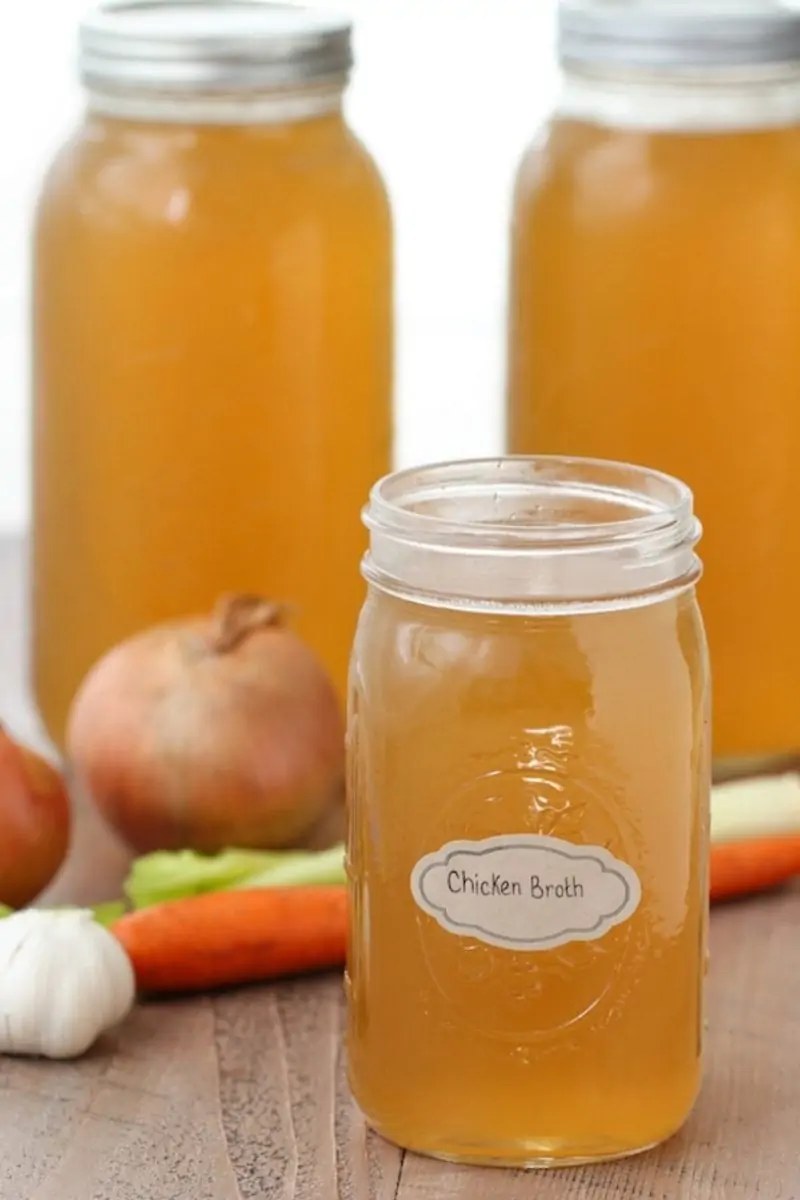 I call homemade chicken broth "liquid gold" in my kitchen. It's so much more flavorful than anything you can buy at the store. You can adjust how much salt you use and the flavor by adding a variety of vegetables that you like. Plus, it has all wholesome ingredients, none of the weird stuff that you can't even pronounce or recognize on the ingredients list of the store bought broth. Most store bought chicken broths have only a slight whiff of chicken in the broth. With homemade broth, you will have so much chicken in the broth, which will make it really concentrated and comforting.
Chicken broth is the base of so many of my recipes, so I have some chicken broth on hand at all times. It freezes really well, so make a giant batch of broth and keep it stored in my freezer. Every few months I replenish my supplies. It really is one of the best foundations for my "flavor factory".
There are endless ways that you can use chicken broth and it will make a big difference in the flavor of the meal that you're cooking when you use delicious homemade broth. I also have amazing recipes for both Vegetable Broth and Beef Broth too.
How to Make Homemade Chicken Broth Video:
Ingredients For Homemade Chicken Broth:
1 whole chicken, or chicken parts, such as chicken wings or chicken drumsticks, 3-5 lbs total
Vegetables and fresh herbs: onions, carrots, celery, garlic, parsley, thyme/dill
bay leaves and black peppercorns
salt
water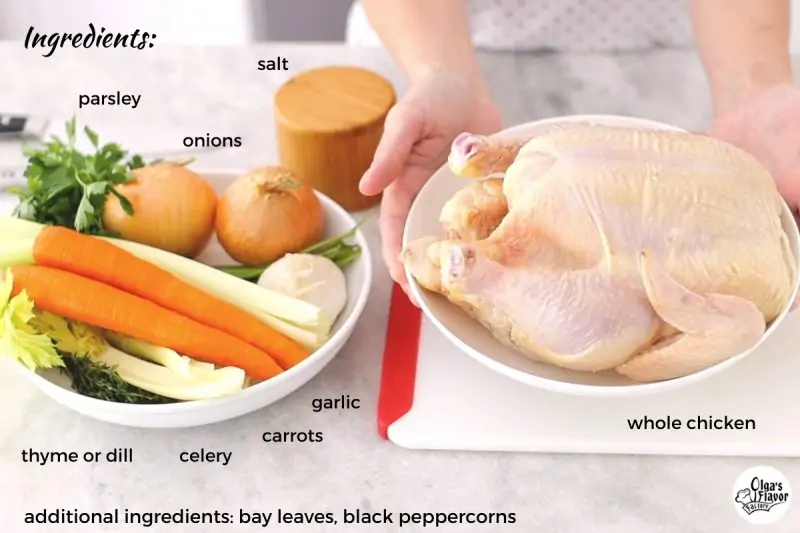 Chicken Broth vs. Chicken Stock
Both chicken broth and chicken stock are made by cooking chicken and other aromatic ingredients to make a flavorful liquid that is used in soup and many other recipes.
Chicken broth is cooked with chicken meat but not necessarily chicken bones. Chicken stock is made with chicken bones and sometimes meat. Technically, this recipe is chicken stock, because I always use bones in addition to meat, but since I call it chicken broth and use this as a foundational ingredient in many other recipes, I am choosing to call it Chicken Broth.
What Chicken is Best to Use For Chicken Broth?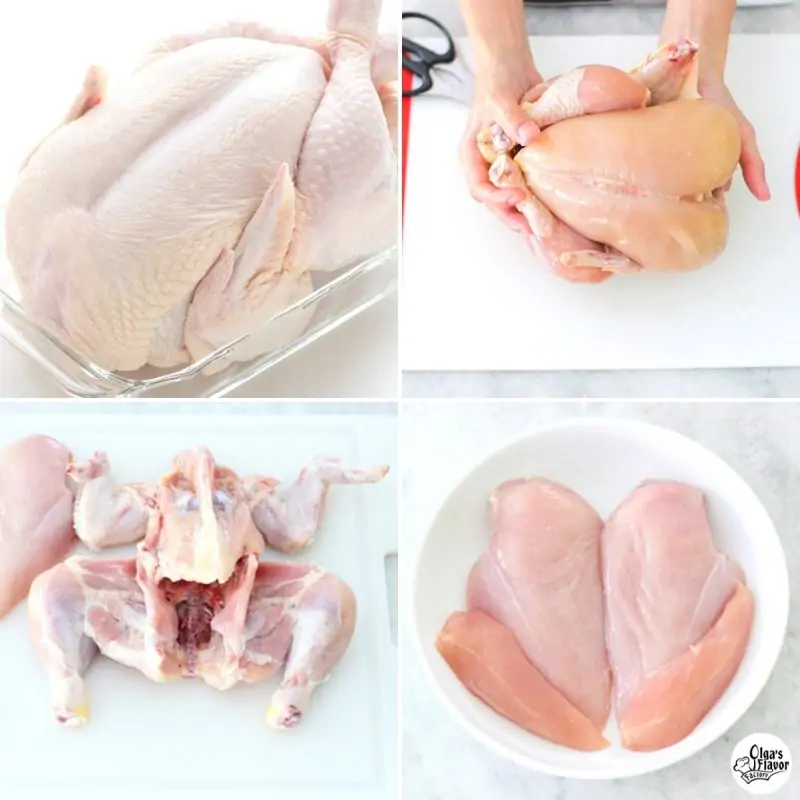 You can either use a whole chicken or use the equivalent of chicken parts, like using 3-5 pound of chicken wings, chicken drumsticks, and other chicken bones, such as the backbone. For the best flavor, texture and color, use both bones and some meat.
I also like to remove as much of the skin and large fat pockets of the chicken as you can. This is completely optional, but I don't like chicken broth to be too greasy, so I choose to do this extra step. You will still have plenty of richness and fat in the chicken broth, even after removing all the skin and fat.
Another thing I like to do is to cut off the chicken breast and the chicken tenderloins and save them to be used in other recipes. Chicken breast cooks so quickly that by the time the chicken broth is cooked, the breast and tenderloin will be completely dry and leathery. If you want to use the chicken breast meat, I would still cut it off and cook it in the broth for only 20-25 minutes after the broth comes to a boil, so that it's gently poached and still juicy. Keep the rest of the broth cooking longer.
How To Cook Homemade Chicken Broth From Scratch:
Place the prepared whole chicken or chicken pieces, the vegetables, black peppercorns, bay leaves and herbs into a large stockpot. I use a 16-quart pot, but if your stockpot is smaller, you can still use the same amount of ingredients, your broth will just be more concentrated. However, if you use a smaller stockpot, you can also halve the ingredient amounts.
Fill it to the top with water, leaving some room at the top, so that the broth doesn't boil over when it is simmering.
Cover the stockpot with a lid, bring to a boil, reduce the heat to low and simmer for about 1- 1 1/2 hours.
Skim off the foam from the top of the chicken broth as it is cooking.
Season with salt to taste. Don't salt it too much though; if you'll be using this broth for a sauce that needs to reduce, it will be too salty
Line a fine mesh sieve with a cheesecloth, coffee filter and strain to get the clearest broth possible. The paper towel will trap all the food particles and fat, leaving you with a beautiful, clear broth.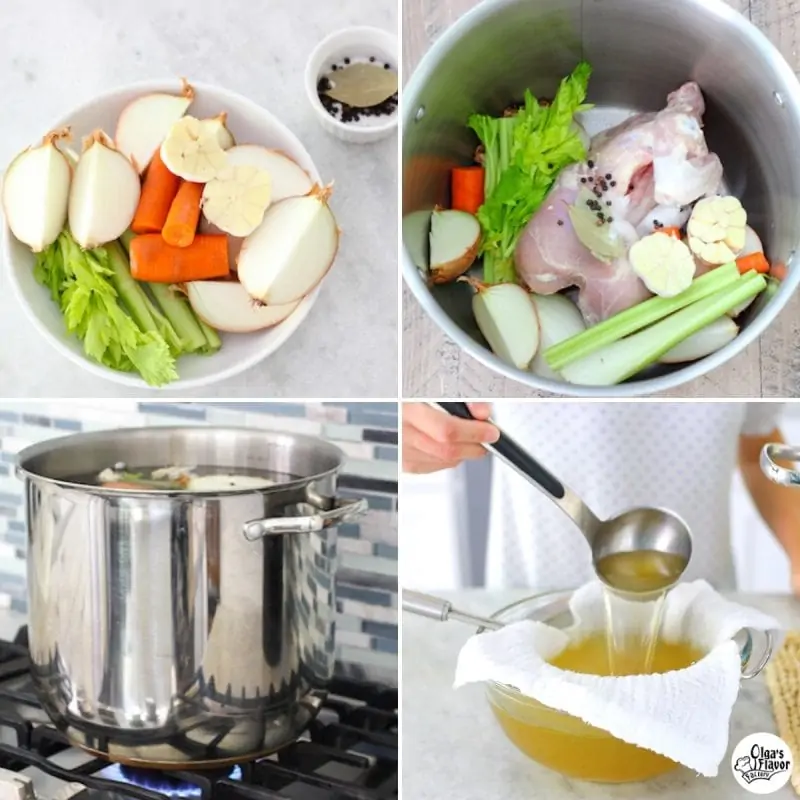 Helpful Tips:
Vegetables to use in chicken broth: I use very basic ingredients in my broth, but you can add other ingredients too, such as parsnips, celery root, leeks, mushrooms, other vegetables, and fresh herbs, like dill, parsley, thyme, rosemary. It totally depends on your taste preference.
Use good tasting, filtered water for broth. If your tap water tastes funny, so will your broth:).
Save veggie scraps and add to broth: I keep a ziptop bag in my freezer to which I add veggie scraps from vegetables while I am cooking or meal prepping, such as onion peels, celery tops, leek tops, carrot peels, etc. I add those to the broth as well. They add flavor to the broth and it's a great way to make the most of your produce.
Use the onions with the peels and even add additional onion peels to the broth. They will give the broth a lovely golden color.
Save chicken wing tips and other chicken parts, such as the backbone of the chicken or chicken breast bone, when you are cutting it up when preparing it for other recipes, and save them in your freezer to be used the next time you make broth. I store those pieces in my ziptop freezer as well and add those to chicken broth too. The bones still have a lot of nutrients and will give the broth a richer flavor because of the gelatin that's released when simmered for a long time.
Cook the broth at a low simmer to have clear broth. Bring it to a boil, but reduce the heat to low and cook it on low the whole time. This will make your broth clear. Cooking it on high heat will make the broth cloudy.
You can use both fresh or frozen chicken meat for broth. Sometimes when I make a smaller batch, I'll cook the broth using chicken drumsticks and I'll add the chicken completely frozen to the pot.
What to do with the cooked chicken from the broth: Use the chicken in any chicken soup and any recipes that call for cooked chicken. Add the chicken to pasta and rice dishes. Here are some of our favorite recipes:
How to Store Chicken Broth and How to Freeze It:
Store the chicken broth in glass mason jars or plastic containers in your refrigerator for up to 5 days.
Chicken broth freezes really well. Pour the chicken broth that you'll be freezing into plastic storage containers, leaving room at the top for the broth to expand when it freezes. Freeze for up to 3 months. It can probably be stored longer, but chicken broth never lasts longer than that at my house, so I can't vouch for the time period with certainty.
My favorite storage containers for the freezer are the Ziploc Twist and Loc containers. I've been using these for a few years now and they work very well. (This is NOT a sponsored post. I'm just sharing the products that I use myself and have had a good experience with. However, the amazon link is an affiliate link, which will give me a small commission if you buy it using this link.)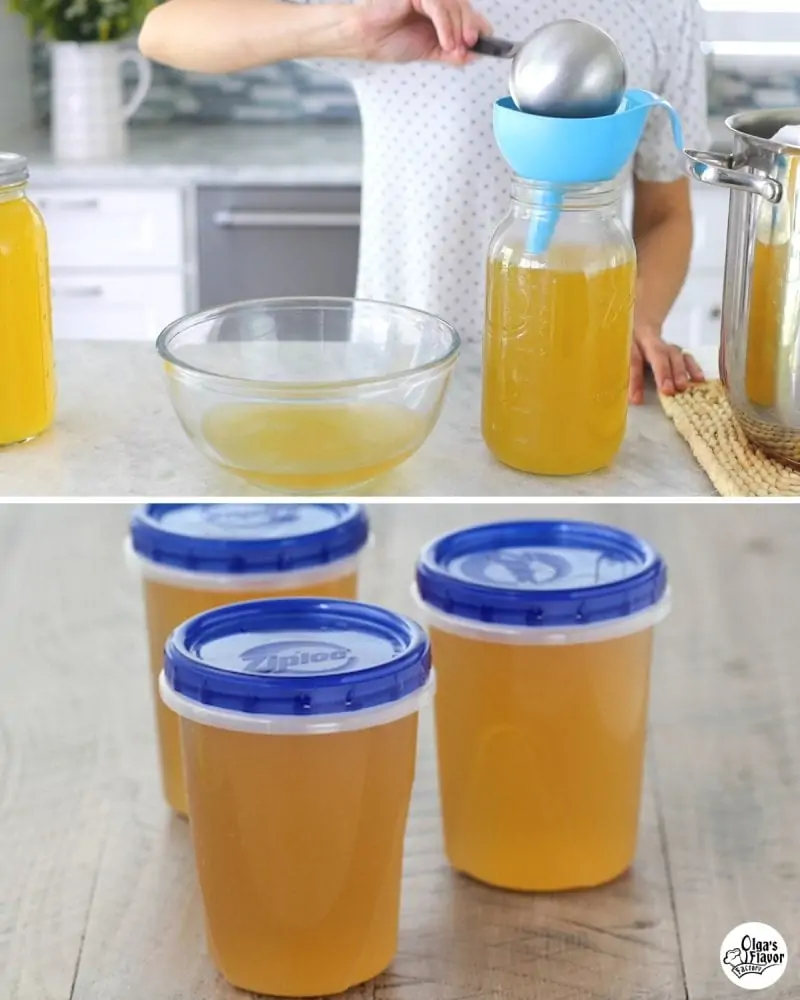 Recipes To Use Your Chicken Broth: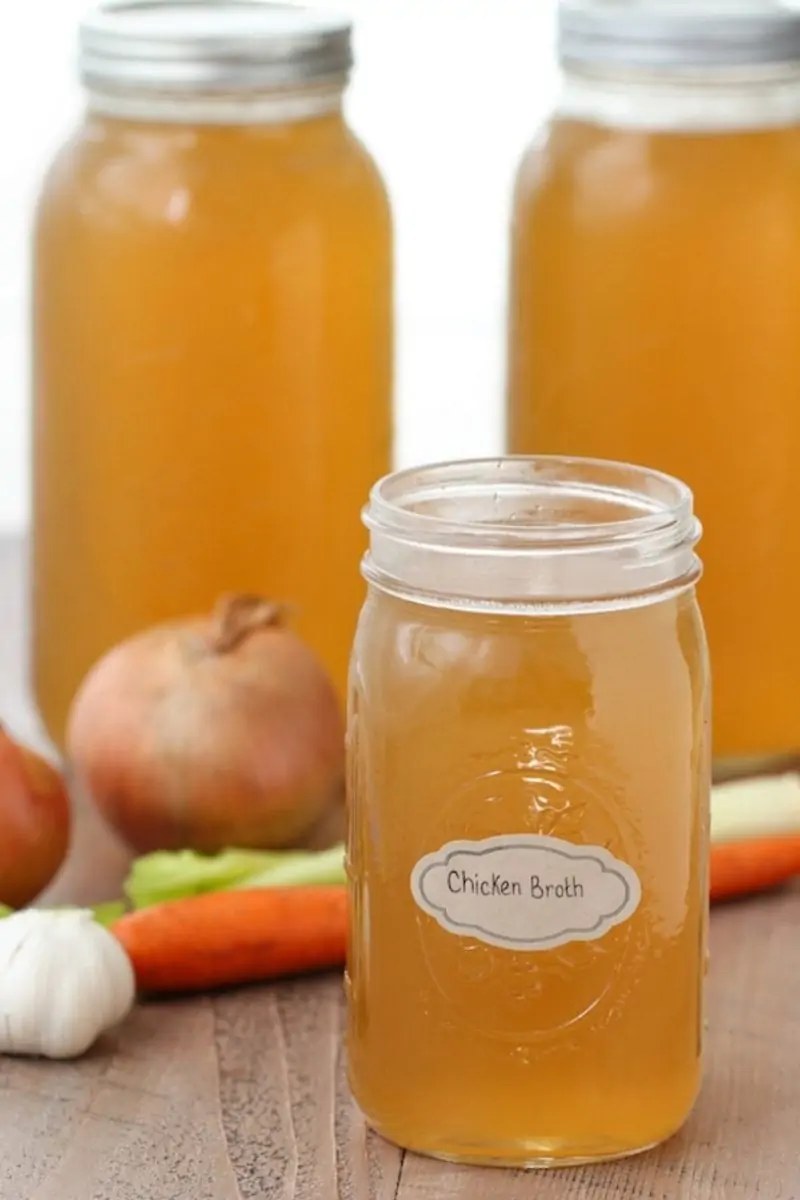 Print
Homemade Chicken Broth
Homemade chicken broth is so rich, flavorful and very simple to make. It's one of those things that is absolutely worth making from scratch because it makes a big difference in flavor. Not only is it wonderful to make your own chicken broth when you make Chicken Soup, but there's an endless possibility of ways that you can use the chicken broth in so many recipes where it will really bump up the flavor.
Author:
Prep Time:

15 mins

Cook Time:

1 hour 30 min

Total Time:

1 hour 45 minutes

Yield:

6

–

10

quarts

1

x
Category:

Soups
1

chicken, skinned and breast meat and tenderloins removed

1

–

2

large onions, quartered, with the skin

1

–

2

carrots, chopped coarsely

2

–

4

celery stalks, chopped coarsely

1

garlic head, cut in half

2

dry bay leaves
handful of fresh herbs, like parsley, thyme, dill, etc.

1 Tablespoon

black peppercorns
salt to taste
Instructions
Place all the ingredients into a large stockpot, at least 8 quarts and up to 16 quarts.
Fill it to the top with good filtered water.
Season with salt to taste.
Bring to a boil, reduce the heat to low and simmer for about 1 -1 1/2 hours. Every once in a while, skim off the foam from the top of the chicken broth using a slotted spoon. Discard the foam.
Line a fine mesh sieve with cheesecloth, paper towels, or a coffee filter and strain the broth.
Store the broth in the refrigerator for about 5 days or freeze for up to 3 months.
Keywords: homemade chicken broth, how to make homemade chicken broth