When we bought our house this past summer, one of the big projects that we tackled was a complete kitchen renovation. I am so excited to finally share the before and after pictures! Of course, it's my favorite room in the house. After cooking in really small kitchens for most of my life, this kitchen is a dream come true.
Before
When we bought the house, the kitchen was in pretty good shape, but since we knew that we wanted to update it, and eventually replace the appliances and the cabinets, we put our head together and started crunching numbers. We were so pleased to figure out that we had saved enough to afford a remodel, so we decided to do so right away. This way, we were able to do most of the dirty work before we even moved in.  With a budget in mind, we began searching for good deals, buying some things second hand, doing almost all the work ourselves with lots of help from family and selling the existing cabinets and appliances on Cragislist, we were able to do the entire kitchen renovation without going into debt.
Now that I think about it, almost everything in the kitchen was bought used, on sale or for a really good price. I can really see God's blessing in every step of the renovation.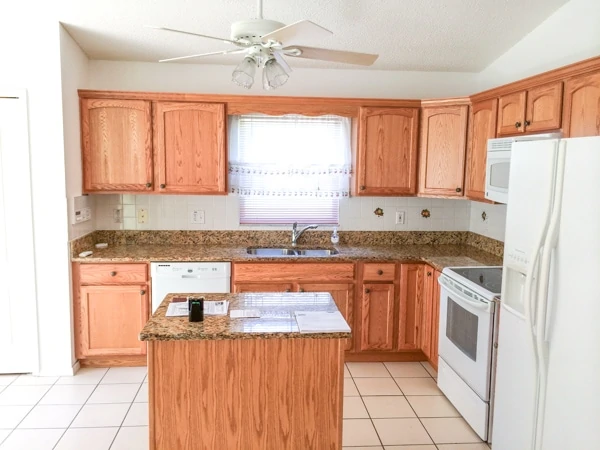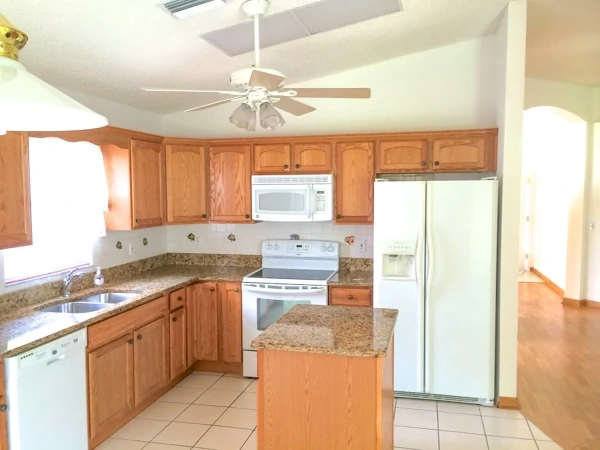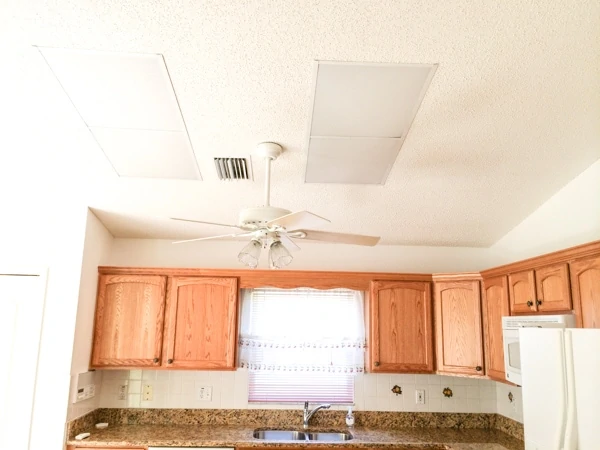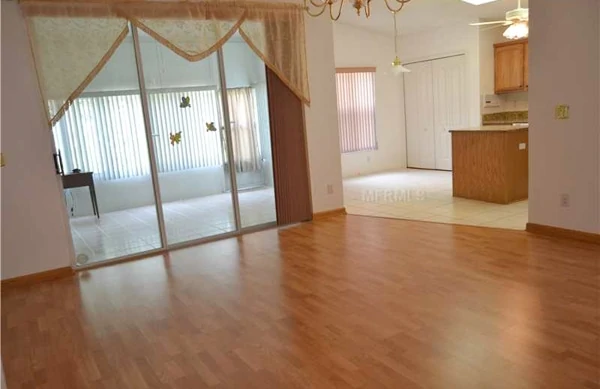 What We Did:
We gutted the entire kitchen! All 17 x 9 feet.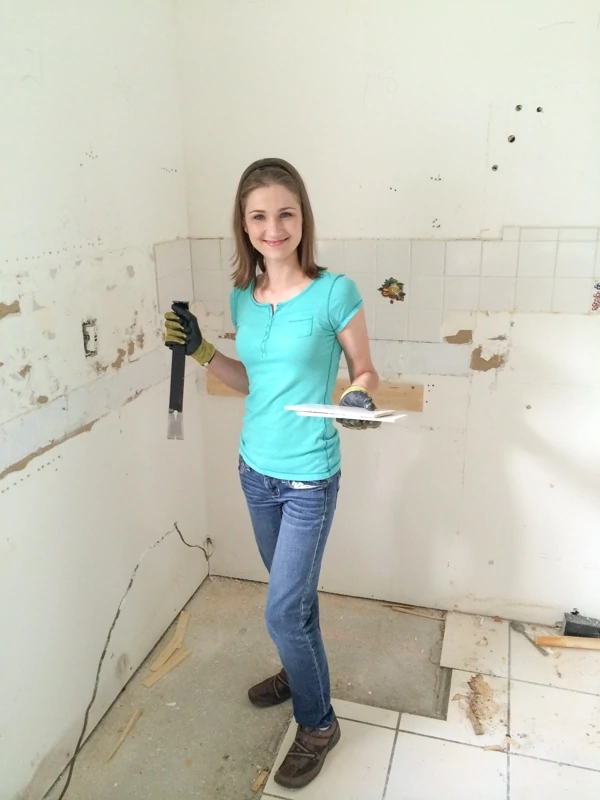 As I already mentioned, we sold all the appliances, cabinets and the countertops on Craigslist, which was a welcome bonus addition to our budget. It also was a great way to save on the amount of trash that we accumulated and had to get rid of.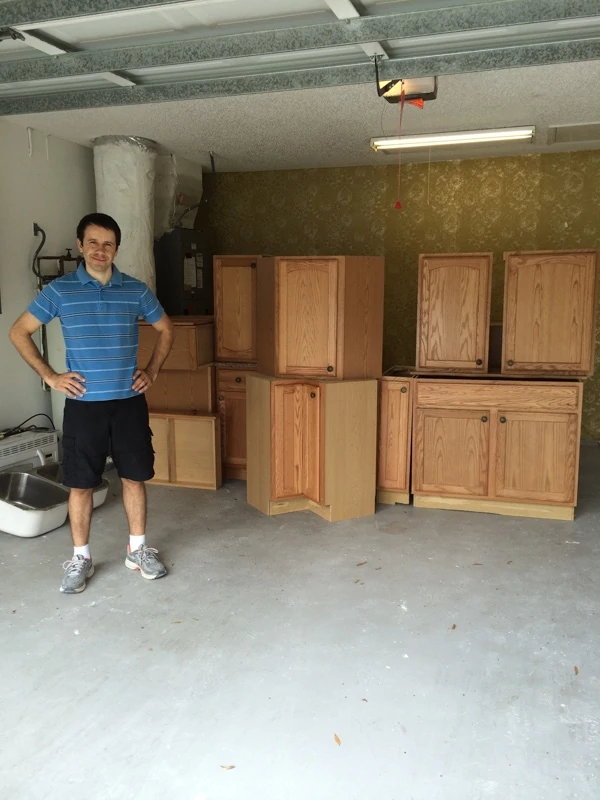 We also reconfigured the layout of the kitchen. We moved the refrigerator, putting a double oven in its place, and got rid of the existing pantry and installed the refrigerator and a large built in pantry around it.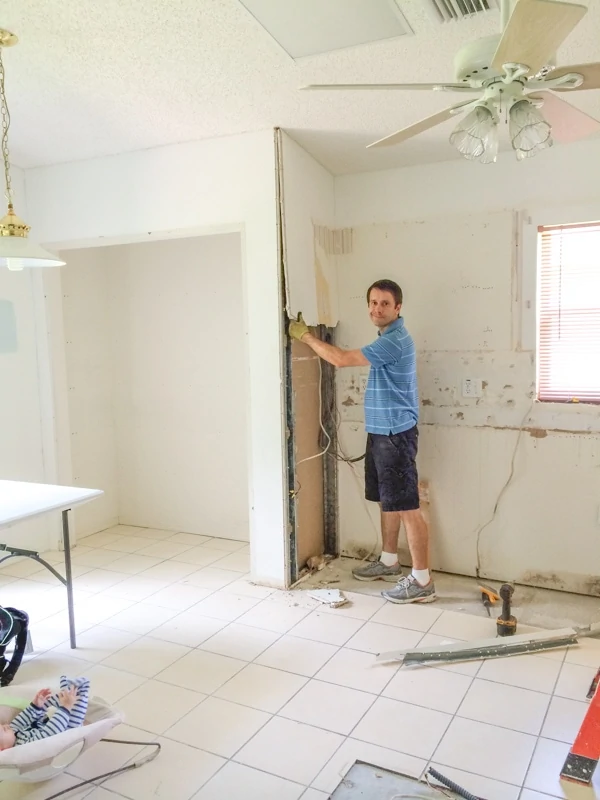 While we were working on the kitchen, I had to become creative about cooking meals without any appliances, very little storage and work space and even had to use the sink in the garage to wash dishes. It certainly didn't help that it was July/August in Florida and I was using the unairconditioned sunroom as my temporary kitchen. You can read more about my experience with cooking without a kitchen here. 
After
Here it is – the completed kitchen! Looking at this view takes my breath away.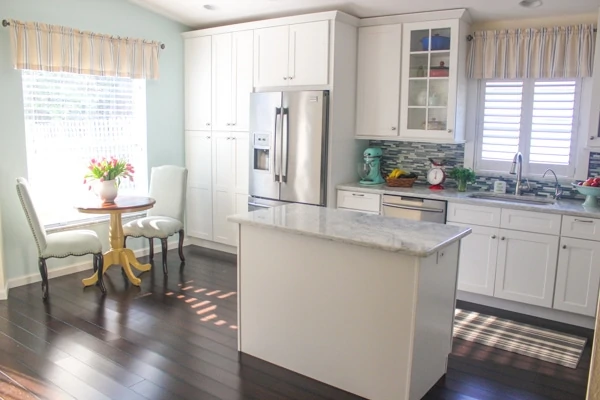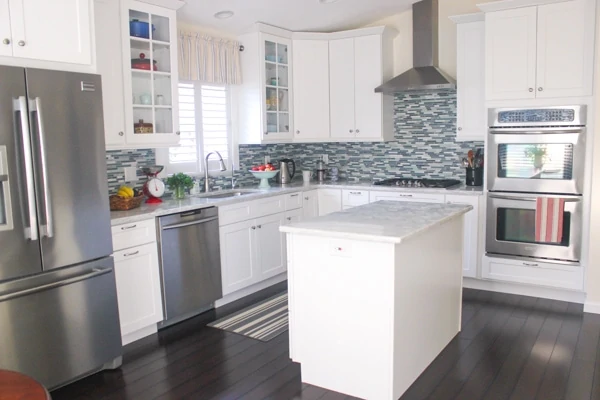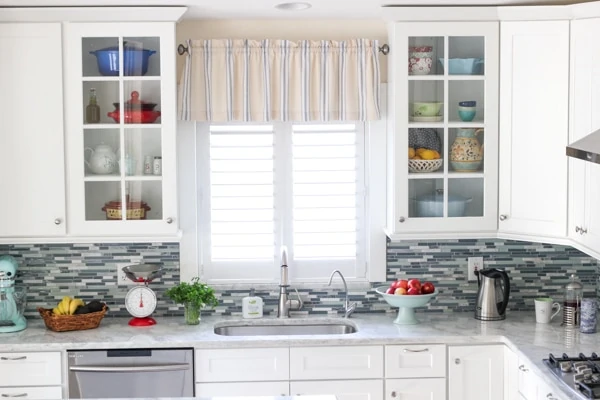 The new layout is very functional and looks so much better too.  As you can see, the cupboards are much taller than the previous and make the kitchen look much bigger. I have so much space, I don't even use all of it.
 Overview of Our Kitchen Makeover:
Breakfast nook: Behr Ice Folly
The rest of the kitchen: Behr Irish Mist Our dining room is the same color, so they seamlessly flow together.
We replaced the dated kitchen tile floor with Peking Antique Click Strand Bamboo flooring from Lumber Liquidators. We used this same type of flooring throughout the entire house. It's very durable and we love the color. We also got a lot of advice from floor experts that hardwood floors aren't the best choice for Florida, since the air is so humid and moist that many times the floor will buckle over time. This was a huge project, but well worth the effort. The rest of the house had laminate flooring, which we also carefully removed and sold on Craigslist. Extra cash in our pockets and no trash to get rid of!
Kitchen Cupboards and Countertops:
We worked with a local cabinet and stone company, Five Star Stone. The owners are friends that we know from church. They gave us a really great deal on the cabinets and countertops, which is the main reason we could even afford the kitchen renovation. Since the cabinets aren't custom made, but are bought already assembled, we were able to save a huge chunk of money.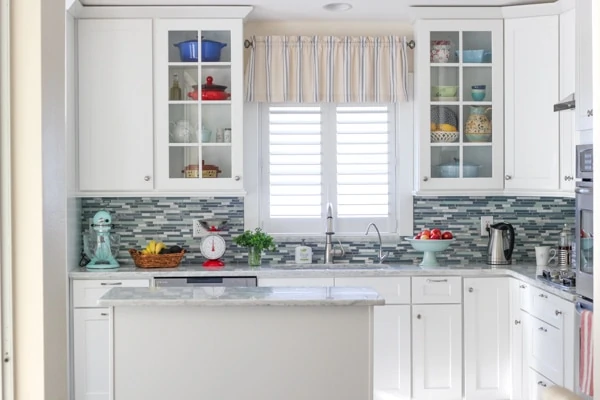 The cabinets: White Shaker Style cabinets.
I've always liked white kitchens, and I really like the simple, timeless look of these cabinets. A white kitchen is so bright and cheerful. I get asked a lot if they are hard to keep clean. I've had white kitchen cabinets for many years now, and they are really easy to maintain. I think it makes it much easier to keep clean, since it's noticable if something gets splattered or spilled and you can wipe it up right away.
The countertops: White Everest Granite.
We really liked the look of Carrarra marble, but were a little apprehensive about the upkeep. Even though marble is very durable and absolutely stunning, it's also very porous and stains easily. We knew that granite was a better choice, but we had a really hard time finding the color that we wanted. We were thrilled when we found this granite, called White Everest. It looks so much like the Carrara marble that we wanted, and we couldn't be happier with our choice. The light color means that I don't have to be polishing it all day too, since it's very forgiving, which is a big plus for me. Dark granite shows every little speck of dust and water stain.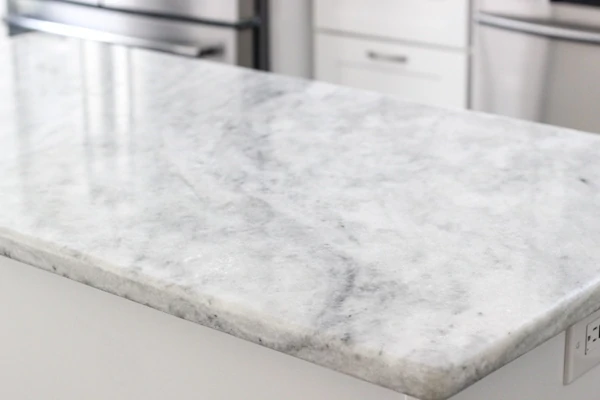 We also bought the sink through Five Star Stone. I would highly recommend getting a single  bowl sink. Having such a large sink is very useful. I can wash huge pots and cutting boards in it with no hassle and finagling, and can stack tons of dishes in there when I'm cooking up a storm while keeping my countertops free.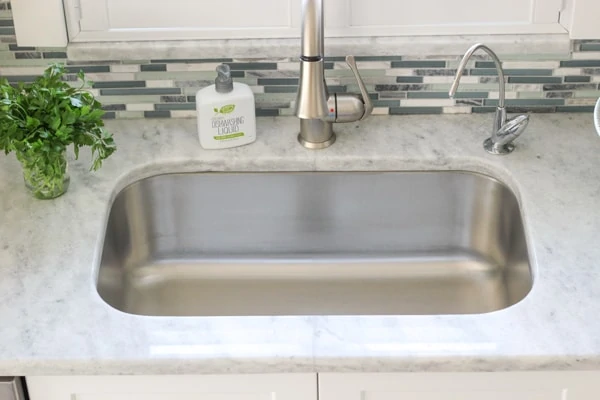 Faucet: Glacier Bay Pull Down Kitchen Faucet in Nickel 
We bought the faucet on e-bay, so it was half the price of what it would cost at the store and it was brand new too. The retractable spray hose is a really convenient feature.
My favorite color is blue. Can you tell:)? My Dad installed all of the backsplash and he did a wonderful job. He is very detail oriented, so every little corner is done perfectly.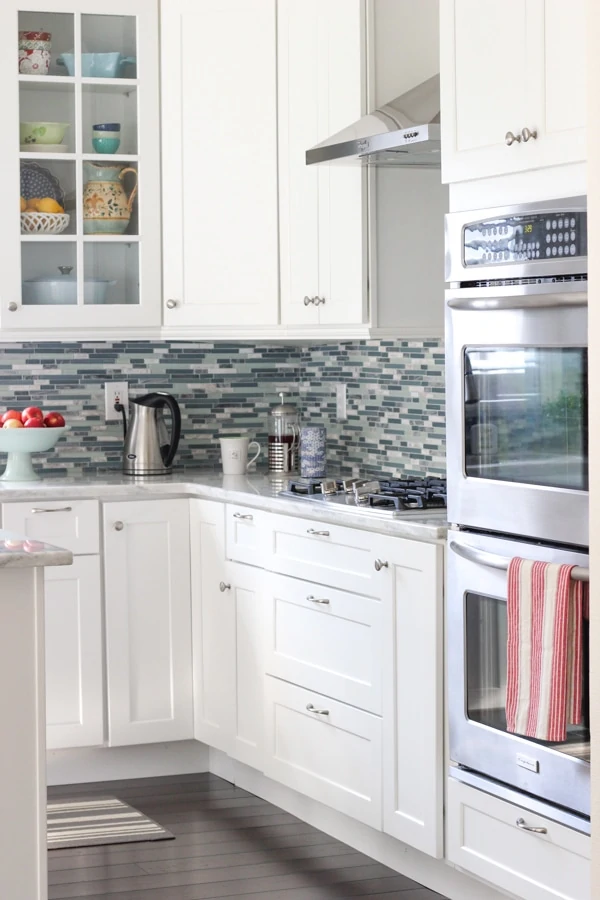 We bought our refrigerator, double oven, hood and dishwasher on Craigslist. I couldn't find a gas stovetop on Craigslist, so we bought in online. You can read more about why I chose a gas cooktop here. I'll write a more detailed post about the rest of the appliances in another post.
Refrigerator: Frigidaire French Door Refrigerator 
Double Oven: Frigidaire Electric Oven Model #PLEB30T9DCC 
This particular model isn't even sold anymore, but it works great. Here's a similar model. Having a double oven has many advantages, especially when cooking for parties or making several things at the same time. 
Hood: Whirlpool 30-inch Vented 300-CFM Wall-Mount Canopy Hood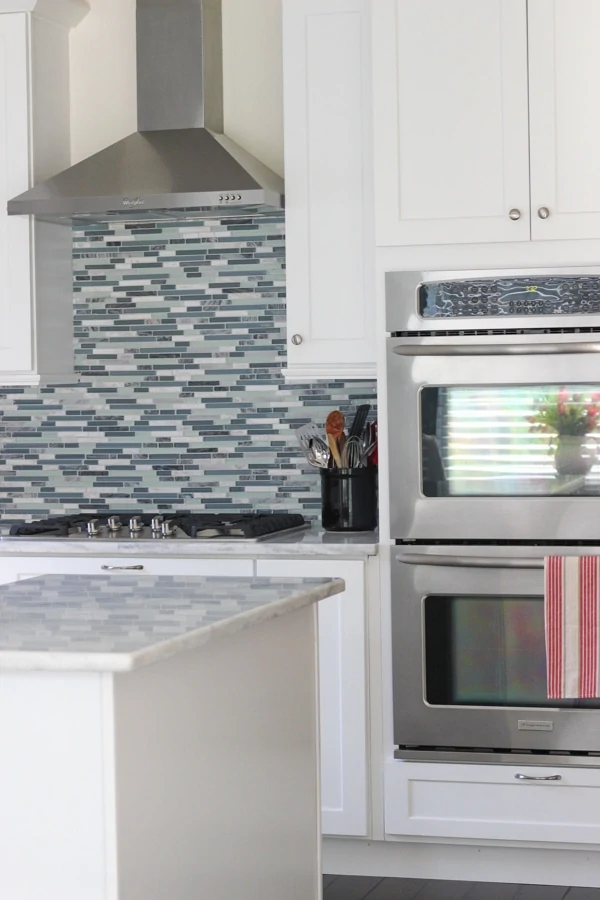 Dishwasher: Samsung Top Control Dishwasher Model#DMT800RHS (this model is also no longer sold.) This is a similar dishwasher.
Gas Cooktop: 30 in. Recessed Gas Cooktop in Stainless Steel with 5 Burners. More details about the cooktop  in this post.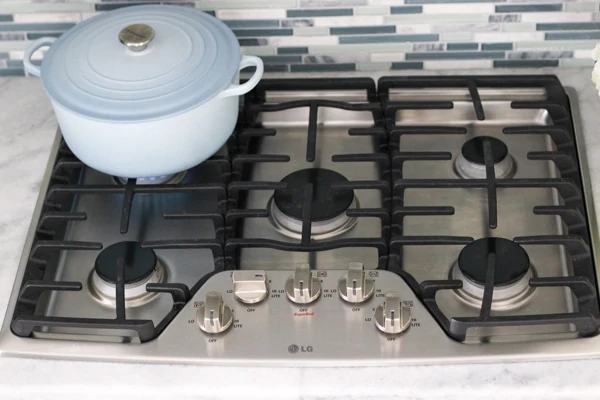 Another big, messy job that Sergi tackled was stripping the popcorn ceilings in the entire house and then refinishing and repainting the ceilings in every room. That is probably the #1 thing I'm thankful that we completed while we were still living in the apartment. It was very dusty and dirty. Sergi wore a mask and I stayed away with the boys while that project was underway.
Sergi also took out the florescent lights in the kitchen ceiling as well as the ugly ceiling fan above the island and the other equally hideous hanging lamp in the kitchen nook area. With the help of my Dad, they installed recessed LED lighting in the kitchen. It's a is very bright room now for sure!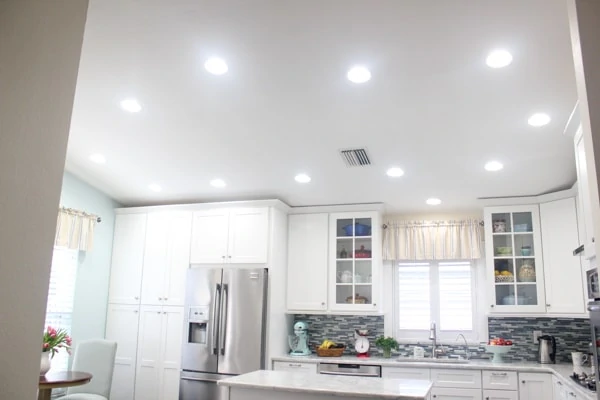 The kitchen island is a nice size, 52 inches long x 28 inches wide. It is twice the size of the previous island that was in the house when we bought it. I use this space more than any other in the kitchen. Sergi also installed an electrical outlet on each side, so I can easily use kitchen appliances on the island, charge my phone, etc.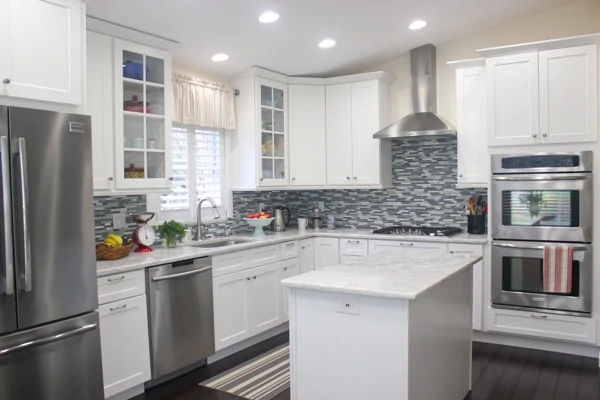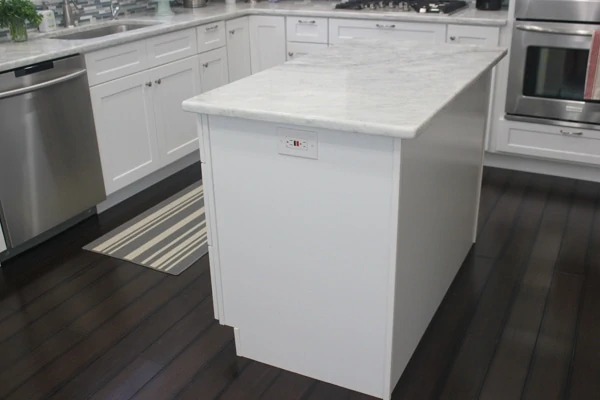 The kitchen nook is one of my favorite corners in the house. It's so cozy.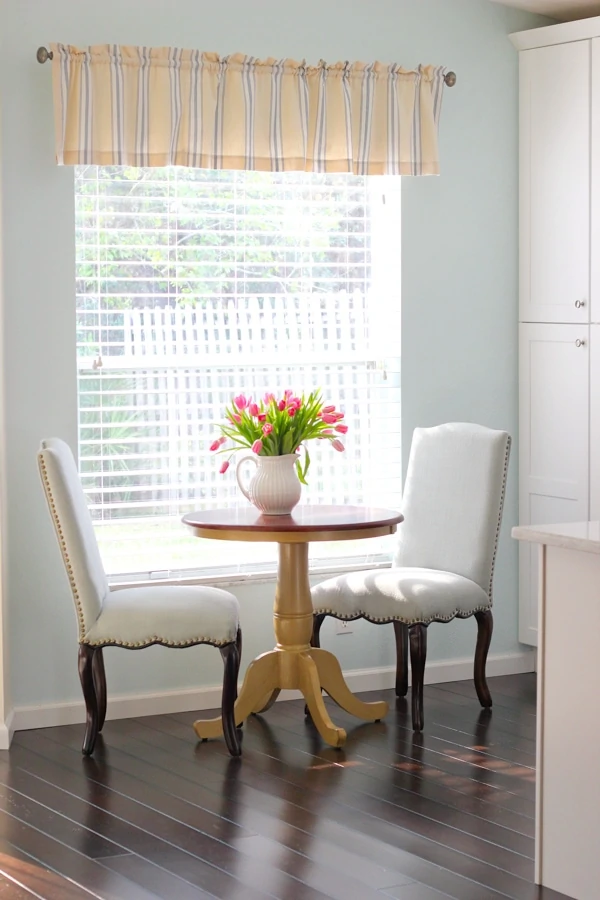 This is where Sergi and I eat most of our meals when it's just the two of us. Nathaniel's high chair will be the perfect addition right in between the two of us:). I can already imagine him keeping us company. I also like to sit here when I'm doing a lot of tedious kitchen prep, like chopping, shaping cookies, etc.
Kitchen Nook table: Keeran Bistro Table from Pier 1 Imports We bought this table when it was on sale, and it's no longer available in the color that we bought it.
Chairs: Claudine Dining Chairs from Pier 1 Imports We bought these on sale as well, so I'm not sure how long they will be available either.
Curtains: French Ticking Tailored Valance in Navy from Country Curtains
Blinds: Norman 2 1/2 Faux Wood Blinds from Blinds.com
Shutter For the Window Above the Sink: Economy Fauxwood Shutter from Blinds.com
The windows in our whole house had pink and green blinds. I'm not kidding. They were in really bad shape too, so we had to replace all of them. We installed the 2 1/2 faux wood blinds in every window in our house. We were very happy with the customer service that we got from blinds.com and the quality of the blinds is superb. If you're in the market for blinds, I would highly recommend them. The price for the blinds is very affordable too. Of course, we bought them on sale too:). 
Whew! That's quite a bit of information! I hope it'll be helpful to those of you who are redoing your kitchens too. I will also take pictures of all the kitchen cupboards, drawers, pantry and give you a detailed look of that as well:).
The kitchen is the heart of the home and we are so glad that this intimidating project is complete. Both Sergi and I love how spacious and functional it is. It is so satisfying to use it. Plus, we really like how it looks. We chose the exact style that we prefer – bright, minimalistic and, in our opinion, very elegant.