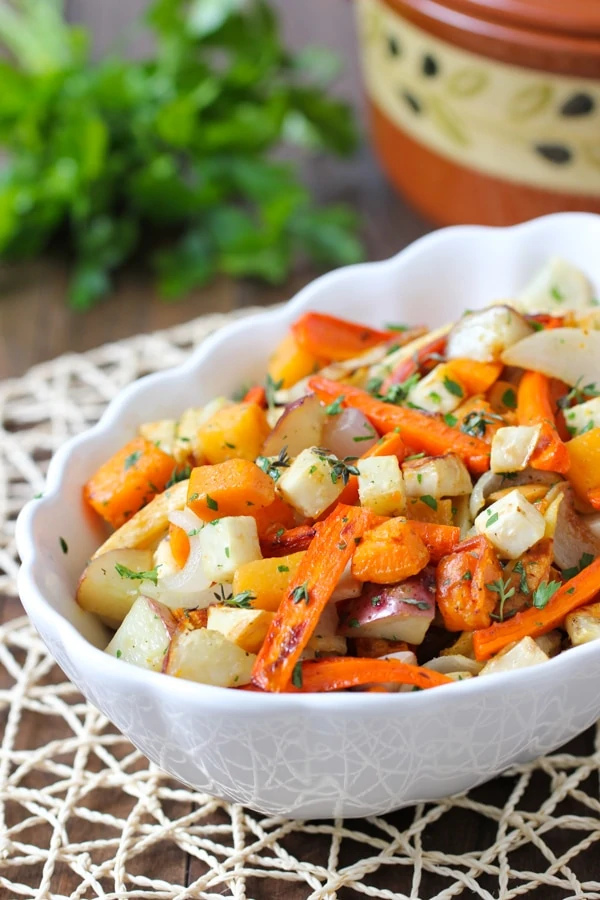 When I was a child, one of the first fairy tales that I remember being told was about the Giant Turnip, (Skazka Pro Repu). I can still recite the entire thing by memory. If you have any Slavic blood in you and you've never tried a turnip, shame on you!:) I tried it the first time just out of curiosity to see what the fuss was all about, since those people and animals worked so hard to pull out this bizarre vegetable. (If you're interested in the story, click here to watch it on Youtube Russian Version)
Anyway, turnips are just one of many really delicious root vegetables, some very common, like potatoes and carrots and others very strange looking and hardly ever bought in grocery stores, like celery root, rutabaga and parsnips. I don't know about you, but my meal never feels complete unless I have some vegetables on my plate. During the summer, we have tons of different choices, but this time of year, those choices start to dwindle quite a bit. This is why root vegetables are perfect this time of year. Next time you go to the grocery store, put those weird looking roots into your cart. They are delicious!
There are so many more root vegetables than potatoes and carrots, and they all work together so well. Plus, all those different flavors create a really interesting and delicious combination. Some are a little sweet, others just a bit spicy. You can choose to use as many of these root vegetables as you like or keep it simple by just using potatoes, carrots and onions. It's completely up to you and will work just as great no matter which route you choose.
Roasting vegetables of any kind is one of my favorites methods of cooking them, since they taste so much better when they get golden brown and caramelized. Adding lots of garlic and herbs makes anything meal taste better and it's not an exception here either. Serve this with a roast beef, a roasted pork loin or whole chicken, and your meal is complete. 
Ingredients:
2 medium red potatoes
1 medium sweet potato
1/2 large celery root
1/2 large rutabaga
1 turnip
2 medium carrots
2 medium parsnips
1/2 Tablespoon dry herbs
1/4 cup oil
salt, ground black pepper
2 garlic cloves, minced
2 medium onions, shallots (you can just use one or the other)
thyme, rosemary, parsley
Instructions:
Preheat the oven to 400 degrees Fahrenheit, putting a large (half sheet sized) rimmed baking sheet into the oven so that it gets really hot.
Cut the vegetables. Cut the carrots, parsnips and turnips into 2 inch sticks.
They will cook faster, which is why you should cut them slightly larger than the rest of the vegetables, otherwise they will become mushy and fall apart by the time the rest of the vegetables cook through. See? I don't make you do extra work for nothing. There is a method to my madness.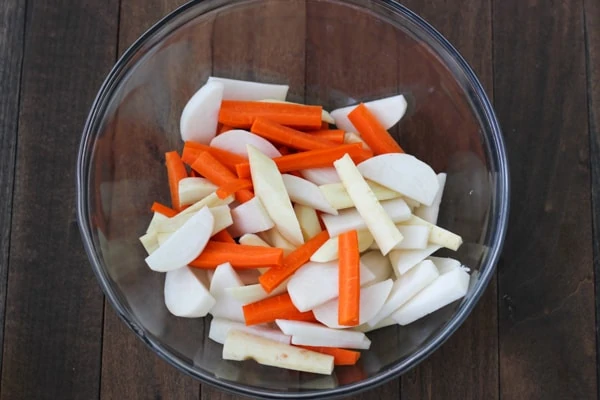 Cut the potatoes, celery root and rutabaga into 1 1/2 inch chunks.
You should have a total of 10-12 cups of cut up vegetables. You can use any combination of vegetables that you like, or omit any of them. This may look like a TON of veggies, but don't worry, they will shrink a lot as they roast.
Mix all the vegetables together in a large bowl with the oil, minced garlic, dry herbs, some of the minced fresh herbs and season with salt and ground black pepper.
Cut the onions and shallots into 1/2 inch pieces and season them with salt, ground black pepper and toss them with about 1 teaspoon of oil in a medium bowl and set aside.
Place the vegetables (except the onions and shallots) on the searingly hot baking sheet into an even layer.
Cover the baking sheet with aluminum foil.
Roast the vegetables, covered, for about  40 minutes, until all the vegetables have softened and can be pierced halfway through with fork, but still be just a bit firm in the very center.
Add onions and shallots and nestle them into the rest of the vegetables.
Uncover and roast for another 15-20 minutes, until the vegetables are completely cooked through and golden brown. Add the rest of the fresh herbs. Serve warm. (Reheat in the microwave, or in a covered skillet on medium heat.)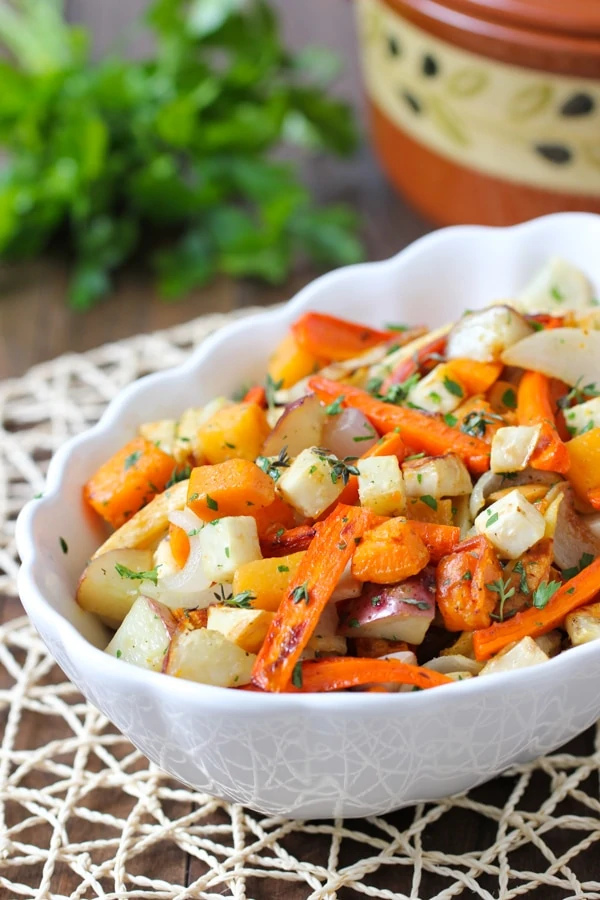 Roasted Root Vegetables
Author:
Olga's Flavor Factory
Ingredients
2 medium red potatoes
1 medium sweet potato
½ large celery root
½ large rutabaga
1 turnip
2 medium carrots
2 medium parsnips
½ Tablespoon dry herbs
¼ cup oil
salt, ground black pepper
2 garlic cloves, minced
2 medium onions, shallots (you can just use one or the other)
thyme, rosemary, parsley
Instructions
Preheat the oven to 400 degrees Fahrenheit, putting a large (half sheet sized) rimmed baking sheet into the oven so that it gets really hot.
Cut the vegetables. Cut the carrots, parsnips and turnips into 2 inch sticks. Cut the potatoes, celery root and rutabaga into 1½ inch chunks. You should have a total of 10-12 cups of cut up vegetables. You can use any combination of vegetables that you like, or omit any of them. This may look like a TON of veggies, but don't worry, they will shrink a lot as they roast.
Mix all the vegetables together in a large bowl with the oil, minced garlic, dry herbs, some of the minced fresh herbs and season with salt and ground black pepper.
Cut the onions and shallots into ½ inch pieces and season them with salt, ground black pepper and toss them with about 1 teaspoon of oil in a medium bowl and set aside.
Place the vegetables (except the onions and shallots) on the searingly hot baking sheet into an even layer. Cover the baking sheet with aluminum foil.
Roast the vegetables, covered, for about 40 minutes, until all the vegetables have softened and can be pierced halfway through with fork, but still be just a bit firm in the very center. Add onions and shallots and nestle them into the rest of the vegetables. Uncover and roast for another 15-20 minutes, until the vegetables are completely cooked through and golden brown.
Add the rest of the fresh herbs. Serve warm. (Reheat in the microwave, or in a covered skillet on medium heat.)