Chicken and Wild Rice Soup Instant Pot
This creamy chicken and wild rice soup is so comforting and easy to prepare. Made with aromatic vegetables, chicken, a wild rice blend and fresh herbs, cooking it in the Instant Pot makes it come together quickly and cooks all in one pot.
Everyone knows that chicken soup is good for the soul and this one made with wild rice is such a great variation. I first tried the Cream of Chicken & Wild Rice Soup at Panera Bread and it was such a big hit with my boys that I knew I would have to recreate it at home.
Chicken and rice is such a classic combination and adding wild rice such a wonderful textural element. Wild rice takes much longer to cook than white rice, anywhere from 40-50 minutes, but cooking it in the Instant Pot saves you a lot of time. The rice itself cooks in half the time, about 20 minutes.
The base of the soup is made with aromatic vegetables that are a must in any chicken soup – onion, celery, carrots and garlic. I would highly recommend using a homemade chicken broth in this recipe. It makes a huge difference since it's such a major component of the soup. It is really comforting and I love that it's made in one pot.
Ingredients For Chicken and Wild Rice Soup
oil/butter – for sautéing the vegetables. Use any oil that you like, olive oil, avocado, grape-seed, sunflower, etc. Butter works really well too.
onion – yellow onion is best for this soup.
carrots – you can either slice or chop the carrots
celery – celery adds such a wonderful flavor to chicken soup
garlic – use as much or as little as you like
chicken broth – homemade is best, but you can use store bought as well. I usually make a large batch and keep my freezer stocked with chicken broth for lots of different meals.
wild rice – you can use all wild rice or a mix of wild rice with other rice varieties.
chicken – you can cook the chicken right in the soup, like I did, or add cooked chicken at the end instead. You can use leftover chicken or buy a rotisserie chicken from the store.
fresh herbs – parsley is always great in chicken soup, but dill, green onions and thyme are all great options too.
heavy cream – this is completely optional, but will give your soup a delightful creaminess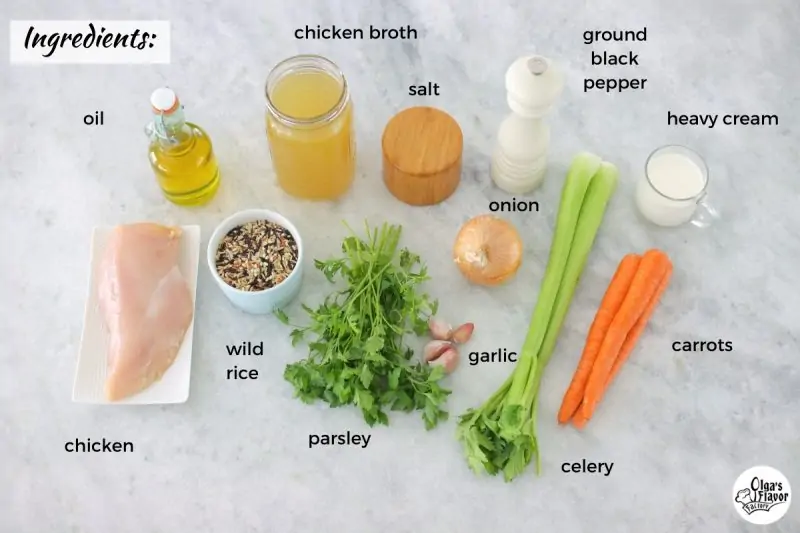 What Is Wild Rice? What Type of Rice To Use
Wild rice can be hard to find in most grocery stores, but you can usually find it in specialty stores in health food stores and online. It's much easier to find a blend of wild rice with other varieties of rice. The one I used has wild rice, brown rice, red rice and black rice.
The funny thing is that wild rice is actually not rice at all. It is an aquatic grass with an edible grain. It is usually longer, black in color and has a nuttier, chewier texture. It also takes much longer to cook than regular white rice. It is also full of nutrients, giving you lots of protein, fiber, manganese, which has helpful antioxidants. You can feel great eating it and giving it to your family.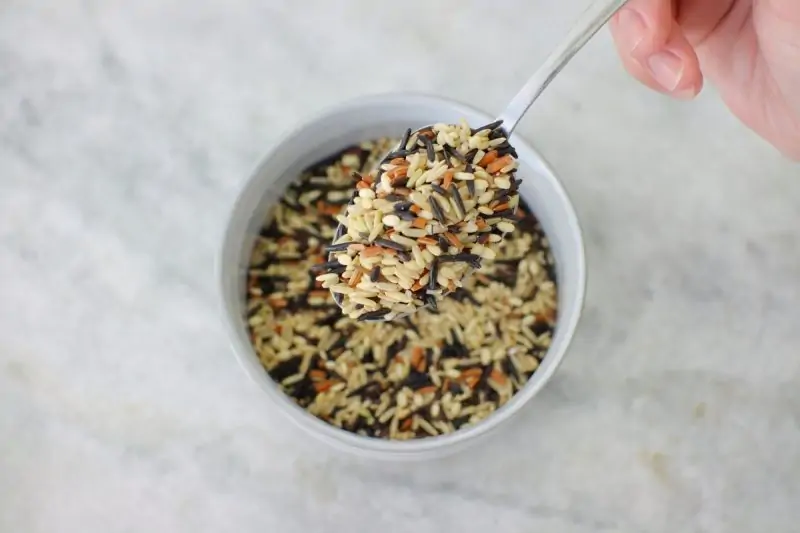 How To Make Creamy Chicken and Wild Rice Soup in the Instant Pot
Saute vegetables. Use the "saute" function to cook the vegetables in oil/butter, seasoning with salt and pepper to taste.
Add broth and rice, cooking on high pressure for 15 minutes. Carefully release the pressure using the quick release method.
Add the chicken breast, cook on high pressure for 5 minutes. Let it rest for 10 minutes, then release the pressure.
Shred or cut the chicken into small pieces and return to the soup.
Pour in the heavy cream and garnish with fresh herbs. Serve.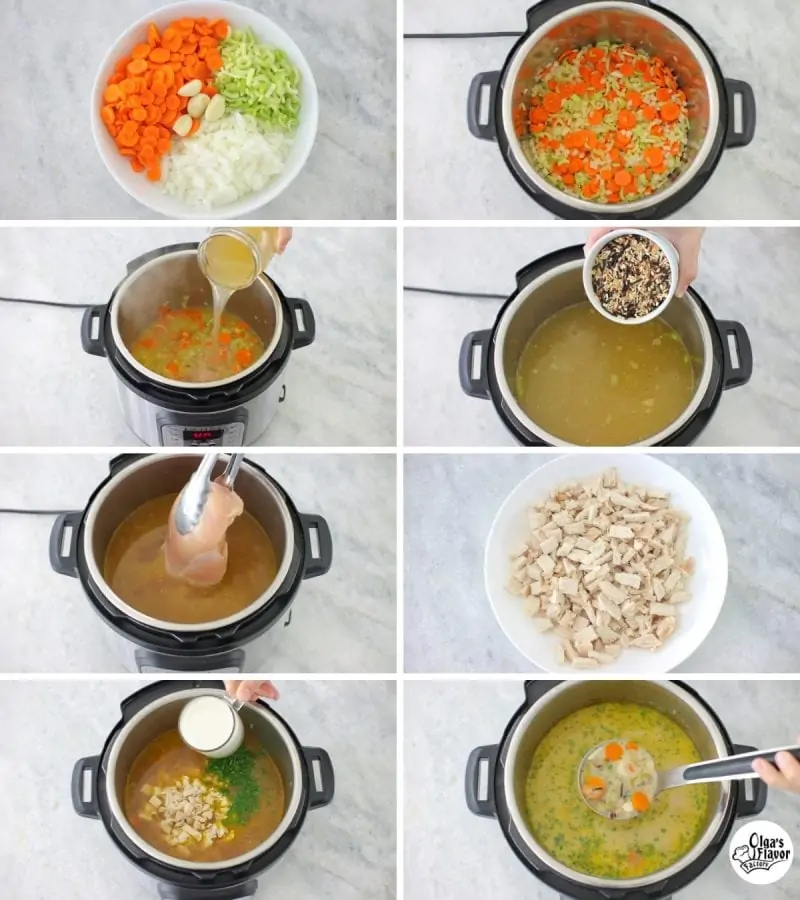 Helpful Tips
Homemade chicken broth makes a big difference.
When you're making chicken soup, it will taste remarkably different based on the type of broth that you use.
What can be used instead of wild rice?
Sometimes it is hard to find wild rice, as I already mentioned. Most grocery stores do sell a wild rice blend, which I actually really like and prefer for this soup. I like the combination of wild rice and brown rice together. If you can't find it, you can use brown rice or even white rice instead.
Brown Rice: reduce the cooking time to 10 minutes, release the pressure and cook for 5 minutes with the chicken.
Long Grain White Rice: If using white rice, add it in with the chicken. It only takes 3-5 minutes to cook the rice in the Instant Pot. It is possible that the rice will be overcooked.
How to make this chicken and wild rice soup creamy:
Most recipes for this soup use a roux (a mix of butter and flour) to thicken the soup and make it creamy. I chose not to do that because I think it's completely unnecessary. Rice naturally releases starch which will thicken the soup a bit on its own. The heavy cream will also add richness and creaminess to the soup. The longer the soup rests, the thicker it will be.
You can also take a small portion of the soup and use a blender, food processor or even a potato masher to make it into a puree and return it to the soup to make it thicker.
However, if you want to make a roux, in a saucepan or skillet, melt 2 tablespoons of butter, add in 1 1/2 Tablespoons of flour, whisk to combine over medium low heat and gradually pour in some broth from the soup to create a sauce. Add it to the soup, mixing to combine.
Chicken For Soup
If you are making the chicken broth from scratch, save the chicken meat and use it in the soup instead of adding the chicken breast at the end. You can also use leftover chicken or a rotisserie chicken instead of using the chicken breast.
Instant Pot Chicken Broth Recipe
In that case, cook the rice for 20 minutes in the Instant Pot, release the pressure and add the chicken the end.
Serving, Storing, Reheating the Soup
Serve the soup garnished with fresh herbs. It is so good with a loaf of bread. Try this No Knead Bread which is amazing with this soup, or this super easy Simple Recipe For Homemade Bread.
Store the soup in the refrigerator, (I usually transfer the soup to another pot), for up to 5 days.
To reheat, place the amount that you want to eat in a saucepan or pot and reheat just until warm. The longer the soup stands, the more the rice will absorb the broth, so you may want to add more broth or water to thin it out.
Can you freeze chicken and rice soup?
Yes! It freezes really well. Store the soup in an airtight container for up to 3 months. Keep in mind that the rice will become softer and the soup will become thicker from the rice absorbing more of the broth. Add a bit more broth to thin it out when reheating.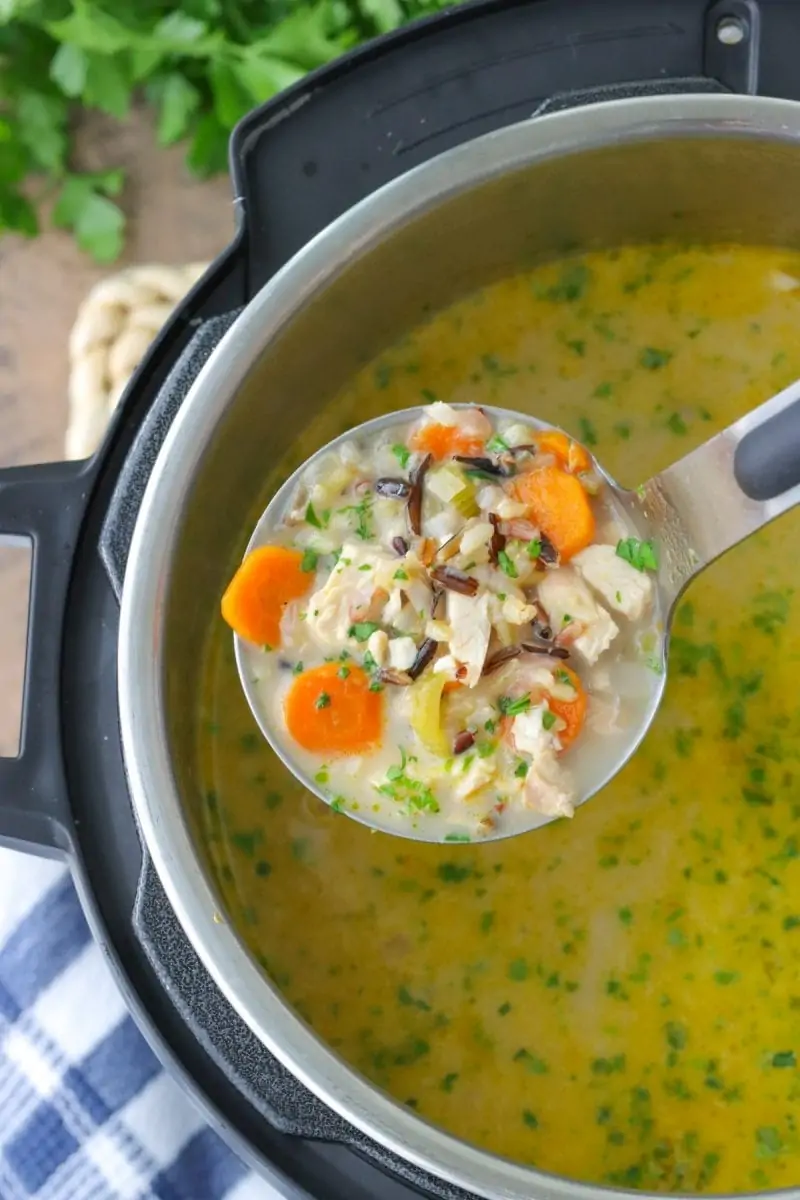 Print
Chicken and Wild Rice Soup Instant Pot
This chicken and wild rice soup is so creamy, comforting and easy to prepare. Making it in the Instant Pot makes the process much faster.
Author:
Prep Time:

15 min

Cook Time:

30 min

Total Time:

45 minutes

Yield:

8

1

x
1 – 1 1/2 Tablespoons butter or oil
1 large onion, chopped
3 medium carrots, peeled and sliced/chopped
3 celery stalks, sliced
4–6 garlic cloves, minced
8 cups chicken broth
1 cup wild rice or wild rice blend
1–2 chicken breasts (1/2–1 lb) (I used one really large chicken breast which was 15 oz) 
salt, ground black pepper, to taste
1/4–1/2 cup heavy cream, optional
1–2 Tablespoons chopped fresh herbs, to garnish (parsley, dill, thyme, etc.)
Instructions
Turn on the "Saute" function on the Instant Pot. Heat up the butter or oil. Add the onion, carrots, celery and garlic. Season with salt and pepper to taste. Cook for about 5 minutes, until the vegetables are softened. 
Pour in the broth and add the rice. Close the lid of the Instant Pot (with the sealing ring in place). Turn the valve to "Sealing". Cook for 15 minutes, High Pressure. Use the Quick Release method to release the pressure, but do it very carefully. 
Add the chicken breast, close the lid again and cook for another 5 minutes on High Pressure. Let the soup rest for 10 minutes, then release the pressure. 
Take out the chicken and cut into bite size pieces. Return the chicken to the soup. 
Add the heavy cream and fresh herbs. Serve. 
Store the soup in the refrigerator for up to 5 days. Reheat in the microwave or on the stove. You can also freeze the soup for up to 3 months in an airtight container. 
Keywords: chicken and wild rice soup, chicken wild rice soup instant pot, panera bread cream of chicken and wild rice soup, easy chicken and rice soup