This Mango Banana Smoothie is healthy, smooth and refreshing and has no added sugar. Made with yogurt, bananas, mangos and peaches, it has a lovely tropical flavor.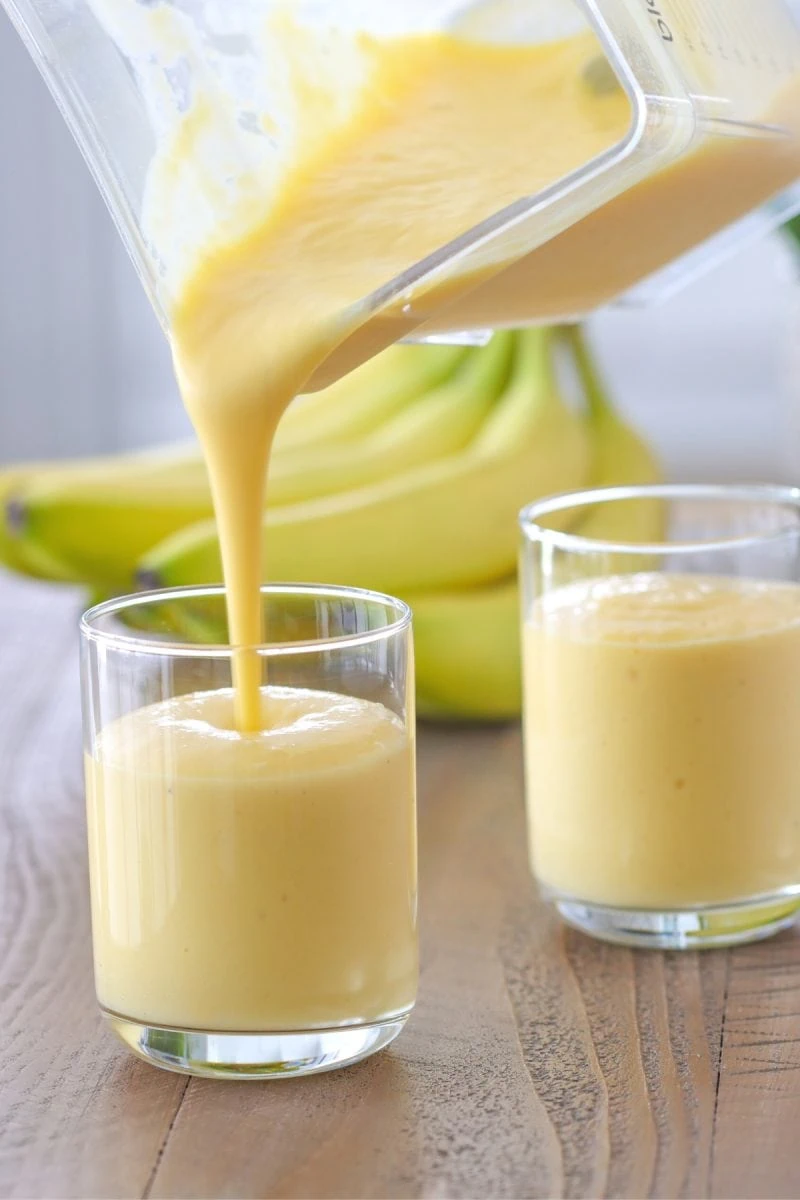 If you're craving dessert or ice cream, smoothies are the way to go. Healthy, creamy, delicious, cold and absolutely satisfying, I'm not surprised that some people make them every day. This Mango Banana Smoothie is one of my favorites and I build most of my smoothies based on the method I share in this post.
Since we live in Florida, we take advantage of the tropical flavors to make all kinds of smoothies. It's so nice that you can mix and match different ingredients to make so many different flavor variations of smoothies. As long as you keep your freezer stocked with frozen fruit, you can whip up a smoothie anytime.
The fruit can all be frozen, but if you're using all frozen fruit, thaw it out a bit first. Don't use all fresh fruit, unless you want to add a bit of ice to the smoothie. Using frozen fruit gives the smoothie a creamy, luscious texture, thickens it and keeps it much colder than if you would use fresh fruit only. When mangos are in season, I like to buy a bunch of them, and freeze them to use in smoothies later.
Ingredients:
orange juice

You can use almost any kind of juice. I choice orange since that's the one we usually have in stock and also because the orange flavor pairs really well with the other tropical flavors.

plain, unsweetened yogurt

I recommend using whole milk yogurt, but you can use other yogurt too. If you use reduced fat yogurts, your smoothie will not be as creamy.

banana

Bananas help make the smoothie more creamy and add contribute to a lovely tropical taste.

mango

You need to use some fresh fruit and some frozen. You can use fresh peaches instead and use frozen mango. If you want to use only frozen fruit, it helps to thaw it slightly first.

frozen peaches

If you don't use any frozen fruit, it's a good idea to use some ice, otherwise the smoothie will not be as cold and will be thin and watery.

honey or maple syrup, to taste, for sweetness (optional)

if you use juice and your fruit is sweet, you most likely won't need to add any maple syrup or honey.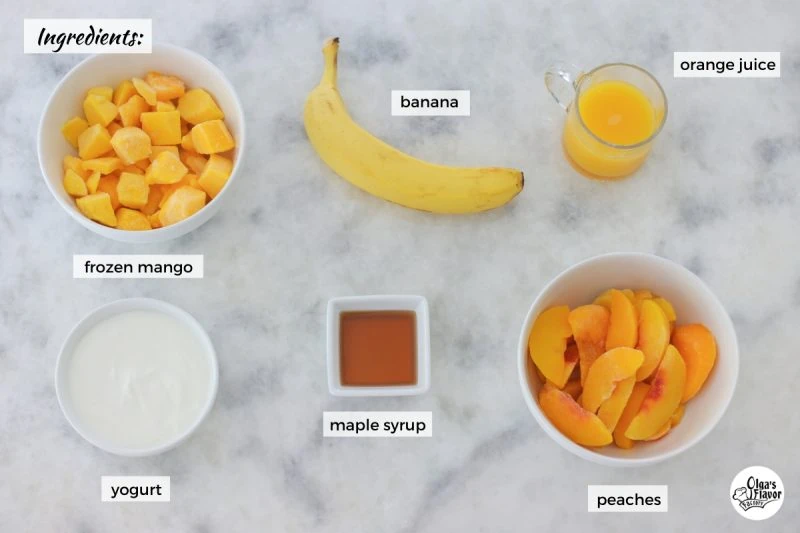 How To Make a Mango Banana Smoothie
Add all the ingredients into the blender.

Pour the orange juice into the blender, then place the banana, yogurt, mango and lastly the frozen peaches.

Process everything in blender until smooth, about 10 seconds.

Start on lower speed and increase to higher speed. Scrape down the sides of the bowl, if needed.

Taste the smoothie and, if needed, sweeten to taste with honey of maple syrup.
Serve immediately. Or freeze and enjoy as a popsicle.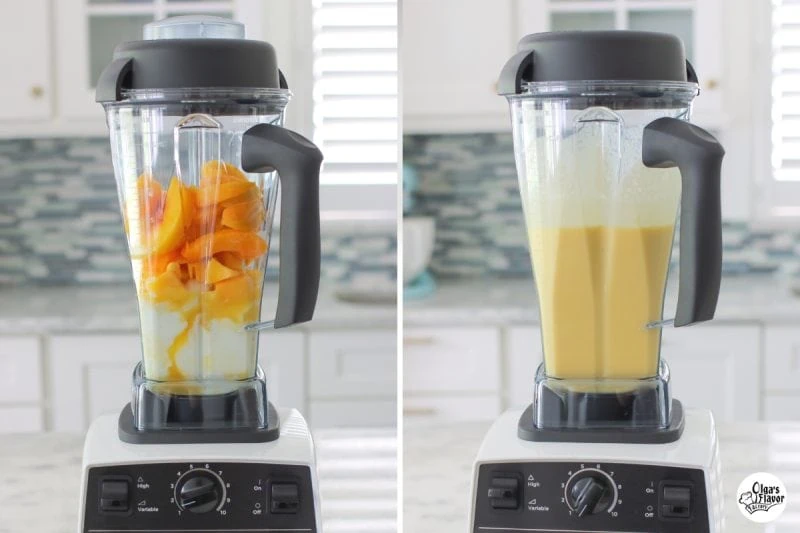 How To Make the Perfect Smoothie
The secret to making the perfect smoothie that is just the right consistency, is to use the right proportion of fresh and frozen ingredients. If you use too many fresh soft, fresh ingredients, the smoothie will be too thin and liquidy.
If you use too many frozen ingredients, the smoothie will be too hard to blend and your blender will more likely stall. In that case, it's better to use a food processor and make a healthy "ice cream", like our family's favorite Banana Ice Cream.
The second most important part is to add in the ingredients in the right order. Here's how you need to add in all your ingredients:
Liquid Ingredients:

The liquid ingredients need to be right at the bottom with the blades. You can use water, juice or any type of milk, dairy or non-dairy of your choice.

Soft Ingredients:

Yogurt, peanut butter or other nut butters, avocado, bananas, other fresh fruit, like mangos, peaches, berries, pineapple, etc. If you're adding any greens, like spinach or kale, add it in at this point too.

Frozen Ingredients:

Lastly, add in the frozen ingredients, such as frozen peaches, mango, pineapple, strawberries, blueberries, raspberries, etc. If your fruit is really sweet you may not need to add anything at all.
Adding the liquid and soft ingredients first will make sure that the blades don't get stalled on the frozen ingredients before they have a change to break down all the softer ingredients. Then, the blender pulls in the frozen ingredients into the vortex and gradually breaks down the bigger chunks of frozen fruit. This results in a smooth, creamy smoothie and the motor on your blender won't start smoking 😊.
More Refreshing & Healthy Treats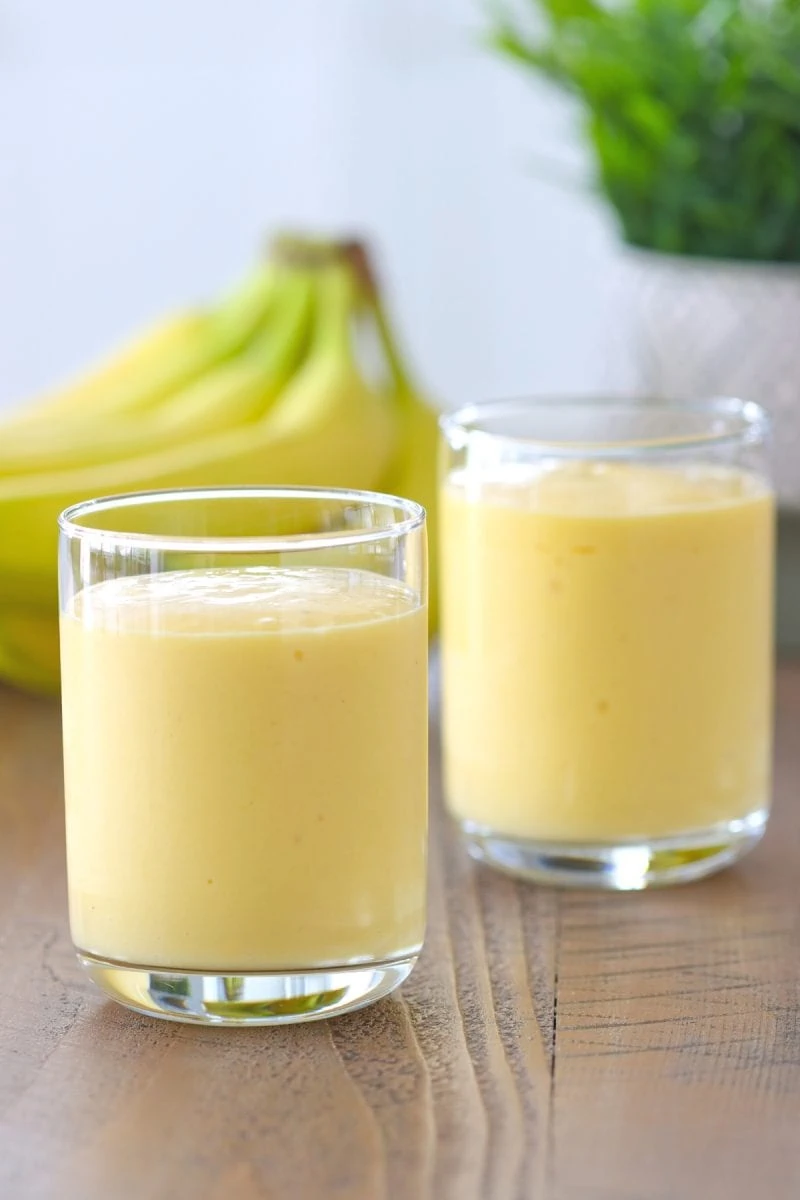 Print
Mango Banana Smoothie
This Mango Banana Smoothie is healthy, smooth and refreshing and has no added sugar. Made with yogurt, bananas, mangos and peaches, it has a lovely tropical flavor.
Author:
Prep Time:

10 mins

Total Time:

10 mins

Yield:

2

–

3

servings

1

x
1/2 cup

orange juice

1

banana

1 cup

yogurt, plain greek

2 cups

chopped fresh mango

2 cups

frozen peaches

1

banana
maple syrup or honey, to taste (1-2 Tablespoons, optional)
Instructions
Add the orange juice to the blender first. 
Then, add the banana, yogurt and fresh mangos. 
Lastly add the frozen peaches. 
Start blending your smoothie on a slower speed and then gradually increase the speed until the smoothie is processed and completely smooth.
Taste the smoothie and add maple syrup or honey for sweetness, if needed. Blend again until smooth. 
Serve immediately or freeze and eat like a popsicle.